Redlands Bicycle Classic - NE
California, USA, March 22-25, 2007
Prologue - March 22: The Sun Time Trial, 5km
Tuft and Neben take the lead
By Kirsten Robbins in Redlands, California
Tuft dents Jacques-Maynes' winning streak
Svein Tuft (Symmetrics)
Photo ©: Mitch Clinton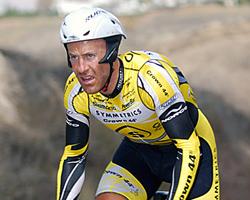 An exciting five kilometre prologue kicked off the 2007 Redlands Bicycle Classic and riders remained indecisive about which bike better suited the grueling circuit. Symmetrics' Canadian talent Svein Tuft raced to the top of the climb in a time of 9'29 over Priority Health's recently unbeatable time trialist Ben Jacques-Maynes. Climbing into third place was Jittery Joe's Cesar Grajales.
Tuft made no mistake when he rolled to the starting ramp in full-fledged time trailing gear. The Canadian arrived in Redlands fresh from an overall win at the Tour of Cuba, a 13-day stage race in February. He was also a three-time Canadian National time trial champion and placed second overall in the Tour de Beauce. "The course was the last thing I thought I'd be able to win," said Tuft. "I usually ride a flat prologue and this was hard with lots of climbing. I think it was better to conserve as much as possible until the last kilometre for the steep climb. I had a lot of energy toward the end and that was enough to do the trick. I also decided to use a time trial bike as of yesterday because I think you have to stick with whatever you feel fastest on."
Jacques-Maynes also used a full time trailing setup and rode in 30 seconds faster than last year's time. "Last year I did it on the road bike with climbing wheels," said Jacques-Maynes. "The full gas time trial bike took me thirty seconds faster than last year so I'm happy with my selection. Svein is a world-class time trial rider and having gotten second to him is by no means any kind of loss."
Amber Neben begins with a win
Amber Neben (STAHL/SC Velo)
Photo ©: CJ Farquharson

STAHL/SC's guest rider Amber Neben normally begins her racing season with a bang and this year has already proven to be no exception as Neben climbed into the leader's jersey with a time of 10:54, just 33 seconds faster than Webcor Builder's Olympian Christine Thorburn and 42 seconds ahead of Colavita/Sutter Home's Dotsie Bausch.
The top podium riders all used a different set up in their equipment choice. Neben won the event in a full time trial set up where as Thorburn decided to go with her road bike and clip on bars. "I rode my rode bike with bars on, same thing I did last year," said Thorburn. "I thought about it for a long time whether or not to bring my time trial bike down but I knew I would be shifting on the climb. I like the course, it is good for me but it is a little different. I was better off putting the hardest effort on the climb and not the flatter section."
Third placed Dotsie Bausch decided to stick with a straight up road bike to go with the lightest equipment available given the difficulty of the prologue. "I think the road bike was a great selection and it ended up being a climbing course," said Bausch. "When you ride it slower you think you need a time trial bike. But when you ride it fast you realize it should be whatever light equipment you have. I had no idea what the other riders were doing, I made my decision on my own."
Photography
For a thumbnail gallery of these images, click here
Images by Mitch Clinton/www.clintonphoto.com
Images by CJ Farquharson/WomensCycling.net
Images by Larry Rosa Photography/www.larryrosa.com
Results

Men
 
1 Svein Tuft (Can) Symmetrics Cycling Team                                             9.29.16 (31.626 km/h)
2 Benjamin Jacques-Maynes (USA) Priority Health Cycling Team presented by Bissell      0.04.75
3 Cesar Grajales (Col) The Jittery Joe's Pro Cycling Team                              0.08.27
4 Scott Moninger (USA) BMC Racing Team                                                 0.13.45
5 Anthony Colby (USA) Colavita/Sutter Home presented by Cooking Light                  0.13.96
6 Jason Donald (USA) Team Slipstream/Chipolte                                          0.14.46
7 Ryder Hesjedal (Can) Team Healthnet presented by Maxxis                              0.15.27
8 Jeff Louder (USA) Team Healthnet presented by Maxxis                                 0.16.47
9 Justin England (USA) Toyota-United Pro Cycling Team                                  0.16.72
10 Ivan Stevic (SCG) Toyota-United Pro Cycling Team                                    0.16.89
11 Josh Thornton (USA) Kodak Gallery Pro Cycling Team presented by Sierra Nevada       0.18.70
12 Chris Baldwin (USA) Toyota-United Pro Cycling Team                                  0.19.24
13 Pat McCarty (USA) Team Slipstream/Chipolte                                          0.19.52
14 Sean Sullivan (Aus) Toyota-United Pro Cycling Team                                  0.20.08
15 Timmy Duggan (USA) Team Slipstream/Chipolte                                         0.20.12
16 Phil Zajicek (USA) Navigators Insurance Cycling Team                                0.21.30
17 Andrew Bajadali (USA) Jelly Belly Cycling Team                                      0.22.62
18 Neil Shirley (USA) The Jittery Joe's Pro Cycling Team                               0.23.59
19 Tom Peterson (USA) Team Slipstream/Chipolte                                         0.24.17
20 Eric Wohlberg (Can) Symmetrics Cycling Team                                         0.24.32
21 Ricardo Escuela (Arg) Successfulliving.com presented by PARKPRE                     0.28.89
22 Taylor Tolleson (USA) Team Slipstream/Chipolte                                      0.31.74
23 Tyler Wren (USA) Colavita/Sutter Home presented by Cooking Light                    0.32.94
24 Doug Ollerenshaw (USA) Team Healthnet presented by Maxxis                           0.33.29
25 David Rodriguez (USA) Navigators Insurance Cycling Team                             0.34.37
26 Chris Wherry (USA) Toyota-United Pro Cycling Team                                   0.36.09
27 Tim Johnson (USA) Team Healthnet presented by Maxxis                                0.36.10
28 Michael Grabinger (USA) Hagens-Berman Cycling Team                                  0.36.45
29 Eric Keim (USA) AEG-Toshiba-JetNetwork Pro Cycling Team                             0.37.77
30 Scott Nydam (USA) BMC Racing Team                                                   0.38.11
31 Peter Hatton (Aus) Colavita/Sutter Home presented by Cooking Light                  0.39.83
32 Jacob Erker (Can) Symmetrics Cycling Team                                           0.40.18
33 Matt Shriver (USA) The Jittery Joe's Pro Cycling Team                               0.41.09
34 Mike Jones (USA) Jelly Belly Cycling Team                                           0.41.78
35 Dominique Rollin (Can) Kodak Gallery Pro Cycling Team presented by Sierra Nevada    0.42.74
36 Geoff Kabush (Can) Symmetrics Cycling Team                                          0.43.44
37 Nick Resitad (USA) Jelly Belly Cycling Team                                         0.43.53
38 Burke Swindlehurst (USA) Toyota-United Pro Cycling Team                             0.44.51
39 Reid Mumford (USA) Kelly Benefit Strategies/Medifast                                0.47.03
40 Trent Wilson (Aus) The Jittery Joe's Pro Cycling Team                               0.47.07
41 Ian McKissick (USA) BMC Racing Team                                                 0.47.99
42 Dan Bowman (USA) Kelly Benefit Strategies/Medifast                                  0.48.18
43 Dan Timmerman (USA) Kodak Gallery Pro Cycling Team presented by Sierra Nevada       0.48.42
44 Michael Lange (USA) Team Slipstream/Chipolte                                        0.48.76
45 Tejay VanGarderen (USA) VMG Racing                                                  0.49.08
46 Kevin Bouchard-Hall (USA) Kelly Benefit Strategies/Medifast                         0.52.22
47 Jesse Anthony (USA) Kodak Gallery Pro Cycling Team presented by Sierra Nevada       0.52.43
48 Karl Menzies (Aus) Team Healthnet presented by Maxxis                               0.53.37
49 Keil Reijnen (USA) Hagens-Berman Cycling Team                                       0.53.78
50 Daniel Ramsey (USA) Successfulliving.com presented by PARKPRE                       0.53.91
51 Alex Candelario (USA) Jelly Belly Cycling Team                                      0.54.34
52 Matt Cooke (USA) Navigators Insurance Cycling Team                                  0.54.62
53 Justin Spinelli (USA) Kelly Benefit Strategies/Medifast                             0.54.81
54 Russell Downing (GBr) Team Healthnet presented by Maxxis                            0.55.24
55 Corey Collier (USA) Team Einsteins Cycling                                          0.55.33
56 Davide Frattini (Ita) Colavita/Sutter Home presented by Cooking Light               0.58.87
57 Brian Dziewa (USA) Jelly Belly Cycling Team                                         0.59.12
58 Chris Jones (USA) Nerac Pro Cycling                                                 0.59.29
59 Mike Dietrich (USA) Kodak Gallery Pro Cycling Team presented by Sierra Nevada       1.00.57
60 Kyle Wamsley (USA) Navigators Insurance Cycling Team                                1.01.55
61 Todd Henriksen (USA) AEG-Toshiba-JetNetwork Pro Cycling Team                        1.01.95
62 Lucas Euser (USA) Team Slipstream/Chipolte                                          1.02.70
63 Osvaldo Olmos (USA) California Giant Berry Farms                                    1.04.76
64 Andrew Randell (Can) Symmetrics Cycling Team                                        1.04.78
65 Jonathan Garcia (USA) BMC Racing Team                                               1.04.95
66 Matt Johnson (USA) Team 5 Star Fish                                                 1.06.74
67 James Mattis (USA) California Giant Berry Farms                                     1.07.09
68 Christian Meier (Can) Symmetrics Cycling Team                                       1.07.79
69 Austin King (USA) The Jittery Joe's Pro Cycling Team                                1.08.28
70 John Hunt (USA) California Giant Berry Farms                                        1.08.31
71 Jackson Stewart (USA) BMC Racing Team                                               1.08.56
72 Johnny Hayes (USA) CRCA/Sakonnet Technology U25                                     1.08.95
73 Mark Walters (Can) Kodak Gallery Pro Cycling Team presented by Sierra Nevada        1.09.05
74 Brandon Gritters (USA) Team 5 Star Fish                                             1.09.87
75 Jeremiah Wiscovitch (USA) Rock Racing                                               1.11.80
76 Thurlow Rogers (USA) Kahala-LaGrange                                                1.11.83
77 Ben Brooks (Aus) Navigators Insurance Cycling Team                                  1.12.31
78 Keven Lacombe (Can) Team Equipe Volkswagen-Trek                                     1.14.19
79 Todd Yezefski (USA) Nerac Pro Cycling                                               1.14.83
80 Michael Telega (USA) California Giant Berry Farms                                   1.14.87
81 Kirk O'Bee (USA) Team Healthnet presented by Maxxis                                 1.15.53
82 Chris Kuhl (USA) CRCA/Sakonnet Technology U25                                       1.15.74
83 Zack Grabowski (USA) VMG Racing                                                     1.16.03
84 Patrick Walsh (USA) Nerac Pro Cycling                                               1.16.16
85 Alex Hagman (USA) AEG-Toshiba-JetNetwork Pro Cycling Team                           1.17.25
86 Alejandro Acton (Arg) Colavita/Sutter Home presented by Cooking Light               1.18.68
87 Nick Clayville (USA) Hagens-Berman Cycling Team                                     1.19.66
88 Scott Zwizanski (USA) Priority Health Cycling Team presented by Bissell             1.19.70
89 Evan Elken (USA) The Jittery Joe's Pro Cycling Team                                 1.19.90
90 Frank Travieso (Cub) AEG-Toshiba-JetNetwork Pro Cycling Team                        1.20.57
91 Blake Caldwell (USA) Team Slipstream/Chipolte                                       1.20.72
92 Kayle Leogrande (USA) Rock Racing                                                   1.21.29
93 Steve Tilford (USA) Team Equipe Volkswagen-Trek                                     1.21.91
94 Jarred Berger (USA) Team Einsteins Cycling                                          1.23.59
95 Jesse Moore (USA) California Giant Berry Farms                                      1.23.64
96 Jorge Alvarado (Mex) Kahala-LaGrange                                                1.24.02
97 Ryan Hamity (USA) Team Einsteins Cycling                                            1.24.20
98 Gianmarco Rullo (Ita) Rock Racing                                                   1.24.68
99 Dominique Perras (Can) Kelly Benefit Strategies/Medifast                            1.24.94
100 Chris Stockburger (USA) VMG Racing                                                 1.25.10
101 Andrew Fischer (USA) Hagens-Berman Cycling Team                                    1.25.72
102 Carlos Mayoral (Mex) Kahala-LaGrange                                               1.26.31
103 Edward King (USA) Priority Health Cycling Team presented by Bissell                1.26.64
104 Mariano Friedick (USA) Rock Racing                                                 1.27.44
105 Scott Stewart (USA) VMG Racing                                                     1.27.91
106 Bryce Mead (USA) Jelly Belly Cycling Team                                          1.27.98
107 Rory Sutherland (Aus) Team Healthnet presented by Maxxis                           1.28.49
108 Guy East (USA) CRCA/Sakonnet Technology U25                                        1.28.51
109 Mike Sayers (USA) BMC Racing Team                                                  1.28.94
110 Yosvany Falcon (Cub) AEG-Toshiba-JetNetwork Pro Cycling Team                       1.29.38
111 Kevin Soller (USA) VMG Racing                                                      1.29.57
112 Curtis Gunn (USA) Successfulliving.com presented by PARKPRE                        1.30.27
113 Rudolph Napolitano (USA) Rock Racing                                               1.31.36
114 Chris Frederick (USA) AEG-Toshiba-JetNetwork Pro Cycling Team                      1.31.63
115 Devon Vigus (USA) California Giant Berry Farms                                     1.32.05
116 Nicholas Waite (USA) Kelly Benefit Strategies/Medifast                             1.32.26
117 Eric Riggs (USA) VMG Racing                                                        1.32.85
118 Garrett Peltonen (USA) Priority Health Cycling Team presented by Bissell           1.34.24
119 Mike Zagorske (GBr) Kahala-LaGrange                                                1.34.58
120 Charles Dionne (Can) Colavita/Sutter Home presented by Cooking Light               1.36.14
121 Tyler Ofstad (USA) Kahala-LaGrange                                                 1.36.20
122 Will Smith (USA) Team Equipe Volkswagen-Trek                                       1.38.22
123 Matty Rice (Aus) Jelly Belly Cycling Team                                          1.38.27
124 Ivan Dominguez (Cub) Toyota-United Pro Cycling Team                                1.39.06
125 Aidan Charles (USA) Nerac Pro Cycling                                              1.41.41
126 Pete Lopinto (USA) Kodak Gallery Pro Cycling Team presented by Sierra Nevada       1.41.80
127 Henk Vogels (Aus) Toyota-United Pro Cycling Team                                   1.42.26
128 Adrian Hegyvary (USA) Hagens-Berman Cycling Team                                   1.42.90
129 Fabian Reyes (Mex) Fullerton Bikes - NOVO                                          1.43.04
130 Cameron Evans (Can) Symmetrics Cycling Team                                        1.43.31
131 Karl Bordine (USA) Team 5 Star Fish                                                1.43.96
132 Patrick McGlynn (USA) Team Einsteins Cycling                                       1.44.03
133 Chuck Coyle (USA) Successfulliving.com presented by PARKPRE                        1.44.94
134 Adrian Gerrits (USA) Kahala-LaGrange                                               1.44.98
135 Martin Gilbert (Can) Kelly Benefit Strategies/Medifast                             1.45.08
136 Mark Hardman (USA) Team Equipe Volkswagen-Trek                                     1.46.14
137 Dan Vinson (USA) Team 5 Star Fish                                                  1.47.85
138 Omer Kem (USA) Priority Health Cycling Team presented by Bissell                   1.48.67
139 Luis Zamudio (Mex) Fullerton Bikes - NOVO                                          1.49.09
140 Gavi Epstein (USA) CRCA/Sakonnet Technology U25                                    1.49.37
141 Ryan MacKenzie (Can) Team Equipe Volkswagen-Trek                                   1.49.78
142 Morgan Schmitt (USA) Priority Health Cycling Team presented by Bissell             1.50.11
143 Predag Prokic (SCG) AEG-Toshiba-JetNetwork Pro Cycling Team                        1.50.51
144 Chad Nikolz (USA) Hagens-Berman Cycling Team                                       1.50.97
145 Chris Trembly (USA) Fullerton Bikes - NOVO                                         1.51.17
146 Ian Holt (USA) Team Einsteins Cycling                                              1.51.61
147 Ryan Roth (Can) Kelly Benefit Strategies/Medifast                                  1.51.79
148 Owen Gue (USA) Hagens-Berman Cycling Team                                          1.51.80
149 Ulrich DeYoung (USA) Hagens-Berman Cycling Team                                    1.53.10
150 Christian Valenzuela (Mex) Successfulliving.com presented by PARKPRE               1.54.93
151 Andy Cornelison (USA) CRCA/Sakonnet Technology U25                                 1.59.65
152 Cody Stevenson (Aus) The Jittery Joe's Pro Cycling Team                            2.00.02
153 Sergio Hernandez (USA) Rock Racing                                                 2.02.07
154 Andrew Pinfold (Can) Symmetrics Cycling Team                                       2.04.95
155 Tommy Nankervis (Aus) The Jittery Joe's Pro Cycling Team                           2.05.22
156 Dirk Copeland (USA) California Giant Berry Farms                                   2.05.45
157 Ben Raby (USA) Kodak Gallery Pro Cycling Team presented by Sierra Nevada           2.05.66
158 Michael Garrett (USA) Kahala-LaGrange                                              2.06.40
159 Mike Cody (USA) Jelly Belly Cycling Team                                           2.06.41
160 Patrick Dunaway (USA) California Giant Berry Farms                                 2.07.37
161 Emile Abraham (Tri) Priority Health Cycling Team presented by Bissell              2.14.52
162 Alessandro Bazzana (Ita) Successfulliving.com presented by PARKPRE                 2.14.93
163 Dean Peters (USA) Fullerton Bikes - NOVO                                           2.15.93
164 Alexi Martinez (USA) Successfulliving.com presented by PARKPRE                     2.16.98
165 Keith Norris (USA) AEG-Toshiba-JetNetwork Pro Cycling Team                         2.20.26
166 John Seehafer (USA) Team Einsteins Cycling                                         2.20.48
167 Nathan Deibler (USA) Team 5 Star Fish                                              2.22.88
168 Dusan Ganic (SCG) Successfulliving.com presented by PARKPRE                        2.23.42
169 Daniel Holloway (USA) VMG Racing                                                   2.23.47
170 Rahsaan Bahati (USA) Rock Racing                                                   2.25.82
171 Adam Myerson (USA) Nerac Pro Cycling                                               2.26.37
172 Andre Tremblay (Can) Team Equipe Volkswagen-Trek                                   2.30.19
173 Tucker Olander (USA) Team Einsteins Cycling                                        2.31.73
174 Chris DeMarchi (USA) Team 5 Star Fish                                              2.33.03
175 Daniel Holt (USA) Nerac Pro Cycling                                                2.36.06
176 Devin Flaherty (USA) CRCA/Sakonnet Technology U25                                  2.37.25
177 Alexander Boyd (USA) VMG Racing                                                    2.39.74
178 Dan Schmatz (USA) BMC Racing Team                                                  2.39.99
179 Eddy Kwon (USA) Team Einsteins Cycling                                             2.51.65
180 Christian Deshaies (Can) Team Equipe Volkswagen-Trek                               2.59.28
181 David Vitoria (Swi) BMC Racing Team                                                3.00.05
182 Armamdo Garcia (Mex) Fullerton Bikes - NOVO                                        3.09.66
183 Anthony Morrow (USA) Team 5 Star Fish                                              3.15.75
184 Austin Carroll (USA) Rock Racing                                                   3.18.03
185 Jose Patron (Mex) Fullerton Bikes - NOVO                                           3.19.21
186 Oswaldo Hernandez (Mex) Fullerton Bikes - NOVO                                     3.19.66
187 Peter Anderson (USA) Team 5 Star Fish                                              3.59.92
188 Pedro Garibay (Mex) Fullerton Bikes - NOVO                                         4.02.41
189 Jonathan Eropkin (USA) Colavita/Sutter Home presented by Cooking Light             4.03.20
190 Buck Miller (Can) Kahala-LaGrange                                                 40.17.09
 
Women
 
1 Amber Neben (USA) STAHL/SC Velo                                                     10.52.46 (27.588 km/h)
2 Christine Thorburn (USA) Webcor Builders                                             0.33.53
3 Dotsie Bausch (USA) Colavita/Sutter Home presented by Cooking Light                  0.42.06
4 Mara Abbott (USA) Webcor Builders                                                    0.54.47
5 Katharine Carroll (USA) Aaron's Corporate Furnishings Cycling Team                   1.00.52
6 Katheryn Curi (USA) Webcor Builders                                                  1.00.73
7 Rachel Heal (GBr) Webcor Builders                                                    1.04.30
8 Oenone Wood (Aus) T-Mobile Women's Professional Cycling                              1.06.71
9 Felicia Gomez (USA) Aaron's Corporate Furnishings Cycling Team                       1.06.95
10 Kim Anderson (USA) T-Mobile Women's Professional Cycling                            1.07.19
11 Anne Samplonius (Can) Team Expresscopy.com                                          1.10.04
12 Leigh Hobson (Can) Team Cheerwine                                                   1.13.39
13 Amber Rais (USA) Webcor Builders                                                    1.15.32
14 Beverley Harper (USA) Webcor Builders                                               1.19.02
15 Chrissy Ruiter (USA) Team Cheerwine                                                 1.22.94
16 Ina-Yoko Teutenberg (Ger) T-Mobile Women's Professional Cycling                     1.23.81
17 Kori Seehafer (USA) TEAm Lipton                                                     1.24.09
18 Brooke Ourada (USA) Team Cheerwine                                                  1.24.75
19 Chantal Beltman (Ned) T-Mobile Women's Professional Cycling                         1.29.39
20 Stacy Marple (USA) Team TIBCO                                                       1.29.47
21 Allison Powers (USA) Colavita/Sutter Home presented by Cooking Light                       
22 Alex Wrubleski (Can) Colavita/Sutter Home presented by Cooking Light                1.29.68
23 Meredith Miller (USA) TEAm Lipton                                                   1.30.33
24 Jill McLaughlin (USA) ValueAct Capital Cycling Team                                 1.30.66
25 Andrea Dvorak (USA) Colavita/Sutter Home presented by Cooking Light                 1.36.59
26 Jessica Phillips (USA) Team Expresscopy.com                                         1.38.49
27 Suzanne de Goede (Ned) T-Mobile Women's Professional Cycling                        1.44.01
28 Kristin Sanders (USA) Aaron's Corporate Furnishings Cycling Team                    1.46.48
29 Melissa Holt (USA) Team Expresscopy.com                                             1.49.22
30 Suz Weldon (USA) Team Bikehugger / TRIA                                             1.50.25
31 Laura Van Gilder (USA) Team Cheerwine                                               1.51.48
32 Emily Van Meter (USA) Wachovia-IBC                                                  1.53.38
33 Alex Rhodes (Aus) T-Mobile Women's Professional Cycling                             1.55.20
34 Lauren Franges (USA) TEAm Lipton                                                    1.56.26
35 Marisa Asplund (USA) Team TIBCO                                                     1.57.24
36 Betina Hold (USA) Team Cheerwine                                                    2.01.07
37 Carmen McNellis (USA) Aaron's Corporate Furnishings Cycling Team                    2.01.25
38 Heather Labance (USA) Advil/Chapstick                                               2.01.70
39 Sarah Bamberger (USA) Team Cheerwine                                                2.03.27
40 Sally Annis (USA) Wachovia-IBC                                                      2.06.62
41 Helen Kelly (Aus) Webcor Builders                                                   2.08.03
42 Alison Bergeson (USA) Advil/Chapstick                                               2.08.55
43 Victoria Bastide (USA) Team TIBCO                                                   2.08.87
44 Katie Lambden (USA) Team TIBCO                                                      2.09.24
45 Tina Pic (USA) Colavita/Sutter Home presented by Cooking Light                      2.10.91
46 Nichole Wangsgard (USA) Bicycle John's Serious Cycling                              2.15.07
47 Martina Patella (USA) ValueAct Capital Cycling Team                                 2.15.31
48 Kristen LaSasso (USA) TEAm Lipton                                                   2.16.70
49 Kirsten Robbins (Can) Advil/Chapstick                                               2.18.16
50 Sharon Allpress (USA) ValueAct Capital Cycling Team                                 2.20.38
51 Anne Guzman (Can) Team Kenda Tire                                                   2.20.68
52 Alison Testroete (Can) Team Expresscopy.com                                         2.20.85
53 Katharine Lundby (USA) STAHL/SC Velo                                                2.21.43
54 Sara Bresnick-Zocchi (USA) Advil/Chapstick                                          2.23.11
55 Rebecca Larson (USA) Aaron's Corporate Furnishings Cycling Team                     2.23.26
56 Courtenay Brown (USA) ValueAct Capital Cycling Team                                 2.29.29
57 Dale Tye (NZl) Hub Racing                                                           2.31.56
58 Laura Bowles (USA) Advil/Chapstick                                                  2.33.55
59 Taitt Sato (USA) ValueAct Capital Cycling Team                                      2.36.04
60 Patria Lanfranchi (USA) Team Bikehugger / TRIA                                      2.37.53
61 Kelly Benjamin (USA) Team Cheerwine                                                 2.38.53
62 Jennifer Reither (USA) Team Bikehugger / TRIA                                       2.38.64
63 Brenda Lyons (USA) TEAm Lipton                                                      2.38.68
64 Sarah Uhl (USA) Team Cheerwine                                                      2.39.44
65 Tracy Kubas (USA) STAHL/SC Velo                                                     2.40.94
66 Nicole Evans (USA) TEAm Lipton                                                      2.48.96
67 Jennifer Joynt (USA) Wachovia-IBC                                                   2.49.57
68 Anke Wichmann (Ger) T-Mobile Women's Professional Cycling                           2.52.02
69 Trish Cohen (USA) Team Bikehugger / TRIA                                            2.52.35
70 Mackenzie Dickey (USA) Colavita/Sutter Home presented by Cooking Light              2.53.14
71 Julie Marceau (Can) Team Bikehugger / TRIA                                          2.53.20
72 Brooke Miller (USA) Team TIBCO                                                             
73 Liza Rachetto (USA) Team TIBCO                                                      2.53.30
74 Samantha VanGerbig (USA) Wachovia-IBC                                               2.54.95
75 Kristin Wentworth (USA) Team Kenda Tire                                             2.56.72
76 Gabriela Gonzalez-Ferrat (Mex) Bicycle John's Serious Cycling                       2.57.46
77 Susan Hedstrom (USA) Advil/Chapstick                                                2.57.87
78 Robin Farina (USA) Target Training                                                  2.58.67
79 Stacy Spencer (Can) Colavita/Sutter Home presented by Cooking Light                 2.58.85
80 Tamyra Barnard (USA) Team Kenda Tire                                                3.01.59
81 Krystal Jeffs (NZl) Hub Racing                                                      3.01.97
82 Heidi Goldberg (USA) Team Kenda Tire                                                3.02.16
83 Betsy Galenti (USA) STAHL/SC Velo                                                   3.04.24
84 Laura Yoisten (Can) Webcor Builders                                                 3.08.31
85 Kari Bolton (USA) TiCyclies/Avanti Racing                                           3.11.15
86 Sarah Caravella (USA) Aaron's Corporate Furnishings Cycling Team                    3.12.82
87 Jenette Williams (USA) Hub Racing                                                   3.14.33
88 Lara Kroepsch (USA) TEAm Lipton                                                     3.15.24
89 Moriah Mac Gregor (Can) Target Training                                             3.15.47
90 Jennifer Wilson (USA) Team Bikehugger / TRIA                                        3.16.11
91 Allison Beall (USA) TiCyclies/Avanti Racing                                         3.16.31
92 Catherine Walberg (USA) Team Kenda Tire                                             3.16.69
93 Jennifer Chapman (USA) Bicycle John's Serious Cycling                               3.16.86
94 Yukie Nakamura (Jpn) Team TIBCO                                                     3.20.52
95 Carolyn Eller (USA) TiCyclies/Avanti Racing                                         3.25.22
96 Carine Bester (USA) Bicycle John's Serious Cycling                                  3.26.07
97 Joelle Numainville (Can) Team Expresscopy.com                                       3.31.60
98 Becky Broeder (USA) Hub Racing                                                      3.32.64
99 Laura Hines (USA) STAHL/SC Velo                                                     3.34.96
100 Kristin Keim (USA) Wachovia-IBC                                                    3.40.86
101 Kat Clark (USA) Target Training                                                    3.41.57
102 Melissa Sanborn (USA) Team Bikehugger / TRIA                                       3.42.84
103 Christina DeKray (USA) Target Training                                             3.43.77
104 Sheba Farrin (USA) Hub Racing                                                      3.44.35
105 Lana Atchley (USA) STAHL/SC Velo                                                   3.46.10
106 Amy McGuire (USA) Wachovia-IBC                                                     3.54.79
107 Laurel Green (USA) Target Training                                                 3.58.02
108 Elizabeth Nettles (USA) TiCyclies/Avanti Racing                                    4.08.62
109 Kara Vidaca (USA) Bicycle John's Serious Cycling                                          
110 Allison Carter (USA) Team Kenda Tire                                               4.09.43
111 Debbie Dust (USA) Team Kenda Tire                                                  4.09.52
112 Caitlyn McCullough (USA) Team TIBCO                                                4.18.39
113 Diane Miller (USA) Wachovia-IBC                                                    4.21.71
114 Priscilla Calderon (USA) STAHL/SC Velo                                             4.24.81
115 Jeanie Bihlmaier (USA) Team Bikehugger / TRIA                                      4.41.38
116 Lea Adams (USA) STAHL/SC Velo                                                      5.47.20
117 Megan Elliot (USA) Target Training                                                 9.10.40
DNS Sarah Tillotson (USA) Colavita/Sutter Home presented by Cooking Light                     
DNS Chamblee Abernethy (USA) Team Kenda Tire                                                  
DNS Catherine Powers (USA) Aaron's Corporate Furnishings Cycling Team                         
DNS Kate Patterson (USA) TiCyclies/Avanti Racing                                              
DNS Michelle Beltran (USA) Bicycle John's Serious Cycling                                     
DNS Hiroko Shimada (Jpn) Target Training                                                      
DNS Kathleen Billington (USA) Target Training