5th GP Triberg Schwarzwald - 1.1
Germany, June 9, 2007
2006 Results Results Past winners
Croatians take a one-two in Schwarzwald
By Susan Westemeyer
Teammates Radoslav Rogina and Matija Kvasina (Perutnina Ptuj)
Photo ©: photo@schwarzwald-bike.de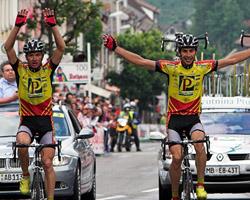 Croatian riders Radoslav Rogina and Matija Kvasina from the Slovenian Team Petrunina Ptuj finished one-two in the GP Triberg-Schwarzwald Saturday, winning with a nearly two minute advantage over third-place Peter Velits of Team Wiesenhof-Felt.
Cool temperatures and rain greeted the riders on the round course, which was ridden six times for a total of 139.2 km. An escape group formed almost immediately, and the two Croats broke away again in the next to last round to fight for the win between themselves.
115 riders started, and 43 finished the race. "For the GP Triberg-Schwarzwald, an unusually high number" of finishers, said the race organizer.
Results - 139.2 km
1 Radoslav Rogina (Cro) Perutnina Ptuj                              3.44.36
2 Matija Kvasina (Cro) Perutnina Ptuj                                      
3 Peter Velits (Svk) Team Wiesenhof Felt                               1.58
4 Markus Eibegger (Aut) Elk Haus - Simplon                             2.11
5 Sven Krauss (Ger) Gerolsteiner                                           
6 Mitja Mahoric (Slo) Perutnina Ptuj                                       
7 Gerrit Glomser (Aut) Team Volksbank                                      
8 Björn Papstein (Ger) Team 3C - Gruppe Lamonta                            
9 Markus Zberg (Swi) Gerolsteiner                                      2.18
10 Tomasz Marczynski (Pol) Ceramica Flaminia                           2.21
11 Matthias Russ (Ger) Gerolsteiner                                    2.48
12 Giampaolo Cheula (Ita) Barloworld                                   3.18
13 Philipp Mamos (Ger) Team Sparkasse                                  4.30
14 Dirk Müller (Ger) Team Sparkasse                                    0.04
15 Alexander Khatuntsev (Rus) Unibet.com                               5.03
16 Gregor Gazvoda (Slo) Perutnina Ptuj                                     
17 Markus Eichler (Ger) Unibet.com                                         
18 Harald Totschnig (Aut) Elk Haus - Simplon                               
19 Philippe Schnyder (Swi) Serramenti PVC Diquigiovanni- Selle Italia      
20 Holger Sievers (Ger) Team 3C - Gruppe Lamonta                           
21 Alexander Gottfried (Ger) Team Sparkasse                                
22 Marcel Strauss (Swi) Gerolsteiner                                       
23 Mauro Santambrogio (Ita) Tenax Salmilano                                
24 Gerhard Trampusch (Aut) Team Volksbank                                  
25 Sergio Lagana (Ita) Tenax Salmilano                                     
26 Bert Scheirlinckx (Bel) Landbouwkrediet - Tönissteiner                  
27 Timo Honstein (Ger) Team Sparkasse                                      
28 Maint Berkenbosch (Ned) Team Regiostrom - Senges                        
29 Mariusz Witecki (Pol) Team Volksbank                                    
30 Elnathan Heizmann (Ger) Team 3C - Gruppe Lamonta                        
31 Ivan Degasperi (Ita) Serramenti PVC Diquigiovanni- Selle Italia         
32 Jörg Ludewig (Ger) Team Wiesenhof Felt                                  
33 Giairo Ermeti (Ita) Tenax Salmilano                                     
34 Diego Caccia (Ita) Barloworld                                           
35 Corey Sweet (Aus) Team Regiostrom - Senges                              
36 Stefano Boggia (Ita) Ceramica Flaminia                             10.44
37 Robert Retschke (Ger) Team Wiesenhof Felt                               
38 Stefan Schumacher (Ger) Gerolsteiner                                    
39 Volker Ordowski (Ger) Gerolsteiner                                      
40 Josef Benetseder (Aut) Team Volksbank                                   
41 Michal Golas (Pol) Unibet.com                                           
42 Pascal Hungerbühler (Swi) Team Volksbank                                
43 Hamish Robert Haynes (GBr) DFL - Cyclingnews - Litespeed                
DNF Johannes Fröhlinger (Ger) Gerolsteiner                                 
DNF Carlo Westphal (Ger) Gerolsteiner                                      
DNF Marco Corsini (Ita) Tenax Salmilano                                    
DNF Fabrice Piemontesi (Ita) Tenax Salmilano                               
DNF Honorio Machado Perez (Ven) Tenax Salmilano                            
DNF Roberto Ferrari (Ita) Tenax Salmilano                                  
DNF Jean-Claude Lebeau (Bel) Landbouwkrediet - Tönissteiner                
DNF Ed Clancy (GBr) Landbouwkrediet - Tönissteiner                         
DNF Sjef De (Bel) Landbouwkrediet - Tönissteiner                           
DNF Kevin Neirynck (Bel) Landbouwkrediet - Tönissteiner                    
DNF Rob Peeters (Bel) Landbouwkrediet - Tönissteiner                       
DNF Nico Sijmens (Bel) Landbouwkrediet - Tönissteiner                      
DNF James Vanlandschoot (Bel) Landbouwkrediet - Tönissteiner               
DNF Matthias Friedmann (Ger) Team 3C - Gruppe Lamonta                      
DNF Erik Hoffmann (Nam) Team 3C - Gruppe Lamonta                           
DNF René Obst (Ger) Team 3C - Gruppe Lamonta                               
DNF Harald Morscher (Aut) Team Volksbank                                   
DNF René Weissinger (Ger) Team Volksbank                                   
DNF Ronning Vinther (Den) Unibet.com                                       
DNF Erwin Thijs (Bel) Unibet.com                                           
DNF Matthew Wilson (Aus) Unibet.com                                        
DNF Gil Suray (Bel) Unibet.com                                             
DNF Stijn Vandenbergh (Bel) Unibet.com                                     
DNF Matthias Bertling (Ger) Team Regiostrom - Senges                       
DNF Jurgen Juretzek (Ger) Team Regiostrom - Senges                         
DNF Konstantin Schubert (Ger) Team Regiostrom - Senges                     
DNF Rostislav Krotky (Cze) AC Sparta Praha                                 
DNF Ondrej Lukes (Cze) AC Sparta Praha                                     
DNF Michal Kesl (Cze) AC Sparta Praha                                      
DNF Lubos Pelanek (Cze) AC Sparta Praha                                    
DNF Ondrej Pavek (Cze) AC Sparta Praha                                     
DNF Zdenek Krizek (Cze) AC Sparta Praha                                    
DNF Steffen Wesemann (Swi) Team Wiesenhof Felt                             
DNF Felix Odebrecht (Ger) Team Wiesenhof Felt                              
DNF Daniel Musiol (Ger) Team Wiesenhof Felt                                
DNF André Schulze (Ger) Team Wiesenhof Felt                                
DNF Giosuè Bonomi (Ita) Barloworld                                         
DNF Enrico Degano (Ita) Barloworld                                         
DNF Fabrizio Guidi (Ita) Barloworld                                        
DNF Robert Hunter (RSA) Barloworld                                         
DNF Thomas Geraint (Gbr) Barloworld                                        
DNF Antonio d'Aniello (Ita) Ceramica Flaminia                              
DNF Vladimir Duma (Ukr) Ceramica Flaminia                                  
DNF Adriano Angeloni (Ita) Ceramica Flaminia                               
DNF Gianluca Geremia (Ita) Ceramica Flaminia                               
DNF Maurizio Varini (Ita) Ceramica Flaminia                                
DNF Matti Helminen (Fin) DFL - Cyclingnews - Litespeed                     
DNF Robby Meul (Bel) DFL - Cyclingnews - Litespeed                         
DNF Rhys Pollock (Aus) DFL - Cyclingnews - Litespeed                       
DNF Bernard Sulzberger (Aus) DFL - Cyclingnews - Litespeed                 
DNF Pablo Wilches (Col) DFL - Cyclingnews - Litespeed                      
DNF Clements Fankhauser (Aut) Elk Haus - Simplon                           
DNF Hannes Gründlinger (Aut) Elk Haus - Simplon                            
DNF Robert Lauscha (Aut) Elk Haus - Simplon                                
DNF Wolfgang Murer (Aut) Elk Haus - Simplon                                
DNF Peter Pichler (Aut) Elk Haus - Simplon                                 
DNF Michael Pichler (Aut) Elk Haus - Simplon                               
DNF Richard Faltus (Cze) Team Sparkasse                                    
DNF Stefan Parinussa (Ger) Team Sparkasse                                  
DNF Andreas Schillinger (Ger) Team Sparkasse                               
DNF Lars Wackernagel (Ger) Team Sparkasse                                  
DNF Denis Bertolini (Ita) Serramenti PVC Diquigiovanni- Selle Italia       
DNF Bruno Bertolini (Ita) Serramenti PVC Diquigiovanni- Selle Italia       
DNF Emiliano Donadello (Ita) Serramenti PVC Diquigiovanni- Selle Italia    
DNF Gabriele Missaglia (Ita) Serramenti PVC Diquigiovanni- Selle Italia    
DNF Fabio Borghesi (Ita) Serramenti PVC Diquigiovanni- Selle Italia        
DNS Florian Stalder (Swi) Team Volksbank                                   
DNS Sven De (Bel) Ceramica Flaminia                                        
DNS Jeremy Venell (Nzl) DFL - Cyclingnews - Litespeed                      
DNS Tobias Erler (Ger) Team 3C - Gruppe Lamonta                            

Past Winners
2006 Jure Golcer (Slo) Perutnina Ptuj
2005 Fabian Wegmann (Ger) Gerolsteiner 
2004 Marcus Fothen (Ger) Gerolsteiner
2003 Torsten Hiekmann (Ger) Team Telekom    
2002 Jørgen Bo Petersen (Den) EDS-fakta  
 
Past winners by Mario Stiehl, www.world-of-cycling.com