Japanese National Road Championships - CN
Japan, June 23-24, 2007
Main Page Results Overall standings Previous Stage
Stage 2 - June 24: Elite Men & Women
Arashiro weathers the storm
By Makoto Ayano
Yukiya Arashiro (Nippo-Meitan-EquipeAsada) Photo ©: Makoto Ayano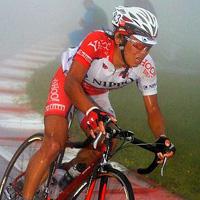 In stormy tropical weather, typical of the Japanese wet season, 22 year-old Yukiya Arashiro overcame heavy rain, thick fog and strong winds to land the biggest victory of his career on the southern island of Kyushu. Arashio motored clear with 28 kilometres remaining, leaving the other favourites in his wake and staying away to finish over two minutes ahead of Hidenori Nodera and Takashi Miyazawa.
Such was the severity of the weather, organisers were forced to shorten the championship parcours from 183.1km to 117.5km, making for 25 laps of the 4.7km long race track circuit. Visibility was down to 10 metres in places, with parts of the course covered in dangerous amounts of surface water.
The early break was initiated by the ever-aggressive Shinichi Fukushima (Nippo-Meitan-Equipe Asada) on lap three, who went clear with Yukihiro Doi(Skil-Shimano). After 12 laps Fukushima was dropped and Doi ploughed on alone until he was eventually reeled in with 38 kilometres remaining.
New champion Arashiro succeeds Discovery Channel rider Fumiyuki Beppu in wearing the red and white jersey of Japan. Beppu was absent from the championship due to his participation in the Tour de Suisse.
In the women's event, Miho Oki (Menikini - Gysko) overcame Ayako Tokooka in the final sprint to maintain her status as the only woman to win the Japanese women's championship in its 10-year history.
Photography
For a thumbnail gallery of these images, click here
Images by Makoto Ayano/www.cyclingtime.com
Images by Kenji NAKAMURA/JCF
Images by John Pierce/Photosport International
Results
 
Elite Men - 117.5 km 
 
1 Yukiya Arashiro               3.03.10 (38.48 km/h)
2 Hidenori Nodera                  2.17
3 Takashi Miyazawa                     
4 Yasuharu Nakajima                2.18
5 Shinri Suzuki                    2.26
6 Kazuyuki Manabe                  2.28
7 Tomoya Kano                      2.33
8 Yukihiro Doi                     3.40
9 Makoto Iijima                    3.47
10 Taiji Nishitani                 3.48
11 Mitsunari Mitaki                    
12 Yoshiyuki Abe                       
13 Yoshimasa Hirose                3.49
DNF Kaoru Ouchi                        
DNF Koji Fukushima                     
DNF Nariyuki Masuda                    
DNF Yoshimitsu Tsuji                   
DNF Yoshiyuki Shimizu                  
DNF Shinobu Noguchi                    
DNF Masahiro Shinagawa                 
DNF Kazuo Inoue                        
DNF Ken Hashikawa                      
DNF Kazuhiro Mori                      
DNF Kazuya Okazaki                     
DNF Shinichi Fukushima                 
DNF Makoto Nakamura                    
DNF Naoki Mukaigawa                    
DNF Daisuke Hioki                      
DNF Keiichi Tsujiura                   
DNF Yasuhiro Nito                      
DNF Miyataka Shimizu                   
DNF Itsuki Yoneyama                    
DNF Kaoru Obata                        
DNF Masahiko Mifune                    
DNF Keita Iwashima                     
DNF Keisuke Kamata                     
DNF Mitsuhiro Matsumura                
DNF Akiyama                            
DNF Tetsuya Ishida                     
DNF Akira Kakinuma                     
DNF Masafumi Nishitani                 
DNF Masamichi Yamamoto                 
DNF Kazunari Asano                     
DNF Masanari Komuro                    
DNF Kenichi Suzuki                     
DNF Masaru Fukuhara                    
DNF Masafumi Yamane                    
DNF Hideki Shimizu                     
DNF Motoi Nara                         
DNF Jun Otsuka                         
DNF Dai Fukuhara                       
DNF Hisashi Matsui                     
DNF Yoshiaki Sudo                      
DNF Yasushi Hamagashira                
DNF Kentaro Shibata                    
DNF Akio Shimada                       
DNF Manabu Hirose                      
DNF Yusuke Higuma                      
DNF Syogo Ito                          
DNF Yosuke Suga                        
DNF Takamitsu Tsuji                    
DNF Shinichi Takano                    
DNF Masahiro Mori                      
DNF Atsushi Takano                     
DNF Kohei Tsusue                       
DNF Hideo Yoshida                      
DNF Yasutaka Tashiro                   
DNF Takeaki Ayabe                      
DNF Takumi Beppu                       
DNF Yosuke Kojima                      
DNF Daikatsu Suemoto                   
DNF Yasuyuki Toi                       
DNF Jyunya Sano                        
DNF Shigehiko Sato                     
DNF Masanori Nijyo                     
DNF Hiroshi Funaoka                    
DNF Tomoya Sano                        
DNF Masanori Yono                      
DNF Hiroshi Nara                       
DNF Tomoyuki Kaneda                    
DNF Yoshinori Iino                     
DNF Yushi Nomi                         
DNF Akihiro Munehisa                   
DNF Satoshi Hirose                     
DNF Misao Koizumi                      
DNF Atsushi Yamamoto                   
DNF Kentaro Akao                       
DNF Yoshihito Takahashi                
DNF Seiji Miyashita                    
DNF Katsuyoshi Sugawara                
DNF Yusuke Takahashi                   
DNF Hideharu Sasai                     
DNS Kazuhiro Yamamoto                  
DNS Yuya Uzawa                         
DNS Tatsuro Fukushi                    
DNS Nobuyuki Tabata                    
DNS Makoto Nakata                      
DNS Kengo Kowatari                     
 
Women - 56.4 km 
 
1 Miho Oki                      1.47.04 (31.6 km/h)
2 Ayako Toyooka                        
3 Masami Mashimo                       
4 Ryoko Yamaguchi                      
5 Mao Chino                        1.37
6 Tsubasa Makise                   1.38
7 Akemi Moromoto                       
8 Yuka Yamashima                   1.41
9 Masumi Sakai                     2.47
10 Anna Miyazaki                   3.48
11 Chisako Harigai                 3.49
12 Mami Saito                          
13 Michiko Shimura                 7.08
DNF Hiroko Ishii                       
DNF Norie Kato                         
DNF Chie Obuchi                        
DNF Mariko Toi                         
DNF Remi Inoue                         
DNF Emi Wachi                          
DNF Chihiro Kawamata                   
DNF Hisae Kitano                       
DNF Yuko Myochin                       
DNF Erina Hoshikawa                    
DNF Tsugumi Kimura                     
DNF Megumi Ishii                       
DNF Emiko Muranaka                     
DNF Akari Hiromoto                     
DNF Machi Ikebe                        
DNF Fusae Aoki                         
DNF Chiaki Tamai                       
DNF Ayana Uehara                       
DNF Sayaka Mori                        
DNF Kanako Nishi