Giro d'Italia Femminile - 2.1 (W)
Italy, July 6-15, 2007
Main Page Results Overall standings Previous Stage Next Stage
Stage 7 - July 13: Misinto/Lazzate - Ceriano Laghetto/Cogliate, 120.8 km
Teutenberg doubles up
By Kirsten Robbins
Ina-Yoko Teutenberg (T-Mobile) takes
Photo ©: CJ Farquharson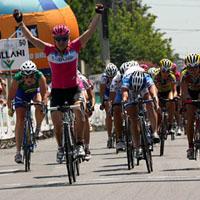 T-Mobile's German sprinter Ina Teutenberg showed no sign of fatigue after Stage 6's day-long breakaway stint, when she won her second Giro d'Italia Femminile stage in the streets of Cogliate today. The T-Mobile rider took Stage 7 victory from Australian Rochelle Gilmore (Menikini-Selle Italia) and world champion Marianne Vos (Team DSB Bank).
"Teutenberg is a great athlete and right now she is in the perfect condition. It's no dishonour for us to have been beaten by a rider like her," Menikini-Selle Italia's director sportif Walter Zini told the media after the podium. "Rochelle is good and my team did a great race today."
The field lessened to 112 riders at the start of the penultimate stage today. The peloton left Misitol to start the first of seven laps on a mission to create a break early on. The motivated peloton and undulating terrain allowed for the first break to happen just five kilometres into the 120 kilometre test. Ombretta Uglini's (Chirio Forno D'Asolo) solo attempt may have been premature, but still gained a maximum of one and a half minutes before it was reeled in on the third lap.
The nasty crash which involved
Photo ©: Davide Tricarico

The field remained active and solo attempts continued through first half of the race. Then, on the fourth lap, a breakaway of seven riders jumped out of the field, including the Giro's best young rider Linda Villumsen Serup (T-Mobile), Julia Martissova (Team FRW), Leda Cox (Team Saccarelli) and Noemi Cantele (Bigla). The seven riders worked well together to remain segregated from the peloton for one lap but the combination was not ideal and the peleton chased them back in order to form the most threatening break of the day.
On the penultimate lap, Stage 2 winner Diana Ziliute (Safi-Pasta) took advantage of a fatigued peloton and went off the front, followed by Maya Adamsen Watt (Team Dila Guerciotti) and strong woman Mirjiam Melchers (Flexpoint). The five riders were all over six minutes behind on the general classification, but worked well together in hopes of a stage win while taking the pressure off of their respective team leaders in the main bunch. The break was brought back with thirteen kilometres to go, but the attacking did not stop there.
Another breakaway
Photo ©: Davide Tricarico

Julia Martissova (Team FRW) initiated her second break of the day with Inge Van Den Broeck (AA-Drink Cycling Team). The two riders didn't get far before they were swallowed by a sprint hungry peloton and the race was on for the stage win.
Organized team leadouts held the bunch together and took their respective sprinters through eleven corners in the last three kilometres. A chicane leading into the final corner made it important for the sprinters to battle for good position. Teutenberg started her sprint out of the final corner with 250 metres to go to take the win over Gilmore and Vos.
Photography
For a thumbnail gallery of these images, click here
Images by CJ Farquharson/WomensCycling.net
Images by Davide Tricarico/www.ladiescycling.net
Results

1 Ina Teutenberg (Ger) T-Mobile Women                            2.58.23 (41.909 km/h)
2 Rochelle Gilmore (Aus) Menikini - Selle Italia - Gysko                
3 Marianne Vos (Ned) Team DSB Bank                                      
4 Giorgia Bronzini (Ita) Safi - Pasta Zara Manhattan                    
5 Martina Corazza (Ita) Team F.R.W. RDZ Gauss                           
6 Grete Treier (Est) Michela Fanini Record Rox                          
7 Kirsten Wild (Ned) AA-Drink Cycling Team                              
8 Monia Baccaille (Ita) Saccarelli Emu Sea Marsciano                    
9 Nicole Brandli (Swi) Bigla Cycling Team                               
10 Joanne Kiesanowski (NZl) Raleigh Lifeforce Creation HB               
11 Marta Bastianelli (Ita) Safi - Pasta Zara Manhattan                  
12 Loes Markerink (Ned) Team Flexpoint                                  
13 Anna Farina (Ita) Top Girls Fassa Bortolo Raxy Line                  
14 Julia Martisova (Rus) Team F.R.W. RDZ Gauss                          
15 Sigrid Corneo (Ita) Menikini - Selle Italia - Gysko                  
16 Elodie Touffet (Fra) Menikini - Selle Italia - Gysko                 
17 Linda Villumsen Serup (Den) T-Mobile Women                           
18 Silvia Parietti (Ita) Team F.R.W. RDZ Gauss                          
19 Judith Arndt (Ger) T-Mobile Women                                    
20 Tatsiana Sharakova (Blr) Team F.R.W. RDZ Gauss                       
21 Alessandra Borchi (Ita) Safi - Pasta Zara Manhattan                  
22 Edita Pucinskaite (Ltu) Equipe Nurnberger Versicherung               
23 Tatiana Guderzo (Ita) AA-Drink Cycling Team                          
24 Arantzazu Azpiroz (Spa) Bizkaia - Panda Soft. - Durango              
25 Monica Holler (Swe) Bigla Cycling Team                               
26 Tina Mayolo Pic (USA) Colavita - Sutter Home                         
27 Noemi Cantele (Ita) Bigla Cycling Team                               
28 Emma Rickards (Aus) Raleigh Lifeforce Creation HB                    
29 Charlotte Becker (Ger) Equipe Nurnberger Versicherung                
30 Svetlana Bubnenkova (Rus) Fenixs - HPB - Edilsavino                  
31 Susanne Ljungskog (Swe) Team Flexpoint                               
32 Fabiana Luperini (Ita) Menikini - Selle Italia - Gysko               
33 Andrea Bosman (Ned) Team DSB Bank                                    
34 Marta Vilajosana Andreu (Spa) Cmax Dila'-Guerciotti-Cogeas           
35 Veronica Leal Balderas (Mex) Team F.R.W. RDZ Gauss                   
36 Dorte Lohse Rasmussen (Den) Menikini - Selle Italia - Gysko          
37 Sara Mustonen (Swe) Michela Fanini Record Rox                        
38 Niki Egyed (Aus) Raleigh Lifeforce Creation HB                       
39 Katy Redolini (Ita) USC Chirio Forno D'asolo                         
40 Rasa Polikeviciute (Ltu) USC Chirio Forno D'asolo                    
41 Anna Zugno (Ita) Safi - Pasta Zara Manhattan                     0.08
42 Daniela Fusar Poli (Ita) Safi - Pasta Zara Manhattan                 
43 Josune Murillo (Spa) Bizkaia - Panda Soft. - Durango                 
44 Diana Ziliute (Ltu) Safi - Pasta Zara Manhattan                      
45 Mette Andreasen Fischer (Den) Cmax Dila'-Guerciotti-Cogeas           
46 Maribel Moreno Allue (Spa) Spanish National Team                     
47 Chantal Beltman (Ned) T-Mobile Women                                 
48 Serena Danesi (Ita) Top Girls Fassa Bortolo Raxy Line                
49 Leda Cox (GBr) Saccarelli Emu Sea Marsciano                          
50 Laura Camilla Lozano (Col) USC Chirio Forno D'asolo                  
51 Tatiana Antoshina (Rus) Fenixs - HPB - Edilsavino                    
52 Miyoko Karami (Jpn) Saccarelli Emu Sea Marsciano                     
53 Eva Lutz (Ger) Equipe Nurnberger Versicherung                        
54 Laura Basso (Ita) Top Girls Fassa Bortolo Raxy Line                  
55 Jennifer Fiori (Ita) Michela Fanini Record Rox                       
56 Kimberly Anderson (USA) T-Mobile Women                               
57 Patricia Schwager (Swi) Raleigh Lifeforce Creation HB                
58 Bettina Kuhn (Swi) Bigla Cycling Team                                
59 Loes Gunnewijk (Ned) Team Flexpoint                                  
60 Kettj Manfrin (Ita) Team F.R.W. RDZ Gauss                            
61 Francesca Tognali (Ita) Top Girls Fassa Bortolo Raxy Line            
62 Alessandra D'ettorre (Ita) Saccarelli Emu Sea Marsciano              
63 Monika Furrer (Swi) Bigla Cycling Team                               
64 Uenia Fernandes Da Souza (Bra) USC Chirio Forno D'asolo              
65 Inge Van Den Broeck (Bel) AA-Drink Cycling Team                      
66 Maya Adamsen Watt (Den) Cmax Dila'-Guerciotti-Cogeas                 
67 Mirjiam Melchers (Ned) Team Flexpoint                                
68 Oenone Wood (Aus) T-Mobile Women                                     
69 Lidia Arcangeli (Ita) Bigla Cycling Team                             
70 Silvia Valsecchi (Ita) Menikini - Selle Italia - Gysko               
71 Sharon Van Essen (Ned) Team DSB Bank                                 
72 Elena Kuchinskaya (Rus) Team F.R.W. RDZ Gauss                        
73 Claudia Hausler (Ger) Equipe Nurnberger Versicherung                 
74 Luisa Tamanini (Ita) Safi - Pasta Zara Manhattan                     
75 Irene Van Den Broeck (Ned) AA-Drink Cycling Team                     
76 Sanne Van Paassen (Ned) Team DSB Bank                                
77 Jona Wynter (Jam) Colavita - Sutter Home                             
78 Alison Powers (USA) Colavita - Sutter Home                           
79 Maria Gallastegi (Spa) Bizkaia - Panda Soft. - Durango               
80 Olivia Gollan (Aus) Menikini - Selle Italia - Gysko                  
81 Olga Slyussareva (Rus) Fenixs - HPB - Edilsavino                     
82 Karin Thurig (Swi) Raleigh Lifeforce Creation HB                 0.26
83 Noortje Tabak (Ned) Team DSB Bank                                    
84 Zoulfia Zabirova (Kaz) Bigla Cycling Team                            
85 Adrie Visser (Ned) Team DSB Bank                                     
86 Giovanna Troldi (Ita) Saccarelli Emu Sea Marsciano                   
87 Rosario Rodriguez Gomez (Spa) Spanish National Team                  
88 Regina Schleicher (Ger) Equipe Nurnberger Versicherung               
89 Ombretta Ugolini (Ita) USC Chirio Forno D'asolo                  1.54
90 Nekane Lasa (Spa) Bizkaia - Panda Soft. - Durango                    
91 Mireia Epelde (Spa) Bizkaia - Panda Soft. - Durango                  
92 Samantha Profumo (Ita) USC Chirio Forno D'asolo                      
93 Andrea Dvorak (USA) Colavita - Sutter Home                           
94 Rosane Kirch (Bra) Michela Fanini Record Rox                         
95 Sarah Tillontson (USA) Colavita - Sutter Home                        
96 Agurtzane Elorriaga (Spa) Bizkaia - Panda Soft. - Durango            
97 Ione Mujika Sarasketa (Spa) Bizkaia - Panda Soft. - Durango          
98 Alice Marmorini (Ita) Saccarelli Emu Sea Marsciano                   
99 Katherine Bates (Aus) T-Mobile Women                                 
100 Andrea Knecht (Swi) Bigla Cycling Team                              
101 Trine Schmidt (Den) Team Flexpoint                              3.34
102 Monica Mendez (Col) USC Chirio Forno D'asolo                    3.42
103 Deborah Mascelli (Ita) Fenixs - HPB - Edilsavino                3.55
104 Linda Van Rijen (Ned) Team DSB Bank                             4.08
105 Silvia Tirado Marquez (Spa) Spanish National Team               4.48
106 Biviana Gonzalez Freire (Spa) Spanish National Team                 
107 Chiara Rozzini (Ita) Saccarelli Emu Sea Marsciano                   
DNF Gintare Gaivenyte (Ltu) Safi - Pasta Zara Manhattan                 
DNF Valentina Bastianelli (Ita) Michela Fanini Record Rox               
DNF Emanuela Azzini (Ita) Cmax Dila'-Guerciotti-Cogeas                  
DNF Daiva Tuslaite (Ltu) Michela Fanini Record Rox                      
DNF Laura Pisaneschi (Ita) Top Girls Fassa Bortolo Raxy Line            
DNF Luidivine Henrion (Bel) Team DSB Bank                               
 
General Classification after Stage 7
 
1 Edita Pucinskaite (Ltu) Equipe Nurnberger Versicherung        19.57.28
2 Nicole Brandli (Swi) Bigla Cycling Team                           0.18
3 Maribel Moreno Allue (Spa) Spanish National Team                  0.36
4 Fabiana Luperini (Ita) Menikini - Selle Italia - Gysko            0.52
5 Susanne Ljungskog (Swe) Team Flexpoint                            1.05
6 Judith Arndt (Ger) T-Mobile Women                                 1.18
7 Linda Villumsen Serup (Den) T-Mobile Women                        2.04
8 Tatiana Guderzo (Ita) AA-Drink Cycling Team                       2.23
9 Marianne Vos (Ned) Team DSB Bank                                  2.41
10 Grete Treier (Est) Michela Fanini Record Rox                     3.06
11 Julia Martisova (Rus) Team F.R.W. RDZ Gauss                      3.07
12 Veronica Leal Balderas (Mex) Team F.R.W. RDZ Gauss               3.09
13 Svetlana Bubnenkova (Rus) Fenixs - HPB - Edilsavino              3.20
14 Claudia Hausler (Ger) Equipe Nurnberger Versicherung             3.51
15 Marta Bastianelli (Ita) Safi - Pasta Zara Manhattan              4.13
16 Noemi Cantele (Ita) Bigla Cycling Team                           4.43
17 Charlotte Becker (Ger) Equipe Nurnberger Versicherung            4.56
18 Monia Baccaille (Ita) Saccarelli Emu Sea Marsciano               5.24
19 Marta Vilajosana Andreu (Spa) Cmax Dila'-Guerciotti-Cogeas       6.10
20 Maya Adamsen Watt (Den) Cmax Dila'-Guerciotti-Cogeas             6.23
21 Luisa Tamanini (Ita) Safi - Pasta Zara Manhattan                 6.27
22 Patricia Schwager (Swi) Raleigh Lifeforce Creation HB            6.33
23 Silvia Valsecchi (Ita) Menikini - Selle Italia - Gysko           6.34
24 Kimberly Anderson (USA) T-Mobile Women                           6.37
25 Eva Lutz (Ger) Equipe Nurnberger Versicherung                    6.42
26 Diana Ziliute (Ltu) Safi - Pasta Zara Manhattan                  6.49
27 Alison Powers (USA) Colavita - Sutter Home                       7.06
28 Mirjiam Melchers (Ned) Team Flexpoint                            7.11
29 Karin Thurig (Swi) Raleigh Lifeforce Creation HB                 7.29
30 Rasa Polikeviciute (Ltu) USC Chirio Forno D'asolo                7.35
31 Rosane Kirch (Bra) Michela Fanini Record Rox                     7.43
32 Inge Van Den Broeck (Bel) AA-Drink Cycling Team                  8.09
33 Tatiana Antoshina (Rus) Fenixs - HPB - Edilsavino                8.13
34 Sigrid Corneo (Ita) Menikini - Selle Italia - Gysko              8.17
35 Andrea Bosman (Ned) Team DSB Bank                                8.25
36 Maria Gallastegi (Spa) Bizkaia - Panda Soft. - Durango           8.30
37 Chantal Beltman (Ned) T-Mobile Women                             8.32
38 Daniela Fusar Poli (Ita) Safi - Pasta Zara Manhattan             8.43
39 Irene Van Den Broeck (Ned) AA-Drink Cycling Team                 8.51
40 Katy Redolini (Ita) USC Chirio Forno D'asolo                     8.54
41 Oenone Wood (Aus) T-Mobile Women                                 8.57
42 Anna Zugno (Ita) Safi - Pasta Zara Manhattan                     9.05
43 Joanne Kiesanowski (NZl) Raleigh Lifeforce Creation HB           9.32
44 Loes Gunnewijk (Ned) Team Flexpoint                              9.42
45 Elena Kuchinskaya (Rus) Team F.R.W. RDZ Gauss                    9.48
46 Dorte Lohse Rasmussen (Den) Menikini - Selle Italia - Gysko      9.49
47 Olivia Gollan (Aus) Menikini - Selle Italia - Gysko              9.59
48 Silvia Parietti (Ita) Team F.R.W. RDZ Gauss                     10.13
49 Olga Slyussareva (Rus) Fenixs - HPB - Edilsavino                10.17
50 Monika Furrer (Swi) Bigla Cycling Team                          10.22
51 Serena Danesi (Ita) Top Girls Fassa Bortolo Raxy Line           10.43
52 Andrea Knecht (Swi) Bigla Cycling Team                          10.49
53 Kirsten Wild (Ned) AA-Drink Cycling Team                        10.50
54 Francesca Tognali (Ita) Top Girls Fassa Bortolo Raxy Line       11.19
55 Tatsiana Sharakova (Blr) Team F.R.W. RDZ Gauss                  12.09
56 Uenia Fernandes Da Souza (Bra) USC Chirio Forno D'asolo              
57 Martina Corazza (Ita) Team F.R.W. RDZ Gauss                     12.24
58 Miyoko Karami (Jpn) Saccarelli Emu Sea Marsciano                     
59 Lidia Arcangeli (Ita) Bigla Cycling Team                        14.16
60 Ombretta Ugolini (Ita) USC Chirio Forno D'asolo                 14.50
61 Mette Andreasen Fischer (Den) Cmax Dila'-Guerciotti-Cogeas      14.59
62 Elodie Touffet (Fra) Menikini - Selle Italia - Gysko            15.04
63 Josune Murillo (Spa) Bizkaia - Panda Soft. - Durango            15.14
64 Sharon Van Essen (Ned) Team DSB Bank                                 
65 Zoulfia Zabirova (Kaz) Bigla Cycling Team                       16.42
66 Adrie Visser (Ned) Team DSB Bank                                16.45
67 Sara Mustonen (Swe) Michela Fanini Record Rox                   16.51
68 Giorgia Bronzini (Ita) Safi - Pasta Zara Manhattan              17.17
69 Nekane Lasa (Spa) Bizkaia - Panda Soft. - Durango               18.02
70 Jennifer Fiori (Ita) Michela Fanini Record Rox                  18.03
71 Ione Mujika Sarasketa (Spa) Bizkaia - Panda Soft. - Durango     18.42
72 Niki Egyed (Aus) Raleigh Lifeforce Creation HB                  19.02
73 Sanne Van Paassen (Ned) Team DSB Bank                           19.09
74 Linda Van Rijen (Ned) Team DSB Bank                             19.20
75 Alessandra Borchi (Ita) Safi - Pasta Zara Manhattan             19.39
76 Noortje Tabak (Ned) Team DSB Bank                               20.09
77 Laura Basso (Ita) Top Girls Fassa Bortolo Raxy Line             21.01
78 Tina Mayolo Pic (USA) Colavita - Sutter Home                    21.09
79 Rochelle Gilmore (Aus) Menikini - Selle Italia - Gysko          21.13
80 Bettina Kuhn (Swi) Bigla Cycling Team                           21.27
81 Loes Markerink (Ned) Team Flexpoint                             21.41
82 Jona Wynter (Jam) Colavita - Sutter Home                        22.42
83 Agurtzane Elorriaga (Spa) Bizkaia - Panda Soft. - Durango       23.04
84 Laura Camilla Lozano (Col) USC Chirio Forno D'asolo             23.06
85 Alice Marmorini (Ita) Saccarelli Emu Sea Marsciano              23.48
86 Andrea Dvorak (USA) Colavita - Sutter Home                      24.18
87 Arantzazu Azpiroz (Spa) Bizkaia - Panda Soft. - Durango         24.51
88 Monica Holler (Swe) Bigla Cycling Team                          24.55
89 Regina Schleicher (Ger) Equipe Nurnberger Versicherung          25.11
90 Biviana Gonzalez Freire (Spa) Spanish National Team             25.41
91 Rosario Rodriguez Gomez (Spa) Spanish National Team             26.03
92 Chiara Rozzini (Ita) Saccarelli Emu Sea Marsciano               26.39
93 Ina Teutenberg (Ger) T-Mobile Women                             26.49
94 Sarah Tillontson (USA) Colavita - Sutter Home                   27.11
95 Kettj Manfrin (Ita) Team F.R.W. RDZ Gauss                       27.14
96 Katherine Bates (Aus) T-Mobile Women                            27.43
97 Emma Rickards (Aus) Raleigh Lifeforce Creation HB               27.50
98 Trine Schmidt (Den) Team Flexpoint                              30.41
99 Giovanna Troldi (Ita) Saccarelli Emu Sea Marsciano              31.29
100 Leda Cox (GBr) Saccarelli Emu Sea Marsciano                    35.06
101 Samantha Profumo (Ita) USC Chirio Forno D'asolo                39.09
102 Alessandra D'ettorre (Ita) Saccarelli Emu Sea Marsciano        42.56
103 Deborah Mascelli (Ita) Fenixs - HPB - Edilsavino               45.17
104 Mireia Epelde (Spa) Bizkaia - Panda Soft. - Durango            45.50
105 Anna Farina (Ita) Top Girls Fassa Bortolo Raxy Line            46.21
106 Monica Mendez (Col) USC Chirio Forno D'asolo                   48.36
107 Silvia Tirado Marquez (Spa) Spanish National Team              49.35
 
Points classification
 
1 Marianne Vos (Ned) Team DSB Bank                                    54 pts
2 Giorgia Bronzini (Ita) Safi - Pasta Zara Manhattan                  45
3 Rochelle Gilmore (Aus) Menikini - Selle Italia - Gysko              38
4 Grete Treier (Est) Michela Fanini Record Rox                        33
5 Ina Teutenberg (Ger) T-Mobile Women                                 30
6 Judith Arndt (Ger) T-Mobile Women                                   25
7 Nicole Brandli (Swi) Bigla Cycling Team                             23
8 Regina Schleicher (Ger) Equipe Nurnberger Versicherung              20
9 Edita Pucinskaite (Ltu) Equipe Nurnberger Versicherung              15
10 Susanne Ljungskog (Swe) Team Flexpoint                             15
11 Monia Baccaille (Ita) Saccarelli Emu Sea Marsciano                 15
12 Diana Ziliute (Ltu) Safi - Pasta Zara Manhattan                    14
13 Martina Corazza (Ita) Team F.R.W. RDZ Gauss                        14
14 Oenone Wood (Aus) T-Mobile Women                                   13
15 Maribel Moreno Allue (Spa) Spanish National Team                   12
16 Marta Bastianelli (Ita) Safi - Pasta Zara Manhattan                12
17 Julia Martisova (Rus) Team F.R.W. RDZ Gauss                        11
18 Kirsten Wild (Ned) AA-Drink Cycling Team                           11
19 Fabiana Luperini (Ita) Menikini - Selle Italia - Gysko             10
20 Katherine Bates (Aus) T-Mobile Women                                8
21 Joanne Kiesanowski (NZl) Raleigh Lifeforce Creation HB              7
22 Linda Villumsen Serup (Den) T-Mobile Women                          6
23 Chantal Beltman (Ned) T-Mobile Women                                6
24 Adrie Visser (Ned) Team DSB Bank                                    5
25 Monica Holler (Swe) Bigla Cycling Team                              5
26 Svetlana Bubnenkova (Rus) Fenixs - HPB - Edilsavino                 4
27 Claudia Hausler (Ger) Equipe Nurnberger Versicherung                4
28 Noemi Cantele (Ita) Bigla Cycling Team                              2
29 Rosane Kirch (Bra) Michela Fanini Record Rox                        2
30 Tatiana Guderzo (Ita) AA-Drink Cycling Team                         1
 
Mountains classification
 
1 Svetlana Bubnenkova (Rus) Fenixs - HPB - Edilsavino                 32 pts
2 Edita Pucinskaite (Ltu) Equipe Nurnberger Versicherung              24
3 Fabiana Luperini (Ita) Menikini - Selle Italia - Gysko              23
4 Luisa Tamanini (Ita) Safi - Pasta Zara Manhattan                    15
5 Kimberly Anderson (USA) T-Mobile Women                              12
6 Maribel Moreno Allue (Spa) Spanish National Team                    12
7 Alison Powers (USA) Colavita - Sutter Home                           9
8 Nicole Brandli (Swi) Bigla Cycling Team                              9
9 Noemi Cantele (Ita) Bigla Cycling Team                               9
10 Marta Bastianelli (Ita) Safi - Pasta Zara Manhattan                 8
11 Susanne Ljungskog (Swe) Team Flexpoint                              7
12 Bettina Kuhn (Swi) Bigla Cycling Team                               7
13 Charlotte Becker (Ger) Equipe Nurnberger Versicherung               6
14 Claudia Hausler (Ger) Equipe Nurnberger Versicherung                6
15 Julia Martisova (Rus) Team F.R.W. RDZ Gauss                         5
16 Linda Villumsen Serup (Den) T-Mobile Women                          1
 
Best young rider classification

1 Linda Villumsen Serup (Den) T Mobile Team          19.59.32