Cascade Cycling Classic - NE
Bend Oregon, USA, July 11-15, 2007
Main Page Results Overall standings Previous Stage Next Stage
Stage 2 - July 12: Meridian Realty McKenzie Pass RR, 80 miles
Jacques-Maynes wins mountain top finish
By Mark Zalewski, North American Editor
And the winner is: Ben Jacques-Maynes
Photo ©: Cascade Event Photography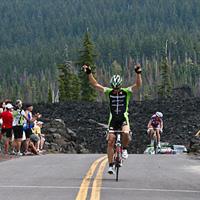 For the second day in a row the Cascade Classic tested the strength of the top riders with a mountain top finish, and the cream of American domestic racing rose to the top, with Ben Jacques-Maynes (Priority Health) jumping Chris Baldwin (Toyota-United) in the closing metres for the win. However, Baldwin finished eight seconds ahead of Stage 1 winner and race leader Ricardo Escuela (Successful Living-ParkPre), giving the former national time trial champion the lead going into tomorrow morning's time trial.
"It's all just kind of formality with the TT tomorrow," Baldwin said, trying not to tempt fate regarding his lead. "Today was kind of more of the same. We were in a good spot - Successful Living ponied up and brought the race back together into the climb. It's good to see a team like that able to defend. We knew we were going to have to deal with the attacks at the end. Blackgrove rode a bunch of tempo at the bottom and it only blew apart in the final kilometres."
Forshadowing of things to come?
Photo ©: Cascade Event Photography

With only about 20 riders in the lead group Phil Zajicek and Jeff Louder escaped, putting pressure on the other favourites. "I attacked at 1.5km because everyone was at the limit," said Baldwin. "I got away and went straight through those two, but at 250 metres Jacques-Maynes went right by me like I was standing still. It was more of everyone being at the limit than a sprint at the end."
Jacques-Maynes agreed that today's stage was similar to yesterday's except for the end. "A lot bigger hill at the end!" he said. "It was like a 20 km hill. There was a lot of attacking in the finale but I was patient - guys were hitting out at like 800 metres and that was way too early. Baldwin bridged across to the leaders, and Moninger towed me half-way up to them.
Regarding his pass of Baldwin in the finale, Jacques-Maynes said: "I shifted down to a harder gear he shifted up to an easier gear, and my momentum carried me. My legs did not feel good today, but the stars aligned!"
Toyota-United throws in some firepower
Photo ©: Cascade Event Photography

Baldwin has a five second lead on Escuela and nine seconds on Jacques-Maynes, but with the new time trial course, is also watching the power riders. "It's a whole new course," he said. "It goes up this gentle grade on the way out and then fast on the way in. I rode it once and drove it again tonight. It's a good course for the stronger guys like Ben Day and Chadwick so it's good to have some time on them."
Though Jacques-Maynes did not have the freshest legs, he hopes that they will at least turn tomorrow after today. "If I can get the legs to move like they were moving today things will go well. Chris [Baldwin] really wants to win this race so he will uncork things tomorrow. And there are a lot of good TT riders here."
Photography
For a thumbnail gallery of these images, click here
Images by Cascade Event Photography
Results
1 Benjamin Jacques-Maynes (Priority Health Bissell)      3.08.50 (40.908 km/h)
2 Chris Baldwin (Toyota-United)                             0.03
3 Ricardo Escuela (Successful Living.com P/B Park)          0.11
4 Jeff Louder (Health Net presented by Maxxis)              0.14
5 Phil Zajicek (Navigators Insurance)                           
6 Chris Wherry (Toyota-United)                                  
7 Scott Moninger (BMC Pro Cycling Team)                         
8 Scott Nydam (BMC Pro Cycling Team)                        0.27
9 Justin England (Toyota-United)                            0.30
10 Corey Collier (Team Einstein's Cycling)                      
11 Jonathan Garcia (BMC Pro Cycling Team)                   0.43
12 Ian McKissick (BMC Pro Cycling Team)                     0.48
13 Michael Grabinger (Successful Living.com P/B Park)       0.51
14 Ian Gray (Nebraska Medical Center/Tea)                   0.56
15 David Vitoria (BMC Pro Cycling Team)                         
16 Ryder Hesjedal (Health Net presented by Maxxis)              
17 Christopher Jones (Nerac Pro Cycling)                        
18 Burke Swindlehurst (Toyota-United)                           
19 Ben Day (Navigators Insurance)                           1.46
20 Doug Ollerenshaw (Health Net presented by Maxxis)        1.48
21 Michael Sayers (BMC Pro Cycling Team)                    1.50
22 Aaron Tuckerman (Team Rubicon)                           1.52
22 Darren Lill (Navigators Insurance)                           
24 Ryan Hamity (Team Einstein's Cycling)                        
25 Roman Kilun (Health Net presented by Maxxis)                 
26 Kyle Colavito (Rideclean)                                    
27 Patrick McGlynn (Team Einstein's Cycling)                2.10
28 Ryan Trebon (Kodak Gallery / Sierra Nevada)              2.53
29 Carl Decker (Hagens Berman)                              3.14
30 Jackson Stewart (BMC Pro Cycling Team)                       
31 BEn Brooks (Navigators Insurance)                            
32 Brian Sheedy (Priority Health Bissell)                       
33 Matt Cooke (Navigators Insurance)                            
34 Jarred Berger (Team Einstein's Cycling)                      
35 Ben Kneller (Rocky Mountain Chocolate Fact)                  
36 David Rodriguez (Navigators Insurance)                   3.27
37 Lang Reynolds (AxleyUSA.com/Seigler Sports)                  
38 Brian Kendall                                            3.46
39 Logan Hunn (Team Rubicon)                                3.48
40 Matt Landen (Nebraska Medical Center/Tea)                4.11
41 Andrew Boone (Kenda/Raleigh Racing)                      4.24
42 Thomas Githens (Fast Friday)                             4.34
43 Ben Thompson (Bend Elite)                                4.36
44 Mitchell Trux (DBC Elite)                                    
45 Chris Swan (Lombardi Sports)                                 
46 Frank Zoldak (Echelon Slopes & Spokes Raci)                  
47 Dan Bryant (Specialized/Sierra Nevada)                       
48 Justin Rose (Team Bobs-Bicycles.com)                         
49 Matt Cianciulli (Team Einstein's Cycling)                    
50 Edward King (Priority Health Bissell)                        
51 Jonathan Eropkin (Central Valley Cycling)                    
52 Heath Blackgrove (Toyota-United)                             
53 Todd Yezefski (Nerac Pro Cycling)                            
54 Stefano Barberi (Toyota-United)                              
55 Kirk O'Bee (Health Net presented by Maxxis)                  
56 Glen Chadwick (Navigators Insurance)                         
57 Remi McManus (Razzignators)                                  
58 Jon Mullen (Team Einstein's Cycling)                         
59 Aaron Olson (T-Mobile Pro Team)                              
60 Seth Hosmer (CMG Racing)                                     
61 Christian Valenzuela (Successful Living.com P/B Park)        
62 Ben Rhodes (Recycled Cycles/Raleigh)                     5.01
63 Matt Lieto (Therapeutic Associates)                      5.31
64 Chris Stuart (Team Bobs-Bicycles.com)                        
65 Anthony Aker (Team One Racing)                           5.49
66 Sloane Anderson (Bend Bike N Sport)                      6.01
67 Joseph Saperstein (Team Einstein's Cycling)              6.03
68 Shawn Ongers (AxleyUSA.com/Seigler Sports)               6.30
69 Shawn Howard (WAR)                                           
70 Adam Jensen (Hagens Berman)                                  
71 Zac Coolman (Waste Management)                           7.11
72 Josh Tack (Hagens Berman)                                7.33
73 Evan Plews (Capitol Subaru Cycling)                      8.05
74 Quinn Keogh (Paul's Bicycle Way of Life)                 8.17
75 Bernard VanUlden (Navigators Insurance)                  8.32
76 Frank Pipp (Health Net presented by Maxxis)                  
77 Adam Curry (Hagens Berman)                               9.10
78 Joseph King (Hagens Berman)                                  
79 Brad Payne (Team Rubicon)                                    
80 Jared Pitroski (Rocky Mountain Chocolate Fact)               
81 Carson Miller (Hagens Berman)                            9.55
82 Garett Peltonen (Priority Health Bissell)               11.08
83 Shane Peltonen (Eclipse Racing)                              
84 Dan Harm (Team Rubicon)                                 11.14
85 Nathan Rouse (Hagens Berman)                            11.31
86 Ivan Domiguez (Toyota-United)                           11.49
87 Dan Schmatz (BMC Pro Cycling Team)                      12.06
88 Patrick Caro (Schroeder Iron/Incycle)                        
89 Justin Mayfield (Team Bobs-Bicycles.com)                     
90 Chuck Coyle (Successful Living.com P/B Park)                 
91 Donald Reeb (CMG Racing)                                     
92 Ryan McKean (Bend Bike N Sport)                              
93 Alessandro Bazzana (Successful Living.com P/B Park)          
94 Eric Schuman (Byrne Invent)                                  
95 Jose-Manuel Garcia (Toyota-United)                           
96 Omer Kem (Priority Health Bissell)                           
97 Robbie King (Priority Health Bissell)                        
98 Daniel Ramsay (Successful Living.com P/B Park)               
99 Curtis Gunn (Successful Living.com P/B Park)                 
100 Jared Gilyard (Eclipse Racing)                              
101 Scott Zwizanski (Priority Health Bissell)              14.26
102 Tom Zirbel (Priority Health Bissell)                   22.43
 
Mountains
 
Climb 1
1 Glen Chadwick (Navigators Insurance)                         7 pts
2 Scott Zwizanski (Priority Health Bissell)                    5
3 Scott Nydam (BMC Pro Cycling Team)                           3
4 David Vitoria (BMC Pro Cycling Team)                         2
5 Matt Cooke (Navigators Insurance)                            1
 
Climb 2
1 Benjamin Jacques-Maynes (Priority Health Bissell)            7 pts
2 Chris Baldwin (Toyota-United)                                5
3 Ricardo Escuela (Successful Living.com P/B Park)             3
4 Jeff Louder (Health Net presented by Maxxis)                 2
5 Phil Zajicek (Navigators Insurance)                          1
 
Teams
 
1 Toyota-United                                          9.27.17
2 BMC Pro Cycling Team                                      0.37
3 Health Net presented by Maxxis                            2.11
4 Navigators Insurance                                      3.05
5 Team Einstein's Cycling                                   3.45
6 Successful Living.com P/B Parkpre                         4.51
7 Priority Health Bissell                                   7.03
8 Team Rubicon                                             14.03
9 Hagens Berman                                            16.30
10 Team Bobs-Bicycles.com                                  21.26
 
General Classification after Stage 2
 
1 Chris Baldwin (Toyota-United)                          6.47.27
2 Ricardo Escuela (Successful Living.com P/B Park)          0.05
3 Benjamin Jacques-Maynes (Priority Health Bissell)         0.09
4 Phil Zajicek (Navigators Insurance)                       0.17
5 Jeff Louder (Health Net presented by Maxxis)              0.31
6 Chris Wherry (Toyota-United)                                  
7 Justin England (Toyota-United)                            0.51
8 Scott Moninger (BMC Pro Cycling Team)                     0.52
9 Corey Collier (Team Einstein's Cycling)                   0.59
10 Scott Nydam (BMC Pro Cycling Team)                       1.08
11 Jonathan Garcia (BMC Pro Cycling Team)                   1.15
12 Michael Grabinger (Successful Living.com P/B Park)       1.20
13 David Vitoria (BMC Pro Cycling Team)                     1.25
14 Burke Swindlehurst (Toyota-United)                           
15 Ryder Hesjedal (Health Net presented by Maxxis)          1.31
16 Christopher Jones (Nerac Pro Cycling)                    1.36
17 Ian Gray (Nebraska Medical Center/Tea)                   1.52
18 Ian McKissick (BMC Pro Cycling Team)                     1.53
19 Darren Lill (Navigators Insurance)                       2.17
20 Aaron Tuckerman (Team Rubicon)                           2.21
21 Doug Ollerenshaw (Health Net presented by Maxxis)        2.44
22 Kyle Colavito (Rideclean)                                2.48
23 Michael Sayers (BMC Pro Cycling Team)                    2.55
24 Patrick McGlynn (Team Einstein's Cycling)                3.15
25 Ryan Hamity (Team Einstein's Cycling)                    3.22
26 Roman Kilun (Health Net presented by Maxxis)             3.49
27 BEn Brooks (Navigators Insurance)                        4.08
28 Jarred Berger (Team Einstein's Cycling)                  4.10
29 Carl Decker (Hagens Berman)                              4.26
30 Brian Sheedy (Priority Health Bissell)                       
31 Lang Reynolds (AxleyUSA.com/Seigler Sports)              4.39
32 Jackson Stewart (BMC Pro Cycling Team)                   4.44
33 Ben Day (Navigators Insurance)                           4.51
34 Ben Kneller (Rocky Mountain Chocolate Fact)              4.54
35 Brian Kendall                                            4.58
36 Logan Hunn (Team Rubicon)                                5.00
37 Andrew Boone (Kenda/Raleigh Racing)                      5.20
38 Glen Chadwick (Navigators Insurance)                     5.22
39 Justin Rose (Team Bobs-Bicycles.com)                     5.32
40 Heath Blackgrove (Toyota-United)                             
41 Edward King (Priority Health Bissell)                        
42 Christian Valenzuela (Successful Living.com P/B Park)        
43 Ryan Trebon (Kodak Gallery / Sierra Nevada)              5.33
44 Mitchell Trux (DBC Elite)                                5.41
45 Matt Landen (Nebraska Medical Center/Tea)                5.44
46 Ben Thompson (Bend Elite)                                5.48
47 Todd Yezefski (Nerac Pro Cycling)                            
48 Seth Hosmer (CMG Racing)                                     
49 Stefano Barberi (Toyota-United)                              
50 Frank Zoldak (Echelon Slopes & Spokes Raci)              6.09
51 Jon Mullen (Team Einstein's Cycling)                         
52 Matt Cianciulli (Team Einstein's Cycling)                6.16
53 Matt Cooke (Navigators Insurance)                        6.19
54 Dan Bryant (Specialized/Sierra Nevada)                   6.25
55 Jonathan Eropkin (Central Valley Cycling)                    
56 Kirk O'Bee (Health Net presented by Maxxis)              6.33
57 Joseph Saperstein (Team Einstein's Cycling)              6.55
58 Matt Lieto (Therapeutic Associates)                      6.57
59 Ben Rhodes (Recycled Cycles/Raleigh)                     6.58
60 David Rodriguez (Navigators Insurance)                   7.10
61 Chris Stuart (Team Bobs-Bicycles.com)                    7.20
62 Anthony Aker (Team One Racing)                           7.22
63 Sloane Anderson (Bend Bike N Sport)                      7.27
64 Adam Jensen (Hagens Berman)                              8.03
65 Zac Coolman (Waste Management)                           8.23
66 Josh Tack (Hagens Berman)                                8.45
67 Quinn Keogh (Paul's Bicycle Way of Life)                 9.29
68 Frank Pipp (Health Net presented by Maxxis)             10.17
69 Remi McManus (Razzignators)                             10.18
70 Joseph King (Hagens Berman)                             11.13
71 Bernard VanUlden (Navigators Insurance)                 11.37
72 Carson Miller (Hagens Berman)                           11.44
73 Jared Pitroski (Rocky Mountain Chocolate Fact)          12.41
74 Justin Mayfield (Team Bobs-Bicycles.com)                13.32
75 Dan Harm (Team Rubicon)                                 13.45
76 Chuck Coyle (Successful Living.com P/B Park)            13.51
77 Alessandro Bazzana (Successful Living.com P/B Park)     14.09
78 Ivan Domiguez (Toyota-United)                           14.33
79 Jared Gilyard (Eclipse Racing)                          14.42
80 Donald Reeb (CMG Racing)                                14.58
81 Daniel Ramsay (Successful Living.com P/B Park)          15.02
82 Shawn Howard (WAR)                                      15.04
83 Dan Schmatz (BMC Pro Cycling Team)                      15.49
84 Garett Peltonen (Priority Health Bissell)               16.07
85 Scott Zwizanski (Priority Health Bissell)               16.23
86 Aaron Olson (T-Mobile Pro Team)                         16.48
87 Curtis Gunn (Successful Living.com P/B Park)            17.14
88 Omer Kem (Priority Health Bissell)                      17.48
89 Thomas Githens (Fast Friday)                            18.18
90 Shawn Ongers (AxleyUSA.com/Seigler Sports)              20.23
91 Chris Swan (Lombardi Sports)                            22.20
92 Brad Payne (Team Rubicon)                               23.12
93 Evan Plews (Capitol Subaru Cycling)                     24.26
94 Jose-Manuel Garcia (Toyota-United)                      25.37
95 Robbie King (Priority Health Bissell)                        
96 Patrick Caro (Schroeder Iron/Incycle)                   25.59
97 Nathan Rouse (Hagens Berman)                            26.02
98 Tom Zirbel (Priority Health Bissell)                    26.14
99 Adam Curry (Hagens Berman)                              26.54
100 Shane Peltonen (Eclipse Racing)                        28.52
101 Ryan McKean (Bend Bike N Sport)                        29.50
102 Eric Schuman (Byrne Invent)                            30.36
 
Mountains classification
 
1 Ricardo Escuela (Successful Living.com P/B Park)            10 pts
2 Scott Nydam (BMC Pro Cycling Team)                          10
3 Chris Baldwin (Toyota-United)                               10
4 Benjamin Jacques-Maynes (Priority Health Bissell)            9
5 Glen Chadwick (Navigators Insurance)                         7
6 Daniel Ramsay (Successful Living.com P/B Park)               5
7 Scott Zwizanski (Priority Health Bissell)                    5
8 Phil Zajicek (Navigators Insurance)                          4
9 Jeff Louder (Health Net presented by Maxxis)                 3
10 Ben Day (Navigators Insurance)                              3
11 David Vitoria (BMC Pro Cycling Team)                        2
12 Heath Blackgrove (Toyota-United)                            2
13 Doug Ollerenshaw (Health Net presented by Maxxis)           1
14 Matt Cooke (Navigators Insurance)                           1
 
Teams classification
 
1 Toyota-United                                         20.23.43
2 BMC Pro Cycling Team                                      1.41
3 Health Net presented by Maxxis                            3.24
4 Navigators Insurance                                      3.44
5 Team Einstein's Cycling                                   5.27
6 Successful Living.com P/B Parkpre                         5.35
7 Priority Health Bissell                                   8.45
8 Team Rubicon                                             17.40
9 Hagens Berman                                            19.52
10 Team Bobs-Bicycles.com                                  25.02