21st Route Adélie - 1.1
Vitré, France, April 6, 2007
2006 Results Results Past winners
Amateur French champion Rémi Pauriol signs first pro win
By Jean-François Quénet in Vitré
Remi Pauriol wins
Photo ©: Régis Garnier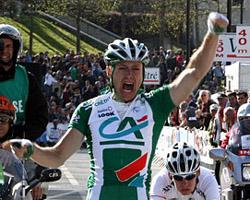 Rémi Pauriol, one of the most promising French riders since he became the Amateur national champion in 2005, has bagged his first pro win at the Route Adélie de Vitré, a French cup race contested on a circuit quite similar to a championship with laps of 21km followed by smaller laps of 8km each.
It was a very spectacular race indeed. It pleased the estimated 40,000 Breton spectators, as counted by the police forces. They cheered for local boys Benoît Vaugrenard, Antoine Dalibard, Cyril Gautier, Arnaud Lesvenan and Freddy Bichot who took part in the early breakaway that was never guaranteed to succeed although the winner was to be found in that group.
The crowds generated as much noise as found in a huge stadium when Bichot rode solo with one lap to go, looking like he was flying en route to the victory. He was brought back by neo pro Yann Huguet from Cofidis who ran 3rd. "I have worked a lot in training and it pays off," the 23 year-old from Bordeaux commented. "I was cramping at the end but I'm happy with my performance."
Pauriol was also cramping. But he has one more year of experience in the pro ranks. He came to a one-two match against Russian champion who is only 21 years of age. "Khatuntsev looked very strong," Pauriol explained. "I felt my only chance of beating him was to start sprinting in second position and that's what happened. I stayed on his wheel and I passed him at the very end. I know I can go fast in a small group, but in big bunches, I don't even try because it's hopeless to take a risk of falling for finishing 15th. I wasn't very sure of myself, though. He could have beaten me."
The escape
Photo ©: Régis Garnier

Pauriol was very talkative. He's a genuine bloke from Marseille who studied before taking up cycling seriously, although he comes from a cycling family. He was a baby when he followed his uncle at the races. "I made the front group at the beginning, I was in the front again when it split, I haven't made any mistakes today," he said. "Because of that I still had the resources in the finale for taking my first pro win, which makes me very pleased. Last year I got some good results like second in Paris-Corrèze but I didn't score any goal. I improve every year but I hadn't won a race since I became the French amateur champion - that's almost two years ago. I was used to winning 7 or 8 races a year since I begun in that sport, that's why I was very emotional when I crossed the line today."
Racing on circuits is his speciality. "I've been told many times that I'm built for the stage races," he said. "But I don't recover so well. I struggle after five or six days." In fact, he made the top 25 in Paris-Nice at the crucial stage of Mende and he was the only rider who disappeared from the first column of the results the next day. "I believe I'm more at my ease in one-day races", he added.
With Pauriol, 25, Khatuntsev, 21, and Huguet, 23, we've seen new faces on the podium of the Route Adélie. The Breton race has also marked the return of Maryan Hary who had almost one year off after a big crash in the Dauphiné two years ago. Cofidis has given the former Bouygues Telecom rider a second chance. Coming 5th in Vitré, he showed he deserved it. This might be the beginning of a second career for him.
How it unfolded
Pauriol goes for it
Photo ©: Régis Garnier

After 10 kilometers, 23 riders broke clear: Ian McLeod and Benoît Vaugrenard (Française des Jeux), Nicolas Rousseau (Ag2r), Stefano Boggia (Flaminia), Antoine Dalibard and Cyril Gautier (Bretagne-Armor Lux), Jean Mespoulède and Mathieu Drujon (Auber 93), Maryan Hary and Yann Huguet (Cofidis), Freddy Bichot (Agritubel), Christophe Edaleine, Nicolas Roche and Rémi Pauriol (Crédit Agricole), Tyler Butterfield and Kilian Patour (Slipstream), Koji Fukushima (Nippo Meitan), Arnaud Lesvenan (VC Roubaix), Dimitri Champion and Pierre Drancourt (Bouygues Telecom), Alexander Khatuntsev and Gil Suray (Unibet.com).
Agritubel did most of the work at the back. The leaders never got more than 2.20, a gap they reached after half way. Roche launched an attack with 50km to go, followed by Hary. The front group started to lose some elements. With 5 small laps to go (43km), the breakaway split in three. Four of them made the first part: Pauriol, Bichot, Khatuntsev and Huguet. The chasers were McLeod, Hary, Drancourt, Roche, Dalibard, Drujon, Fukushima and Suray but only Hary managed to go across by himself.
He was a precious help for Huguet when Bichot went solo with 10km to go. The two men from Cofidis brought the local rider back, Pauriol and Khatuntsev countered. The Russian led the two men sprint but the Frenchman passed him 50 meters before the line and grabbed his first pro win.
Photography
For a thumbnail gallery of these images, click here
Images by Régis Garnier/www.velofotopro.com
Results - 197.8 km
1 Rémi Pauriol (Fra) Crédit Agricole                                 4.38.12
2 Alexander Khatuntsev (Rus) Unibet.com
3 Yann Huguet (Fra) Cofidis-Le Crédit par Téléphone                     0.15
4 Freddy Bichot (Fra) Agritubel                                         0.19
5 Maryan Hary (Fra) Cofidis-Le Crédit par Téléphone                     0.24
6 Yury Trofimov (Rus) Moscow Stars                                      0.46
7 David Lelay (Fra) Bretagne-Armor Lux                                  0.50
8 Mathieu Drujon (Fra) Auber                                            1.23
9 Gil Suray (Bel) Unibet.com
10 Pierre Drancourt (Fra) Bouygues Telecom                              1.26
11 Ian McLeod (RSA) Française des Jeux                                  1.28
12 Frédéric Finot (Fra) Roubaix Lille Metropole                         1.38
13 Koji Fukushima (Jpn) Nippo Corporation-Meitan Honpo Co LTD-Asada     1.42
14 Antoine Dalibard (Fra) Bretagne-Armor Lux                            1.43
15 Romain Feillu (Fra) Agritubel                                        1.48
16 Christophe Diguet (Fra) Auber                                        1.49
17 Nicolas Rousseau (Fra) AG2r Prévoyance
18 Arnaud Lesvenan (Fra) Roubaix Lille Metropole
19 Cyril Gautier (Fra) Bretagne-Armor Lux
20 Jérémy Roy (Fra) Française des Jeux                                  1.50
21 Laurent Brochard (Fra) Bouygues Telecom                              1.52
22 Benoît Poilvet (Fra) Crédit Agricole
23 Kilian Patour (Fra) Team Slipstream powered by Chipotle              1.53
24 Sergey Kolesnikov (Rus) Unibet.com                                   1.54
25 Piotr Zielinski (Pol) Bretagne-Armor Lux                             1.55
26 Jean Mespoulède (Fra) Auber
27 Benoît Vaugrenard (Fra) Française des Jeux                           1.56
28 Blaise Sonnery (Fra) AG2r Prévoyance
29 Dimitri Champion (Fra) Bouygues Telecom                              2.01
30 Christophe Edaleine (Fra) Crédit Agricole                            2.10
31 Christopher Sutton (Aus) Cofidis-Le Crédit par Téléphone             2.31
32 Nicolas Jalabert (Fra) Agritubel                                     2.32
33 Christophe Moreau (Fra) AG2r Prévoyance                              2.33
34 Nicholas Roche (Irl) Crédit Agricole
35 Steven Tronet (Fra) Roubaix Lille Metropole                          2.34
36 Giovanni Bernaudeau (Fra) Bouygues Telecom
37 Anthony Colin (Fra) Roubaix Lille Metropole
38 Yuriy Krivtsov (Ukr) AG2r Prévoyance
39 Peter Jacobs (Bel) Unibet.com
40 John Gadret (Fra) AG2r Prévoyance
41 Paul Brousse (Fra) Roubaix Lille Metropole
42 Carlos Da Cruz (Fra) Française des Jeux                              2.35
43 Stéphane Auge (Fra) Cofidis
44 Miyataka Shimizu (Jpn) Nippo Corporation-Meitan Honpo Co LTD-Asada
45 William Frischkorn (USA) Team Slipstream pb Chipotle                 2.36
46 Pierre Rolland (Fra) Crédit Agricole                                 2.38
47 Junya Sano (Jpn) Nippo Corporation-Meitan Honpo Co LTD-Asada
48 Steven Cozza (USA) Team Slipstream powered by Chipotle               2.39
49 Ildar Zakirov (Rus) Moscow Stars                                     2.40
50 Huub Duyn (Ned) Team Slipstream powered by Chipotle                  2.42
51 Gustav Larson (Swe) Unibet.com
52 Guillaume Le Floch (Fra) Bretagne-Armor Lux                          2.43
53 Mickael Delage (Fra) Française des Jeux
54 Ivan Seledkov (Rus) Moscow Stars
55 Michal Golas (Pol) Unibet.com
56 Kazuki Inoue (Jpn) Nippo Corporation-Meitan Honpo Co LTD-Asada
57 Frédéric Bessy (Fra) Cofidis-Le Crédit par Téléphone
58 Niels Brouzes (Fra) Auber                                            2.44
59 Angelo Furlan (Ita) Crédit Agricole                                  2.45
60 Tristan Valentin (Fra) Cofidis-Le Crédit par Téléphone
61 Renaud Pioline (Fra) Auber                                           2.46
62 Yukiya Arashiro (Jpn) Nippo Corporation-Meitan Honpo Co LTD-Asada    2.48
63 Mikhaylo Khalilov (Ukr) Ceramica Flaminia                            2.50
64 Andrey Klyuev (Rus) Moscow Stars                                     2.51
65 Volodymyr Duma (Ukr) Ceramica Flaminia
66 Bogdan Bondariew (Ukr) Intel - Action                                2.52
67 Mickaël Buffaz (Fra) Cofidis-Le Crédit par Téléphone                 2.53
68 Nicolas Hartmann (Fra) Cofidis-Le Crédit par Téléphone
69 Maxime Méderel (Fra) Auber                                           2.54
70 Noan Lelarge (Fra) Bretagne-Armor Lux
71 Stéphane Petilleau (Fra) Bretagne-Armor Lux
72 Denis Vorontsov (Rus) Moscow Stars                                   3.48
73 Samuel Dumoulin (Fra) AG2r Prévoyance                                4.53
74 Kazuya Okazaki (Jpn) Nippo Corporation-Meitan Honpo Co LTD-Asada     5.33
75 Emilien Benoit Bergès (Fra) Agritubel                                5.39
76 Johan Lindgren (Swe) Française des Jeux
77 Peter Stetina (USA) Team Slipstream powered by Chipotle
78 Nicolas Crosbie (Fra) Bouygues Telecom                               5.40
79 Christophe Kern (Fra) Crédit Agricole
80 Cédric Pineau (Fra) Roubaix Lille Metropole
81 Cédric Hervé (Fra) Agritubel
82 Stéphane Bonsergent (Fra) Bretagne-Armor Lux                         5.41
83 Anthony Ravard (Fra) Agritubel
84 Jonathan Hivert (Fra) Crédit Agricole                                5.42
85 Yoshiyuki Shimizu (Jpn) Nippo Corporation-Meitan Honpo Co LTD-Asada
86 Tyler Butterfield (Ber) Team Slipstream powered by Chipotle          5.43
87 Ludovic Capelle (Bel) Roubaix Lille Metropole
88 Jean Zen (Fra) Roubaix Lille Metropole
89 Andy Flickinger (Fra) Bouygues Telecom                               5.44
90 Lloyd Mondory (Fra) AG2r Prévoyance

Past winners

Route Adélie
 
2006 Samuel Dumoulin (Fra) Ag2R Prevoyance
2005 Daniele Contrini (Ita) Team LPR
2004 Anthony Geslin (Fra) Brioches la Boulangère
2003 Sébastien Joly (Fra) Jean Delatour
2002 Marcus Ljungqvist (Swe) Team fakta
2001 Jaan Kirsipuu (Est)
2000 Laurent Brochard (Fra)
1999 Torsten Schmidt (Ger)
1998 Jann Kirsipuu (Est)
1997 Nicolas Jalabert (Fra)
 
Tour d'Armorique
 
1996 Marc Bouillon (Fra)
1994 Emmanuel Magnien (Fra)
1993 Jean-Cyril Robin (Fra)
1992 Peter De Clercq (Bel)
1991 Jérôme Simon (Fra)
1990 Rober-to Torres (Spa)
1989 Laurent Jalabert (Fra)
1988 Sören Lilholt (Den)
1987 Thierry Marie (Fra)
1986 Jörg Müller (Swi)
 
Past winners by Mario Stiehl, www.world-of-cycling.com