Grand Prix Moscow - 1.2
Moscow, Russia, May 2, 2006
2005 Results Results Past winners
Muscovites dominate opening race
By Sergey Kurdyukov, Russian Eurosport commentator
Omnibike
Photo ©: Sergey Kurdyukov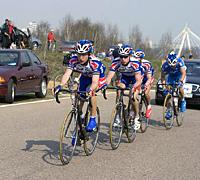 This one-day race traditionally opens the season of elite level road events in Moscow. Some riders also use it as a reconnaissance of the battlefield of the fourth stage of the 5 Rings of Moscow stage race.
Real, long-awaited spring finally came to Moscow, creating fantastic conditions for a beautiful race. It was sunny, but not too hot, the wind was moderate - but the main difficulty was still there: an extremely tough course profile. Each of the 13.4 km long laps included five 'walls' with maximum gradient of 23 per cent! Normally no more than a third of the starters are capable of making it to the finish at racing speed, for all their serious training.
Right from the gun the field rode at a pretty brisk tempo, yet on the second climb a group of four broke away. There were no favourites there, so they kept around 1 minute advantage for the whole of five laps. After that they were chased down by a group including serious contenders: world and European junior individual pursuit champion Alexander Khatuntsev, under-23 MTB world champion Yuri Trofimov, European junior team pursuit champion Sergey Kolesnikov and junior road race world champion Ivan Rovny.
Notwithstanding this wide variety of titles, all of them successfully combine their main disciplines with parallel ones. Khatuntsev, Trofimov and Kolesnikov represented Moscow Omnibike Dynamo team, Rovny is a rider of the Tinkoff Restaurants – S7 Airlines squad, so the numbers played in the Muscovites' hands. But not only the numbers - this specific circuit takes quite a while to get used to; and the former three had literally grown up on it.
Ivan Rovny (Tinkoff Restaurants)
Photo ©: Sergey Kurdyukov

Being a typical climber, Ivan had no chances against the trio if it came to a small bunch sprint, but he is a tough character and made up his mind to try his luck alone. Of course it was a poorly prepared desperate three lap attack, spectacularly reflecting the uncompromising mentality of the youngster. The gap reached no more than 40 seconds, and sure enough Rovny was chased down and left alone again, but this time behind a bunch of four (the abovementioned three joined their efforts with Valery Valynin, wearing the colours of the Russian track national team, but was actually a part of the same Moscow Dynamo school). So the finish turned out to be an internal affair of Omnibike, and Alexander Khatuntsev was first to cross the line. This outcome was easy to predict, as he returned in very good form from Grand Prix of Sochi (2.2), famous for its tough climbs.
The winner was in no mood to rest on his laurels, pointing out in his post-race interview that the Moscow road racing series had just begun; to repeat what the team had just achieved in the 5 Rings of Moscow would be much more difficult, among other things, because Tinkoff Restaurants was ready to call in their strongest riders, absent at the opening one-days because of just finishing a race in France.
Photography
For a thumbnail gallery of these images, click here
Images by Sergey Kurdyukov, Russian Eurosport commentator
Results - 163.2 km
1 Alexander Khatuntsev (Rus) Omnibike Dynamo Moscow    4.11.21 (38.958 km/h)
2 Youri Trifimov (Rus) Omnibike Dynamo Moscow
3 Sergey Kolesnikov (Rus) Omnibike Dynamo Moscow
4 Valery Valynin (Rus) Track national team
5 Alexey Bauer (Rus) Track national team
6 Ivan Seledkov (Rus) Omnibike Dynamo Moscow
...
8 Ivan Rovny (Rus) Tinkoff Restaurants – S7 Airlines


Past winners
2005 Alexey Schmidt (Rus) Omnibike-Dynamo