Bike Jam/Kelly Cup - NE
Baltimore, Maryland, USA, May 27, 2006
Pic and Wamsley sweep Kelly Cup for Colavita
Being on a team sponsored by Colavita seemed to be a winning advantage in Saturday's Baltimore Bike Jam/Kelly Cup (Baltimore, Maryland). Both four-time and current U.S. Criterium National Champion Tina Pic (Colavita Cooking Light) and Kyle Wamsley (Colavita – Sutter Home) took wins in Patterson Park.
After a sedate women's race, Pic sprinted five bike-lengths ahead of Jenn McCrae (Conex Train) and Theresa Clif-Ryan (Verducci – Breakaway Racing) for her win. Wamsley powered away from five break mates in the final hundred meters to spoil the chance for a chasing field, which was only meters behind and included power sprinters J.J. Haedo (Toyota – United) and Vassili Davidenko (Navigators Insurance), for the second NRC win of his career (his first coming in the Tour of Somerville last season).
Patience pays as Pic outwaits rivals in sprint for win
Laura Van Giler and Tina Pic
Photo ©: Steve Medcroft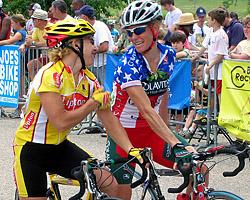 Considering there is a women's World Cup in Montreal this same weekend, it was impressive that almost one hundred women lined up for the elite race at the Kelly Cup. Scheduled for twenty one-mile laps on a course contained with downtown Baltimore's Patterson Park, racers had both muggy temperatures, headwinds and a three-hundred meter power climb into the finish line to deal with. Knowing that the ever-powerful Pic and the muscular and fast Laura Van Gilder were on the start line, you would have expected plenty of opportunists to attempt breakaways. But not so. In fact, from the stands, it almost seemed like the field had cooperated to keep the pace reasonable and the group together.
"It was totally civil out there at the front, eventual winner Tina Pic said after the race. "But not so much at the back - there it was dicey because the funny thing about this course is that it bends so much. People would be on one side of the road then sweep over to the other side."
Pic was referring to the navigations of roundabaouts on the course; one of which led riders first into a left-handed turn, immediately shifted them right into the roundabout only to kick them out into a plus-90-degree left-hander a few moments later. "That one was bad," Pic said. "I had to move up just to stay out of trouble."
Having raced the Kelly Cup only once before and feeling unfamiliar with the characteristics of the racecourse, Pic says she simply kept an eye on key sprinters like Laura Van Gilder (defending Kelly Cup champion) and Jenn McCrae (who won the 2006 Athens Twighlight Criterium just one month ago) and waited for the final wind-up. "Usually, I go early but this time I knew there was a really good headwind coming up to the finish so I waited and waited."
Waited while Candice Blickem (Aaron's Pro Women's Cycling Team), Jenn McCrae and Laura Van Gilder made a rush for the line. "I think they just went too early," Pic, who was able to power past up the final straight and take the win, said.
Wamlsey takes second career NRC win
Wamsley is interviewed
Photo ©: Steve Medcroft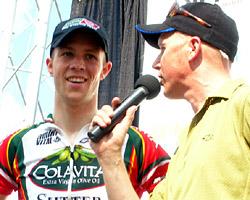 There was no group cooperation in the forty-lap men's race. After several break attempts had failed, a dangerously large eight-man break got twenty-seconds away at about the mid point of the race - with no representation from the Toyota United team.
Eventual winner Kyle Wamsley, who was back in the pack at the time, says his team's plan all day was to put two riders in the move. They only had one. Until a second group began to split away and bridge up to the break. "Gustavo (Artacho) was in the first move," Wamsley said at the finish. "I saw J.J. (Haedo) go across and we knew we couldn't let him go without us having two guys up there so I went along."
The group, with Haedo sitting in comfortably, held onto a tenuous lead until eight laps to go when the main pack, pulled along by riders from the New England regional team Nerac, came within bridging distance once more. A counterattack launched Wamsley and teammate Artacho, Acton, Clarke, Jason Allen (Kodakgallery.com - Sierra Nevada), Michael Cody (Fordi Fruitta) and Thad Dulin (Nerac - Outdoor Lights.com).
As the laps counted down into single digits, the pack starting eating chunks out of the break's advantage. "Everyone was working real hard," Wamsley said. "Gustavo told me to sit on the whole time and wait for the sprint so I was just hiding and hiding and hiding."
Wamsley said he knew he had the legs to win when he took a $200 cash premium with about three laps to go. "No one responded when I won that prime so I knew I could win." The strong break was able able to just hold off the charging field though the final chicanes. Wamsley edged Clarke and Acton up the final stretch.
Photography
For a thumbnail gallery of these images, click here
Images by Fj Hughes/www.fhughesphoto.com
Images by Steve Medcroft/Cyclingnews.com
Results
Men Pro/1/2     
     
1 Kyle Wamsley (Colavita - Sutter Home)  
2 Hilton Clarke (Navigators Insurance Cycling Team)  
3 Alejandro Acton (Targetraining Professional Cycling Team)  
4 Jason Allen (Kodakgallery.com/Sierra Nevada Pro Cycling)  
5 Shawn Milne (Navigators Insurance Cycling Team)  
6 Michael Cody (FiordiFrutta Elite Cycling Team)  
7 Thad Dulin (Team Nerac/OutdoorLights.com Pro Cycling)  
8 Gustavo Artacho (colavita - sutter home)  
9 Juan Jose Haedo (Toyota-United Pro Cycling Team)  
10 Vassili Davidenko (Navigators Insurance Cycling Team)  
11 Dan Schmatz (Kodakgallery.com/Sierra Nevada Pro Cycling)  
12 Martin Gilbert (Kodakgallery.com/Sierra Nevada Pro Cycling)  
13 Siro Camponogara (Navigators Insurance Cycling Team)  
14 Karl Bordine (California SCNCA)  
15 Brent Arthurs (Evolution Cycling Team)  
16 Adam Hodges Myerson (Team Nerac/Outdoorlights.com Pro Cycling)  
17 Jake Hollenbach (CCB/Volkswagon Racing Team)  
18 Amos Brumble (CCB/Volkswagon Racing Team)  
19 Pete Lopinto (Kodakgallery.com/Sierra Nevada Pro Cycling)  
20 Peter Stewart (Rockville Harley-Davidson/Silver City Cycles)  
21 Eneas Freyre (Targetraining Professional Cycling Team)  
22 Scott Edge (Team Nerac/OutdoorLights.com Pro Cycling)  
23 Patrick Walsh (CCB/Volkswagon Racing Team)  
24 Ryan Dewald (Rite Aid Pro Cycling Team)  
25 Ian Birlem (Rockville Harley Davidson - Silver Cycles)  
26 Daniel Holt (Team Nerac/OutdoorLights.com Pro Cycling)  
27 Bryan Butts (Bianchi/GP/SPBRC)  
28 Scott Zwizwanski (Kodakgallery.com/Sierra Nevada Pro Cycling)  
29 Mark Johnson (Rockville Harley-Davidson/Silver Cycles)  
30 Skyler Bishop (Kodakgallery.com/Sierra Nevada Pro Cycling)  
31 Alaisandr (sasha) Bialiauski (CCB/Volkswagon Racing Team)  
32 Craig Dodson (Nature's Path presented by Fuji Pro/Am Cycling Team)  
33 Andy Guptil (Targetraining Professional Cycling Team)  
34 Matt Cooke (LSV/Kelly Benefit Strategies)  
35 Mark Hekman (A&E)  
36 Dan Timmerman (Fiordifrutta)  
37 Jeremy Grimm (Abercrombie & Fitch p/b Inferno)  
38 Bill Elliston (Targetraining Professional Cycling Team)  
39 Jay Moglia (NCVC/Inova Health System)  
40 Paul Ward (Natures Path presented by Fuji Pro/Am Cycling Team)  
41 Nick Waite (LSV/Kelly Benefit Strategies)  
42 Oleg Grishkin (Navigators Insurance Cycling Team)  
43 Josh Bezency (Targetraining Professional Cycling Team)  
44 Tom Soloday (LSV/Kelly Benefit Strategies)  
45 Chris Rozdilsky (Fiordifrutta Elite Cycling Team)  
46 Peter Penzell (Rite Aid Pro Cycling Team)  
47 Kenneth Johnson (Rockville Harley-Davidson/Silver Cycles)  
48 Russ Langley (Rite Aid Pro Cycling Team)  
49 Todd Herriott (colavita - sutter home)  
50 Gabriel Alejandro (colavita - sutter home)  
51 Keck Baker (Team Seigler Imports/CVCC)  
52 Rich Harper (Abercrombie and Fitch p/b Inferno)  
53 Zach Bell (Rite Aid Pro Cycling Team)  
54 Ward Solar (Natures Path presented by Fuji Pro/Am Cycling Team)  
55 Christopher Jones (Champion System)  
56 Dan Cassidy (CCB/Volkswagon Racing Team)  
57 Ian Ayers (Colavita - Sutter Home)  
58 Mark Warno (Evolution Cycling / DLS)  
59 Valeriy Kobzarenko (Navigators Insurance Cycling Team)  
60 John Delong (Rite Aid Pro Cycling Team)  
61 Adam Fung (Rockville Harley-Davidson/Silver Cycles)  
62 Ryan Mckinney (Team Snow Valley)  
63 Jackson Stewart (Kodakgallery.com/Sierra Nevada Pro Cycling)  
64 Brad Viera (Rite Aid Pro Cycling Team)  
65 Andy Wulfkuhle (LSV/Kelly Benefit Strategies)  
66     
67 Ramon Benitez (Team Alliance Environmental/Chester Cycling)  
68 Jason Meidhof (NCVC/Inova Health System)  
69 Dan Vaillencourt (CCB/Volkswagon Racing Team)  
70 Paul Mica (NCVC/Inova Health System)  
71 Chris Hardee (LSV/Kelly Benefit Strategies)  
72 Craig Snydal (LSV/Kelly Benefit Strategies)  
73 Pedro Hijar (Team DLS / Evolution Cycling)  
74 Matt Shriver (Targetraining Professional Cycling Team)  
75 Stefano Barberi (Toyota-United Pro Cycling Team)  
76 Mike Beers (Rite Aid Pro Cycling Team)  
     
Women Pro/1/2/3     
     
1 Tina Pic (Colavita/Cooking Light)  
2 Jen McRae (ConexTrain)  
3 Theresa Cliff-ryan (Verducci/Breakaway Racing)  
4 Kelly Benjamin (Cheerwine)  
5 Laura Van Gilder (TEAm Lipton)  
6 Laura Yoisten (Victory Brewing Company Pro Cycling Team)  
7 Sarah Caravella (TEAm Lipton)  
8 Catherine Powers (Aaron's Pro Women's Cycling Team)  
9 Anna Webb (Karl strauss / SDBC)  
10 Meshy Holt (Colavita/Cooking Light)  
11 Sarah Tillotson (Colavita/Cooking Light)  
12 Jenette Williams (HPC/List)  
13 Brenda Lyons (Victory Brewing Company Pro Cycling Team)  
14 Brooke O'connor (Hub Racing)  
15 Veronica Martinez (Orbea Argentina)  
16 Candace Blickem (Aaron's Pro Women's Cycling Team)  
17 Holly Borowski (US Armed Forces)  
18 Taitt Sato (McGuire Racing Team)  
19 Amy Wallace (Wheelworks)  
20 Mara Miller (Team Advil-Chapstick)  
21 Heidi Woolever (Team Snow Valley)  
22 Sima Trapp (Colavita/Cooking Light)  
23 Gina Voci (Cheerwine)  
24 Lisa Jellett (Verducci/Breakaway Racing)  
25 Katie Lambden (TEAm Lipton)  
26 Iona Wynter (Colavita/Cooking Light)  
27 Courtenay Brown (McGuire Cycling)  
28     
29 Beth Mason (US Armed Forces)  
30 Deidre Winfield (Charlottesville Racing Club)  
31     
32 Tricia Carnila (Verducci/Breakaway Racing)  
33 Clara Beard (Team Cheerwine)  
34 Laura Bowles (Victory Brewing Company Pro Cycling Team)  
35 Heidi Goldberg (HPC/List)  
36 Caitlyn McCallough (Team Advil-Chapstick)  
37 Michelle Hart (LSV)  
38 Megan Esmonde (travelgirl Magazine)  
39 Nikki Raspa (Hub Racing)  
40 Sarah Bamberger (Cheerwine)  
41 Elisa Gagnon (Team Advil-ChapStick)  
42 Reem Jishi (Team Advil-Chapstick)  
43 Lisa Young (Tripower)  
44 Amity Elliot (ADG/Joe's Bike Shop)  
45 Tara Ross (Victory Brewing Company Pro Cycling Team)  
46 Michele Bote (Hub Racing)  
47 Leigh Valletti (travelgirl Magazine)  
48 Becky Broeder (Hub Racing)  
49 Kim Geist (Victory Brewing Company Pro Cycling Team)  
50 Shannon Hutchinson-krupat (Aaron's Pro Women's Cycling Team)  
51 Janet Olney (ADG/Joe's Bike Shop)  
52 Alison Fischer (EAST COAST VELO)  
53 Kat Clark Clark (TEAM Fuji/Bolt Brothers)  
54 Rebecca Wellons (Gearworks/Spin Arts Cycling)  
55 Mandy Lozano (Cheerwine)  
56 Nonnie Howard (Verducci/Breakaway Racing)  
57 Cory Bemis (Hub Racing)  
58 Elizabeth Morse Hill (T.E.A.M. Fuji/Bolt Brothers)  
59 Kristy Scheffenacker (Orbea Ambassadors/Orbea-USA)  
60 Kim Sawyer (travelgirl Magazine)  
61 Jacqueline Paull (Team Alliance Enviromental)  
62 Kim Foland (travelgirl Magazine)  
63 Liz Young (Hub Racing)  
64 Lisa Vible (ADG/Joe's Bike Shop)  
66 Tara Walhart (Verducci/Breakaway Racing)  
67 Sheba Farrin (Hub Racing)  
DNF Tiffany Ballew (travelgirl Magazine)  
DNF Lora Bankova (ADG/Joe's Bike Shop)  
DNF Elizabeth Carrington (Peachtree Bikes)  
DNF Anna Drakulich (Team Advil-Chapstick)  
DNF Marni Harker (Revolution/Rock Creek Racers)  
DNF Rebeca Jones (Hub Racing)  
DNF Donna M Kerby (TEAM Fuji/Bolt Brothers)  
DNF Julie Kuliecza (Team Seigler Imports/CVCC)  
DNF Heather Labance (Team Advil-Chapstick)  
DNF Jessie Mckinney (Hub Racing)  
DNF Priscilla Pang (ADG/Joe's Bike Shop)  
DNF Gross Rebecca (US Armed Forces)  
DNF Nina Santiago (ACT)  
DNF Kate Sherwin (Victory Brewing Company Pro Cycling Team)  
DNF Sarah Uhl (home depot Center Team)  
DNF Wendy Ulmer (Team Snow Valley)  
DNF Allie Warfel (Cheerwine)  
DNF Tricia Carnila (Verducci/Breakaway Racing)  
DNF Stacey Moseley (Unattached)  
DNF Cheryl Osborne (Artemis)  
DNF Alaina Gurski (Verducci/Breakaway Racing)  
DNF Susan Hofle (HPC/List)  
DNF D Miller (HPC/List)  
DNS Mackenzie Dickey (Aaron's Pro Women's Cycling Team)  
DNS Heidi Von Teitenberg (Team BBC)  
DNS Holli Steelman (Cheerwine)  
DNS Lara Kroepsch (TEAm Lipton)  
DNS Andrea Dvorak (Charlottesville Racing Club)  
     
Men 3     
     
1 Evan Fader (Route 1 Velo/Capitol Hill Bikes)  
2 John Raley (Artemis)  
3 David Bonser (Gotham Cyclists)  
4 Curtis Winsor (Team Snow Valley/ABRT)  
5 Wade Jennings (NCVC/Inova Health System)  
6 Gregory Vadas (Rockville Harley-Davidson/Silver Cycles)  
7 Rodney Santiago (Competetive Cycling Group)  
8 Tim Scesney (Rockville Harley-Davidson/Silver Cycles)  
9 Nathan Coleman (LSV/Kelly Benefit Strategies)  
10 Cotton Valentine (Team Snow Valley)  
11 Bo Lee (WWVC / 10-8 Duty Gear Cycling Team)  
12 Michael Hosang (TRIPOWER)  
13 Mark Kerlin (Evolution Cycling Club/Team DLS)  
14 Jonathan Nisbet (Virginia Beach Wheelman)  
15 Steven Grant (NCVC/Inova Health System)  
16 Mark King (charlottesville racing club)  
17 Fredrik Andersson (NCVC/Inova Health System)  
18 Bill Malone (Team Nature's Path)  
19 Nathaniel Ward (CBRC)  
20 Darco Lalevic (Verducci/Breakaway Racing)  
21 Erik Leaver (NCVC/Inova Health System)  
22 Greg Foster (LSV/Kelly Benefit Strategies)  
23 Frank Ramos (team n-tieractive/bike doctor-waldorf)  
24 Kevin Horvath (Tri-Power)  
25 Dana Matassa (squadra coppi/im saab)  
26 Anthony Van Lierop (Hunt Valley Bicycles/HVB)  
27 Mike Esmonde (Route 1 Velo/Capitol Hill Bikes)  
28 Nick Bax (Hot Tubes)  
29 Mike Berry (Team Snow Valley)  
30 Stephen Jones (Rockville Harley-Davidson/Silver Cycles)  
31 Constantinos Tombras (Squadra Coppi/IM Saab)  
32 Austin Frey (snow valley p/b seal on u23)  
33 Jared Nieters (Warrenton Cycling)  
34 Andreas Gutzeit (NCVC/Inova Health System)  
35 Ryan Pomajevich (Gotham Cyclists)  
36 Tony Hall (Team Seigler Imports/CVCC)  
37 Carl Majors (Rhodes)  
38 Galen Wallace (LSV/Kelly Benefit Strategies)  
39 Eric Krause (All American Bicycle Club)  
40 Dennis Schwandtner (CRCA)  
41 Owen Hassig (Squadra Coppi/IM SAAB)  
42 Matt Stutts (NCVC/Inova Health System)  
43 Stewart Kidston (Evolution)  
44 Jason Jouet (Route 1 Velo/Capitol Hill Bikes)  
45 Victor Siegfried (Evolution Cycling / Team DLS)  
46 Ryan Tuttle (Gotham Cyclists)  
47 Baird Webel (Rockville Harley/Silver Cycles)  
DNF Joel Cockley (Tri-Tech)  
DNF Chip Hoover (All American Bikes)  
DNF Paul Incognito (Secret Henry's Team)  
DNF Peter Kennedy (C3/ADG/Joe's)  
DNF Daniel King (3 SPORTS ENDURE)  
DNF Mark Krajci (Gotham Cyclists)  
DNF Francis Lindo (WWVC/10-8 DUTY GEAR CYCLING TEAM)  
DNF Michael Mcgraw (DC Velo/Martens Volvo)  
DNF Guy Perotti (Team Snow Valley)  
DNF Steve Soltes (Team Snow Valley)  
DNF Bob Walters (Team Snow Valley)  
DNF Dale Waters (LSV/Kelly Benefit Strategies)  
DNF Pete Whitlock (Team Seigler Imports/CVCC)  
DNF Chad Young (Team Snow Valley)  
DNF Ian Stanley (Team Squiggle)  
DNF William Davis (NLVC)  
DNF Bian Barnes (Team Snow Valley)  
DNS Ray Ignosh (Gotham Cyclists)  
DNS James Harris (Artemis)  
DNS Robert Holt (Evolution Cycling/Team DLS)  
DNS Servio Medina (Route 1 Velo / Capitol Hill Bikes)  
DNS Bruno Neto (University of Maryland Cycling)  
DNS Alexander Rottier (Racing Union)  
DNS John Tegeris (Route 1 Velo)  
DNS Mike Bradbury (Evolution Cycling / Team DLS)  
DNS Eric Chrabot (Team Snow Valley U23)  
     
Men 4     
     
1 Kenneth Young (Prince William Elite Racing (PoWER))  
2 Joey D'Andrea (ADG)  
3 Philippe Hensel (NCVC/Inova Health System)  
4 Shawn Gravois (Bike N Java)  
5 Justin Samuel (Rockville Harley-Davidson/Silver Cycles)  
6 Clifton Chamberlin (Rockville Harley-Davidson/Silver Cycles)  
7 Bruce Travis Creighton (NCVC/Inova Health System)  
8 Jose Escobar (Rockville- Harley Davidson/Silver Cycles)  
9 Matt Michel (NCVC)  
10 Steven Nakasaki (LSV/Kelly Benefit Strategies)  
11 Carlos Goncalves (ALL AMERICAN BICYCLE CLUB)  
12 Christopher Chapel (NCVC/Inova Health System)  
13 Darius Mark (Yellow Breeches Racing)  
14 Bryan Billington (Evolution Team DLS)  
15 Richard Caperton (NCVC/Inova Health System)  
16 Christopher King (Route 1 Velo/Capitol Hill Bikes)  
17 Mark Hachey (LSV/Kelly Benefits Strategies)  
18 Alex Heymann (NCVC)  
19 Jonathan Gdowik (Team Snow Valley / Annapolis Bicycle Club)  
20 Chris Marrow (Squadra Coppi/IM Saab)  
21 Nick Blend (Team Nature's Path)  
22 Brett Davis (Evolution Cycling/Team DLS)  
23 Alphonso Wynne (dream   racing)  
24 Marc Klein (NCVC/Inova Health System)  
25 Bryan Vaughan (Unattached)  
26 Michael Hardin (Maryland Collegiate Cycling Team)  
27 Michael Schneider (bayside velo/bike doctor)  
28 Chris Harshman (Team Snow Valley)  
29 Rhys Thomas (Annapolis Cycle Club/ Snow Valley Team)  
30 Matt Albanese (Bike Doctor/Cannondale)  
31 Scott Cernich (Route 1 Velo/Capitol Hill Bikes)  
32 Clifton Smoot   
33 John Soemer   
34 David Whiting (Artemis)  
35 Rudy Vercaigne (Unattached  (+ 40 Categorie))  
36 Matt Ritter (LSV/ Kelly Benefit Strategies)  
37 John Kamenick (Evolution Cycling / Team DLS)  
38 Tony Moreno (NCVC/Inova Health System)  
39 Blake Selzer (Route 1 Velo)  
40 Jon Woodward (NCVC/Inova Health Systems)  
41 Morgan Gerlak   
42 Paul Lengermann (NCVC/Inova Health System)  
43 David Duke (Evolution Cycling / Team DLS)  
44 John Kern (Route 1 Velo/Capitol Hill Bikes)  
45     
46 Karl Anderson (NCVC/Inova Health System)  
47 Kelle Ryan (Rockville Harley-Davidson/Silver Cycles)  
48 Matthew Brancheau (LSV/Kelly Total Benefits)  
49 Greg Hoffman (Bike Doctor)  
50 Tyler Moore (NCVC/Inova Health System)  
DNF Jason Watson   
DNF Milton Rojas (Unattached)  
DNF Adrian Altura (Route 1 Velo)  
DNF Matt Barrett (LSV/Kelly Benefit Strategies)  
DNF Roger Batchelor Jr (WWVC/ 10-8 Duty Gear Cycling Team)  
DNF John Call (LSV/KELLY BENEFIT STRATEGIES)  
DNF Tupper Cole (NCVC/Inova Health System)  
DNF Chris Conway (Evolution Cycling/Team DLS)  
DNF Paul De Santis (LSV/Kelly Benefit Strategies)  
DNF Richard Distad (University of Maryland Cycling)  
DNF Yoav Gery (Rockville Harley-Davidson/Silver Cycles)  
DNF Tony Goncalves (All American Bicycle Club)  
DNF Geoffrey Goodman   
DNF Steven Krahling (Evolution Cycling/Team DLS)  
DNF William Kroth (Team Snow Valley)  
DNF Gregory Landis (PAC / Patuxent Velo)  
DNF Mark Lewandowski (Unattached)  
DNF Giao Nguyen (C3/ADG/Joe's)  
DNF Chuck Nolan (LSV/Kelly Benefits Strategies)  
DNF Darren Robb (NCVC/Inova Health System)  
DNF Sean Schmitt (Team Snow Valley/Annapolis Bicycle Racing Club)  
DNF Trevor Shattuck (Team BBC)  
DNF Brian Stiles (CW/King Pawn/Joe's Bike Shop)  
DNF Jim Stratton (NCVC/Inova Health System)  
DNF John Tolson   
DNF Walter Tyree (Squadra Coppi/IM Saab)  
DNF Scott M. Weiner (Team BBC)  
DNF Paul Wilson (VCB/Race Pace)  
DNS Thomas Adrian   
DNS Rodges Ankrah (Route 1 Velo)  
DNS Michael Boyd (Route 1 Velo/Capitol Hill Bikes)  
DNS Brian Bradley (Lanterne Rouge)  
DNS Kevin Crouch (NCVC-INOVA Medical Systems)  
DNS David Crouse (The Bike Lane)  
DNS Benjamin Elfert (Pax Velo / PAC Race Team)  
DNS Pascal Fernandez (Team Nature's Path presented by Fuji)  
DNS Noah Goodall (Squadra Coppi/IM Saab)  
DNS Steven Hancock (NCVC/ INOVA Health System)  
DNS Terry Harrigan (CW/King Pawn/Joe's Bike Shop)  
DNS Steve Hookway   
DNS Roy Huhta (Team Cobblestone)  
DNS Joseph Kotun (Lanterne Rouge)  
DNS Joseph Malin (Lanterne Rouge)  
DNS Leo Malyutin (LSV/ Kelly Benefit Strategies)  
DNS Dana Mellerio (Team Snow Valley)  
DNS Anthony Nourse (NCVC/Inova Health System)  
DNS Conor O'brien (Bicycle Place Velo Club (BPVC))  
DNS Michael Oliveira (INOVA/ NCVC)  
DNS Brooke Patterson (Route 1 Velo/Capitol Hill Bikes)  
DNS Scott Person (NCVC/Inova Health System)  
DNS Abby Raymond (Route 1 Velo/Capital Hill Bikes)  
DNS Keith Reeder (Bike Doctor/Cannondale)  
DNS Edward Russell (Team BBC (Baltimore Bicycle Club))  
DNS Roger St. Paul (Dream Racing)  
DNS Dan Trsic (Team Nature's Path)  
DNS Mike Trumpfheller (NCVC/Inova Health Systems)  
DNS John Wegl (WWVC / 10-8 Duty Gear Cycling Team)  
     
Men 5     
     
1 Chad Jones (Team BBC)  
2 Michael Schmalandt   
3 Zack Allison (NCVC Inova Health Systems)  
4 Ray Manyoky (Bicycle Place Velo Club)  
5 Karl Connolly (LSV Kelly)  
6 Brian Sacawa (Aggress)  
7 Raymond Peterson (Route1Velo/Capital Hill Bikes)  
8 Stephen Wahl (unattached)  
9 Adam Berg (LSV/Kelly Benefit Strategies)  
10 Jeffrey Schnur (Artemis)  
11 Justin Taylor (CU Cycling)  
12 Eric Sloman (Potomac Velo Club)  
13 James Drane (unattached)  
14 John Koblinsky (NCVC/Inova Health System)  
15 Mark Mcmillan (Team BBC)  
16 James Brannan (Unattached)  
17 Uri Rosenwald (Evolution Cycling / Team DLS)  
18 Joe Lillibridge (LSV/Kelly Benefit Strategies)  
19 Cesar Picco (Route 1 Velo / Capitol Hill Bikes)  
20 Seth Witman (Team Cycle Works)  
21 Brian Flynn (Baltimore Bicycling Club)  
22 Brett Katzen (LSV/Kelly Benefits Strategies)  
23 Kevin Dillard (NCVC/Inova Health System)  
24 James Colfelt (ncvc)  
25 David Wiesenhahn (WWVC/10-8 Duty Gear Cycling Team)  
26 Roger Cobb (Evolution Cycling/Team DLS)  
27 Steve Owens (Team Snow Valley)  
28 Michael Berry (NCVC/Inova Health System)  
29 David Jones (NCVC)  
30 Scott Lawler   
31 Mark Jackson (Artemis)  
32 Matt Gebhart (Artemis)  
33 Paul Bayne (LSV/Kelly Benefit Strategies)  
34 Brian Hamilton (Evolution Cycling / Team DLS)  
35 Louis Santoni   
36 Jimmy Hargrove (Evolution Cycling / Team DLS)  
37 Pete Van Riper (Route 1 Velo/Capitol Hill Bikes)  
38 Eric Griffin (Route 1 Velo/Capitol Hill Bikes)  
39 James Saunders (Team Internet)  
DNF Chris Baker (WWVC/10-8 DUTY GEAR CYCLING TEAM)  
DNF Edgar Cooper (PATUXENT VELO)  
DNF Barry Pugh (lsv)  
DNF Todd Sample (Route 1 Velo)  
DNF Jean-pierre Scarfo (Bike Doctor/Cannondale)  
DNF John Scott (LSV/Kelly Benefit Strategies)  
DNF Ed Sears (Patuxent Velo)  
DNF Jeffrey Travis (Route 1 Velo/Capitol Hill Bikes)  
DNF William Vogel (LSV/Kelly)  
DNF Brett Wilson (NCVC/Inova Health System)  
DNF David Wilson (LSV/KELLY BENEFITS STRATEGIES)  
     
Women 4     
     
1 Colleen Hayduk (Team Fuji / Salamander)  
2 Jennifer Cheng (NCVC/Inova Health System)  
3 Christine Wehlburg (NCVC/Inova Health System)  
4 Kate Flore (HPC/List)  
5 Jennifer Bodine (XXX Racing-AthletiCo)  
6 Colleen Gulick (Team Fuji / Salamander)  
7 Judith Wexler (Tufts University)  
8 Laura Cook (TriPower)  
9 Ashley Zeigler (Verducci/Breakaway Racing)  
10 Tiffany Yeselski (NCVC/Inova Health System)  
11 Yo Kumm (Artemis)  
12 Peg Fontello (Team DAT)  
13 Elisabeth Oehrlein (Artemis)  
14 Mimi Newcastle (HPC/List)  
15 Sarah Sinclair (Team Seigler Imports/CVCC)  
16 Doron Petersan (NCVC/Inova Health System)  
17 Kerri Robbins (unattached)  
18 Vickie Kostic (Artemis)  
19 Erika Proctor (King Pawn/CW)  
20 Michelle Wagner (Artemis)  
21 Hannah Hayduk (LWA)  
22 Diane Deely (Verducci/Breakaway Racing)  
23 Heather Ross (LSV)  
36     
24 Corinne Moriatis (Artemis)  
25 Diane Harris (Artemis Racing)  
26 Marisa Peacock (PVC)  
27 Ramona Kessel (Artemis)  
DNF Ann Beckenhauer (Potomac Velo Club)  
DNF Bonnie Fletcher (CRCA/NYVELOCITY)  
DNF Allison Fox (Team Seigler Imports/CVCC)  
DNF Andrea Hogarth (Artemis)  
DNF Susan Mcquiston (Team BBC)  
DNF Anne Claire Shilton (HPC/List)  
DNF Susan Estes (Artemis)  
     
Junior Open     
     
1 Ben King (CRC)  
2 Rodney Santiago (Competetive Cycling Group)  
3 Valentine Colton (TSV)  
4 Curtis Winsor (Team Snow Valley/ABRT)  
5 Nick Bax (Hot Tubes)  
6 Mark Saunders (TSV)  
7 Tim Graves (Evolution Cycling/ Team DLS)  
8 Nick Mulder (Bicycle Place Velo Club)  
9 Morgan Gerlak (C3/ADG/Joe's)  
10 Roger Cobb (Evolution)  
11 Lucas Harville (Fat Frogs Racing)  
12 Keith Burghardt   
13 Zack Allison (NCVC Inova Health Systems)  
14 Greg Baumgartner (Evolution)  
15 Frank Vita (East Coast Velo)  
16 Avery Littlejohn (DC Velo)  
17 Liam Wallace (Warrington)  
18 Tyler Karnes (Team Snow Valley/ABRT)  
19 Alex Heymann (NCVC)  
20 Matt Toch (Artemis)  
21 Nathan Wilson (NCVC/Inova Health System)  
22 Justin Mauch (National Capital Velo Club/Inova Health System)  
23 George Zaras   
24 Luis Gonzales (UNAH)  
25 James Gaudaen (NCVC/Inova Health System)  
26 Al Vita (East Coast Velo)  
27 Lauren Parak (Skylands)  
28 Eric Stratton (NCVC / Inova Health System)  
29 Jake King (crc)  
30 John Dorrett (Kelly Lateral Stress Velo)  
31 Avery Wilson (NCVC/Inova Health System)  
DNF Steven Gaudaen (NCVC/Inova Health System)  
DNF Edward Rice (WWVC / 10-8 Duty Gear Cycling Team)  
     
Master 30     
     
1 Mark Light (Team Alliance Environmental)  
2 Bo Lee (WWVC / 10-8 Duty Gear Cycling Team)  
3 Brent Arthurs   
4 Nigel Chinemilly (EVOLUTION/DLS)  
5 Steve Soltes (Team Snow Valley)  
6 Darren Jiron   
7 Steve Lusby (LSV/Kelly Benefit Strategies)  
8 Tom Godfrey (NCVC/Inova Health System)  
9 Mike Birner (All American Bicycle Center)  
10 Eric Williams (team n-tieractive/bike doctor-waldorf)  
11 David Garrison (All American Bicycle Club)  
12 William Davis (NCVC/Inova Health)  
13 Phil Riggio (Tokeneke Road Club)  
14 Andrew Hong (Red Lantern Racing)  
15 Matthew Neigh (AABC)  
16 Matt Ritter (LSV/ Kelly Benefit Strategies)  
17 David Whiting (Artemis)  
18 Tony Moreno (NCVC/Inova Health System)  
19 Arch Mckown (Team Snow Valley)  
20 Steve Bickling (Team Snow Valley)  
21 Nate Seymour (Potomac Velo Club)  
22 Jay Murphy (All American Bicycle Club)  
DNF Joseph Althoff (Team n-tieractive/Bike Doctor-Waldorf)  
DNF Ben Landers   
DNF Balint Decheke   
DNF Kristopher Auer (C3/ADG/Joe's)  
DNF Geoffrey Beaty (WWVC\10-8 Duty Gear)  
DNF Dennis Schwailton   
DNF Shawn Blumenfeld (Hub Racing)  
DNF Darek Bushnaq (LSV/Kelly Benefit Strategies)  
DNF Michael Davis (DC Velo/Martens Volvo)  
DNF Kyle Drummond   
DNF Joshua Frick (DC Velo/Martens Volvo)  
DNF Scott Gibbons (racing union)  
DNF Chris Harshman (Team Snow Valley)  
DNF Chip Hoover (All American Bikes)  
DNF Dan Lanier (LSV/Kelly Benefits Strategies)  
DNF Peter Aldridge   
DNF Paul Lengermann (NCVC/Inova Health System)  
DNF Joe Mazza (WWVC / 10-8 Duty Gear Cycling Team)  
DNF Milovan Milovanovic (NCVC/Inova Health Systems)  
DNF David Padgham (Dream Racing)  
DNF Guy Perotti (Team Snow Valley)  
DNF Mike Petrakis (NCVC/Inova Health System)  
DNF Brian Pfeiffer (King Pawn/Joe's Bike Shop)  
DNF Luis Posada   
DNF Alexander Rottier (Racing Union)  
DNF Joseph Rudolph (Squadra Coppi/IM Sabb)  
DNF Keith Sandbloom (NCVC-Inova Health System)  
DNF Jeffrey Sanders (AVC State Farm Racing Team/Antietam Velo Club Inc.)  
DNF Ward Solar (Natures Path presented by Fuji Pro/Am Cycling Team)  
DNF Marty Spain (team n-tieractive/bike doctor-waldorf)  
DNF Paul Tower (LSV/Kelly Benefit Strategies)  
DNF Corey Twyman (Hub Racing)  
DNF Dan Underwood (Team Snow Valley)  
DNF Clark Vandergrift (Velo Club of Baltimore / Race Pace)  
DNF Paul Wilson (VCB/Race Pace)  
DNF Kenneth Young (Prince William Elite Racing (PoWER))  
     
Master 40     
     
1 Dave Osborne (Artemis)  
2 Joe Baremore (DC Velo/Martens Volvo)  
3 Ramon Benitez (Team Alliance Environmental/Chester Cycling)  
4 Mark King (charlottesville racing club)  
5 Dale Bemis (Squadra Coppi)  
6 John Hebner (Squadra Coppi)  
7 Marc Frazer (LSV/Kelly benefit strategies)  
8 John Kelly (LSV/Kelly Benefit Strategies)  
9 Walter Risse (MLC BiKyle/Main Line Cycling Club)  
10 Paul Mittelstadt (DC Velo/Martens Volvo)  
11 David Scharff (LSV/Kelly Benefit Strategies)  
12 Spencer Beckett (Team Snow Valley)  
13 Dennis Boyle (Team Snow Valley)  
14 William Browne (DC Velo/Martens Volvo)  
15 Keith Mitchell (Team Snow Valley)  
16 Ryan Lemkin (LSV/Kelly Benefits Strategies)  
17 Brian Johnston (NCVC/Inova)  
18 Rui Ponte (DC Velo/Martens Volvo)  
19 Roger Mc (WWVC/ 10-8 Duty Gear Cycling Team)  
20 Mark Sommers (DC Velo/Martens Volvo)  
21 David Wilson (SQUADRA COPPI/IM SAAB)  
22 James Marsh (team n-tieractive/bike doctor-waldorf)  
DNF Matt Albanese (Bike Doctor/Cannondale)  
DNF David Dickinson (NCVC/Inova)  
DNF Ray Manyoky   
DNF Bill Gros (Squadra Coppi/IM SAAB)  
DNF Vincent Gumucio (LSV)  
DNF Spencer Iscove (Hub Racing)  
DNF Marc Lefkowitz (Velo Club of Baltimore/Race Pace)  
DNF Dwayne Lewis (westwood velo)  
DNF James Littlejohn (DC Velo/Martens Volvo)  
DNF Michael Mcgraw (DC Velo/Martens Volvo)  
DNF Tom Meyer (VCB/Race Pace Bicycles)  
DNF Doug Milliken (ABRT/Team Snow Valley)  
DNF David Nesbitt (DC Velo/Martens Volvo)  
DNF Luis Ochoa (Team Snow Valley)  
DNF Chris Preuss (Evolution Cycling Club/Team DLS)  
DNF Greg Hoffman (Bike Doctor/Cannondale)  
DNF Rob Saunders (Squadra Coppi/IM Saab)  
DNF Kornel Schuebel (CW/King Pawn/Joes Bike Shop)  
DNF Bernie Shiao (LSV/Kelly Benefit Strategies)  
DNF Rick Tucker (L.S.V. KELLY)  
     
Master 50     
     
1 Charles Carnila   
2 Tom Bain (Geri Atrix)  
3 Craig Clark (Evolution Cycling/Team DLS)  
4 Mark Sommers (DC Velo/Martens Volvo)  
5 Randall Root (Team Snow Valley)  
6 Keith Mitchell (Team Snow Valley)  
7 Brian Johnston   
8 Pal Langlois (Team Snow Valley)  
9 Bernie Sanders (Van Dessels)  
10 Scott Olson (Charm City Cycling/ADG/Joe's)  
11 Randy Thrasher (DC Velo/Martens Volvo)  
12 Ken Sheck (Fat Frogs)  
13 Ad Bax (Artemis)  
14 Kerry Scanlon (DC Velo/Martens Volvo)  
15 John Epting (DC Velo/Martens Volvo)  
16 Michael Crider (Team BBC (Baltimore Bicycling Club))  
17 Gregory Smith (DC Velo/Martens Volvo)  
18 Phil Hepburn (Artemietam)  
19 George Heargart (Geri Atrix)  
20 Tony Bigbee (Snow Valley)  
21 Brian Hackett (Team Snow Valley)  
22 Bob Walters (Team Snow Valley)  
23 Paul White (Evolution)  
24 John Olinski (AVC/State Farm Ins.)  
25 Tom Moore (Team Snow Valley)  
26 Tim Lung (AVC/State Farm Ins Cycling Team)  
27 James Carlson (Potomac Velo Club)  
28 Tracy Rankin (DC Velo/Martens Volvo)  
29 Gary Hoffman (DC Velo/Martens Volvo)  
30 Peter Swan (NCVC/Inova Health Systems)  
31 Michael Hill (Chesapeake Wheelmen/King Pawn)  
32 Michael Fitzsimmons (King Pawn/CW)  
33 Jack Gardner (Dream Racing)  
34 Murray Davis (LSV/Kelly Benefits)  
35 Tom Aga (Team Snow Valley)  
36 Michael Harris (King Pawn/CW)  
37 Rich Fristik (Squadra Coppi/IM Saab)  
38 Myron Segal (Route 1 Velo)  
DNF Michael Blye (Winchester Wheelmen)  
DNF Clifton Gray (Dream Racing)  
DNF Gary Kelly (Team BBC (Baltimore Bicycling Club))  
DNF Max Rogozinski (Prince William Elite Racing)  
DNF Dan Trsic (Team Nature's Path)  
DNF M Frank Warno (NCVC)  
DNF Christine Wehlburg (NCVC/Inova Health System)  
DNF Peg Fontello (Team DRT)  
DNF Neal Reynolds (Bayside Volvo)  
DNF Rick Schiesz (Team Snow Valley)  
DNS Joseph Vita (East Coast Velo)  
DNS David Nesler (Main Line Cycling)  
     
Master 60     
     
1 Ronald Sutherland (NCVC/inova)  
2 Bobby Phillips (Team Snow Valley)  
3 David Hammond (ncvc/inova health system)  
DNF Giulio Porta (CW/King Pawn/Joe's Bike Shop)  
DNF Lee Sigelman (HPC/List)  
DNF Ben Williams (annapolis bicycle racing team/team snow valley)  
DNF Jim Youngblood (NVRC)  
DNF Evelyn Egizi (Artemis)  
DNF John Pataukis (Ncvc)  


Past winners 
2005 Aaron Olson (USA) Colavita Olive Oil-Sutter Home      Laura Vangilder (USA) Quark