33rd Annual Skyscraper-Harlem Criterium - NE
USA, June 18, 2006
Wolf and Gale win in Harlem
By John Tomlinson
Greg Wolf wins while John Loehner
Photo ©: Marco Quezada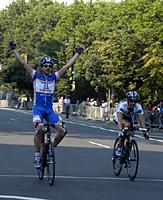 The course was smooth, the weather warm and the crowds vocal. Father's Day June 18 saw the 33rd running of the Skyscraper-Harlem Criterium around New York City's Mount Morris Park.
After the kids and community races, USCF racing started with the men's 4/5 event, won in a sprint by Gavin Robertson of the Major Taylor Iron Riders.
The men's 3/4 event had some late-race drama. A three-rider break was caught and passed by Chris Baldwin of CRCA-Merrill Lynch in the home straight. But Baldwin celebrated too early, and Jerry Kapko of Deno's Wonder Wheel came back out of the break to win.
The masters/juniors race was enlivened by a long solo by Ken Harris of CRCA-Merrill Lynch (who is also president of the promoting club - New York City's Century Road Club Association). But he was caught on the last lap with Pennsylvania's Jon Clifton-Moore taking the win. The first of the day's New York State Criterium Championships went to Tony Taylor (35+), Geoff Bickford (45+) and Ryan Storm.
In the women's race, several strong riders surged early in the last lap and got ahead, aided by a teammate behind letting a gap open. Toga's Camie Kornely went for a long sprint but Caryl Gale of CRCA-Comedy Central (and New Jersey) came around to win with her teammate Sarah Sauvayre taking second and the New York State Criterium Championship.
Caryl Gale wins decisively
Photo ©: Jaime Garcia

After a lot of early attacking in the men's elite race, a large group got away and then split up again under pressure from attacking and heat. Greg Wolf of AEG-Toshiba and John Loehner of CRCA-Axis motored away from the break and lapped what was left of the field. Wolf took the win in a tight sprint, with Loehner getting the State Championship. Among the rest of the break, Connor Hurley of Boston Scientific tried to solo to third but was swept up, with Lisban Quintero of GS Mengoni taking third over Colavita pro Davide Frattini.
Photography
For a thumbnail gallery of these images, click here
Images by Andy Shen/www.nyvelocity.com
Images by Jaime Garcia/www.nyvelocity.com
Images by Karen Rostron/Skyscraper Productions
Images by Marco Quezada/www.marcoquezada.com
Results
Men Pro/1/2/3 - 35 Miles
 
1 Greg Wolf (AEG-Toshiba)                                                1.11.34
2 John Loehner (Axis/CRCA)                                                      
3 Lisban Quintero (GS Mengoni USA)                                          0.21
4 Davide Fratini (Colavita-SutterHome)                                          
5 Connor Hurley (Boston Scientific)                                             
6 Michael Chauner (CRCA/Sakonnet Technology U25)                                
7 Jared Bunde (Champion Racing Systems)                                         
8 Anthony Taylor (Fastar)                                                       
9 Jermaine Burrowes (TEAM UNITED)                                               
10 Franklin Burgos (James Vincent)                                              
11 Ken Harris (CRCA/Merrill Lynch - HincapieSports)                             
12 Michael McGinley (Anthem Blue Cross & Blue Shield - CCCC)                0.58
13 Jason Bremer (GS Mengoni USA)                                                
14 Shane Vasquez (Western Spirit Cycling Team)                                  
15 Mathieu Nelessen (Hunterdon Velo/ANA Cycling)                            1.22
16 Jeff King (CRCA/Blue Ribbon-Translations.com)                                
17 Horrace Burrowes (TEAM UNITED)                                               
18 Alejandro Guzman (CRCA/Foundation)                                           
19 Saul Salazar (Amino Vital)                                                   
20 Craig Cook (CRCA-Remax)                                                  1.45
21 Tony Settel (CRCA/Deno's Wonder Wheel)                                   2.01
22 J Gabriel Lloyd (CRCA / REMAX)                                               
 
1 lap behind
 
23 Nelson Li (Global Locate)                                                    
24 Zebulon Nelessen (Hunterdon Velo/ANA Cycling)                                
25 John Tomlinson (Deno's Wonder Wheel)                                         
26 Paul Carbonara (CRCA)                                                        
27 Lane Herrick (Champion System Racing)                                        
28 Ted Neu (CRCA/VisitBritain)                                                  
29 Devin Flaherty (Champion Systems)                                            
30 Gavriel Epstein (GS Mengoni USA)                                             
31 Juan Barroso (CRCA)                                                          
32 David Sommerville (Champion System)                                          
33 Anthony Alessio (CRCA/ReMax)                                                 
34 Glenroy Griffith (Foundation)                                                
35 Anthony Lowe (CRCA)                                                          
36 Joao Correia (CRCA/Sakonnet Technology)                                      
37 Julian Cushina (Breakaway Racing)                                            
38 Ron Fantano (Anthem Blue Cross & Blue Shield - CCCC)                         
39 Carlos Rogers (CRCA/Team Axis)                                               
40 Chris Romero (CRCA/Axis)                                                     
 
Starters: 60 
Classified: 40
 
Women - 16 Miles

1 Caryl Gale (CRCA-Comedy Central-New Canaan Cyclery)                      38.22
2 Sarah Chubb Sauvayre (CRCA/Comedy Central-New Canaan Cyclery)                 
3 Camie Kornely (Toga/Gotham)                                                   
4 Kimille Taylor (CRCA- radical media)                                          
5 Liz Seward (CRCA/Bicycle Workshop)                                        0.05
6 Shelley Reynolds (TVC/Mission in Motion)                                      
7 Jaimie Epstein (CRCA/Radical Media)                                           
8 Nancy Camp (CRCA/Bicycle Workshop)                                            
9 Maria Quiroga (CRCA)                                                          
10 Dominique Hall (Major Taylor Ironridders)                                    
11 Andrea Urist (CRCA/Bicycle Workshop)                                         
12 Kristi Roberts (CRCA/Comedy Central-New Canaan Cyclery)                      
13 Lenore Imhof (Colavita)                                                      
14 Vickie Huffman                                                               
15 Angela Johnson (CRCA/Comedy Central-New Canaan Cyclery)                      
16 Jane Kenyon (CRCA/TEAm Lipton)                                               
17 Kat Campbell (Deutsche Bank/CRCA)                                            
18 Chelsea Reynolds (TVC/Mission in Motion)                                     
19 Charlsie Donnelly (junior women's state champion) (TVC/Mission in Motion)    
20 Kate Giordano (Anthem Blue Cross and Blue Shield - CCCC)                 0.36
 
Starters: 21
Classified: 20
 
Junior Men - 16 miles
1 Ryan Storm (CRCA Junior Development)                                     32.59
2 Amaury Arias (CRCA Junior Development)                                        
3 Rider #469                                                                    
4 Harrison Freund (El Toreo)                                                    
 
Starters: 5 
Classified: 4
 
Master Men 35+ - 16 Miles
 
1 Jon Clifton-Moore                                                        32.59
2 Juan Pimentel (Global Locate)                                                 
3 Anthony Taylor (Fastar)                                                       
4 Craig Cook (CRCA)                                                             
5 Inson Wood (CRCA/Foundation)                                                  
6 Robert Weyman (Sakonnet Tech/CRCA)                                            
7 Paul Carbonara (Century Road Club /Axis)                                      
8 Walter Quesada (Westwood Velo)                                                
9 Tony Maisto (Deno's Wonder Wheel)                                             
10 John Raheb (Westwood Velo)                                                   
11 Joseph Smith (Clifton Inc Racing)                                            
12 Ted Neu (CRCA/VisitBritain)                                                  
13 Stephen Harvey (CRCA - Visit Britain)                                        
14 Rick Spear (Targetraining/Fastar)                                            
15 Christopher Pile (Targetraining/Fastar)                                      
16 Unknown                                                                      
17 Jose Fernandez (CRCA/Major Taylor Iron Riders)                               
18 Ken Harris (CRCA/Merrill Lynch - HincapieSports)                             
19 David Sommerville (Champion System)                                          
20 Andrew Riss (CRCA)                                                           
21 Scott Mercer                                                                 
22 George Suter (CRCA / Visit Britain)                                          
23 Kurt Gustafsson (CRCA / AXIS)                                                
24 Mihael Ginghina (Remax/CRCA)                                                 
25 Vincent Cintron (Targetraining/Fastar)                                       
 
Starters; 26 
Classified: 25
 
Master Men 45+ - 16 Miles
 
1 Geoff Bickford (CRCA/Axis)                                               32.59
2 Robert L Brown (CRCA/MajorTaylor Iron Riders)                                 
3 Steven Tinston (Westwood Velo)                                                
4 Tony Settel (Deno's Wonder Wheel)                                             
5 Jose Collado (Global Locate)                                                  
6 Todd Kapeghian (Main Line Cycling - BiKyle)                                   
7 Marc Adam (CRCA)                                                              
8 Thomas Toal (Bethel Cycle)                                                    
9 Ross Thompson (Team Somerset)                                                 
10 John Podesta (CRCA)                                                          
11 Christopher Long (Gotham/Toga)                                               
12 Gerardo Martinez (CRCA)                                                      
 
Starters: 16 
Classified: 12
 
Master Men 55+ - 16 Miles
 
1 Robert O'Hara (CJCT)                                                     32.59
 
Starters: 2
Classified: 1
 
Men 3-4 - 20 Miles
 
1 Jerry Kapko (Deno's Wonder Wheel Cycling)                                34.04
2 Chris Baldwin (CRCA/Merrill Lynch Racing)                                     
3 Eric Berend (CRCA/Organic Athlete)                                            
4 James Joseph (Cafeteros)                                                      
5 Radoslaw Smolaga (Brooklyn)                                                   
6 Juan Pimentee (Global Locate)                                                 
7 Christopher Uglietta (CRCA / Jonathan Adler Racing)                           
8 Alejandro Guzman (CRCA-FOUNDATION)                                            
9 Glenroy Griffith (Foundation)                                                 
10 J Gabriel Lloyd (CRCA / REMAX)                                               
11 Enri Madera (CRCA/Merrill Lynch)                                             
12 Carlos Rivera (MetroSanchez/CRCA)                                            
13 Kevin Yarde (TheraFeet Cycling)                                              
14 Ian Stanley (Squiggle)                                                       
15 Christopher Loudon (CRCA/VisitBritain)                                       
16 Rashad Guerra (Metro/CRCA)                                                   
17 Ryan Bodge (Colavita)                                                        
18 Kevan Griffin (Brooklyn)                                                     
19 Michael Prokopec (CRCA/Miyashoji.com)                                        
20 Andrew LaCorte (CRCA / Merrill Lynch - Hincapie Sports)                      
21 Clifton Cargill (Team Tam)                                                   
22 Christopher Chaput (Champion Systems Racing)                                 
23 Steve Brownlie (CRCA/NYVelocity)                                             
24 Gabriell Gentile (Cafeteros)                                                 
25 Scott Demel (CRCA / Brooklyn Velo Force)                                     
26 Sean Marvel (Axis/CRCA)                                                      
27 Antony Slokar (CRCA/Edgemont Capital)                                        
28 Eric Salzer (Inglewood)                                                      
29 Gavin Robertson (Major Taylor Iron Riders)                                   
30 Tony Johnson (Northwest Cyclery)                                             
31 Steve Hylton (CRCA)                                                          
32 Hammean Walker (USI)                                                         
33 Chad Selberg (Gotham)                                                        
34 Christopher Mecray (CRCA/NYVeloCity)                                         
35 Jamel Freeman (Cycle Sports/Trumer Pils)                                     
36 Grant Patterson (James McHone U-25 Cycling Team)                             
37 Etsu Tahiguchi (CRCA/NYVelocity)                                             
38 Frank Bottino (Team Ranchos)                                                 
39 Will Alvarado (CRCA/GOTHAM)                                                  
40 Ken Stanek (Champion Systems Racing)                                         
41 Christopher Shaw (CRCA)                                                      
42 Isaac Dinner (Columbia U.)                                                   
43 Andras Gipp (Metro-Sanchez)                                                  
44 Tim Nilson (CRCA/MERRILL LYNCH)                                              
45 Willie Payton (NYVeloCity/CRCA)                                              
46 Junior Proverbs (Barbados Team & USI)                                        
47 Adam Duncan (CRCA Merrill Lynch-Hincapie Sportswear)                         
48 Justin Brown (CRCA/NyVelocity.com)                                           
49 Luke Stiles (Bronx)                                                          
50 Jaime Garcia (CRCA/Merril Lynch-Hincapiesportswear)                          
51 Dan Schmalz (CRCA/Merrill Lynch-Hincapie)                                    
 
Starters: 74 
Classified: 51
 
Men 4-5 - 16 Miles
 
1 Gavin Robertson (Major Taylor Iron Riders)                               35.15
2 Carl Nelson                                                                   
3 Frank Bottino (Team Ranchos)                                                  
4 Ivan Sotaia (Cuevas)                                                          
5 Ron Vasquez                                                                   
6 Adam Duncan (CRCA Merrill Lynch-Hincapie Sportswear)                          
7 Jaime Garcia (CRCA/Merril Lynch-Hincapiesportswear)                           
8 Christopher Mecray (CRCA/NYVeloCity)                                          
9 Brad Buckley                                                                  
10 Stephen Moore (Pro Pedals Team Express)                                      
11 Chris Samuels                                                                
12 Eviz Mausolf                                                                 
13 Steven Marks (Columbia University Cycling)                                   
14 Tyrone Pryor (Major Taylor Iron Riders)                                      
15 Deverell Smith (CRCA/Edgemont Capital)                                       
16 Curtis Springer (Major Taylor Iron Riders)                                   
17 Calvin Campbell (Westwood Velo)                                              
18 Nathan Brauer (Foundation/CRCA)                                              
19 Benjamin Doane (CRCA)                                                        
20 David Beaudry (Pro Pedals Team Express)                                      
21 Matthew Kraushar (WBI Investments)                                           
22 Skende Sakyznd (City Bikes)                                                  
23 Kenshin Furuta (CRCA)                                                        
24 Eric Ocornell                                                                
25 Braiden Kelley (CRCA)                                                        
26 Isaac Dinner (Columbia U.)                                                   
27 Bertil Petersson (CRCA)                                                      
28 Robert Kincaid (CRCA)                                                        
29 Dexter Hypolite                                                              
30 Mark Urbanowicz (Team Somerset/Van Dessel)                                   
31 Andrew Knight (New York)                                                     
32 Anthony Accardi (CRCA/Edgemont Capital)                                      
33 Chris Burdzell (CRCA)                                                        
34 Walter Lamerton (Asphalt Green/CRCA)                                         
35 Junior Proverbs (Barbados/USI)                                               
36 Paul Kieran Lynch (Colavita Racing)                                          
 
Starters: 69
Classified: 36