British Championships - CN
Beverley, Great Britain, June 24-25, 2006
2005 results The program Preview Start List Past winners
The program
Beverley hosts British championships
By Gerry McManus
Photo ©: Gerry McManus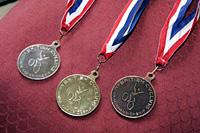 The Hull Thursday Road Club promote a number of races over the busy weekend based around the town of Beverley in East Yorkshire near Kingston on Hull. Saturday's Women's championship race will decide the Elite Women's and Under 23 titles in the same event. On Sunday the Elite Men will fight it out over a longer distance but both events finish on the same circuit in Beverley.
Women's Elite and U23 road race, June 24, 63 miles
Nicole Cooke (Univega-Raleigh) goes for her seventh consecutive title and few would bet against the Welsh star. The world silver medallist will have tough competition from Rachel Heal (Victory Brewing) but not Emma Davies-Jones (Topsport). Davies-Jones has suffered serious setbacks this year including breaking her collarbone in Holland recently, and has decided she won't be at the level needed to race in the scenic countryside of the East Ridings.
Teenager Joanna Rowsell (VC Londres) is currently leading the British Cycling Women's race series by a considerable amount and could be in contention for a medal in the Elite or U23 category. Rowsell is supported by a strong team including Lara Wann.
Helen Gutteridge and Jeanette Tebutt both ride for Team Luciano-Kuota. Emma Pooley and Claire Goss look the strongest on paper in the massive 10-strong Team Fat Birds UK team and the team size could be decisive for at least a podium place if they can play the tactics game correctly.
Lizzie Armistead (Raleigh ERV) rides with the boost of taking the criterium title last weekend and must be full of confidence for the longer event. Watch out for criterium silver medallist Tanja Slater (Scienceinsport.com) and fourth placed Janet Birkmyer (Planet-X).
64 riders start from Beverly at 12 noon.
Men's Elite Road Race, June 25, 116.8 miles
Russell Downing (DFL-cyclingnews) returns to defend the title he won in 2005 when he squeezed past Steve Cummings (Landbouwkredit-Colnago) in the sprint. Downing comes to the start line this year with good conditioning after he rode the Tour de Beauce in Canada this month finishing 15th on G.C. and winning stage five along the way. Cummings, Roger Hammond (Discovery Channel), Tom Southam (Barloworld) and Jeremy Hunt (Unibet.com) are the key British pros returning from the continent to contest the title.
2003 and 2004 winner Hammond will be one of the favourites as the 32-year-old has proven his worth in one day events and his palmares includes a previous third place in Paris Roubaix. Southam already has two silver medals in this event and will be looking to make it gold this year.
Bradley Wiggins (Cofidis) and Charly Wegelius (Liquigas) are notable absentees this year. Wiggins has preferred preparation for the Tour de France rather than a ride for the domestic title. Another is David Millar (Saunier Duval), who has chosen his first comeback race to be the prologue of the Tour de France following his suspension after he admitted using the banned hormone EPO. Millar's ban finishes on the 24th June allowing him to compete in the title event, had he chosen to.
The Recycling.co.uk will field the strongest team on paper. The 2006 FBD Insurance Rás and Girvan 3-Day winner Kristian House is joined by a multi-talented team including Chris Newton, Ben Greenwood and Rutland Classic winner Robin Sharman. The Recycling U23 section will be lead by this year's Fleche du Sud winner Geraint Thomas.
Plowman Craven fields a team of six including former British champion Malcolm Elliott. Elliott has won all three medals over the years since he took the bronze in 1984 going on to win in 1993 and taking silver in 1994. It would be an achievement to finish on the podium at the age of 44 but Elliott has shown as much, if not more, commitment to his career now as he did in those early days. However the Plowman Craven team goals seem more centred on the criterium series this year. James Taylor and Tony Gibb finished first and second respectively in the criterium championships this month but both are expected to ride strongly here, if only in support of Elliott.
Keep an each-way bet on Jonathan Dayus (Arctic Shorter Rochford) who finished third in the Rutland Classic in May this year and has produced some good championship rides in the past finishing just off the podium places.
131 riders' names feature on the start sheet for the course described on the British Cycling web site as 'draggy' and 'undulating'. Riders are expected to hit speeds on one descent of up to 50mph and what goes down must go back up somewhere. The finishing circuit is tough enough to test tired legs after 100-miles of racing.
The race is on two circuits with a long run out to the big circuit before they return for three laps on the 4.9-mile finishing circuit in Beverley. The race starts at 10 am with the peloton leaving Beverley heading towards the Yorkshire Wolds.
Start list
Elite/U23 Women

1 Nicole Cooke (Univega-Raleigh-Lifeforce)
2 Jessica Allen (Abergavenny RC)
3 Katie Curtis (Cardiff Ajax)
4 Kirsten McClelland-Brooks (CC Giro Abegavenny)
5 Sara Burling CC (Giro)
6 Gabriella Coates (Evans Cycles RT)
7 Amy Thompson (Evans Cycles RT)
8 Lindsey Clarke (Fenland Clarion CC)
9 Julia Shaw (GS Strada)
10 Laura Bissell (GS Strada)
11 Angela Hunter (GS Strada)
12 Rebeca Jones (Hub Racing USA)
13 Jane Kilmartin (London Pheonix CC)
14 Cherie Pridham (Merlin Development)
15 Kimberley Walsh (North East Yarm)
16 Rachel Hughes (Oxford University CC)
17 Nikki Harris (Private)
18 Lorna Webb (KSV Deerlijk Gaverzicht)
19 Patricia Salbany (Private)
20 Sophie Johnson (Raleigh ERV)
21 Lisa Hollingshead (Raleigh ERV)
22 Michelle Bergstand (Raleigh ERV)
23 Kim Blythe (Unattached Sheffield)
24 Rosemary Dos (Remedios Raleigh ERV)
25 Lizzie Armistead (Raleigh ERV)
26 Caroline Kluiber (Rapha Condor)
27 Wendy Houvenaghel (Ricci/Bikechain)
28 Louise Eden (Seamons CC)
29 Tanja Slater (S.I.S.com)
30 Amy Hunt (Safi-Pasta Zara Manh)
31 Louise Mahe (Sutton CC De Ver Cycles)
32 Helen Wyman (Team Fat Birds UK)
33 Cath Hare (Team Fat Birds UK)
34 Emma Silversides (Team Fat Birds UK)
35 Emma Pooley (Team Fat Birds UK)
36 Gabby Day (Team Fat Birds UK)
37 Tracey Fletcher (Team Fat Birds UK)
38 Claire Gross (Team Fat Birds UK)
39 Anna Watson (Team Fat Birds UK)
40 Femke Van Schelven (Team Fat Birds UK)
41 Lizzy Goodband (Team Fat Birds UK)
42 Jeanette Tebutt (Team Luciano-Kuota)
43 Carrie Bedingfield (Team Luciano-Kuota)
44 Helen Gutteridge (Team Luciano-Kuota)
45 Heather Summers (Team Luciano-Kuota)
46 Michelle Buck (Team QCP)
47 Cayley Ennet (Fenland Clarion CC)
48 Charlotte Colclough (Team QCP)
49 Leda Cox (Team Rapha/Condor)
50 Sarah Cramoysan (Onimpex Bio-racer)
51 Emma Davies (Jones Topsport-Capri)
52 Jenny Derham (Vlaanderen (Capri-Sonne)
53 Antonia Burt (Twickenham CC)
54 Hannah Bussey (VC Meudon)
55 Joanna Rowsell (VC Londres)
56 Alice Monger-Godfrey (VC Londres)
57 Jo Tindley (VC Londres)
58 Lara Wann (VC Londres)
59 Jemmima Davis (Velo Sport)
60 Rachel Heal (Victory Brewing)
61 Angela Pike (Wolverhampton Wheelers)
62 Jessica Stoddart (WPC Olympia)
63 Sophie Ruderman (www.agiskoviner.com)
64 Melanie Williams (Rapha - Condor)
65 Bernadette Hards (www.agiskoviner.com)

Elite Men

1 Russell Downing (DFL-Cycling News-Litespeed)
2 Dean Downing (DFL-Cycling News-Litespeed)
4 Alex Coutts (DFL-Cycling News-Litespeed Gorebridge Midlothian Elite)
5 Matthew Brammeier (DFL-Cycling News-Litespeed)
6 Duncan Erquhart (Agisko-Dart-Cycling TV)
7 Kevin Dawson (Agisko-Dart-Cycling TV)
8 Graham Briggs (Agisko-Dart-Cycling TV)
9 James Williamson (Agisko-Dart-Cycling TV)
10 Neil Coleman (Agisko-Dart-Cycling TV)
11 Alex Higham (Agisko-Dart-Cycling TV)
12 Gary Hand (Agisko-Dart-Cycling TV)
13 Hugo Hocknell (Angliasport)
14 Jonathan Dayus (Arctic-Shorter Rochford RT)
15 James Dobbin (Arctic-Shorter Rochford RT)
16 Danny Axford (Arctic-Shorter Rochford RT)
17 Peter Bissell (Arctic-Shorter Rochford RT)
18 Tim Wallis (Arctic-Shorter Rochford RT)
19 Kieran Page (AVC Aix Ryde)
20 Tom Southam (Barloworld)
21 Wayne Webster (Go Sports Spex RT Hucknall 1st 38)
22 James Millard (Bouwelse Wielervrienden)
23 Alistair Stoddart (Bouwelse Wielervrienden)
24 Andrew Jackson (C Gambetta Orleans)
25 Stephen Feeney (Chester RC)
26 Lewis Meadows (Cleveland Wheelers)
27 Kit Gilham (Clifton CC)
28 Daniel Keena (Cottingham Coureurs RT)
29 Nathan Wilson (Cottingham Coureurs RT)
30 Ryan Maclachlan (Cottingham Coureurs)
31 Matthew Charity (De Rosa RT)
32 Roger Hammond (Discovery Channel Pro)
33 Adam Weaver (Doncaster Wheelers)
34 Dan Fleeman (EC St Etienne)
35 Lee Whitelam ,Edinburgh RC)
36 Geoffrey Lulham (Evans RT)
37 Ashley Brown (Featherstone RC)
38 Neil Jones (Gateway RT)
39 Chris Smart (Glasgow Couriers)
40 Mark McKay (Gendale CC Bike trax)
41 Ben Hallam (Gendale CC Bike trax)
42 Matt Talbot (Gendale CC Bike trax)
43 Ed Whitehorn (Gendale CC Bike trax)
44 Daniel Lloyd (Giant Asia RT)
45 Dean Shannon (Heron Cylcesport)
46 Thomas Gardner (Heron Cylcesport)
47 Andy Lyons (Heron Cylcesport)
48 Hamis Haynes (Jartazi / 7-Mobile)
49 Matthew Higgins (JE James RT)
50 Gareth Hewitt (JE James RT)
51 Mark Wordsworth (JE James RT)
52 Dave Coulson (JE James RT)
53 Chris Daddy (JE James RT)
54 Chris Belsham (JE James RT)
55 Chris Barron (Kent Valley RC)
56 Pete Williams (Kinesis UK)
57 Thomas White (Kuota Biemme)
58 Steven Kenny (Kuota Biemme)
59 Craig Battersby (Lancashire RC)
60 Stephen Cummings (Landbouwkredit)
61 Richard Sykes-Popham (Llandovery CC)
62 John Mozley ,Merlin Development)
63 Colin Ash (NB Group - Fox Racing)
64 Sean Newington (North Beach/Dooleys)
65 Mark Lovatt (Planet X RT)
66 Tom Smith (Plowman Craven RT)
67 Wesley Cole (Plowman Craven RT)
68 James Taylor (Plowman Craven RT)
69 Anthony Gibb (Plowman Craven RT)
70 Adam Norris (Plowman Craven RT)
71 Malcolm Elliot (Plowman Craven)
72 Andrew Guy (Preston Cycling Club)
73 Ben Pochee (Rapha Condor)
74 Richard Wilkinson (Rapha Condor)
75 Ben Price (Rapha Condor)
76 Chris Newton (Recycling.co.uk)
77 Robin Sharman (Recycling.co.uk)
78 Ben Greenwood (Recycling.co.uk)
79 Kristian House (Recycling.co.uk)
80 Evan Oliphant (Recycling.co.uk)
81 Dale Appleby (Recycling.co.uk)
82 Robert Partridge (Recycling.co.uk)
83 Shaun Snodden (Recycling.co.uk)
84 Geraint Thomas (Recycling.co.uk)
85 Ross Sander (Recycling.co.uk - SIS)
86 Ian Stannard (Recycling.co.uk - SIS)
87 Ben Swift (Recycling.co.uk - SIS)
88 Andrew Tennant (Recycling.co.uk - SIS)
89 Henry Furniss (Ride Beyond/Bike & Run)
90 Matthew Stevens (Sigma Sport)
91 Gary Dodd (Sigma Sport Epsom)
92 Mike Harrison (Sigma Sport Holmes Chapel)
93 Ian Wilkinson (S.I.S Burnley)
94 Phil Dixon (S.I.S Sutton in Ashfield)
95 Tim Lawson (S.I.S Blackburn)
96 Jack Woodward (S.I.S)
97 Richard Moore (Star Bikes)
98 James Sampson (Stilton RT/Terry Wright/Specialized)
99 Dafydd Dylan (Team Continental)
100 Richard Dean (Team Halfords Bikehut)
101 Robert Hayles (Team KLR)
102 Martin Ford (Team Lloyds TSB)
103 Tobyn Horton (Team Lloyds TSB)
104 Adam Illingworth (Team Milton Keynes)
105 Tom Crouch (Team Milton Keynes)
106 Roy Chamberlain (Team Milton Keynes)
107 Richard Cartland (Team Milton Keynes)
108 Gregg Roche (Team Nippon KFS)
109 David Clarke (Team Nippon KFS)
110 Mark Cavendish (Team Sparkasse)
111 Stephen Ward (Team Swift-Allsports)
112 Johnathan Rosenbrier (UC Aubenas)
113 Jules Birks (US Montauban 82)
114 Sean Polson (VC Azzurri)
115 Rick King (VS Briganti)
116 Glen Turnbull (VS Briganti)
117 Matthew Kipling (VS Briganti)
118 Steve Gibson (VS Briganti)
119 Richard Williamson (VS Quimper)
120 Dieter Droger (Wakefield CC)
121 Nigel Haigh (Wakefield CC)
122 Matthew Brindle (Wieler Jeugdteam)
123 Christopher (McNamara Wildside RT)
124 Christopher (Parlett Wildside RT)
125 Joel Stewart (www.agisko-viner.com)
126 Danial Davies (www.agisko-viner.com)
127 Adrian Bird (www.echelon-cycles.co.uk)
128 Ian Holmes (York Cycleworks)
129 Alistair Kay (York Cycleworks)
130 Robert Hurd (Unattached)
131 Jeremy Hunt (Mr  Bookmaker.com)

Past winners
      Women                   Men
2005  Nicole Cooke            Russell Downing
 
Past winners by Mario Stiehl, www.world-of-cycling.com