Belgian National Road Championships - CN
Antwerpen, Belgium, June 25, 2006
2005 Results Results Past winners
Eeckhout takes the Belgian title in Antwerp
By Jeff Jones
Niko Eeckhout (Chocolade Jacques)
Photo ©: Luc Claessen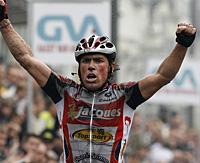 Niko Eeckhout (Chocolade Jacques) will wear the Belgian tricolour jersey for the next year after winning a wet edition of the national championships in Antwerp. After the race was whittled down to just six riders with 10 km to go, all eyes were on Tom Boonen (Quick.Step) to win the sprint. But Eeckhout was smarter and stronger than the world champion and attacked inside the final kilometre to win the race from Philippe Gilbert (Française des Jeux) and Boonen.
"I knew I could do it," Eeckhout puffed to Sporza radio after the finish. "I was well prepared and I lived for it. Everything was in my favour: the weather, how the race unfolded. If you're a favourite and you can also pull it off, then that says something. I'm tired of being depicted as becoming a kermis racer here and a kermis racer there."
Second placed Gilbert was satisfied, although he said that only first placed counted. He was also marked by the others: "They really didn't let me go, perhaps I had the wrong jersey on. Eeckhout was strong, also in the sprint. I thought that he would die, but that wasn't the case."
Boonen was in with his best chance of winning the title, but just came up short to finish third. However, he wasn't dissatisfied. "Definitely not. That's racing, eh," said the world champion after finishing his first Belgian professional road race championship. "I didn't save the effort," he said. "First I rode solo to the lead group, then to the three leaders.
Tom Boonen (Quick.Step)
Photo ©: Luc Claessen

"When Vansummeren attacked, Kevin van Impe couldn't close the gap. Everyone looked to me of course. When Eeckhout went, I thought it would be OK, but I rode in the wrong gear and couldn't get going."
How it unfolded
The 246 km race was held over a 53 km opening circuit, followed by 16 laps of a 12 km loop, with no real difficulties. But the weather provided its own difficulty: steady rain fell all day and the temperatures didn't get above 20. Unfortunately for the race, there was a crash involving two helicopters hired by VTM: one person was badly injured while another two were lightly injured. As a consequence, there were almost no TV images of the race.
One rider who didn't start was Frank Vandenbroucke (Unibet), who was taken to hospital on Saturday suffering from stress. The peloton remained compact for the first 53 km circuit, averaging 49.5 km/h in the first hour. It took until km 100 before a break managed to gain half a minute, with Wim Vansevenant (Davitamon), Frédéric Amorison (Landbouwkrediet), Stijn Devolder (Discovery) and Kevin Van Impe (Quick.Step). After a dozen kilometres in front, Chocolade Jacques had pulled them back.
Serge Baguet (Quick.Step)
Photo ©: Luc Claessen

The next move was more successful, as Roy Sentjens (Rabobank), Olivier Kaisen (Davitamon-Lotto), and Bart Van Heule (Chocolade Jacques) attacked a few kilometres later, having now covered 116 km. The three kept a minute and a half gap over the peloton, where Landbouwkrediet-Colnago took charge of the pace making, nullifying any attempts to bridge the gap. With seven laps (84 km) to go, the gap had come down to less than a minute, and the group was caught on the next lap.
A new trio extracted itself with six laps to go, this time with Davitamon's Gert Steegmans, Quick.Step's Sébastien Rosseler and Chocolade Jacques' Kurt Hovelynck. But Rosseler's time in front was short lived after he crashed on the wet roads and abandoned. Landbouwkrediet again chased, this time with Quick.Step helping, and the remaining two in front got no more than 1'22 lead.
The leaders
Photo ©: Luc Claessen

With 36 km to go, it appeared the Davitamon tactics had changed, as Vansummeren and Mertens (teammates of Steegmans) started working as well, and the break came back a few kilometres later. Vansummeren was obviously feeling good, as he attacked immediately with Eeckhout and Leif Hoste (Discovery). Philippe Gilbert bridged up, then a group of seven formed in pursuit: Tom Boonen and Kevin Van Impe (Quick.Step), Jurgen Van Goolen (Discovery), Hovelynck (Chocolade Jacques), Gert Steegmans (Davitamon), Geert Omloop (Unibet) and James Van Landschoot (Landbouwkrediet).
That was the start of the final selection, and with 24 km to go, there were 11 leaders. That became 10 when Van Goolen punctured and crashed. With 10 km to go, Gilbert attacked and shed four more riders, leaving just himself, Boonen, Van Impe, Eeckhout, Van Summeren and Hoste. On the last lap, Gilbert attacked with Hoste and Van Impe, forcing Eeckhout and Vansummeren to give Boonen a free ride in pursuit. Boonen eventually jumped across the gap himself, but then Eeckhout and Vansummeren also closed, and there were still six left in the final kilometres.
A late attempt by Gilbert failed to net him the championship, but a later move by Eeckhout worked much better. The Belgian hard man, nicknamed "Rambo" was able to hold off Gilbert and Boonen for his first Belgian championship title.
The podium
Photo ©: Luc Claessen

Photography
For a thumbnail gallery of these images, click here
Images by Luc Claessen/www.ctm-images.com
Results
1 Niko Eeckhout (Chocolade Jacques)
2 Philippe Gilbert (Francaise des Jeux)
3 Tom Boonen (Quick.Step)
4 Leif Hoste (Discovery Channel)
5 Johan Vansummeren (Davitamon-Lotto)
6 Kevin Van Impe (Quick.Step)
7 James Vanlandschoot (Landbouwkrediet - Colnago)
8 Kurt Hovelynck (Chocolade Jacques)
9 Geert Omloop (Unibet.com)
10 Wouter Weylandt (Quick.Step)                            2.04
11 Wouter Van Mechelen (Chocolade Jacques)
12 Sjef De Wilde (Landbouwkrediet - Colnago)
13 Jurgen Van Loocke (Landbouwkrediet - Colnago)
14 Frédéric Amorison (Landbouwkrediet - Colnago)
15 Nic Ingels (Davitamon - Lotto)
16 Maarten Wijnants (Chocolade Jacques)
17 Christophe Detilloux (Francaise des Jeux)
18 Jean-Paul Simon (Landbouwkrediet - Colnago)
19 Robby Meul (Jartazi - 7Mobile)
20 Sven Vanthourenhout (Rabobank Continental)
21 Igor Abakoumov (Jartazi-7Mobile)
22 Kenny Lisabeth (Chocolade Jacques-Topsport Vlaanderen)
23 Jens Renders (Chocolade Jacques-Topsport Vlaanderen)
24 Christoph Roodhooft (Palmans Collstrop)
25 Sven Renders (Landbouwkrediet-Colnago)
26 Jan Verstraeten (Fidea Cycling Team)
27 Pieter Ghyllebert (Chocolade Jacques-Topsport Vlaanderen)
28 Davy Commeyne (Palmans Collstrop)
29 Gorik Gardeyn (Unibet.com)
30 Frederik Veuchelen (Chocolade Jacques-Topsport Vlaanderen)
31 Dimitri De Fauw (Chocolade Jacques-Topsport Vlaanderen)
32 Bert Roesems (Davitamon-Lotto)
33 Johan Coenen (Unibet.com)
34 Andy Cappelle (Landbouwkrediet-Colnago)
35 Steven Thys (Jartazi-7Mobile)
36 Peter Ronsse (Jartazi-7Mobile)
37 Nico Mattan (Davitamon-Lotto)
38 Glenn D'Hollander (Chocolade Jacques-Topsport Vlaanderen)
39 Pieter Mertens (Davitamon-Lotto)
40 Francesco Planckaert (Jartazi-7Mobile)
41 Jarno Van Mingeroet (Jartazi-7Mobile)
42 Wilfried Cretskens (Quickstep-Innergetic)
43 Erwin Vervecken (Fidea Cycling Team)
44 Geert Verheyen (Quickstep-Innergetic)
45 Bart Vanheule (Chocolade Jacques-Topsport Vlaanderen)
46 Steven De Neef (Bodysol- Win for Life-Jong Vlaanderen)
47 Wesley Van Der Linden (Chocolade Jacques-Topsport Vlaanderen)
48 Bert De Waele (Landbouwkrediet-Colnago)
49 Benny De Schrooder (Chocolade Jacques-Topsport Vlaanderen)
50 Jan Kuyckx (Davitamon-Lotto)
51 Matthew Gilmore (Chocolade Jacques-Topsport Vlaanderen)
52 Christophe Brandt (Davitamon-Lotto)
53 Bart Dockx (Davitamon-Lotto)
54 Sven Nevens (Jartazi-7Mobile)
55 Kurt Van De Wouwer (Unibet.com)
56 Stijn Devolder (Discovery Channel Pro Cycling Team)
57 Jurgen Van De Walle (Quickstep-Innergetic)
58 Olivier Kaisen (Davitamon-Lotto)
59 Aron Huysmans (Chocolade Jacques-Topsport Vlaanderen)
60 Marc Wauters (Rabobank)
61 aSerge Baguet (Quickstep-Innergetic)
62 Johan Verstrepen (Landbouwkrediet-Colnago)
63 Peter Van Petegem (Davitamon-Lotto)
64 Wim Vansevenant (Davitamon-Lotto)
65 Mario Aerts (Davitamon-Lotto)
66 Bart Wellens (Fidea Cycling Team)
67 Nick Nuyens (Quickstep-Innergetic)
68 Erwin Thijs (Unibet.com)
69 Frederik Penne (Yawadoo-Colba-ABM)
70 Bert Scheirlinckx (Jartazi-7Mobile)
71 Thierry Marichal (Cofidis-Le Crédit par Téléphone)
72 Kenny De Haes (Chocolade Jacques-Topsport Vlaanderen)
73 Frederik Willems (Chocolade Jacques-Topsport Vlaanderen)
74 Jurgen Van Den Broeck (Discovery Channel Pro Cycling Team)
75 Gert Steegmans (Davitamon-Lotto)
76 Wim Van Huffel (Davitamon-Lotto)
77 Roy Sentjens (Ned) Rabobank)
78 Nico Sijmens (Landbouwkrediet-Colnago)
79 Steven Caethoven (Chocolade Jacques-Topsport Vlaanderen)
80 Peter Wuyts (Palmans Collstrop)
81 Serge Pauwels (Chocolade Jacques-Topsport Vlaanderen)
82 Mathieu Criquielion (Landbouwkrediet-Colnago)
83 Rik Verbrugghe (Cofidis-Le Crédit par Téléphone)
84 Kevin Hulsmans (Quickstep-Innergetic)
85 Iljo Keisse (Chocolade Jacques-Topsport Vlaanderen)     4.03

Past winners
2005 Serge Baguet (Davitamon-Lotto)
2004 Tom Steels (Landbouwkrediet-Colnago)
2003 Geert Omloop (Palmans-Collstrop)
2002 Tom Steels
2001 Ludovic Capelle
2000 Axel Merckx
1999 Ludo Dierckxsens
1998 Tom Steels
1997 Tom Steels