19th Internationale Thüringen-Rundfahrt der Frauen - 2.1 (W)
Germany, July 18-23, 2006
Main Page Results Overall standings Previous Stage Next Stage
Stage 2 - July 20: Greiz – Schleiz, 129.4 km
Univega takes back yellow
By Kristy Scrymgeour
Nicole Cooke (Univega) wins
Photo ©: Florian Schaaf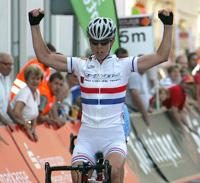 At the of another stage over relentlessly undulating terrain in scorching temperatures, the Univega team managed to take back the yellow jersey today that they earned in the prologue but was taken from them at the end of stage one due to time bonus seconds. This time is was Nicole Cooke who took the stage win and the race lead, beating Team Bigla's Zulfia Zabirova in a two up sprint in Schleiz.
The race was more aggressive from the start today, despite the temperatures, but things stayed together until Nobili's Sigrid Corneo got away solo gaining over a minute on the field. Corneo stayed away until the top of the third mountain sprint of the day after which she was caught by a bridging group of 14 riders who caught her with about 20km to go. In the group was Cooke and two of her teammates Christiane Soeder and Karin Thürig (Univega) as well as Zulfia Zabirova (Bigla), Diana Ziliute (Safi - Pasta Zara Manhatten), Theresa Senff (AA Drink), Edita Pucinskaite and Olivia Gollan (Nobili Rubinetterie Menkini Cogeas), Annette Beutler, Amber Neben and Linda Villumsen (Buitenpoort- Flexpoint), Trixi Worrack and Tina Liebig (Nürnberger Versicherung).
The group gained significant time of the rest of the peloton finishing over four minutes up. With ten kilometers to go Cooke and Zabirova attacked the break and managed to hold off the chase and gain 24 seconds by the finish. Cooke won the sprint from Zabirova, which moved her into the overall lead, with Zabirova moving into second place overall.
Former race leader Hanka Kupfernagel (German National Team) finished in the main peloton losing over four minutes to Cooke in the general classification. "Of course I wasn't happy to lose the yellow jersey," said Kupfernagel, "but I am not yet up to the level of the best riders as this is only my second tour so far this year."
Cooke was excited to be in the jersey. "I am happy that is over," she said. "The constant up and down made everybody tired. In the end I didn't want to arrive at the finish with a large group so I went away with Zabirova."
"Yellow is my favourite colour," she added, "and now I want to keep it until Sunday."
Tomorrow's stage is a little flatter than the previous two stages. Starting in the town of Schleiz, it covers 123km finishing in the town of Gera.
Photography
For a thumbnail gallery of these images, click here
Images by Florian Schaaf/www.cyclingpictures.de
Images by CJ Farquharson/WomensCycling.net
Results
1 Nicole Cooke (GBr) Univega                                  3.39.00
2 Zulfia Zabirova (Kaz) Bigla                                        
3 Diana Ziliute (Ltu) Safi – Pasta Zara Manhatten                0.24
4 Theresa Senff (Ger) AA Drink                                       
5 Edita Pucinskaite (Ltu) Nobili Rubinetterie Menkini Cogeas         
6 Annette Beutler (Swi) Buitenpoort- Flexpoint                       
7 Trixi Worrack (Ger) Nürnberger Versicherung                        
8 Amber Neben (USA) Buitenpoort- Flexpoint                           
9 Olivia Gollan (Aus) Nobili Rubinetterie Menkini Cogeas             
10 Christiane Soeder (Aut) Univega                                   
11 Karin Thürig (Swi) Univega                                        
12 Tina Liebig (Ger) Nürnberger Versicherung                     0.29
13 Linda Villumsen (Den) Buitenpoort- Flexpoint                  1.29
14 Sigrid Corneo (Ita) Nobili Rubinetterie Menkini Cogeas            
15 Daniela Pintarelli (Aut) Austrian national team               4.03
16 Kimberly Anderson (USA) T-Mobile                              4.26
17 Claudia Seidel (Ger) Team Euregio Egrensis                        
18 Li Liu Yong (Chn) Giant                                           
19 Lang Meng (Chn) Giant                                             
20 Hanka Kupfernagel (Ger) German national team                      
21 Oenone Wood (Aus) Nürnberger Versicherung                         
22 Elke Gebhardt (Ger) Team Euregio Egrensis                         
23 An Van Rie (Bel) Belgian national team                            
24 Monica Holler (Swe) Bigla                                         
25 Amy Moore (Can) T-Mobile                                          
26 Veronica Andreasson (Swe) Safi – Pasta Zara Manhatten             
27 Liane Bahler (Ger) Fenixs – Colnago                               
28 Kate Nichols (Aus) Australian national team                       
29 Amanda Spratt (Aus) Australian national team                      
30 Andrea Knecht (Swi) Bigla                                         
31 Natalie Bates (Aus) AA Drink                                      
32 Priska Doppmann (Swi) Univega                                     
33 Magali Le Floch (Fra) T-Mobile                                    
34 Charlotte Becker (Ger) Fenixs – Colnago                           
35 Catherine Delfosse (Bel) Belgian national team                    
36 Karen Steurs (Bel) Belgian national team                          
37 Luisa Tamanini (Ita) Safi – Pasta Zara Manhatten                  
38 Ivonne Kraft (Ger) Team Stuttgart                                 
39 Jocelyn Loane (Aus) Australian national team                      
40 Kate Mercer (Aus) Australian national team                        
41 Angela Brodka (Ger) AA Drink                                      
42 Rosmarie Mayer (Ger) Team Stuttgart                               
43 Marta Bastianelli (Ita) Safi – Pasta Zara Manhatten               
44 Monica Schachl (Aut) Austrian national team                       
45 Monica Furrer (Swi) Bigla                                         
46 Marta Vilajosana (Spa) Nobili Rubinetterie Menkini Cogeas         
47 Fang Li Mei (Chn) Giant                                           
48 Caroline Humplik (Ger) Team Stuttgart                         4.39
49 Bernadette Schober (Aut) Austrian national team               4.41
50 Luise Keller (Ger) Buitenpoort- Flexpoint                     4.43
51 Regina Schleicher (Ger) Nürnberger Versicherung               4.50
52 Tanja Hennes (Ger) Buitenpoort- Flexpoint                     5.14
53 Jennifer Hohl (Swi) Bigla                                         
54 Kirsten Wild (Ned) AA Drink                                   5.17
55 Corine Hierckens (Bel) AA Drink                                   
56 Emanuela Azzini (Ita) Nobili Rubinetterie Menkini Cogeas      9.53
57 Romy Kasper (Ger) German national team                            
58 Rochelle Gilmore (Aus) Safi – Pasta Zara Manhatten                
59 Kimberly Baldwin (USA) T-Mobile                                   
60 Lisa Brennauer (Ger) German national team                    10.12
61 Loes Sels (Bel) Belgian national team                        10.13
62 Claudia Stumpf (Ger) Team Stuttgart                          10.43
63 Emma Rickards (Aus) Univega                                  10.48
64 Veronika Sprügl (Aut) Austrian national team                      
65 Denise Zuckermandel (Ger) German national team               13.36
66 Ying Ruan Xiong (Chn) Giant                                  15.41
67 Ine Wannijn (Bel) Belgian national team                           
68 Kathleen Sterckx (Bel) Belgian national team                      
69 Lisa Weissenseel (Ger) German national team                       
70 Stephanie Gronow (Ger) Team Euregio Egrensis                      
71 Susi Tosch (Ger) Team Euregio Egrensis                            
72 Katharina Blum (Ger) German national team                         
73 Anke Wichmann (Ger) Nürnberger Versicherung                       
74 Sandra Missbach (Ger) AA Drink                                    
75 Ina-Yoko Teutenberg (Ger) T-Mobile                                
76 Stephanie Rechenbach (Ger) Team Euregio Egrensis             20.29
DNF Katherine Bates (Aus) Nürnberger Versicherung                    
DNF Joanne Kiesanowski (NZl) Univega                                 
DNF Jenny Mc Pherson (Aus) Australian national team                  
DNF Candice Sullivan (Aus) Australian national team                  
 
Mountains
 
Climb 1
1 Theresa Senff (Ger) AA Drink                                      3 pts
2 Annette Beutler (Swi) Buitenpoort- Flexpoint                      2
3 Veronica Andreasson (Swe) Safi – Pasta Zara Manhatten             1
 
Climb 2
1 Fang Li Mei (Chn) Giant                                           3 pts
2 Theresa Senff (Ger) AA Drink                                      2
3 Emanuela Azzini (Ita) Nobili Rubinetterie Menkini Cogeas          1
 
Climb 3
1 Sigrid Corneo (Ita) Nobili Rubinetterie Menkini Cogeas            3 pts
2 Amber Neben (USA) Buitenpoort- Flexpoint                          2
3 Trixi Worrack (Ger) Nürnberger Versicherung                       1
 
Sprints
 
Sprint 1
1 Rochelle Gilmore (Aus) Safi – Pasta Zara Manhatten                3 pts
2 Hanka Kupfernagel (Ger) German national team                      2
3 Jenny Mc Pherson (Aus) Australian national team                   1
 
Sprint 2
1 Monica Holler (Swe) Bigla                                         3 pts
2 Rochelle Gilmore (Aus) Safi – Pasta Zara Manhatten                2
3 Jenny Mc Pherson (Aus) Australian national team                   1
 
Sprint 3
1 Nicole Cooke (GBr) Univega                                        3 pts
2 Amber Neben (USA) Buitenpoort- Flexpoint                          2
3 Christiane Soeder (Aut) Univega                                   1
 
General classification after stage 2
 
1 Nicole Cooke (GBr) Univega                                  7.31.44
2 Zulfia Zabirova (Kaz) Bigla                                    0.14
3 Christiane Soeder (Aut) Univega                                0.36
4 Diana Ziliute (Ltu) Safi – Pasta Zara Manhatten                0.46
5 Karin Thürig (Swi) Univega                                     0.48
6 Amber Neben (USA) Buitenpoort- Flexpoint                           
7 Trixi Worrack (Ger) Nürnberger Versicherung                    0.50
8 Theresa Senff (Ger) AA Drink                                   0.51
9 Edita Pucinskaite (Ltu) Nobili Rubinetterie Menkini Cogeas     0.52
10 Annette Beutler (Swi) Buitenpoort- Flexpoint                  0.55
11 Olivia Gollan (Aus) Nobili Rubinetterie Menkini Cogeas        0.58
12 Tina Liebig (Ger) Nürnberger Versicherung                     1.03
13 Linda Villumsen (Den) Buitenpoort- Flexpoint                  1.46
14 Sigrid Corneo (Ita) Nobili Rubinetterie Menkini Cogeas        2.15
15 Hanka Kupfernagel (Ger) German national team                  4.36
16 Daniela Pintarelli (Aut) Austrian national team               4.43
17 An Van Rie (Bel) Belgian national team                        4.53
18 Angela Brodka (Ger) AA Drink                                  4.54
19 Oenone Wood (Aus) Nürnberger Versicherung                     4.55
20 Monica Holler (Swe) Bigla                                     4.56
21 Priska Doppmann (Swi) Univega                                 5.01
22 Veronica Andreasson (Swe) Safi – Pasta Zara Manhatten         5.06
23 Kate Nichols (Aus) Australian national team                   5.10
24 Marta Bastianelli (Ita) Safi – Pasta Zara Manhatten               
25 Kimberly Anderson (USA) T-Mobile                              5.12
26 Natalie Bates (Aus) AA Drink                                  5.14
27 Jocelyn Loane (Aus) Australian national team                  5.15
28 Kate Mercer (Aus) Australian national team                    5.17
29 Magali Le Floch (Fra) T-Mobile                                5.19
30 Monica Schachl (Aut) Austrian national team                   5.21
31 Li Liu Yong (Chn) Giant                                           
32 Luise Keller (Ger) Buitenpoort- Flexpoint                         
33 Luisa Tamanini (Ita) Safi – Pasta Zara Manhatten              7.06
34 Charlotte Becker (Ger) Fenixs – Colnago                       7.12
35 Liane Bahler (Ger) Fenixs – Colnago                           7.21
36 Monica Furrer (Swi) Bigla                                     7.24
37 Fang Li Mei (Chn) Giant                                       7.25
38 Amy Moore (Can) T-Mobile                                      7.31
39 Andrea Knecht (Swi) Bigla                                     7.39
40 Lang Meng (Chn) Giant                                         7.44
41 Tanja Hennes (Ger) Buitenpoort- Flexpoint                     8.16
42 Bernadette Schober (Aut) Austrian national team               9.08
43 Ivonne Kraft (Ger) Team Stuttgart                             9.42
44 Catherine Delfosse (Bel) Belgian national team                9.56
45 Elke Gebhardt (Ger) Team Euregio Egrensis                    10.16
46 Claudia Seidel (Ger) Team Euregio Egrensis                   10.18
47 Rosmarie Mayer (Ger) Team Stuttgart                          10.22
48 Karen Steurs (Bel) Belgian national team                     10.23
49 Kimberly Baldwin (USA) T-Mobile                              10.28
50 Caroline Humplik (Ger) Team Stuttgart                        10.31
51 Regina Schleicher (Ger) Nürnberger Versicherung              10.34
52 Jennifer Hohl (Swi) Bigla                                    10.37
53 Amanda Spratt (Aus) Australian national team                 10.42
54 Corine Hierckens (Bel) AA Drink                              11.32
55 Lisa Brennauer (Ger) German national team                    15.57
56 Claudia Stumpf (Ger) Team Stuttgart                          16.15
57 Loes Sels (Bel) Belgian national team                        16.28
58 Kirsten Wild (Ned) AA Drink                                  17.29
59 Marta Vilajosana (Spa) Nobili Rubinetterie Menkini Cogeas    19.37
60 Ying Ruan Xiong (Chn) Giant                                  20.17
61 Rochelle Gilmore (Aus) Safi – Pasta Zara Manhatten           20.33
62 Kathleen Sterckx (Bel) Belgian national team                 21.10
63 Emma Rickards (Aus) Univega                                  21.34
64 Stephanie Gronow (Ger) Team Euregio Egrensis                 21.36
65 Sandra Missbach (Ger) AA Drink                               21.37
66 Emanuela Azzini (Ita) Nobili Rubinetterie Menkini Cogeas     24.58
67 Romy Kasper (Ger) German national team                       24.59
68 Veronika Sprügl (Aut) Austrian national team                 25.54
69 Ine Wannijn (Bel) Belgian national team                      26.27
70 Anke Wichmann (Ger) Nürnberger Versicherung                       
71 Katharina Blum (Ger) German national team                    26.45
72 Denise Zuckermandel (Ger) German national team               28.57
73 Ina-Yoko Teutenberg (Ger) T-Mobile                           30.42
74 Lisa Weissenseel (Ger) German national team                  30.55
75 Susi Tosch (Ger) Team Euregio Egrensis                       31.00
76 Stephanie Rechenbach (Ger) Team Euregio Egrensis             35.55
 
Mountains classification
 
1 Theresa Senff (Ger) AA Drink                                     11 pts
2 Luise Keller (Ger) Buitenpoort- Flexpoint                         4
3 Emanuela Azzini (Ita) Nobili Rubinetterie Menkini Cogeas          4
4 Annette Beutler (Swi) Buitenpoort- Flexpoint                      4
5 Amber Neben (USA) Buitenpoort- Flexpoint                          4
6 Sigrid Corneo (Ita) Nobili Rubinetterie Menkini Cogeas            3
7 Fang Li Mei (Chn) Giant                                           3
8 Trixi Worrack (Ger) Nürnberger Versicherung                       2
9 Veronica Andreasson (Swe) Safi – Pasta Zara Manhatten             1
 
Sprints classification
 
1 Rochelle Gilmore (Aus) Safi – Pasta Zara Manhatten                8 pts
2 Hanka Kupfernagel (Ger) German national team                      4
3 Nicole Cooke (GBr) Univega                                        3
4 Monica Holler (Swe) Bigla                                         3
5 Amber Neben (USA) Buitenpoort- Flexpoint                          2
6 Liane Bahler (Ger) Fenixs – Colnago                               2
7 Christiane Soeder (Aut) Univega                                   1
 
Young rider classification
 
1 Linda Villumsen (Den) Buitenpoort- Flexpoint                7.33.30
2 Monica Holler (Swe) Bigla                                      3.10
3 Kate Nichols (Aus) Australian national team                    3.24
4 Marta Bastianelli (Ita) Safi – Pasta Zara Manhatten                
5 Luise Keller (Ger) Buitenpoort- Flexpoint                      3.35
6 Monica Furrer (Swi) Bigla                                      5.38
7 Lang Meng (Chn) Giant                                          5.58
8 Bernadette Schober (Aut) Austrian national team                7.22
9 Jennifer Hohl (Swi) Bigla                                      8.51
10 Amanda Spratt (Aus) Australian national team                  8.56
11 Lisa Brennauer (Ger) German national team                    14.11
12 Claudia Stumpf (Ger) Team Stuttgart                          14.29
13 Loes Sels (Bel) Belgian national team                        14.42
14 Romy Kasper (Ger) German national team                       23.13
15 Veronika Sprügl (Aut) Austrian national team                 24.08
16 Katharina Blum (Ger) German national team                    24.59
17 Denise Zuckermandel (Ger) German national team               27.11
18 Lisa Weissenseel (Ger) German national team                  29.09
19 Susi Tosch (Ger) Team Euregio Egrensis                       29.14
20 Stephanie Rechenbach (Ger) Team Euregio Egrensis             34.09