Burnie Criteriums - NE
Burnie, Tasmania, Australia, December 31, 2006
Also see coverage of the Tasmanian Christmas Carnivals
Back to back wins for Sulzberger kicks off cycling's "Weekend at Burnie"
By John Flynn in Burnie
Two in a row
Photo ©: John Flynn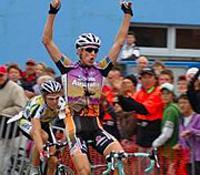 As the clock ticked down on a tumultuous year in the world of cycling, what better way to end 2006, than with a criterium featuring world class riders in one of Australia's most historic cycling towns! The wind howling across Bass Strait, local punters lined the foreshore at the Tasmanian waterfront port of Burnie, to witness seasoned cycling professionals putting on a show – just like it was in the late 1800's when cycling first came here.
Some days it's easy to forget how many top class cyclists call this part of the world home. Today wasn't one of those days. Karl Menzies, Sean Sullivan and Matt Rice were back for the summer from the US; the Sulzberger Brothers, Wes of SouthAustralia.com AIS; and Bernie of DFL Cyclingnews, along with Matt Goss, the new recruit with CSC.
Add to that list, the stars of the Tasmanian Christmas track carnival series, numerous world champions among them, and the Burnie Criterium had the makings of a top class elite cycle race.
A long distance breakaway
Cameron Meyer surges
Photo ©: John Flynn

Once the starter's gun went, it took just a handful of laps for a long distance breakaway to evolve and there were no surprises at the composition. Triple junior world champion Cameron Meyer went up the road and defending Burnie Criterium champion Wes Sulzberger wasn't about to let him disappear from view.
"I knew that one of the Meyer boys would definitely get up the road again, they're both aggressive riders and really strong," Sulzberger said. "It was good to get away with someone that could work well, it was certainly pretty windy and sharing the workload definitely helped."
Swapping turns on the hotdog course along the Burnie waterfront, the pair (Meyer and Sulzberger) quickly established a sizeable gap, and the chasers had their work cut out as the main bunch split apart.
Leading the chase group were Health net's Karl Menzies, South Australia.com's Matt Goss (officially CSC as of tomorrow), and Toyota United's Sean Sullivan. All of them were strong riders in their own right, but none able to bridge the gap to Meyer and Sulzberger.
"Those two guys out the front were definitely world class athletes, we had four riders trying to chase them and we couldn't come close," Menzies said post race.
CSC Recruit Matt Goss
Photo ©: John Flynn

Goss, who has been "on safari" with CSC at the team training camp in South Africa, admitted to not having had enough time on the bike leading into the Burnie criterium. His efforts to bridge the gap were equally unsuccessful.
"I haven't done the training I would have liked to in the last month or so," Goss said. "Those two are super strong, especially Wes, he's been putting in the K's really hard. He's going to be awesome this year."
Meyer, who has continued to impress with his performances at the Tasmanian Christmas Carnivals, was left in a difficult predicament – knowing Sulzberger had the superior sprint. But the first mission for the Western Australian was to ensure the breakaway, stayed away.
"I knew I had to get away in the break, I'm not the best sprinter, and I've got good form so I picked the right break, made a few attacks and got away with the defending champ," Meyer said. "We swapped off really well."
As expected Sulzberger had too much pace for Meyer in the sprint finish. "A good feeling to back it up, I was certainly hoping to be top three today, but it was good to pull off another win," Sulzberger said.
The breakaway victory left a race for third place between Sullivan, Goss and Menzies. With one lap to go, Sullivan kicked ahead, a tactical move which paid off.
"Karl [Menzies] and Gossie are both a lot faster in the sprint, I thought in the back of my mind if I made a little bit of a move I might get away," Sullivan said.
The Australian was eager to send a message to his Toyota United team-mates in the US, that his form heading into 2007 is right on the mark.
"Happy new year lads," Sullivan remarked. "I talk to them [team] all the time, they know that I'm training and we all want to have a good season."
Goss wins women's criterium - American champion Allar second
Belinda Goss easily takes the sprint
Photo ©: John Flynn

Tasmanian Institute of Sport Cyclist Belinda Goss produced the goods again in the elite women's criterium, backing up from yesterday's victory on the track.
A brisk pace in the opening laps saw New Zealand sprint threat Liz Williams go out the back door; the TIS combination of Goss and Grace Sulzberger helping dictate the pace of the race. The recent national criterium championship bronze medallist found another gear in the sprint, easily getting up over American Erica Allar and Victorian Chloe Hosking.
"It's very nice to get a win down here in my home state," Goss said. "I let a gap go a bit too far last year, so I was conscious of that one. I feel I'm getting my legs better now heading into the Bay Series next week."
Allar, the US under 23 criterium champion was happy to make the podium after a tough week of track racing at the Tasmanian Christmas Carnivals. "It's my first good result so far, criteriums are definitely something I can do," Allar told Cyclingnews. "Belinda punched it out of the last corner and fortunately I was behind her. If I'd been the one to initiate out of the last 180 I might have been a better chance."
Tomorrow sees the staging of the final event in the NationalGrid Tasmanian Christmas Carnivals, with a full day of racing at the historic Burnie track, which traces its cycling origins to the 1800's.
Photography
For a thumbnail gallery of these images, click here
Images by John Flynn/Cyclingnews.com
Results

Open Men's Criterium (Outright)
 
1 Wes Sulzberger                     
2 Cameron Meyer                      
3 Sean Sullivan                      
4 Matt Goss                          
5 Karl Menzies                       
6 Travis Meyer                       
7 Bernie Sulzberger                  
8 Ryan Sullivan                      
9 Ben Grenda                         
10 Tim Hucker                        
11 Michael Frieberg                  
12 Glenn O'shea                      
13 Evan Oliphant                     
14 Jamie Krass                       
15 Jayden Veljacich                  
 
Men's B Grade Placings
 
1 Ben Grenda                         
2 Tim Hucker                         
3 Michael Frieberg                   
4 Jamie Krass                        
5 Jayden Veljacich                   
 
Elite Women's Criterium
 
1 Belinda Goss                       
2 Erica Allah                        
3 Chloe Hosking                      
4 Sky-Lee Armstrong                  
5 Amy Cure                           
6 Michaela Anderson                  
 
Under 17 Criterium
 
1 Scott law                          
2 Alex Carver                        
3 David Lyons