Tattersall's Cup Tour of the Murray River - NE
Australia, August 29-September 3, 2006
Main Page Results Overall standings Previous Stage Next Stage
Stage 7 - September 1: Ouyen-Patchewollock-Ouyen, 86.5 km
Two seconds in it with two days to go
By Rod Morris in Ouyen
Wes Sulzberger makes it a double in Ouyen
Photo ©: Shane Goss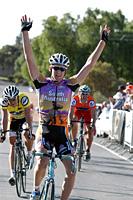 The Subaru Tour of the Murray River is bit like watching two heavyweight prizefighters slug it out day after day without being able to deliver the killer punch. Seven stages down and four to go and just two seconds separate Queensland's David Kemp and Canberra's Robert McLachlan and the excitement of today's racing was as good as you could get. McLachlan carried a six second lead into the Ouyen Criterium (Stage 6) but was leapfrogged by Kemp because of sprint bonuses and some untimely bad luck.
McLachlan, Kemp, Tasmanian Wesley Sulzberger and South Australian mountain bike champion, Chris Jongewaard, established a match winning break in the criterium, but Kemp was the star, picking up 21 seconds in sprint bonuses and then an extra 6-points for finishing third behind Sulzberger and Jongewaard.
Just as McLachlan was preparing for the final turn to the sprint line, he dropped his chain, relinquishing any hopes he may have held, instead coasting home for fourth place, but 2 seconds behind the leading trifecta.
The fourth day of the tour belonged to Sulzberger, as he backed up in the afternoon to win the Ouyen – Patchewollock – Ouyen stage as well. Sulzberger may not win the Tour of the Murray River, as he is still more than 1'50 behind, his dual wins elevated him to sixth place overall.
David Kemp
Photo ©: Shane Goss

In the general classification, McLachlan reduced the mid-morning deficit of 4 seconds by featuring in the intermediate sprints, meaning he and Kemp would be sprinting at the end of the stage to see who would wear the coveted yellow jersey. In the end, Kemp may have missed catching Sulzberger for the stage, but he did hold McLachlan out and will carry a 2-second lead into Saturday morning's eighth stage in Merbein.
After 19 separate races in the Tattersall's Cup, Sulzberger has tallied 156 points and leads McLachlan by 54. That lead may read comfortable, but considering that there are still 15 races to be completed, he is a long way from home.
How it unfolded
The Ouyen out and back road stage lived up to everything it had been billed as. The start itself was tough, taking its toll on many riders. The reduced field of 100 cyclists were broken up into four distinct groups within minutes of leaving Ouyen on their way to Patchewollock and return.
The peloton quickly splintered
Photo ©: Shane Goss

Each group had its own problems. The lead bunch was battling the heat and the head wind, while in turn each chasing group were working overtime to reel in those in front of them.
"I not only missed the first group, but missed the second bunch as well," Tasmanian Wesley Sulzberger said. "I was almost knackered by the time we were able to get across and this day has really taken a lot out of me," he said. "I'm probably not going to make much of an impression on general classification, but I'll be chasing as many stage wins as I can get."
By the time the leading three groups had came together, there were casualties...one by one as the hard racing took its toll. "Even when we become one group, there was no time to relax as everyone in the group kept pacing very quickly," Sulzberger added.
By the time the breakaways had reached Patchewollock and started the return journey to Ouyen, the number had been reduced to 25 riders and when the 20 km to go sign emerged, the hammer went down further.
David Kemp, in yellow, keeps and eye on the challengers
Photo ©: Shane Goss

One of the first to go – out the back – was gold medal Olympian from the 2000 Sydney Games, Brett Aitken, followed shortly after by Peter Milostic (NSW), Leigh Egan (Vic) and Mark O'Brien (Vic). Canberra's Robert McLachlan may not have originally been aware of Aitken and Egan being spat out the back, but if he had, he would breathed a huge sigh if relief.
Aitken and Egan – along with McLachlan – have dominated the sprinter's stages in the early part of the tour and their demise paved the way for another victory by the former Barcelona Olympian. But it was not to be.
Sulzberger, winner of the recent Tour of Gippsland and current leader in the Tattersall's Cup, showed that standing or the morning criterium victory in Ouyen were not flukes, by throwing down another sprint challenge to those around him and emerging successful.
The stage seven podium
Photo ©: Shane Goss

The sprint finish at Ouyen is about 600 m long and extremely picturesque, not that Sulzberger, Kemp, McLachlan and company had time to stop and enjoy the scenery. Sulzberger picked his line, put his head down and backside up and sprinted with everything he had, holding Kemp out by a metre and then a bike length to McLachlan in third.
"The first few days of this tour have been relatively easy and with no wind, we can't say the same about these two stages," Sulzberger said. "This has been a tough day in the saddle, but to get two wins from two makes it all seem pretty sweet after all." The tour continues over the weekend with a criterium at Merbein and a Merbein to Wentworth road stage on Saturday and on Sunday, kermesses at Cardross and Mildura.
Photography
For a thumbnail gallery of these images, click here
Images by Shane Goss/www.licoricegallery.com
Results
1 Wesley Sulzberger                      1.57.03 (44.34 km/h)
2 David Kemp                                    
3 Robert McLachlan                              
4 Johnnie Walker                                
5 Chris Jongewaard                              
6 Jason Hegert                              0.05
7 Casey Munro                                   
8 Zakkari Dempster                          0.11
9 Brad Edmunds                              0.14
10 Kyle Marwood                             0.36
11 Joshua Marden                                
12 Robert Cater                                 
13 Peter McDonald                               
14 Ricky Peoples                                
15 Stuart Shaw                                  
16 Nicholas Walker                              
17 Nicholas Sanderson                           
18 Daniel Burtt                             0.45
19 Joe McDonnell                                
20 Sean Finning                             0.58
21 James Hannam                             1.03
22 Peter Barnett                            2.32
23 Peter Ladd                                   
24 Gilbert Gutowski                             
25 Jacob Sutherland                             
26 Brendan Hill                                 
27 Craig McCartney                              
28 Patrick Shaw                                 
29 Daniel Newnham                               
30 Jai Crawford                                 
31 Leigh Egan                                   
32 Mark O'Brien                                 
33 Craig Mackie                                 
34 Stephen Cunningham                           
35 Darren Harry                                 
36 Brendan Brooks                               
37 Timothy Decker                               
38 Will Wettenhall                              
39 Brendan Rowbotham                            
40 Scott Peoples                                
41 Tim Hucker                               3.32
42 Jack Anderson                            4.23
43 Christopher Wilding                      4.28
44 David Hiley                                  
45 Cameron Irwin                                
46 Tom Middleton                                
47 Fabio Calabria                               
48 Kym Howard                                   
49 Andrew Ward                                  
50 Adrian Hanson                                
51 Joshua Gundry                                
52 Richie Porte                                 
53 Gary Mueller                                 
54 Chris Steffanoni                             
55 Phillip Stokes                               
56 Jamie Kelly                                  
57 Luke Pledger                                 
58 Thomas Baxter                                
59 Hamish Mackirdy                              
60 Nick Culvenor                                
61 Marcus Wettenhall                            
62 Michael Ford                                 
63 Peter Milostic                           4.56
64 Jeremy Betts                             6.14
65 Brett Aitken                             6.58
66 Brett Franklin                           7.21
67 Matthew Jensen                           7.40
68 Matthew Davis                            8.55
69 Peter Herzig                             9.13
70 Bradley Clark                                
71 David Tozer                                  
72 Glen Peterson                           13.09
73 Daniel Furmston                         15.59
74 Will Dickeson                           16.11
75 Matthew Kennett                              
76 Jarrod Harman                                
77 Simon Pearson                                
78 Cameron Peterson                        18.45
79 Peter Smith                                  
80 Steven Pilson                                
81 James Kelly                                  
82 Adam Murchie                                 
83 Nigel Sullivan                               
84 William Murray                               
85 Benjamin Juzwin                         20.19
86 Matthew Sherwin                         21.26
87 Damon De Angelis                             
88 Tremain Permewan                        21.54
89 Simon Van Der Aa                             
90 Grant Webster                                
91 James Robinson                          34.33
92 James Fitzgerald                             
93 Damien Turner                                
94 Matthew Delahunty                            
95 Matthew Wood                                 
 
Sprints
 
Sprint 1 - Racetrack (Patche)
1 Joshua Marden                                3 pts
2 Robert Cater                                 2
3 Sean Finning                                 1
 
Sprint 2 - Cross Barnes Street & Patche Pub
1 Casey Munro                                  3 pts
2 Stuart Shaw                                  2
3 Joshua Marden                                1
 
Mountains
 
Left into Patchewollock Road - Cat.4 
1 Chris Jongewaard                             3 pts
2 Robert McLachlan                             2
3 Casey Munro                                  1
 
Steele Road - Cat.4 
1 Robert McLachlan                             3 pts
2 David Kemp                                   2
3 Casey Munro                                  1
 
Pass Old Ouyen Road - Cat.4 
1 Casey Munro                                  3 pts
2 Chris Jongewaard                             2
3 Robert McLachlan                             1
 
Mildura Rural City Sign - Cat.4 
1 Joshua Marden                                3 pts
2 Chris Jongewaard                             2
3 Stuart Shaw                                  1
 
Pass Old Ouyen Rd - Cat.4 
1 Chris Jongewaard                             3 pts
2 Casey Munro                                  2
3 Wesley Sulzberger                            1
 
Road Fork - Cat.4 
1 Chris Jongewaard                             3 pts
2 Casey Munro                                  2
3 Zakkari Dempster                             1
 
Arbuckle Road - Cat.4 
1 Chris Jongewaard                             3 pts
2 Casey Munro                                  2
3 Brad Edmunds                                 1
 
General classification after stage 7
 
1 David Kemp                             9.26.01
2 Robert McLachlan                          0.02
3 Casey Munro                               0.49
4 Joshua Marden                             1.19
5 Brad Edmunds                              1.21
6 Wesley Sulzberger                         1.51
7 Chris Jongewaard                          1.59
8 Sean Finning                              2.24
9 Johnnie Walker                            2.52
10 Zakkari Dempster                         3.00
11 Jason Hegert                             3.05
12 Peter McDonald                           3.27
13 Nicholas Sanderson                       3.37
14 Stuart Shaw                              3.38
15 Ricky Peoples                            3.39
16 Joe McDonnell                            3.40
17 Robert Cater                                 
18 Nicholas Walker                          3.42
19 Kyle Marwood                             3.53
20 Stephen Cunningham                       4.02
21 Brendan Brooks                           4.03
22 Daniel Burtt                             4.08
23 James Hannam                             4.09
24 Peter Ladd                                   
25 Leigh Egan                               5.11
26 Patrick Shaw                             5.22
27 Scott Peoples                            5.27
28 Peter Barnett                            5.33
29 Craig McCartney                          5.35
30 Brendan Rowbotham                        5.39
31 Brendan Hill                                 
32 Gilbert Gutowski                             
33 Timothy Decker                               
34 Jacob Sutherland                             
35 Mark O'Brien                                 
36 Craig Mackie                             5.45
37 Kym Howard                               6.05
38 Tim Hucker                               6.39
39 Darren Harry                             6.45
40 Daniel Newnham                           7.02
41 Gary Mueller                             7.16
42 Marcus Wettenhall                        7.30
43 Jack Anderson                                
44 Fabio Calabria                           7.31
45 Michael Ford                             7.33
46 David Hiley                              7.34
47 Chris Steffanoni                             
48 Joshua Gundry                                
49 Andrew Ward                              7.35
50 Nick Culvenor                                
51 Richie Porte                                 
52 Peter Milostic                           8.01
53 Luke Pledger                             8.45
54 Thomas Baxter                                
55 Adrian Hanson                            8.56
56 Christopher Wilding                      8.58
57 Jeremy Betts                             9.07
58 Will Wettenhall                          9.22
59 Brett Aitken                             9.28
60 Jai Crawford                            11.03
61 Cameron Irwin                           11.18
62 Tom Middleton                           11.28
63 Brett Franklin                          11.38
64 Matthew Davis                           12.02
65 Matthew Jensen                          12.10
66 David Tozer                             12.20
67 Bradley Clark                           12.36
68 Hamish Mackirdy                         13.03
69 Phillip Stokes                          13.26
70 Jamie Kelly                             13.50
71 Glen Peterson                           17.26
72 Daniel Furmston                         19.05
73 Will Dickeson                           19.15
74 Jarrod Harman                           19.18
75 Adam Murchie                            20.28
76 Steven Pilson                           21.52
77 Nigel Sullivan                               
78 Peter Smith                                  
79 Cameron Peterson                        23.15
80 Matthew Kennett                         23.39
81 Simon Pearson                                
82 Matthew Sherwin                         24.33
83 Grant Webster                           28.28
84 Tremain Permewan                        29.09
85 Peter Herzig                            31.47
86 Benjamin Juzwin                         34.27
87 Damon De Angelis                        35.10
88 Matthew Wood                            36.11
89 Matthew Delahunty                       37.40
90 Damien Turner                           40.34
91 James Fitzgerald                        42.33
92 William Murray                          57.54
93 Simon Van Der Aa                        58.56
94 James Kelly                           1.01.36
95 James Robinson                        1.04.51
 
Sprints classification
 
1 David Kemp                                  48 pts
2 Joshua Marden                               39
3 Wesley Sulzberger                           35
4 Brad Edmunds                                30
5 Casey Munro                                 27
6 Chris Jongewaard                            26
7 Robert McLachlan                            18
8 Zakkari Dempster                            17
9 Peter McDonald                              16
10 Patrick Shaw                               13
11 Joe McDonnell                              12
12 Scott Peoples                              12
13 Craig Mackie                               10
14 Sean Finning                                7
15 Johnnie Walker                              6
16 Peter Barnett                               6
17 Jeremy Betts                                5
18 Marcus Wettenhall                           5
19 Gary Mueller                                5
20 Craig McCartney                             4
21 Stuart Shaw                                 4
22 Will Dickeson                               3
23 Kyle Marwood                                3
24 Robert Cater                                3
25 Jason Hegert                                2
26 Peter Milostic                              2
27 Adrian Hanson                               2
28 Michael Ford                                2
29 Nicholas Walker                             1
30 Chris Steffanoni                            1
31 Adam Murchie                                1
32 Tom Middleton                               1
33 Nicholas Sanderson                          1
34 James Hannam                                1
35 Brendan Brooks                              1
36 David Hiley                                 1
37 Brett Aitken                                1
38 Peter Herzig                                1
39 Joshua Gundry                               1
 
Mountains classification
 
1 Casey Munro                                 17 pts
2 Chris Jongewaard                            16
3 Robert McLachlan                             6
4 Brad Edmunds                                 5
5 Joshua Marden                                3
6 David Kemp                                   2
7 Matthew Wood                                 1
8 Stuart Shaw                                  1
9 Brendan Brooks                               1
10 Zakkari Dempster                            1
11 Wesley Sulzberger                           1
 
Criterium Championship
 
1 Robert McLachlan                            34 pts
2 Brett Aitken                                29
3 Leigh Egan                                  26
4 David Kemp                                  23
5 Wesley Sulzberger                           22
6 Gary Mueller                                20
7 Joshua Marden                               13
8 Chris Jongewaard                             9
9 Jeremy Betts                                 8
10 Brendan Rowbotham                           5
11 Johnnie Walker                              5
12 Daniel Furmston                             5
13 Robert Cater                                4
14 Sean Finning                                4
15 Darren Harry                                4
16 Nicholas Sanderson                          4
17 Casey Munro                                 3
18 Brad Edmunds                                1
19 Jacob Sutherland                            1
20 Ricky Peoples                               1
 
Most aggressive rider
 
1 Wesley Sulzberger                            4 pts
2 David Kemp                                   3
3 Zakkari Dempster                             2
4 Brad Edmunds                                 2
5 Peter Barnett                                2
6 Robert McLachlan                             1