Tattersall's Cup Tour of the Murray River - NE
Australia, August 29-September 3, 2006
Main Page Results Overall standings Previous Stage Next Stage
Stage 5 - August 31: Euston Criterium, 52 km
McLachlan takes race and lead in Euston
By Rod Morris
Robert McLachlan (Red) edges out Leigh Egan (L)
Photo ©: Shane Goss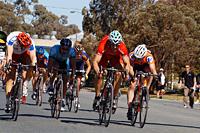 Robert McLachlan from Canberra has taken over the outright lead in the Subaru Tour of the Murray River and is within striking distance of claiming his third successive Tattersall's Cup championship. McLachlan (35) won his third stage from five in the Tour of the Murray River as the bunch into the NSW border town of Euston. He outsprinted South Australia's "Scarlet Pimpernel" Brett Aitken, while for the third successive stage and fourth overall, Shepparton rider Leigh Egan completed the podium trifecta.
McLachlan, Aitken and Egan have been one, two and three – not necessarily in that order – in the criterium stages in Echuca, Kerang and Euston and also in the Kerang to Cohuna road stage.
McLachlan started the third day, three seconds shy of Queensland's David Kemp, but his fifth consecutive podium placing, elevated him to a six second lead from Kemp.
In an interesting twist to Stage 5, Aitken and Egan were declared joint second after judges couldn't split them, even after viewing the videotape.
Kemp recorded a top 10 finish, but it wasn't enough to maintain his hold on yellow.
McLachlan's win also elevated him to third place in the prestigious Tattersall's Cup, with six stages of the Tour of the Murray River and the 11 stage Tour of Tasmania still to be raced. McLachlan has amassed 87 points, despite not racing in the recent Australian Cycling Grand Prix and trails Tasmanian Wesley Sulzberger on 136 points and NSW's Cody Stevenson on 89.
How day three unfolded
Stage five is away in Euston
Photo ©: Shane Goss

The now regular circuit near the Euston Bowling and Recreation Club, attracted a healthy size crowd for the 75 minute criterium on a 1.1 km route in sizzling heat. Several riders attempted early breaks, but as in the previous day's stages, they were quickly reeled back in. About half way, nine riders did manage to get away, establishing a lead of 25 seconds. The escapee unit included Wesley Sulzberger, Peter Milostic, Chris Jongewaard, Brett Aitken, Stuart Shaw, Peter Herzig, Tom Middleton, Brad Edmunds and Craig Mackie.
The group were away for about 10 laps before the peloton sensed danger and increased the tempo, gradually clawing them and with three laps to go it was an all-up field. The gun sprinters of the previous stages, McLachlan, Aitken and Egan had riders around them to calculate sprint positions. Zakkari Dempster and Stuart Shaw were the workhorses for McLachlan and they again did it to perfection.
"My teammates worked really well when it counted and I am grateful for the ride," McLachlan said. "I've had a lot of luck this week although I've moved into the yellow jersey a little earlier than planned.
A group of riders got away
Photo ©: Shane Goss

"I'm not sure whether I've got enough riders around me to defend it all the way to Mildura on Sunday, but I'll be giving it my best shot, don't worry about that," he added.
McLachlan admitted its rare that the same three riders (he, Aitken and Egan) had dominated stage finishes. "It would probably be nice to see some other riders on the podium, but I'm not about to relinquish my spot," he said.
McLachlan said the Euston Criterium was "Crazy, dangerous and scary……..but exciting as well. This tour is a long way from over, I'm in there with a chance, but I'm not about to make any predictions."
Kemp was philosophical about losing yellow. "Like Robbie said, there's a long way to go and I'll be trying just as hard as everyone else to get it back," he said.
Randwick rider, Joshua Marden has been somewhat of a surprise packet in this tour. Not only is in outright third and just seconds adrift of McLachlan, but he is also leading the Road Safe Mildura Safe Sprint Championship, 1-point ahead of Echuca cyclist Brad Edmunds, with Kemp a further 3-points back in third place.
Robert McLachlan is the new leader
Photo ©: Shane Goss

The Telstra Country Wide Criterium Championship is also an entertaining affair with Sydney gold medal Olympian Brett Aitken, holding a 2-point lead over McLachlan and another point to Egan, who despite being on the podium four times is yet to click it for a win.
The tour continues on Friday, coinciding with the annual Ouyen Vanilla Slice Festival. In the morning a 36 km criterium will be held in Ouyen and later in the day an 86.5 km out and back road course from Ouyen to Patchewollock and Ouyen will test the field of more than 100 riders.
Photography
For a thumbnail gallery of these images, click here
Images by Shane Goss/www.licoricegallery.com
Results
1 Robert McLachlan                                 1.11.54 (43.39 km/h)
2 Brett Aitken                                            
2 Leigh Egan                                              
4 Gary Mueller                                            
5 Joshua Marden                                           
6 Johnnie Walker                                          
7 David Kemp                                              
8 Darren Harry                                            
9 Brendan Rowbotham                                       
10 Jacob Sutherland                                       
11 Jeremy Betts                                           
12 Kyle Marwood                                           
13 Patrick Shaw                                           
14 Nicholas Walker                                        
15 Ricky Peoples                                          
16 Craig McCartney                                        
17 Richie Porte                                           
18 Matthew Davis                                          
19 David Hiley                                            
20 Jarrod Harman                                          
21 Wesley Sulzberger                                      
22 Craig Mackie                                           
23 Brendan Hill                                           
24 Casey Munro                                            
25 Damien Turner                                          
26 James Hannam                                           
27 Joe McDonnell                                          
28 Matthew Wood                                           
29 Robert Cater                                           
30 Nicholas Sanderson                                     
31 Stephen Cunningham                                     
32 Tim Hucker                                             
33 Peter McDonald                                         
34 Michael Ford                                           
35 Adam Murchie                                           
36 Joshua Gundry                                          
37 Nick Culvenor                                          
38 Zakkari Dempster                                       
39 Peter Barnett                                          
40 Brendan Brooks                                         
41 Andrew Ward                                            
42 Luke Pledger                                           
43 Matthew Delahunty                                      
44 Chris Steffanoni                                       
45 Peter Milostic                                         
46 David Tozer                                            
47 Fabio Calabria                                         
48 Thomas Baxter                                          
49 Scott Peoples                                          
50 Brad Edmunds                                           
51 Daniel Newnham                                         
52 Timothy Decker                                         
53 James Fitzgerald                                       
54 Matthew Sherwin                                        
55 Brett Franklin                                         
56 Nigel Sullivan                                         
57 Mark O'Brien                                           
58 Adrian Hanson                                          
59 Peter Ladd                                             
60 Cameron Peterson                                       
61 Peter Smith                                            
62 Daniel Furmston                                        
63 Sean Finning                                           
64 Kym Howard                                             
65 Phillip Stokes                                         
66 Bradley Clark                                          
67 Steven Pilson                                          
68 Jack Anderson                                          
69 Chris Jongewaard                                       
70 Matthew Jensen                                         
71 Gilbert Gutowski                                       
72 Cameron Irwin                                          
73 Glen Peterson                                          
74 Tom Middleton                                          
75 Daniel Burtt                                           
76 Jason Hegert                                           
77 Will Wettenhall                                        
78 Will Dickeson                                          
79 Peter Herzig                                           
80 Samuel Rix                                             
81 Christopher Wilding                                    
82 Marcus Wettenhall                                      
83 Stuart Shaw                                            
84 Hamish Mackirdy                                    1.30
85 Benjamin Juzwin                                        
86 Tremain Permewan                                   1.48
87 Jamie Kelly                                            
88 Grant Webster                                          
89 Simon Pearson                                          
90 Matthew Kennett                                        
91 Damon De Angelis                                   3.36
92 Jai Crawford                                       5.24
93 Simon Van Der Aa                                   7.12
94 James Robinson                                    10.48
95 James Kelly                                            
96 Malcolm Hart                                      12.36
97 William Murray                                    14.24
 
Sprints
 
End of Lap 6
 
1 Zakkari Dempster                                       3 pts
2 Peter Milostic                                         2
3 Wesley Sulzberger                                      1
 
End of Lap 8
 
1 Peter McDonald                                         3 pts
2 Jeremy Betts                                           2
3 Patrick Shaw                                           1
 
End of Lap 10
 
1 Peter McDonald                                         3 pts
2 Wesley Sulzberger                                      2
3 David Kemp                                             1
 
End of Lap 12
 
1 Peter McDonald                                         3 pts
2 Wesley Sulzberger                                      2
3 Joshua Marden                                          1
 
End of Lap 14
 
1 David Kemp                                             3 pts
2 Scott Peoples                                          2
3 Marcus Wettenhall                                      1
 
End of Lap 16
 
1 Joe McDonnell                                          3 pts
2 Casey Munro                                            2
3 Adam Murchie                                           1
 
End of Lap 18
 
1 Craig Mackie                                           3 pts
2 Jason Hegert                                           2
3 Peter McDonald                                         1
 
End of Lap 20
 
1 Joshua Marden                                          3 pts
2 Casey Munro                                            2
3 Marcus Wettenhall                                      1
 
End of Lap 22
 
1 Robert McLachlan                                       3 pts
2 Casey Munro                                            2
3 Zakkari Dempster                                       1
 
End of Lap 24
 
1 Wesley Sulzberger                                      3 pts
2 Craig Mackie                                           2
3 Peter Herzig                                           1
 
End of Lap 26
 
1 Wesley Sulzberger                                      3 pts
2 Brad Edmunds                                           2
3 Chris Jongewaard                                       1
 
End of Lap 28
 
1 Brad Edmunds                                           3 pts
2 Wesley Sulzberger                                      2
3 Brett Aitken                                           1
 
End of Lap 30
 
1 Chris Jongewaard                                       3 pts
2 Brad Edmunds                                           2
3 Tom Middleton                                          1
 
End of Lap 32
 
1 Brad Edmunds                                           3 pts
2 Chris Jongewaard                                       2
3 Wesley Sulzberger                                      1
 
End of Lap 34
 
1 Brad Edmunds                                           3 pts
2 Chris Jongewaard                                       2
3 Stuart Shaw                                            1
 
End of Lap 36
 
1 Brad Edmunds                                           3 pts
2 Craig Mackie                                           2
3 Chris Jongewaard                                       1
 
General Classification after stage 5
 
1 Robert McLachlan                                 6.40.09
2 David Kemp                                          0.06
3 Joshua Marden                                       0.07
4 Casey Munro                                         0.16
5 Brad Edmunds                                        0.21
6 Stephen Cunningham                                  0.43
7 Sean Finning                                        0.44
8 Brendan Brooks                                          
9 Kym Howard                                          0.50
10 Peter Ladd                                             
11 Matthew Wood                                       0.51
12 Adam Murchie                                       0.56
13 Brett Aitken                                       1.43
14 Leigh Egan                                         1.52
15 Wesley Sulzberger                                  1.58
16 Chris Jongewaard                                       
17 Zakkari Dempster                                   2.03
18 Peter McDonald                                     2.04
19 Gary Mueller                                       2.07
20 Patrick Shaw                                           
21 Joe McDonnell                                      2.08
22 Scott Peoples                                          
23 Jeremy Betts                                       2.11
24 Johnnie Walker                                     2.13
25 Marcus Wettenhall                                  2.15
26 Peter Barnett                                          
27 Craig McCartney                                    2.16
28 Samuel Rix                                         2.17
29 Kyle Marwood                                           
30 Adrian Hanson                                      2.18
31 Jason Hegert                                           
32 Nicholas Sanderson                                     
33 Stuart Shaw                                            
34 Michael Ford                                           
35 Peter Milostic                                         
36 James Hannam                                       2.19
37 David Hiley                                            
38 Nicholas Walker                                        
39 Chris Steffanoni                                       
40 Joshua Gundry                                          
41 Daniel Furmston                                        
42 Robert Cater                                           
43 Steven Pilson                                      2.20
44 Christopher Wilding                                    
45 Andrew Ward                                            
46 David Tozer                                            
47 Nigel Sullivan                                         
48 Peter Smith                                            
49 Matthew Sherwin                                        
50 Brendan Rowbotham                                      
51 Ricky Peoples                                          
52 Daniel Newnham                                         
53 Matthew Jensen                                         
54 Tim Hucker                                             
55 Brendan Hill                                           
56 Jarrod Harman                                          
57 Gilbert Gutowski                                       
58 Matthew Delahunty                                      
59 Matthew Davis                                          
60 Nick Culvenor                                          
61 Jack Anderson                                          
62 Cameron Peterson                                       
63 Timothy Decker                                         
64 Richie Porte                                           
65 Jacob Sutherland                                       
66 Fabio Calabria                                         
67 Will Dickeson                                          
68 Mark O'Brien                                           
69 Craig Mackie                                       2.26
70 Bradley Clark                                      2.36
71 Daniel Burtt                                           
72 Phillip Stokes                                     3.30
73 Luke Pledger                                           
74 Glen Peterson                                          
75 Darren Harry                                           
76 Brett Franklin                                         
77 Thomas Baxter                                          
78 Damien Turner                                      3.51
79 Grant Webster                                      4.24
80 Will Wettenhall                                    4.40
81 Cameron Irwin                                          
82 Matthew Kennett                                    5.18
83 Simon Pearson                                          
84 James Fitzgerald                                   5.50
85 Tom Middleton                                      6.13
86 Tremain Permewan                                   6.28
87 Jamie Kelly                                        7.12
88 Jai Crawford                                       7.44
89 Hamish Mackirdy                                    7.55
90 Damon De Angelis                                   8.16
91 Benjamin Juzwin                                    8.40
92 Peter Herzig                                      20.24
93 James Robinson                                    21.32
94 Malcolm Hart                                      24.30
95 Simon Van Der Aa                                  28.16
96 James Kelly                                       32.26
97 William Murray                                    36.59
 
Aggressive Rider Awards
 
1 Wesley Sulzberger                                   $200 
2 Zakkari Dempster                                    $100
3 Brad Edmunds                                         $50
4 Peter Barnett                                        $50
 
Mountain classification
 
1 Casey Munro                                            6 pts
2 Brad Edmunds                                           4
3 Matthew Wood                                           1
4 Brendan Brooks                                         1
 
Sprint classification
 
1 Joshua Marden                                         31 pts
2 Brad Edmunds                                          30
3 David Kemp                                            27
4 Casey Munro                                           23
5 Chris Jongewaard                                      22
6 Wesley Sulzberger                                     18
7 Zakkari Dempster                                      17
8 Peter McDonald                                        16
9 Patrick Shaw                                          13
10 Joe McDonnell                                        12
11 Scott Peoples                                        12
12 Craig Mackie                                         10
13 Sean Finning                                          6
14 Johnnie Walker                                        6
15 Jeremy Betts                                          5
16 Marcus Wettenhall                                     5
17 Gary Mueller                                          5
18 Peter Barnett                                         5
19 Craig McCartney                                       4
20 Samuel Rix                                            3
21 Robert McLachlan                                      3
22 Kyle Marwood                                          3
23 Adrian Hanson                                         2
24 Jason Hegert                                          2
25 Peter Milostic                                        2
26 Stuart Shaw                                           2
27 Michael Ford                                          2
28 Joshua Gundry                                         1
29 Nicholas Walker                                       1
30 Chris Steffanoni                                      1
31 Adam Murchie                                          1
32 Nicholas Sanderson                                    1
33 Brendan Brooks                                        1
34 Robert Cater                                          1
35 Brett Aitken                                          1
36 Peter Herzig                                          1
37 James Hannam                                          1
38 David Hiley                                           1
39 Tom Middleton                                         1
 
Criterium classification
 
1 Brett Aitken                                          29 pts
2 Robert McLachlan                                      27
3 Leigh Egan                                            26
4 David Kemp                                            15
5 Gary Mueller                                          14
6 Joshua Marden                                         13
7 Wesley Sulzberger                                     12
8 Daniel Furmston                                        5
9 Johnnie Walker                                         5
10 Brendan Rowbotham                                     5
11 Darren Harry                                          4
12 Robert Cater                                          4
13 Jeremy Betts                                          3
14 Nicholas Sanderson                                    2
15 Jacob Sutherland                                      1
16 Brad Edmunds                                          1