Tattersall's Cup Tour of the Murray River - NE
Australia, August 29-September 3, 2006
Main Page Results Overall standings Previous Stage
Stage 11 - September 3: Mildura kermesse, 66 km
McLachlan brings it home
Ford takes out final stage
By Rod Morris in Mildura
Tour winner Robert McLachlan with some of Mildura's
Photo ©: Shane Goss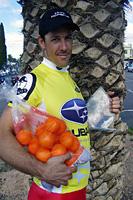 Canberra's Robert McLachlan is the undisputed king of the Murray after an emphatic victory in the 11 stage Subaru Tour of the Murray River, which was finalized in Mildura today. The 35 year-old former Olympian, increased his overnight lead to 19 seconds when he crossed the finish line after six days and 653.2 km of hard racing.
With stages in Echuca, Kerang, Cohuna, Euston, Ouyen, Merbein, Wentworth, Cardross and Mildura, the field of 120 riders put on one of the all-time great tours. McLachlan and Queensland's David Kemp were involved in an Indian arm wrestle all week for the leader's yellow jersey with continuous swapping of the prized material.
McLachlan started the final day's two stages carrying a five second lead, but after some solid attacking in the morning's Cardross Criterium, stretched his advantage to 11 seconds and then blew it out to 19 by the tour's end.
Kemp (22) is a rising star on the Australian cycling horizon and was far from disgraced in running second to McLachlan.
Today's two kermesse stages were won by southaustralia.com Under 23 riders, Wesley Sulzberger (Tasmania) and Michael Ford (Victoria), but the major interest was on whether Kemp could reel in McLachlan.
How it unfolded
The peloton on a small rise in Mildura
Photo ©: Shane Goss

The SouthAustralia.com team of Australian Under 23 riders enjoyed more success in the afternoon's final tour stage when Michael Ford flashed home ahead of a couple of surprise podium placegetters. Earlier in the race, Wesley Sulzberger and another national team member, Sean Finning, established a sizeable break after several thwarted escapes had been reeled in by the peloton.
Sulzberger and Finning were away for about 10 laps of the 2.2 km circuit in Mildura, but the heat and pace eventually got to both of them. Finning had provided a perfect lead out for the young Tasmanian before he retired back to the bunch leaving Sulzberger to fight out the last five laps on his own.
A brave solo attempt was eventually curtailed at two laps to go when Ford, veteran Peter Barnett (45), another young Tasmanian, Richie Port and Victorian Chris Steffanoni decided they would hit the field again.
At the bell lap, the four man group had a margin of 11 seconds, but the peloton was coming fast. The quartet were able to hold on, with Ford winning his first race of the tour and this year's Tattersall's Cup series. Ford led them home, averaging 43.70 km an hour.
The final stage podium
Photo ©: Shane Goss

"I'm rapt to finally cracked it for a win," Ford said. "Wes (Sulzberger) and Sean (Finning) set an unbelievable pace in the latter part of the race and for a while there, it was just a matter of hanging on."
The fast finishing peloton was led home by McLachlan, while his "shadow" for the week, Kemp managed to cross the line in 10th place. A tiring Sulzberger held on in the bunch, finishing 15th.
"It's been a tough tour, particularly early in the week when I missed the break and was chasing time," Sulzberger. "But I'm pleased to have won three stages, they are some good results for me."
In the end, McLachlan had a 19 second advantage over Kemp. "This has been a really well contested tour and I congratulate David for making every day a challenge," McLachlan said.
Kemp was gracious in defeat, but issued a warning to McLachlan and others. "I'm still learning and still growing as a bike rider," he said. "It's all about experience and I've learnt a hell of a lot this week and will be better off for it."
In the Tattersall's Cup, Sulzberger remains the overall leader with 193 points, but his margin has been slashed to just 39 from McLachlan, with Kemp jumping into third on 143 points. The Tattersall's Cup series continues in October with the Tour of Tasmania.
Photography
For a thumbnail gallery of these images, click here
Images by Shane Goss/www.licoricegallery.com
Results
1 Michael Ford                     1.30.37 (43.7 km/h)
2 Peter Barnett                           
3 Richie Porte                            
4 Chris Steffanoni                        
5 Robert McLachlan                        
6 Leigh Egan                              
7 Chris Jongewaard                        
8 Joshua Marden                           
9 Kyle Marwood                            
10 David Kemp                             
11 Timothy Decker                         
12 Jacob Sutherland                       
13 Ricky Peoples                          
14 David Hiley                            
15 Wesley Sulzberger                      
16 Craig McCartney                        
17 Gary Mueller                           
18 Jeremy Betts                           
19 Damien Turner                          
20 Tim Hucker                             
21 Casey Munro                            
22 Peter Smith                            
23 Gilbert Gutowski                       
24 Matthew Wood                           
25 Brad Edmunds                           
26 Robert Cater                           
27 Matthew Sherwin                        
28 Craig Mackie                           
29 Zakkari Dempster                       
30 Kym Howard                             
31 Jason Hegert                           
32 Fabio Calabria                         
33 Peter Milostic                         
34 Nicholas Walker                        
35 Johnnie Walker                         
36 Brendan Hill                       0.10
37 Adrian Hanson                          
38 Jack Anderson                          
39 Brendan Rowbotham                  0.12
40 Peter McDonald                         
41 David Tozer                            
42 Joshua Gundry                          
43 Joe McDonnell                          
44 Stuart Shaw                            
45 Andrew Ward                            
46 Nick Culvenor                          
47 Jarrod Harman                      0.17
48 Brendan Brooks                     0.18
49 Nicholas Sanderson                 0.23
50 Scott Peoples                      0.29
51 Mark O'Brien                       1.31
52 Sean Finning                       3.02
53 Jai Crawford                           
54 Glen Peterson                      4.33
55 Matthew Davis                          
56 Nigel Sullivan                         
57 Tom Middleton                      6.04
58 Cameron Peterson                       
59 Daniel Newnham                         
60 Simon Pearson                          
61 Peter Herzig                           
62 Darren Harry                           
63 Patrick Shaw                           
64 Matthew Kennett                        
65 Bradley Clark                          
66 Hamish Mackirdy                        
67 Grant Webster                          
68 Thomas Baxter                          
69 Cameron Irwin                          
70 Christopher Wilding                    
71 Steven Pilson                          
72 William Murray                         
73 Benjamin Juzwin                        
74 Brett Franklin                         
75 Will Wettenhall                        
76 Damon De Angelis                       
77 Phillip Stokes                     9.06
78 Peter Ladd                             
79 Matthew Jensen                         
80 Simon Van Der Aa                  15.10
 
Sprints
 
Sprint 1 - End of Lap 2
1 Joshua Marden                          3 pts
2 Robert McLachlan                       2
3 David Kemp                             1
 
Sprint 2 - End of Lap 4
1 Joshua Marden                          3 pts
2 Patrick Shaw                           2
3 Craig Mackie                           1
 
Sprint 3 - End of Lap 6
1 Robert McLachlan                       3 pts
2 David Kemp                             2
3 Joshua Marden                          1
 
Sprint 4 - End of Lap 8
1 Robert McLachlan                       3 pts
2 David Kemp                             2
3 Joshua Marden                          1
 
Sprint 5 - End of Lap 10
1 Peter McDonald                         3 pts
2 Sean Finning                           2
3 Craig McCartney                        1
 
Sprint 6 - End of Lap 12
1 Joshua Marden                          3 pts
2 Robert McLachlan                       2
3 David Kemp                             1
 
Sprint 7 - End of Lap 14
1 Wesley Sulzberger                      3 pts
2 Zakkari Dempster                       2
3 Mark O'Brien                           1
 
Sprint 8 - End of Lap 16
1 Wesley Sulzberger                      3 pts
2 Zakkari Dempster                       2
3 Stuart Shaw                            1
 
Sprint 9 - End of Lap 18
1 Wesley Sulzberger                      3 pts
2 Zakkari Dempster                       2
3 Joshua Marden                          1
 
Sprint 10 - End of Lap 20
1 Stuart Shaw                            3 pts
2 Joshua Marden                          2
3 Brad Edmunds                           1
 
Sprint 11 - End of Lap 22
1 Wesley Sulzberger                      3 pts
2 Sean Finning                           2
3 Joshua Marden                          1
 
Sprint 12 - End of Lap 24
1 Wesley Sulzberger                      3 pts
2 Sean Finning                           2
3 Joe McDonnell                          1
 
Sprint 13 - End of Lap 26
1 Wesley Sulzberger                      3 pts
2 Robert McLachlan                       2
3 Nicholas Sanderson                     1
 
Sprint 14 - End of Lap 28
1 Peter Barnett                          3 pts
2 Michael Ford                           2
3 Richie Porte                           1
 
Final general classification
 
1 Robert McLachlan                14.51.36
2 David Kemp                          0.19
3 Casey Munro                         1.36
4 Joshua Marden                       1.53
5 Brad Edmunds                        2.05
6 Wesley Sulzberger                   2.09
7 Chris Jongewaard                    2.43
8 Jason Hegert                        3.42
9 Johnnie Walker                      3.44
10 Zakkari Dempster                   3.48
11 Peter McDonald                     4.19
12 Joe McDonnell                      4.33
13 Nicholas Walker                    4.36
14 Stuart Shaw                        4.39
15 Ricky Peoples                      4.50
16 Brendan Hill                       6.42
17 Craig McCartney                    6.54
18 Robert Cater                       7.05
19 Scott Peoples                      7.30
20 Nicholas Sanderson                 7.45
21 Leigh Egan                         8.34
22 Peter Barnett                      9.10
23 Craig Mackie                       9.16
24 Brendan Rowbotham                  9.22
25 Gilbert Gutowski                   9.23
26 Sean Finning                       9.26
27 Jacob Sutherland                   9.31
28 Kym Howard                         9.53
29 Brendan Brooks                    10.13
30 Richie Porte                      10.54
31 Michael Ford                      11.03
32 Mark O'Brien                      11.08
33 Jack Anderson                     11.27
34 Jeremy Betts                      12.36
35 Adrian Hanson                     12.47
36 Fabio Calabria                    13.23
37 Kyle Marwood                      14.07
38 Daniel Newnham                    14.52
39 Patrick Shaw                      15.13
40 Chris Steffanoni                  16.14
41 David Tozer                       16.37
42 Jai Crawford                      17.37
43 Gary Mueller                      17.43
44 Darren Harry                      18.34
45 Timothy Decker                    18.41
46 Peter Ladd                        19.14
47 David Hiley                       20.39
48 Joshua Gundry                     20.42
49 Andrew Ward                       20.58
50 Tim Hucker                        22.16
51 Nick Culvenor                     24.11
52 Peter Milostic                    25.33
53 Tom Middleton                     30.34
54 Jarrod Harman                     32.31
55 Matthew Davis                     32.32
56 Christopher Wilding               32.47
57 Cameron Peterson                  32.52
58 Steven Pilson                     33.10
59 Thomas Baxter                     33.48
60 Bradley Clark                     34.11
61 Brett Franklin                    34.15
62 Peter Smith                       34.54
63 Will Wettenhall                   35.29
64 Simon Pearson                     35.55
65 Matthew Jensen                    36.51
66 Cameron Irwin                     37.55
67 Hamish Mackirdy                   38.44
68 Phillip Stokes                    39.16
69 Matthew Wood                      39.37
70 Nigel Sullivan                    39.53
71 Glen Peterson                     39.56
72 Matthew Sherwin                   41.20
73 Peter Herzig                      47.51
74 Damien Turner                     48.45
75 Matthew Kennett                   50.42
76 Grant Webster                     55.31
77 Benjamin Juzwin                 1.03.09
78 Damon De Angelis                1.04.45
79 William Murray                  1.32.37
80 Simon Van Der Aa                1.36.44
 
Sprints classification
 
1 David Kemp                            71 pts
2 Wesley Sulzberger                     58
3 Joshua Marden                         57
4 Robert McLachlan                      54
5 Brad Edmunds                          40
6 Chris Jongewaard                      36
7 Casey Munro                           34
8 Peter McDonald                        30
9 Patrick Shaw                          29
10 Joe McDonnell                        23
11 Zakkari Dempster                     23
12 Stuart Shaw                          15
13 Peter Barnett                        14
14 Scott Peoples                        13
15 Sean Finning                         13
16 Craig Mackie                         11
17 Jason Hegert                          7
18 Brendan Hill                          7
19 Johnnie Walker                        6
20 Jeremy Betts                          5
21 Craig McCartney                       5
22 Gary Mueller                          5
23 Michael Ford                          4
24 Ricky Peoples                         3
25 Peter Milostic                        3
26 Robert Cater                          3
27 Kyle Marwood                          3
28 Nicholas Sanderson                    2
29 Adrian Hanson                         2
30 Brendan Rowbotham                     2
31 Brendan Brooks                        1
32 Peter Herzig                          1
33 David Hiley                           1
34 Mark O'Brien                          1
35 Joshua Gundry                         1
36 Tom Middleton                         1
37 Chris Steffanoni                      1
38 Nicholas Walker                       1
39 Richie Porte                          1
 
Mountains classification
 
1 Casey Munro                           17 pts
2 Chris Jongewaard                      16
3 Robert McLachlan                       6
4 Brad Edmunds                           5
5 Joshua Marden                          3
6 David Kemp                             2
7 Matthew Wood                           1
8 Stuart Shaw                            1
9 Brendan Brooks                         1
10 Zakkari Dempster                      1
11 Wesley Sulzberger                     1
 
Criterium championship
 
1 Robert McLachlan                      48 pts
2 Leigh Egan                            40
3 Wesley Sulzberger                     26
4 David Kemp                            26
5 Joshua Marden                         22
6 Gary Mueller                          20
7 Jeremy Betts                          15
8 Chris Jongewaard                      13
9 Michael Ford                          10
10 Robert Cater                          9
11 Peter Barnett                         9
12 Jason Hegert                          9
13 Peter Milostic                        8
14 Richie Porte                          8
15 Brendan Rowbotham                     8
16 Jack Anderson                         7
17 Chris Steffanoni                      7
18 Johnnie Walker                        6
19 Nicholas Sanderson                    4
20 Sean Finning                          4
21 Darren Harry                          4
22 Casey Munro                           3
23 Kyle Marwood                          2
24 Brad Edmunds                          1
25 Jacob Sutherland                      1
26 Ricky Peoples                         1
27 Craig McCartney                       1
 
Most aggressive rider
 
1 Wesley Sulzberger                      8 pts
2 David Kemp                             3
3 Peter McDonald                         2
4 Chris Jongewaard                       2
5 Zakkari Dempster                       2
6 Brad Edmunds                           2
7 Peter Barnett                          2
8 Robert McLachlan                       1