57th GP Città' di Camaiore - 1.1
Italy, August 3, 2006
2005 Results Results Past winners
Paolini capitalises on good form
Liquigas team press release
Luca Paolini (Liquigas)
Photo ©: Sirotti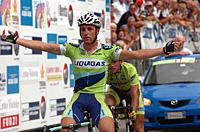 Luca Paolini (Liquigas) has won the GP di Camaiore, winning the sixth race for Liquigas this season. The 29 year-old Lombardian rider beat breakaway companion Ruslan Pidgornyy (Tenax) in a two man sprint. The battle for third place was won by Mirko Celestino (Milram), 28 seconds behind.
With today's success, Paolini confirms his excellent condition, which saw him a protagonist in the second part of the Tour de France and, last Sunday, in the Vattenfall Cyclassics. "The weather, not too hot and quite windy, has favoured me," he said. "I was aware I was in good shape and I tried to anticipate my opponents on the descent: the cooperation with Pidgornyy was perfect immediately.
"This victory repays me in part for a not so good first part of the season. Now I will try to gain other victories, maybe next weekend when I will race the Giro del Lazio and the Trofeo Matteotti. Then I will decide whether to stay in Italy or choose the Vuelta a España to prepare for the World Championships."
The decisive action happened at 30 km to go, after the penultimate passage of Monte Pitoro. Paolini and Pidgornyy attacked the group of 25 leaders, and were able to hold them off until the finish.
Photography
For a thumbnail gallery of these images, click here
Images by Fotoreporter Sirotti
Results - 193.7 km

1 Luca Paolini (Ita) Liquigas                                     4.33.18 (42.520 km/h)
2 Ruslan Pidgornyy (Ukr) Team Tenax Salmilano                            
3 Mirko Celestino (Ita) Team Milram                                  0.28
4 Raffaele Ferrara (Ita) Team Androni Giocattoli-3C Casalinghi           
5 Paolo Bossoni (Ita) Team Tenax Salmilano                               
6 Alessandro Bertolini (Ita) Selle Italia-Serramenti Diquigiovanni       
7 Matteo Tosatto (Ita) Quick Step-Innergetic                             
8 Luca Mazzanti (Ita) Ceramica Panaria-Navigare                          
9 Fabio Gilioli (Ita) Team Universal Caffe'-C.B. Immobiliare             
10 Jame Burrow (GBr) OTC Doors-Lauretana                                 
11 Bo Hamburger (Den) Miche                                              
12 Emanuele Sella (Ita) Ceramica Panaria-Navigare                        
13 Pavel Brutt (Rus) Tinkoff Restaurants                             0.30
14 Santo Anza: (Ita) Selle Italia-Serramenti Diquigiovanni           0.37
15 Daniele Righi (Ita) Lampre-Fondital                               0.59
16 Enrico Gasparotto (Ita) Liquigas                                      
17 Leonardo Giordani (Ita) Naturino-Sapore Di Mare                   1.36
18 Eros Capecchi (Ita) Liquigas                                      2.35
19 Gabriele Missaglia (Ita) Selle Italia-Serramenti Diquigiovanni    3.51
20 Andriy Grivko (Ukr) Team Milram                                       
21 Alessandro Proni (Ita) Quick Step-Innergetic                          
22 Luis Felipe Laverde Jimenez (Col) Ceramica Panaria-Navigare       8.12
23 Fortunato Baliani (Ita) Ceramica Panaria-Navigare                     
24 Daniele Di Batte (Ita) Amore & Vita-McDonald's                   11.34
25 Mikhail Ignatiev (Rus) Tinkoff Restaurants                            
26 Ikya Chernetskiy (Rus) Tinkoff Restaurants                            
27 Serguey Klimov (Rus) Tinkoff Restaurants                              
28 Luca Ascani (Ita) Naturino-Sapore Di Mare                             
29 Ivan Rovny (Rus) Tinkoff Restaurants                                  
30 Fabio Borghesi (Ita) OTC Doors-Lauretana                              
31 Anto Mindlin (Rus) Tinkoff Restaurants                                
32 Matej Jurco (Svk) Team Milram                                         
33 Volodymyr Dyudya (Ukr) Team Milram                                    
34 Fabio Sabatini (Ita) Team Milram                                      
35 Rinaldo Nocentini (Ita) Acqua e Sapone                                
36 Krzysztof Szczawinski (Pol) Ceramica Flaminia                         
37 Branislau Samoilau (Blr) Acqua e Sapone                               
38 Rigoberto Uran (Col) Team Tenax Salmilano                             
39 Daniele Pietropolli (Ita) Team Tenax Salmilano                        
40 Alessandro Bertuola (Ita) Team Tenax Salmilano                        
41 Luca Solari (Ita) Team Androni Giocattoli-3C Casalinghi               
42 Giancarlo Ginestri (Ita) Team Tenax Salmilano                         
43 Daniele De Paoli (Ita) Team L.P.R.                                    
44 Matteo Lasurdi (Ita) OTC Doors-Lauretana                              
45 Massimiliano Maisto (Ita) Team Universal Caffe'-C.B. Immobiliare      
46 Emanuele Bindi (Ita) OTC Doors-Lauretana                              
47 Kanstantsin Siutsou (Blr) Acqua e Sapone                              
48 Raffaele Illiano (Ita) Selle Italia-Serramenti Diquigiovanni          
49 Patrick Calcagni (Swi) Liquigas                                       
50 Philippe Schnyder (Swi) Selle Italia-Serramenti Diquigiovanni         
51 Niklas Axelsson (Swe) Selle Italia-Serramenti Diquigiovanni           
52 Filippo Pozzato (Ita) Quick Step-Innergetic                           
53 Andrea Tonti (Ita) Acqua e Sapone                                     
54 Massimiliano Gentili (Ita) Naturino-Sapore Di Mare                    
55 Ivan Santaromita (Ita) Quick Step-Innergetic                          
56 Dainius Kairelis (Ltu) Amore & Vita-McDonald's                        
57 Carlos José Ochoa (Ven) Team L.P.R.                                   
58 Alexandr Arekeev (Rus) Acqua e Sapone                                 
59 Manuele Spadi (Ita) Ceramica Flaminia                                 
60 Diego Genovesi (Ita) OTC Doors-Lauretana                              
61 Domenico Quagliarello (Ita) Ceramica Flaminia                         
62 Alessandro Spezialetti (Ita) Liquigas                                 
63 Cristian Gasperoni (Ita) Naturino-Sapore Di Mare                      
64 Paolo Bettini (Ita) Quick Step-Innergetic                             
65 Roman Kreuziger (Cze) Liquigas                                        
66 Stefano Cavallari (Ita) Acqua e Sapone                                
67 Davide Torosantucci (Ita) Team Universal Caffe'-C.B. Immobiliare      
68 Francesco Masciarelli (Ita) Acqua e Sapone                            
69 Antonio D:Aniello (Ita) Miche                                         
70 Pasquale Muto (Ita) Miche                                             
71 Sergio Barbero (Ita) Selle Italia-Serramenti Diquigiovanni            
72 Danilo Di Luca (Ita) Liquigas                                         
73 Simone Bruson (Ita) Team Universal Caffe'-C.B. Immobiliare            
74 Andrea Masciarelli (Ita) Acqua e Sapone                               
75 Oleksandr Kvachuk (Ukr) Team Androni Giocattoli-3C Casalinghi         
76 Giuseppe Muraglia (Ita) Team L.P.R.                                   
77 Donato Cannone (Ita) Team Universal Caffe'-C.B. Immobiliare           
78 Giuliano Figueras (Ita) Lampre-Fondital                               
79 Miguel Angel Rubiano Chavez (Col) Ceramica Panaria-Navigare           
80 Salvatore Commesso (Ita) Lampre-Fondital                              
81 Timothy Jones (Zim) Amore & Vita-McDonald's                           
82 Paolo Tiralongo (Ita) Lampre-Fondital                                 
83 Gabriele Bosisio (Ita) Team Tenax Salmilano                           
84 Ruggero Borghi (Ita) Team L.P.R.                                      
85 Antonio Quadranti (Ita) Naturino-Sapore Di Mare                       
86 Giairo Ermeti (Ita) Team L.P.R.                                       
87 Michele Gobbi (Ita) Team Milram                                       
88 Domenico Pozzovivo (Ita) Ceramica Panaria-Navigare                    
89 Eddy Ratti (Ita) Naturino-Sapore Di Mare                              
90 Alberto Milani (Ita) Team Universal Caffe'-C.B. Immobiliare           
91 Paolo Valoti (Ita) Team L.P.R.                                        
92 Paolo Bailetti (Ita) Team Androni Giocattoli-3C Casalinghi            
93 Riccardo Chiarini (Ita) Team Androni Giocattoli-3C Casalinghi         


Past Winners
2005 Maxim Iglinskiy (Kaz)           193 kms in 4.32.12
2004 Paolo Bettini (Ita)             193 kms in 4.18.43
2003 Marco Serpellini (Ita)          193 kms in 4.37.31
2002 Davide Rebellin (Ita)           193 kms in 4.18.43
2001 Michele Bartoli (Ita)           197 kms in 4.36.36
2000 Wladimir Belli (Ita)            196 kms in 4.41.32
1999 Massimo Donati (Ita)            198 kms in 4.18.44
1998 Andrea Tafi (Ita)	             198 kms in 4.43.25
1997 Alexander Gontschenkov (Rus)    198 kms in 4.30.41
1996 Alberto Elli (Ita)              209 kms in 4.46.42
1995 Luca Scinto (Ita)               209 kms in 4.52.53
1994 Gianluca Bortolami (Ita)        209 kms in 5.17.32
1993 Massimo Podenzana (Ita)         209 kms in 4.55.55
1992 Davide Cassani (Ita)            209 kms in 5.06.25
1991 Gianni Faresin (Ita)            259 kms in 4.57.00
1990 Giorgio Furlan (Ita)            253 kms in 6.14.07
1989 Franco Ballerini (Ita)
1988 Rolf Sörensen (Den)             233 kms in 5.41.00
1987 Gianni Bugno (Ita)              229 kms in 5.00.35
1986 Claudio Corti (Ita)                        5.02.00
1985 Alberto Volpi (Ita)
1984 Roberto Ceruti (Ita)            218 kms in 5.22.52
1983 Moreno Argentin (Ita)           263 kms in 6.21.58
1982 Jean-Marie Wampers (Bel)        210 kms in 5.10.00
1981 Giuseppe Saronni (Ita)          209 kms in 5.03.00
1980 Silvano Contini (Ita)
1979 Giuseppe Saronni (Ita)          199 kms in 4.58.00
1977 Franco Bitossi (Ita)            199 kms in 4.59.00
1976 Walter Riccomi (Ita)
1975 Francesco Moser (Ita)
1974 Giacinto Santambroggio (Ita)
1973 Emilio-M. Rodriguez (Col)
1972 Roger De Vlaeminck (Bel)
1971 Eddy Merckx (Bel)
1970 Mauro Simonetti (Ita)
1969 Ernico Paolini (Ita)
1968 Gianpiero Macchi (Ita)
1967 Lucien Dalla-Bona (Ita)
1966 Bruno Mealli (Ita)

Past winners by Mario Stiehl, www.world-of-cycling.com