La Vuelta de Bisbee - NE
USA, April 28-30, 2006
Main Page Results Overall standings Next Stage
Prologue - April 28: Mule Pass Time Trial, 2.8 miles
Zajicek and Gomez take opening honours
Phil Zajicek (Navigators)
Photo ©: La Vuelta de Bisbee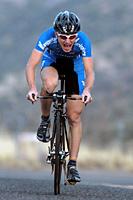 The 28th Annual La Vuelta de Bisbee got underway Friday afternoon with the Mule Pass Prologue. Uncharacteristically cool weather greeted the cyclists for the 2.8 mile climb, but the stiff headwind on the course negated any benefit from the mild temperatures and set aside thoughts of a course record.
Phil Zajicek (Navigators) posted a time of 10.25 in the Elite men's division to take the top spot in G.C. Jeremy Powers (JellyBelly) stands 3 seconds back, with Corey Collier (Rocky Mt. Chocolate Factory) at 8 seconds down.
Mark Aasmundstad (Grand Canyon Racing) put in a time of 11:21 to take first in the men's B division. D.J. Fernandes finished second only nine seconds back.
The women's prologue saw Felicia Gomez (Webcor) put 15 seconds on the second placed rider Anne Samplonius (Team Biovail), and 44 seconds on Mari Holden (T-Mobile) in third.
Saturday's a double stage day, beginning with the Sulphur Springs Road Race (79 miles) in the morning, and the Warren Time Trial in the afternoon.
Photography
For a thumbnail gallery of these images, click here
Images by La Vuelta de Bisbee
Results
Men A
1 Phil Zajicek (Navigators Ins)            10.25
2 Jeremy Powers (JellyBelly Cyc)            0.03
3 Corey Collier (Rky Mt Choc Fac)           0.08
4 Daniel Vaillancourt (CCB/VW/Time)         0.12
5 Drew Miller (Successful Liv)              0.13
5 Jonathan Garcia (Team Einstein's)             
7 Curtis Gunn (Successful Liv)              0.14
8 Kevin Rowe (Calif. Giant)                 0.18
8 Joey Thompson (Rky Mt Choc Fac)               
10 David Nelson (Landis/Trek/VW)            0.23
11 Jason Donald (Team Einstein's)           0.24
11 Andrew Edwards (Wild Oats-Al's)              
13 John Hunt (Calif. Giant)                 0.30
13 Craig Mccartney (Wild Oats-Al's)             
15 Mathew Willinger (Calif. Giant)          0.37
16 Kyle Colavito (Eclipse Racing)           0.38
16 Ben Bradshaw (Kahala LaGrange)               
16 Ryan Yee (Successful Liv)                    
19 Andrew Mcdermid (Broadmk/Hagens)         0.41
19 Scott Blanchard (Eclipse Racing)             
19 David Glick (Eclipse Racing)                 
22 Mike Wilk (Rky Mt Choc Fac)              0.42
23 Owen Gue (Broadmk/Hagens)                0.43
23 Tim Carolan (UNATT)                          
25 Andrew Fischer (Broadmk/Hagens)          0.44
26 Patrick Walsh (CCB/VW/Time)              0.45
27 Ryan Hamity (Team Einstein's)            0.46
28 Daniel Ramsey (Successful Liv)           0.48
29 Mike Margraf (Webcor/Alto Vel)           0.50
30 Rob Alvarez (Landis/Trek/VW)             0.52
31 Jonathan Parrish (Landis/Trek/VW)        0.55
32 Dan Vinson (Kahala LaGrange)             0.58
33 Justin Morgan (Broadmk/Hagens)           0.59
33 Salvador Borrego-Crum (Calif. Giant)         
35 Nick Friesen (Landis/Trek/VW)            1.00
35 Grant Berry (Rky Mt Choc Fac)                
37 Mike Zagorski (Quick Release)            1.02
38 Jamie Strangeland (Broadmk/Hagens)       1.05
39 Brian Forbes (Patent It)                 1.11
40 Stevie Cullinan (Waste Mgmt)             1.16
41 Hugh Selby (KHSnm.com)                   1.17
42 Art O'connor (FFKR)                      1.18
42 Nick Schreiber (Summit Velo)                 
44 Evan Lawrence (Broadmk/Hagens)           1.21
44 George Ganoung (US Armed Forces)             
46 Emiliano Jordan (Eclipse Racing)         1.26
47 Erik Long (Eclipse Racing)               1.27
48 Allen Krughoff (CenturyTel)              1.28
48 Whitey Debroux (Team Einstein's)             
48 Jonathan Boyer (Time Factory Tm)             
51 Troy Misseghers (Mtn Bike City)          1.29
52 Mike Telega (Calif. Giant)               1.32
52 Shane Peltonen (Eclipse Racing)              
54 Dan Naef (Summit Velo)                   1.34
55 Steven Slabodnick (Patent It)            1.39
56 Brian Lemke (Landis/Trek/VW)             1.40
57 Nathan Mitchell (TIAA CREF)              1.41
58 Tim Bolton (Eclipse Racing)              1.50
59 Jared Gilyard (Eclipse Racing)           1.52
60 Andrew Willis (San Jose)                 1.54
61 Denny Vaughan (Summit Velo)              1.55
62 Jonathan Eropkin (Central Valley)        2.01
63 David Reid (Landis/Trek/VW)              2.02
64 Roy Pickavance (CenturyTel)              2.03
65 John Salzkov (CZ Racing)                 2.04
66 Jason Karew (Eclipse Racing)             2.05
67 Gustavo Gomez (Webcor/Alto Vel)          2.15
68 Scott Hubbard (KHSnm.com)                2.16
69 Brian Peterson (Webcor/Alto Vel)         2.23
70 Daniel Veselic (Patent It)               2.26
71 Travis Huxman (Eclipse Racing)           2.32
72 John Farris (Summit Velo)                2.35
73 Grant Dunstan (Summit Velo)              2.40
74 Chris Poole (Bicycle Ranch)              2.53
75 Isaiah Adams (Endeavour Cyc)             2.58
76 Michael Flynn (Twin Peaks)               3.00
77 Bob Pongratz (Patent It)                 3.08
78 Mike Gann (ProCon Cycling)               3.11
79 Austin Kirkland (Major Motion)           3.13
80 David Allen (KHSnm.com)                  3.25
81 James Webster (Patent It)                3.37
 
 
Women
 
1 Felicia Gomez (Webcor/Alto Vel)          12.12
2 Anne Samplonius (Team Biovail)            0.15
3 Mari Holden (T-Mobile)                    0.44
4 Maatje Benassi (Excel Sports)             0.46
5 Dara Marksmarino (Titus/Kenda)            0.53
6 Gabriela Gonzalez-Ferrat (Hi-Tech/5-Star) 0.59
7 Michelle Beltran (Cheerwine Cyc)          1.19
7 Stéphanie Bourbeau (Team Biovail)             
9 Sarah Bamberger (Cheerwine Cyc)           1.21
10 Lisa Hunt (Olympic Club)                 1.34
11 Teri Albertazzi (UNATT)                  1.39
12 Christine Misseghers (Mtn Bike City)     1.45
13 Heather Sborz (ASU Cycling)              1.47
13 Marisa Russell (Landis/Trek/VW)              
15 Rebecca Much (T-Mobile)                  1.49
16 Jane Meneely (UNATT)                     1.54
17 Merrill Sapp (Landis/Trek/VW)            1.57
18 Cynthia Mommsen (Olympic Club)           1.58
19 Catherine Dickson (Bicycle Ranch)        2.04
20 Paula Burks (Vantaggio/Spec)             2.12
21 Irene Beyerlein (Cola Vita)              2.21
21 Jennifer Chapman (Velo Bella-Kona)           
23 Maggie Williams (Landis/Trek/VW)         2.26
24 Cynthia Pool (Strada Racing)             2.40
25 Heidi Clayton (HLHAP)                    2.48
26 Kristen Hetzel (Summit Velo)             2.59
27 Paula Higgins (Landis/Trek/VW)           3.06
28 Rebecca Gross (US Armed Forces)          3.21
29 Marine Spring (Strada Racing)            3.32
30 Elizabeth Waits (Summit Velo)            3.36
31 Cathy Goodheart (Landis/Trek/VW)         3.46
32 Jennifer Sica (Red Rock Racing)          3.51
33 Stacy Riseborough (Honeywell Cyc)        4.20
33 Katherine Farago (Sptsmn/Team One)           
35 Cindy Sanchez (Summit Velo)              4.21
36 Christina Carbone (Team Rhino)           4.40
37 Kristine Wilcox (Team Kenda Tire)        4.46
38 Lisa Picard (Byrne Speclty G)            5.11
39 Melissa Mcwhirter (Strada Racing)        5.54
40 Janet Itsell (Patent It)                 6.23
 
Men B
 
1 Mark Aasmundstad (Grand Canyon R)        11.21
2 D J Fernandes (CZ Racing)                 0.09
3 Douglas Loveday (Grand Canyon R)          0.10
4 Chris Fusselman (HLHAP)                   0.16
4 Dan Armijo (NM Sports Well)                   
6 Ryan Barthel (Rky Mt Choc Fac)            0.23
7 Ophir Sefiha (Watermark Cyc)              0.26
8 Daniel Martin (Safeway/GA Comm)           0.31
9 Kris Pagano (CZ Racing)                   0.33
10 Scott K Baker (GST Racing)               0.39
10 Brian Mcguire (Olympic Club)                 
12 Kevin Riseborough (Honeywell Cyc)        0.42
13 Brenon Daly (Team Clif Bar)              0.44
14 Troy Love (CZ Racing)                    0.54
15 John O'brien (Hills)                     0.55
15 Kevin Kirkwood (Watermark Cyc)               
17 Robert Pasco (Safeway/GA Comm)           1.04
18 Jim Silverman (Grand Canyon R)           1.06
18 Neil Becwar (Presteza)                       
18 Eric Neat (Red Rock Racing)                  
21 John Sawasky (Red Rock Racing)           1.09
22 Jesus Ilundain (Ochsner)                 1.11
22 Joel Cleare (Team Vitesse)                   
24 Chris Latham (Red Rock Racing)           1.15
25 Don Williams (Landis/Trek/VW)            1.17
26 John Simonson (GST Racing)               1.18
26 Dermot Kealey (Summit Velo)                  
28 Lawrence Mares (GST Racing)              1.19
29 Jared Nelson (Summit Velo)               1.21
30 Robert Parks (NM Sports Well)            1.23
31 Shawn Brick (Watermark Cyc)              1.28
32 Robert Johnson (CZ Racing)               1.30
32 William Culpepper (Summit Velo)              
34 Greg Kilroy (CZ Racing)                  1.31
34 Mark Fosenburg (Honeywell Cyc)               
36 Jon Spar (NM Sports Well)                1.32
37 Roberet Dolman (HLHAP)                   1.33
38 Kurt Kroese (Arizona Feeds)              1.34
38 David Rimron (UNATT)                         
40 Rick Cimaglia (Grand Canyon R)           1.37
41 Shawn Daly (Southwest Hand)              1.38
42 Todd Mion (Grand Canyon R)               1.39
42 Craig Roemer (Team Clover)                   
44 Jon Black (GST Racing)                   1.41
45 Joe Burtoni (Durango Whl Clb)            1.42
45 Jason Welborn (Summit Velo)                  
47 John Dehnert (Grand Canyon R)            1.46
48 Chris Rutz (CZ Racing)                   1.47
48 Phillip Austin (HLHAP)                       
48 Kyle Butkiewicz (Watermark Cyc)              
51 Jack Phillips (Eclipse Racing)           1.49
52 James Manos (HLHAP)                      1.51
52 Matthew Beeter (UNATT)                       
54 Steve Morton (GST Racing)                1.52
54 Paul Kealey (Summit Velo)                    
56 Chris Gould (GST Racing)                 1.53
56 Darik Russell (ProCon Cycling)               
58 Donald Guess (Honeywell Cyc)             1.54
59 Scott Biaggi (GST Racing)                1.58
60 Lewis Freed (CZ Racing)                  2.00
61 Andy Byrnes (CZ Racing)                  2.01
62 Jesus-Lamb Lamb (Presteza)               2.02
62 Andy Duvall (Summit Velo)                    
62 Mark Challoner (Thunder Mtn Cyc)             
65 Tom Murphy (UNATT)                       2.04
66 Andrew Ferguson (Health-FX)              2.05
67 Lindsay Crawford (GS Strada)             2.06
67 Sujeet Karna (ProCon Cycling)                
69 Jeff Dillon (Summit Velo)                2.11
70 Garrett Ford (Eclipse Racing)            2.13
70 Adrian Schumacher (Presteza)                 
72 Peter Chagaris (Desert Whl Club)         2.14
72 David Green (Honeywell Cyc)                  
74 Ken Jones (CZ Racing)                    2.15
75 Bryan Antol (Grand Canyon R)             2.17
76 Richard Biocca (Desert Whl Club)         2.18
76 Elliot Skultin (PAA/Merrill Lyn)             
78 Matthias Feurer (Fair Wheel Rcng)        2.22
79 Scott Rusnak (Swiss America)             2.23
80 David Julien (UNATT)                     2.30
81 Roger Learned (CZ Racing)                2.32
82 Leo Masursky (Arizona Feeds)             2.35
83 Jay Guyot (GST Racing)                   2.36
83 Jon Porman (Honeywell Cyc)                   
85 Paul Calandrella (Desert Whl Club)       2.37
86 Joe Cunningham (Team RPM)                2.39
87 Jeremy Bounds (Watermark Cyc)            2.43
88 Thomas Kachelmeyer (Cadieux TeamO2)      2.48
89 Eddie Urcadez (Presteza)                 2.51
90 Craig Liming (Thunder Mtn Cyc)           2.59
91 Pericles Wyatt (Presteza)                3.05
92 Javier Diaz (Thunder Mtn Cyc)            3.10
93 Jack Debartelo (CZ Racing)               3.12
94 Efraim Rojas (Honeywell Cyc)             3.14
95 Gerald Locke (Team Vitesse)              3.18
96 Jorge Caviedes (Honeywell Cyc)           3.55
97 Mike Mix (Honeywell Cyc)                 4.39
98 Joe Struttmann (Honeywell Cyc)           4.40
99 Dale Melton (Honeywell Cyc)              5.18
100 James Buttke (Thunder Mtn Cyc)          5.26
101 Glenn Harris (Thunder Mtn Cyc)          6.23