67th Giro dell'Appennino - 1.1
Italy, April 23, 2006
2005 Results Results Past winners
Nocentini surprises the big guns
By Gianmarco Cilli
Rinaldo Nocentini (Acqua Sapone)
Photo ©: Sirotti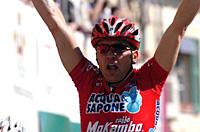 Rinaldo Nocentini of Acqua Sapone has won the 67th running of the Giro dell'Appennino. The Tuscan rider defeated Luca Mazzanti and Eddy Ratti, who have both been hot in the one day Italian races in April. The 28 year-old has been a professional since 1999, and this is his sixth career win. Il "Noce" has climbed the podium three times already this season (not to mention a failed attack in the finale of Milan San Remo at 600m to the finish, which ultimately landed him in 33rd place), but this is the first time he been on the top step.
Although few stars turned up at this race due to the Liege-Bastogne-Liege that very same day in Belgium, there were nonetheless the likes of 2005 Giro d'Italia breakout Jose Rujano, Italian road race champ Enrico Gasparotto, and Emanuele Sella.
The decisive action of the day occurred on the Passo della Bocchetta with an attack of 10 riders: Charles Wegelius (Liquigas), Eddy Ratti (Naturino – Sapore di Mare), Przemyslaw Niemec (Team Miche), Andrea Tonti and Rinaldo Nocentini (Acqua & Sapone), Luca Mazzanti and Emanuele Sella (Ceramica Panaria – Navigare), José Rujano and Santo Anzŕ (Selle Italia – Serramenti Diquigiovanni) and Paolo Tiralongo (Lampre – Fondital). Rujano had it in mind to break Gilberto Simoni's record for the Bocchetta, and though he was first in the group to reach the top in a time of 22'06, it was only good enough for sixth place in the record books. This group slimmed down to six after attacks and counterattacks on the climbs of the Castagnola and the Giovi, where even Rujano was finally dropped.
Ceramica Panaria-Navigare appeared to have the edge with two riders in the final group of six, and Emanuele Sella began the leadout for his faster-sprinting teammate Mazzanti. Nocentini foiled them however, making a break for the line with 200 meters to go, and Mazzanti and Ratti were unable to come around him.
Photography
For a thumbnail gallery of these images, click here
Images by Fotoreporter Sirotti
Results
1 Rinaldo Nocentini (Ita) Acqua Sapone                            4.53.00
2 Luca Mazzanti (Ita) Ceramica Panaria-Navigare                          
3 Eddy Ratti (Ita) Naturino-Sapore Di Mare                               
4 Santo Anza (Ita) Selle Italia-Serramenti Diquigiovanni                 
5 Charly Wegelius (GBr) Liquigas                                         
6 Emanuele Sella (Ita) Ceramica Panaria-Navigare                         
7 Jose Guillen Rujano (Ven) Selle Italia-Serramenti Diquigiovanni    0.56
8 Vladimir Duma (Ukr) Team Universal Caffe'-C.B. Immobiliare         2.20
9 Marco Marzano (Ita) Lampre-Fondital                                4.00
10 Miguel Angel Rubiano Chavez (Col) Ceramica Panaria-Navigare           
11 Marco Osella (Ita) Team Androni Giocattoli-3C Casalinghi              
12 Feliz Rafael Cardenas Ravalo (Col) Barloworld                         
13 Przemyslaw Niemec (Pol) Miche                                         
14 Andrea Tonti (Ita) Acqua Sapone                                       
15 Giancarlo Ginestri (Ita) Team Tenax Salmilano                         
16 Kanstantsin Siutsou (Blr) Acqua Sapone                                
17 Maurizio Varini (Ita) Ceramica Flaminia                               
18 Paul Crake (Aus) Naturino-Sapore Di Mare                              
19 Luka Kodra (Slo) Adria Mobil                                          
20 Daniele Pietropolli (Ita) Team Tenax Salmilano   
21 Dainius Kairelis (Ltu) Amore & Vita-McDonald's
22 Jose Carlos Ochoa (Col) Team LPR
23 Matija Kvasina (Cro) Perutnina Ptuj
24 Roman Kreuziger (Cze) Liquigas
25 Luis Felipe Laverde Jimenez (Col) Ceramica Panaria-Navigare
26 Ezequiel Mosquera Miguez (Spa) Comunidad Valenciana
27 Marzio Bruseghin (Ita) Lampre-Fondital
28 Tomasz Nose (Slo) Adria Mobil
29 Simone Bruson (Ita) Team Universal Caffe'-C.B. Immobiliare
30 Vicente Peiro Marqueno (Spa) Comunidad Valenciana
31 Wladimir Belli (Ita) Selle Italia-Serramenti Diquigiovanni
32 Julio Alberto Perez Cuapio (Mex) Ceramica Panaria-Navigare
33 Paolo Tiralongo (Ita) Lampre-Fondital
34 Jure Golcer (Slo) Perutnina Ptuj
35 Maurizio Carta (Ita) Miche
36 Tomislav Danculovic (Cro) Perutnina Ptuj
37 Paolo Bailetti (Ita) Team Androni Giocattoli-3C Casalinghi
38 Giuseppe Palumbo (Ita) Acqua & Sapone
39 Walter Fernando Pedraza Morales (Col) Selle Italia-Serramenti Diquigiovanni
40 Morris Possoni (Ita) Lampre-Fondital
41 Jamie Burrow (GBr) OTC Doors-Lauretana
42 Daniele Pietropolli (Ita) Team Tenax Salmilano
43 Micula De Mattis (Ita) Team Tenax Salmilano
44 Daniele De Paoli (Ita) Team LPR
46 Mads Christensen (Den) Barloworld
47 Konstantin Klyuev (Rus) Team Androni Giocattoli-3C Casalinghi
48 Domenico Quagliarello (Ita) Ceramica Flaminia
49 Aleksandr Kuchynski (Blr) Ceramica Flaminia
50 Radoslav Rogina (Cro) Perutnina Ptuj
51 Vasil Kiryienka (Blr) OTC Doors-Lauretana
52 Davide Bragazzi (Ita) Endeka
53 Massimo Codol (Ita) Team Tenax Salmilano
54 Graziano Gasparre (Ita) Amore & Vita-McDonald's
55 Dmitri Nikandrov (Rus) Team Universal Caffe'-C.B. Immobiliare
56 Timothy Jones (Zim) Amore & Vita-McDonald's
                     
 



Past winners
2005 Gilberto Simoni (Ita) Lampre Caffita 
2004 Damiano Cunego (Ita) Saeco
2003 Gilberto Simoni (Ita) Saeco
2002 Giuliano Figueras (Ita) Ceramiche Panaria-Fiordo
2001 Aleksander Shefer (Kaz) Alessio
2000 Mauro Zanetti (Ita) Vini Caldirola
1999 Simone Borgheresi (Ita)
1998 Pavel Tonkov (Rus)
1997 Pavel Tonkov (Rus)
1996 Wladimir Belli (Ita)
1995 Francesco Casagrande (Ita)
1994 Evgeni Berzin (Rus)
1993 Giuseppe Calcaterra (Ita)
1992 Claudio Chiappucci (Ita)
1991 Dirk De Wolf (Bel)
1990 Flavio Giupponi (Ita)
1989 Moreno Argentin (Ita)
1988 Gianni Bugno (Ita)
1987 Gianni Bugno (Ita)
1986 Gianni Bugno (Ita)
1985 Francesco Moser (Ita)
1984 Mario Beccia (Ita)
1983 Marino Lejarreta (Spa)
1982 Giam Baronchelli (Ita)
1981 Giam Baronchelli (Ita)
1980 Giam Baronchelli (Ita)
1979 Giam Baronchelli (Ita)
1978 Giam Baronchelli (Ita)
1977 Giambattista Baronchelli (Ita)
1976 Francesco Moser (Ita)
1975 Fabrizio Fabbri (Ita)
1974 Giovanni Battaglin (Ita)
1973 Italo Zilioli (Ita)
1972 Felice Gimondi (Ita)
1971 Gösta Pettersson (Swe)
1970 Gianni Motta (Ita)
1969 Felice Gimondi (Ita)
1968 Gianni Motta (Ita)
1967 Michele Dancelli (Ita)
1966 Michele Dancelli (Ita)
1965 Michele Dancelli (Ita)
1964 Franco Cribiori (Ita)
1963 Italo Zilioli (Ita)
1962 Franco Balmamion (Ita)
1961 Adriano Zamboni (Ita)
1960 Emile Daems (Bel)
1959 Silvano Ciampi (Ita)
1958 Cleto Maule (Ita)
1957 Aurello Cestari (Ita)
1956 Cleto Maule (Ita)
1955 Fausto Coppi (Ita)
1954 Giorgio Albani (Ita)
1953 Angelo Conterno (Ita)
1952 Giorgio Albani (Ita)
1951 Rinaldi Moresco (Ita)
1950 Renzo Soldani (Ita)
1949 Dino Rossi (Ita)
1948 SettimioSimonini (Ita)
1947 Alfredo Martini (Ita)
1946 Enrico Mollo (Ita)
1939 Lorenzo Mazzarello (Ita)
1938 Luigi Ferrando (Ita)
1937 Cino Cinelli (Ita)
1936 Settimio Simonini (Ita)
1935 Augusto Como (Ita)
1934 Augusto Como (Ita)

Past winners courtesy of Mario Stiehl, www.world-of-cycling.com