85th Paris-Brussels - 1.HC
Belgium, September 10, 2005
2004 Results Results Past winners
McEwen takes second Paris-Brussels win
Belgian teams debate world's selection
Robbie McEwen (Davitamon-Lotto)
Photo ©: AFP Photo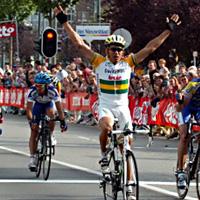 Australian sprinter Robbie McEwen (Davitamon Lotto ) demonstrated that he will be a force to be reckoned with at the world championships when he won the 85th edition of Paris-Brussels. Perfectly delivered to the line by his well-drilled team, McEwen out-sprinted Stefan van Dijk (Mr Bookmaker.com) and Jean-Patrick Nazon (Ag2r Prévoyance) to take his second win in this race.
McEwen has credited his team with several of his victories this year, and this was another group win. "Today's win was a collective effort by the team," said McEwen. "Of course the weight of the race was completely on our shoulders."
"We had to close the gap to the four leaders, but we got the support of QuickStep who also wanted a mass sprint. There was a really good cooperation. My form is getting better and that is a good sign for the World Championships."
McEwen made it clear he he is counting on his Davitamon-Lotto team mates to make sure it comes to a mass sprint in Madrid, with some slightly cheeky advice for Belgian team management.
"If the Belgian National coach watched the race today; he'll know he has to take more of our team to Madrid, said McEwen. "They know better than anyone else how to guide a sprinter to the finish line. And the Belgians do want Tom to become World Champion, don't they?"
Nico Mattan (Davitamon-Lotto)
Photo ©: AFP Photo

Robbie McEwen (Davitamon-Lotto)
Photo ©: AFP Photo

The podium
Photo ©: AFP Photo

Runner-up Stefan van Dijk (Mr Bookmaker.com) saw no shame in being beaten by McEwen in a finale that suited the technically-gifted Australian. "I can be happy finishing second here; as it was a sprint with headwind and slightly uphill; so it was really something for Robbie," he said. "I was good all day, our team was at the front the whole race. Our riders were very motivated today."
Last year's winner Nick Nuyens (Quick Step) was unable to repeat that victory. "We tried everything we could," he said. "I got away for a short time on the Keperenberg with three riders; from the moment we got caught back I knew it was over for me so I worked for Pozzato and Paolini for the last kilometres."
"We took control of the race early on and then we tried to get away in a break. It didn't work but you always have to try. Tom (Boonen) did not start here today; so we had to try something else, we did and don't have to feel bad it didn't work. We hoped to finish it off in the sprint but McEwen is just so strong at the moment. On top of that the finish here in Brussels is really his cup of tea."
"It didn't work out today but I'm convinced that I can keep this form for another two weeks."
Riders and staff from Davitamon-Lotto had more to say about the world's selection after Paris-Brussels.
Nico Mattan (Davitamon-Lotto) expressed his disappointment on not gaining selection for the worlds, telling Sporza, "We had the best cards with Robbie McEwen today and we completely went for it. Peter and I proved today that we can deliver Robbie at the right moment for the sprint. I was very good today; I proved today that I can still ride hard those last ten kms. I didn't know this finish. I saw Robbie was very strong today. We were sure he was going to win. We had 10 riders at the start today and we rode together with QuickStep for a sprint. We knew how far we could let the break go, not more than 5 min. We controlled the race. We put everything on a mass sprint; the whole team rode well. The whole team was tip-top today.
"It's easy working for a rider like McEwen; six times out of ten he finishes it off. It's a real luxury to have him in the team. Robbie surely has a chance to win in Madrid. Robbie saw it today and Tom Boonen knows that I can pull the sprint; but it's up to De Cauwer to make the selection. I've already given up hoping to get a spot - which I am convinced I deserve though."
Directeur sportif Marc Sergeant had a bit more sympathy for the team selector, given the depth of belgian cycling's ability to lead out sprinters.
"Robbie had an armchair ride to the finish today," said Sergeant. "The riders of the team get all the honour; excellent work and Robbie finished it off . QuickStep was our ally in this race; it was in everyone's benefit to work together. All the riders were eager to prove they were good enough to be selected for the world's. I think it's going to be a tough job for José De Cauwer [Belgian national coach] to make the call. A whole bunch have showed today that they are ready. There's a few names José can't pass: Van Petegem is one of them; Peter has been preparing for a long time for that race. He's been quiet but that's his style; to prepare in peace. But when Peter's presence is asked for, he's there, he was there in Flanders and he was here again today. Peter brought McEwen "in a couch" to the line. At the world's Peter will indeed ride in a Belgian jersey, but let's face it, if it is a mass sprint, Peter can work for both."
Photography
For a thumbnail gallery of these images, click here
Images by AFP Photo
Results - 219 km

1 Robbie McEwen (Aus) Davitamon - Lotto                              4.52.00
2 Stefan Van Dijk (Ned) MrBookmaker.com - SportsTech
3 Jean-Patrick Nazon (Fra) AG2r Prévoyance
4 Nico Eeckhout (Bel) Chocolade Jacques - T Interim
5 Igor Astarloa Ascasibar (Spa) Barloworld - Valsir
6 Jon Bru Pascal (Spa) Kaiku
7 Ruggero Marzoli (Ita) Acqua & Sapone - Adria Mobil
8 Igor Abakoumov (Bel) Jartazi Granville Team
9 Alain Van Katwijk (Ned) Shimano - Memory Corp
10 Sjef De Wilde (Bel) Bodysol- Win for Life - Jong Vlaanderen
11 Filippo Pozzato (Ita) Quickstep
12 Steven De Jongh (Ned) Rabobank
13 Andreas Dietziker (Swi) eD'system - ZVVZ
14 Gorik Gardeyn (Bel) MrBookmaker.com - SportsTech
15 Rene Mandri  (Est) AG2r Prévoyance
16 Wouter Weylandt (Bel) Quickstep
17 David McPartland (Aus) Tenax
18 Kurt Hovelynck (Bel) Chocolade Jacques - T Interim
19 Kevin Van Der Slagmolen (Bel) Bodysol- Win for Life - Jong Vlaanderen
20 Rik Reinerink (Ned) Shimano - Memory Corp
21 Roy Sentjens (Bel) Rabobank
22 Ludovic Capelle (Bel) Landbouwkrediet - Colnago
23 Dennis Kraft (Ger) Intel-Action
24 Giuseppe Palumbo (Ita) Acqua & Sapone - Adria Mobil
25 Nick Nuyens (Bel) Quickstep
26 Luca Paolini (Ita) Quickstep
27 Marco Bos (Ned) Shimano - Memory Corp
28 Peter Van Petegem (Bel) Davitamon - Lotto
29 Sean Sullivan (Aus) Barloworld - Valsir
30 Christophe Agnolutto (Fra) Agritubel                                 0.23
31 Ralf Grabsch (Ger) Wiesenhof
32 Eddy Serri (Ita) Barloworld - Valsir
33 Marcin Osinski (Pol) Action                                          0.34
34 Krzysztof Krzywy (Pol) Action
35 Florian Stalder (Swi) eD'system - ZVVZ
36 Marcel Klaus (Swi) eD'system - ZVVZ
37 Pablo Urtasun Perez (Spa) Kaiku
38 Ben Day (Aus) MrBookmaker.com - SportsTech
39 Kristof De Zutter (Bel) Bodysol- Win for Life - Jong Vlaanderen
40 Ricardo Serrano Gonzalez (Spa) Kaiku
41 Bert De Waele (Bel) Landbouwkrediet - Colnago
42 James Vanlandschoot (Bel) Landbouwkrediet - Colnago
43 Chris Sutton (Aus) Cofidis
44 Tony Bracke (Bel) Landbouwkrediet - Colnago
45 Wilfried Cretskens (Bel) Quickstep
46 Theo Eltink (Ned) Rabobank
47 Stefan Adamsson (Swe) Barloworld - Valsir
48 Erwin Thijs (Bel) MrBookmaker.com - SportsTech
49 René Joergensen (Den) Barloworld - Valsir
50 Benoît Salmon (Fra) Agritubel

Past winners
2004 Nick Nuyens (Bel) Quick.Step-Davitamon
2003 Kim Kirchen (Lux) Fassa Bortolo
2002 Robbie McEwen (Aus) Lotto-Adecco
2001 Emmanuel Magnien (Fra) La Francaise des Jeux
2000 Max van Heeswijk (Ned) Mapei-Quick Step
1999 Romans Vainsteins (Lat)
1998 Stefano Zanini (Ita)
1997 Alessandro Bertolini (Ita)
1996 Andrea Tafi (Ita)
1995 Frank Vandenbroucke (Bel)
1994 Rolf Sörensen (Den)
1993 Francis Moreau (Fra)
1992 Rolf Sörensen (Den)
1991 Brian Holm (Den)
1990 Franco Ballerini (Ita)
1989 Jelle Nijdam (Ned)
1988 Rolf Gölz (Ger)
1987 Wim Arras (Bel)
1986 Guido Bontempi (Ita)
1985 Adri Van der Poel (Ned)
1984 Eric Vanderaerden (Bel)
1983 Tommy Prim (Swe)
1982 Jacques Hanegraaf (Ned)
1981 Roger De Vlaeminck (Bel)
1980 Pierino Gavazzi (Ita)
1979 Ludo Peeters (Bel)
1978 Jan Raas (Ned)
1977 Ludo Peeters (Bel)
1976 Felice Gimondi (Ita)
1975 Freddy Maertens (Bel)
1974 Marc Demeyer (Bel)
1973 Eddy Merckx (Bel)
1966 Felice Gimondi (Ita)
1965 Edward Sels (Bel)
1964 Georges Van Coningsloo (Bel)
1963 Jean Stablinski (Fra)
1962 Joseph Wouters (Bel)
1961 Pino Cerami (Bel)
1960 Pierre Everaert (Bel)
1959 Frans Schoubben (Bel)
1958 Rik Van Looy (Bel)
1957 Leon Van Daele (Bel)
1956 Rik Van Looy (Bel)
1955 Marcel Hendrickx (Bel)
1954 Marcel Hendrickx (Bel)
1953 Loretto Petrucci (Ita)
1952 Alberic Schotte (Bel)
1951 Jean Gueguen (Fra)
1950 Rik Van Steenbergen (Bel)
1949 Maurice Diot (Fra)
1948 Lode Poels (Bel)
1947 Ernest Sterckx (Bel)
1946 Alberic Schotte (Bel)
1939 Frans Bonduel (Bel)
1938 Marcel Kint (Bel)
1937 Albert Beckaert (Bel)
1936 Eloi Meulenberg (Bel)
1935 Edgard De Caluwe (Bel)
1934 Frans Bonduel (Bel)
1933 Albert Barthelemy (Fra)
1932 Julien Vervaecke (Bel)
1931 Jean Aerts (Bel)
1930 Ernest Mottard (Bel)
1929 Pe Verhaegen (Bel)
1928 Georges Ronsse (Bel)
1927 Nicolas Frantz (Lux)
1926 Denis Verschueren (Bel)
1925 Gerard Debaets (Bel)
1924 Felix Sellier (Bel)
1923 Felix Sellier (Bel)
1922 Felix Sellier (Bel)
1921 Robert Raboul (Fra)
1920 Henri Pelissier (Fra)
1919 Alexis Michiels (Bel)
1914 Louis Mottiat (Bel)
1913 Octave Lapize (Fra)
1912 Octave Lapize (Fra)
1911 Octave Lapize (Fra)
1910 Maurice Brocco (Fra)
1909 Francois Faber (Lux)
1908 Lucien Petit-Breton (Fra)
1907 Gusrave Garrigou (Fra)
1906 A. Dunlop (Fra)

Past winners by Mario Stiehl, www.world-of-cycling.com