Toohey's Extra Dry Criterium Series #2 - NE
Devonport, Tasmania, November 26, 2005
Goss racks up another
By Rod Morris in Devonport
Matt Goss
Photo ©: Lynne Ryan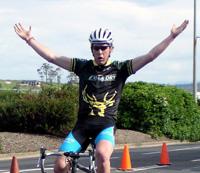 Danny Clark, Michael Grenda, Ron Murray, Frank Atkins and Graeme French are among the greatest names of Tasmanian cyclists and while Matt Goss doesn't warrant same billing yet, he is well on the way.
Goss won his second straight round of the Toohey's Extra Dry Tasmanian Criterium Championship in Devonport today in a fashion that suggested, international stardom is just around the corner. In little less than 12 months, Goss has won the Launceston International Criterium, the Teams Pursuit of the Moscow round of the World Cup and Tasmanian Sports Person of the Year.
"It has been an amazing year and I really don't know what I can do to improve on it," Goss said. "Perhaps the Commonwealth Games might cap it off."
Goss is part of the Australian team preparing for next year's Commonwealth Games in Melbourne and will be using the coming summer track carnival and road crtierium races as an ideal preparation.
Goss won Saturday's Devonport round of the State Criterium titles in a hard fought fashion. He suffered a back wheel puncture early in the race and then had to endure an endless number of individual attacks, mainly from Nathan Clarke, Wesley Sulzberger, Mark Jamieson, Andrew Hannigan, Stephen Rossendell, Richie Port and Tom Robinson.
The majority of these riders formed a solid group of escapees and the tempo of the race took its toll on most others.
The race took on a definitive shape, but who was going to emerge as the eventual winner was anybody's guess. Goss looked good; Clarke looked determined; Sulzberger looked desperate;Hannigan looked hungry and Jamieson, Port, Rossendell, Robinson and Burnie based youngster Aaron Jones simply wanted to prove a point.
As the race wore, the challengers eliminated themselves through fatigue. Goss however remained the focal point out front. He allowed Clarke and Sulzberger to challenge for the intermediate sprints, preserving his energy for the ultimate prize.
Thirty-five laps of a challenging 1 km hot dog circuit took its toll on most riders - made more difficult with a stiffening southerly breeze. As the lead group of seven riders jockeyed for positions for the final sprint to the line, tensions grew remarkably.
At the final turn out of the home finish, Sulzberger clipped pedals with Clarke and crashed, robbing him of any chance of a podium placing. That mishap allowed the other big guns, Goss and Clarke to fight out the final sprint, with the former beating the Latrobe based Clarke by 2 m.
The series so far
Matthew Goss will carry a 2-point lead into the third and final round of the Toohey's Extra Dry Tasmanian Criterium Championship, after his scoring his second consecutive win in Devonport at the weekend.
With defending champion Bernard Sulzberger missing the second round because of racing commitments in Bundaberg (Qld), Goss, Clarke and Hobart based Stephen Rossendell are the only three riders that can now win the championship, with only the Ulverstone round on December 10 remaining.
Grace Sulzberger strengthened her hold on the Invitational Women's Championship after winning her second straight race. Sulzberger will carry a 2-point lead over Kate Warren into the last round.
Launceston's Clay Murfett is the new leader of the B Grade Men after his second successive runner-up placing. Murfett's 18-points give him a slender 1-point lead over Mathew McDonagh and a 3-point advantage over Boat Harbour's Adam Hartley.
In the North-West Veteran's Championship, Jamie Perry leads by 3-points from Round 2 winner, Steve Martini.
The Junior 1 (Under 17) race is an extremely close affair with Ben Grenda, Andrew Smith and Matthew Kent all locked together on points and separated in that order on countback with only one race remaining. Luke Ockerby (J2) and Izac Guest (J3) are clear leaders of their respective age groups after back-to-back wins.
Photography
For a thumbnail gallery of these images, click here
Images by Lynne Ryan
Results

Toohey's Extra Dry - Elite Men
 
1 Matt Goss                                          32.39
2 Nathan Clarke                                           
3 Stephen Rossendell                                      
4 Aaron Jones                                             
5 Richie Port                                             
6 Andrew Hannigan                                         
7 Wesley Sulzberger                                       
8 Tom Robinson                                            
9 Jarrod Harman                                           
10 John Rayner                                            
 
Toohey's Extra Dry - Invitational Women
 
1 Grace Sulzberger                                   23.35
2 Kate Warren                                             
3 Bethany Coleman                                         
4 Kate De Paoli                                           
5 Tarrisha Jones                                          
6 Tiffany Manion                                          
7 Laurilee Sharman                                        
8 Emma Smith                                              
9 Sarah Cure                                              
10 Sarah Eaves                                            
 
Toohey's Extra Dry - B Grade Men
 
1 Michael Smith                                      23.12
2 Clay Murfett                                            
3 Adam Hartley                                            
4 Matthew McDonagh                                        
5 Cameron Daniel                                          
6 Alex Holden                                             
7 Jamie Perry                                             
8 Ben Laskey                                              
9 Codie Redman                                            
10 Steve McCoy                                            
 
Toohey's Extra Dry - North-West Veterans
 
A Grade
 
1 Steve Martini                                      19.38
2 Jamie Perry                                             
3 Craig Price                                             
4 Darryn Pugh                                             
5 Tim Elmer                                               
 
B Grade
 
1 Glenn Myler                                             
2 Shane Cresswell                                         
3 Fred Guilbert                                           
4 Tim Hicks                                               
5 David Weeks                                             
6 Nick Millington                                         
 
Aurora Energy Devonport - Junior 1 - Under 15 - 20 Km
 
1 Ben Grenda                                         17.26
2 Andrew Smith                                            
3 Matthew Kent                                            
4 Alex Benson                                             
5 Edward Robinson                                         
6 Brenden Sutton                                          
7 David Lyons                                             
8 Andrew Dolan                                            
9 Timothy Taylor                                          
10 Jonathon Taylor                                        
 
Aurora Energy Devonport - Junior 2 - Under 15 - 17 Km
 
1 Luke Ockerby                                       17.31
2 Sam Brett                                               
3 Amy Cure                                                
4 Gerald McDonagh                                         
5 Ryan Mather                                             
6 Brandon Stewart                                         
7 Callan Walker                                           
8 Ryan Ockerby                                            
9 Kodey West                                              
10 Jason Bounday                                          
 
Aurora Energy Devonport - Junior 3 - Under 13 - 6 Km
 
1 Izac Guest                                          9.31
2 Drew Redman                                             
3 Liam Ockerby                                            
4 Danieka West                                            
 
Series standings after Round 2
 
Elite Men
 
1 Matt Goss                                             20 pts
2 Nathan Clarke                                         18
3 Stephen Rossendell                                    15
4 Wesley Sulzberger                                      9
5 Tom Robinson                                           9
6 Bernard Sulzberger                                     8
7 Aaron Jones                                            7
8 Richie Port                                            7
9 Andrew Hannigan                                        5
10 Jarrod Harman                                         5
11 Will Robinson                                         4
12 Tim Walker                                            2
13 John Rayner                                           1
 
Goodstone Sprint Championship
 
1 Nathan Clarke                                         21 pts
2 Wesley Sulzberger                                     17
3 Matt Goss                                             11
4 Bernard Sulzberger                                     9
5 Andrew Hannigan                                        3
6 Mark Jamieson                                          3
7 Aaron Jones                                            3
8 Stephen Rossendell                                     2
9 Tim Walker                                             2
10 Jarrod Harman                                         1
 
Invitational Women
 
1 Grace Sulzberger                                      20 pts
2 Kate Warren                                           18
3 Bethany Coleman                                       16
4 Kate De Paoli                                         14
5 Tarrisha Jones                                        12
6 Tiffany Manion                                         9
7 Emma Smith                                             6
8 Sarah Eaves                                            6
9 Laurilee Sharman                                       4
10 Sarah Cure                                            2
11 Melissa Barnes                                        2
12 Emma Haynes                                           1
 
B Grade Men
 
1 Clay Murfett                                          18 pts
2 Matthew McDonagh                                      17
3 Adam Hartley                                          15
4 Michael Smith                                         14
5 Jamie Perry                                           12
6 Alex Holden                                           10
7 Cameron Daniel                                         6
8 Daniel Jamieson                                        6
9 Ben Laskey                                             3
10 Codie Redman                                          3
11 Craig Burrows                                         3
12 Andrew Loft                                           2
13 Steve McCoy                                           1
 
NW Veterans
 
1 Jamie Perry                                           19 pts
2 Steve Martini                                         16
3 Craig Price                                           15
4 Tim Elmer                                             14
5 Peter Gleeson                                          9
6 Darryn Pugh                                            7
7 Fred Guilbert                                          6
8 Tim Hicks                                              6
9 Glenn Myler                                            5
10 Craig Burrows                                         5
11 Shane Cresswell                                       4
12 David Weeks                                           3
13 Nick Millington                                       1
 
Junior 1
 
1 Ben Grenda                                            18 pts
2 Andrew Smith                                          18
3 Matthew Kent                                          18
4 Alex Benson                                           14
5 Ed Robinson                                           12
6 Brenden Sutton                                        10
7 Andrew Dolan                                           6
8 Timothy Taylor                                         6
9 David Lyons                                            4
10 Jonathon Taylor                                       2
11 Matthew Sermicki                                      2
 
Junior 2
 
1 Luke Ockerby                                          20 pts
2 Sam Brett                                             18
3 Amy Cure                                              16
4 Ryan Mather                                           12
5 Brandon Stewart                                       12
6 Gerald McDonagh                                        7
7 Ryan Ockerby                                           7
8 Kodey West                                             5
9 Jacob Fielding                                         5
10 Callan Walker                                         4
11 Jason Bounday                                         2
12 Madison Catlin                                        2
 
Junior 3
 
1 Izac Guest                                            20 pts
2 Drew Redman                                           17
3 Liam Ockerby                                          17
4 Danieka West                                          14