The Pick 'n Pay 94.7 Cycle Challenge - NE
South Africa, November 20, 2005
Little Lill brings the Barloworld monster back
By Jean-François Quénet in Kyalami
Darren Lill stayed away
Photo ©: Jean-François Quénet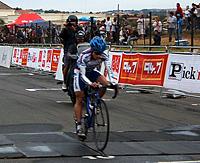 Little man Darren Lill was the first of the 28,000 participants of the Pick'n Pay 94.7 Cycle Challenge 2005, South Africa's - and in fact the world's - second largest cycling event after the Cape Argus Cycle Tour in March, crossing the line on the car racing track of Kyalami where a few legendary drivers like Keke Rosberg and Emmerson Fittipaldi were driving one week before.
How it unfolded
The 2004 winner Antonio Salomone didn't defend his title but Team Barloworld flew another Italian in order to win an eventual bunch sprint on the course shortened to 94.7km again (94.7 is the frequency of the radio-sponsor that created the race nine years ago) after being 180km long in 2003 and 2004.
However, the obviously unfit Enrico Degano got dropped halfway through. The British registered and Italian based Pro Continental outfit that is seen as a monster by the domestique teams had other cards to play with their local riders.
The coaching methods of national selector
Photo ©: Jean-François Quénet

They didn't give Jeremy Maartens any freedom to pace with John-Lee Augustyn and Slovakian Martin Velits, both from continental team Konica-Minolta, when they broke clear with 25km to go after many unsuccessful attacks. They couldn't get more than 30 seconds lead, since the most powerful local team Microsoft chased hard, and they got caught with 11km to go. In the final hills, both Velits twin brothers and Travis Allen, all from Konica-Minolta, tried to go away but Lill was smart to wait until the last moment, going solo 2km before the finishing line. "I was well positioned for the last little climbs," he commented in his usual humble way.
It was too late for the sprinters to go across. Nolan Hoffman of Exel proved to be the fastest of them. The 20 year old coloured rider from Franschhoek, near Cape Town, is only in his second season riding at the professional level, but he already put his mark on the South African cycling scene. Two weeks ago he was the winner of the OF'M Classic in Bloemfontein. The fast Hoffman who also got some good results in France and Belgium this year reckons he has found a nice job: "As a sprinter, you just have to relax and let the team-mates do the work for you," he explained. But it didn't go that smoothly at the 94.7. He punctured after 60km, had a wheel change and got back on. "I didn't panic at all," he said. If there is a black sprinter in the Tour de France in the coming years, it might well be Nolan Hoffman. "But I'm gonna take time in developing myself," he warned.
Another 20 year old rider came third and it was Christoff van Heerden of the little known team Hi-Q. The former mountain-biker and triathlete explained why he was so motivated: "My dad passed away only five days before that race last year and I rode for him today."
The junior winner Iwan van Schalwyk
Photo ©: Jean-François Quénet

South Africa has loads of new talent coming up and Lill is certainly not an old one. He's been around for five years as an elite rider but he's only 23! In his second season with Barloworld, he suffered a knee problem and didn't get much faith from the staff. He was notified he was no longer part of the team's plans for the future but now there's a major change in the management of the squad and the doors seem to be open for him again. He also has an option to join ComNet in Germany. "Europe, that's where I want to be," he said.
The ideas behind the foundation of Team Barloworld three years ago were to become the first South African team to ride the Tour de France within five years and to take the South African riders to the highest level. Unfortunately, the team has become Italian then British and the UCI ProTour hasn't left much space for them in the Grand Tours. Barloworld has helped a few Europeans to join bigger teams, such as Frenchmen Sylvain Calzati (Ag2r), Freddy Bichot (Française des Jeux) and Eric Berthou as well as Russian Vladimir Efimkin (Illes Balears), also the Italians Francesco Bellotti (Crédit Agricole), Andrea Moletta (Gerolsteiner), Ivan Ravaioli (Saunier Duval) and Luca Celli (Acqua e Sapone), but no South African yet.
Darren Lill may be little - 1.69 m - but he's an excellent climber who is likely to keep South African cycling growing.
Photography
For a thumbnail gallery of these images, click here
Images by Jean-François Quénet
Images by Cyclingnews
Results, 94.7km

Professionals
 
1 Darren Lill (RSA) Barloworld                         2.10.00
2 Nolan Hoffman (RSA) Exel                                0.05
3 Christoff van Heerden (RSA) Hi-Q                   
4 Jacques Fullard (RSA) Konica-Minolta               
5 Juan van Heerden (RSA) Tuks                        
6 Malcolm Lange (RSA) Microsoft                      
7 Kyle Godson (RSA) Sharks                           
8 Ronald Leach (RSA)                                 
9 Hanco Kachelhoffer (RSA) Exel                      
10 Shaun Davel (RSA) Thabiso                         
11 Adriaan Maaske (RSA) Team Leverage Corporation    
12 Martin Velits (Svk) Konica-Minolta                
13 John-Lee Augustyn (RSA) Konica-Minolta            
14 Jock Green (RSA) Barloworld                       
15 Peter Velits (Svk) Konica-Minolta                 
 
Juniors
 
1 Iwan van Schalwyk (RSA)                            
2 Jonathan Kinnear (RSA)                             
3 Danie Minne (RSA)                                  
 
Women
 
1 Ronel van Wyk (RSA)                                
2 Anriette Schoeman (RSA)                            
3 Marissa van der Merwe (RSA)                        
4 Chrissie Viljoen (RSA)                             
5 Yolandi Du Toit (RSA)                              
6 Anke Erlank (RSA)                                  
7 Engela Conradie (RSA)                              
8 Cathy Carsten (RSA)                                
9 Lisa Serfontein (RSA)                              
10 Jane Seggie (RSA)