High Tech Health Noosa International Criterium - NE
Noosa, Qld, Australia, November 5, 2005
2004 Results Results Past winners
Victory at last! Poad wins Noosa Criterium
By John Flynn in Noosa
Jaaron Poad
Photo ©: John Flynn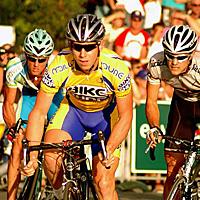 It's a win which has been a long time coming, but for expat Kiwi (New Zealander) Jaaron Poad, the celebration was worth the wait as he finally claimed victory in today's High Tech Health Noosa Criterium on Queensland's Sunshine Coast.
With a field boasting world class talents including Lotto-Davitamon stars Robbie McEwen, Cadel Evans and Henk Vogels, along with a smattering of riders recently returned from the European season, it was Poad, the Brisbane based battler who came through in the end.
Barely a month ago, the 28 year-old New Zealander was involved in a memorable criterium race at Australia's National Club Road Cycling Championships on Queensland's Sunshine Coast, where he spearheaded a breakaway, only to be pipped at the post. Today, the tactic was the same, but the result different.
"It's pretty special for me, I've won a few races in Europe before but just the crowd and the spectre, it's one that everybody wants to win," an ecstatic Poad said. "You look at the honour roll on it and Robbie McEwen's name's there a fair few times so to be there is pretty nice."
How it unfolded
Standing room only.
Photo ©: John Flynn

Held in conjunction with the Noosa Triathlon and Multi-Sport Festival, The Hi-Tech Health Noosa International Criterium attracted an 'invitation only' field of fifty riders, headlined by the Australian members of the Davitamon Lotto squad (minus Nick Gates, who is recovering from a broken ankle).
The race was contested as a fifty minutes (plus three laps) criterium on a 'hot-dog' course adjacent to Noosa Sound, with a five thousand strong crowd packing every available vantage point, from the street front to the hotel balconies of the popular sub-tropical resort haven.
Most had come to see the local hero, Brisbane's Robbie McEwen, whose following continues to grow in his home state of Queensland. A winner at Noosa in a dramatic photo finish in 2004, McEwen found the going tougher this time around, in the midst of his traditional end of season break.
"Pretty much like I expected, the first lap or two was fairly controlled and they were just getting a feel for it," McEwen told Cyclingnews. "Then they started to go, (Matt) Hayman went about five times and the first break went, I just had to ride my tempo, I was riding about 190 beats a minute for most of that."
Matt Hayman's attacks
Photo ©: John Flynn
Come the halfway point of the race, hopes of a classical Robbie McEwen sprint finish started to vanish. Struggling to stay on the pace, the two-time Tour de France green jersey winner held on to his position in the main bunch, while 20 seconds up the road, a breakaway group of nine riders was on its way to stealing the chocolates.
"I knew that I'd have to just pace myself," McEwen admitted. "If it came back together I'd try to sprint, but I was pretty legless."
Containing some of Australia's strongest road cyclists including Hayman,Tony Mann, Jason Phillips, David Betts, Ben Day, and Henk Vogels, not to mention the kiwi Poad, it became clear very quickly the break would succeed. "I knew we were pretty much going to stay away after about five minutes," the jubilant Poad admitted post-race. So many strong guys, just hoping it would stay together for the sprint."
Tony Mann (MG Xpower p/b Bigpond)
Photo ©: John Flynn

An all out effort with three laps to go by Tony Mann of the MG X-Power team ensured the finale would be a heart-stopping affair. The bid for hometown glory by the Sunshine Coast based rider falling short of its goal.
"Yere I blew myself to bits with three laps to go, I just went one lap too early," Mann lamented. "It was awesome to see Jaaron come through and win it. Awesome that one of us rolled all the pro boys who are out here to win it, gotta be happy with that."
Second over the line, after only a week back on the bike, a less than lean Henk Vogels also raised plenty of cheers from the parochial Sunshine Coast crowd. The hometown favourite, finally able to release the pained expression which his face had held for most of the race. "I've only been on the bike one or two rides after three weeks," Vogels said. "Just nice to be in that condition after a break and nice to be in the first three in the front of your home crowd."
Jason Phillips, who spent 2005 racing in Germany with the team Franfurt, rounded out the podium placings. The Gold Coaster plans to return to Germany next year and is presently involved in contract negotiations.
Criterium fever in Australia's Sunshine State
Robbie McEwen (Davitamon-Lotto)
Photo ©: John Flynn

"Unofficially' at least, the Noosa Criterium is the first race in Queensland's Grand Prix Criterium series, which continues at Brisbane's Southbank and at Surfers Paradise on the Gold Coast during the month of December.
For Robbie McEwen the races are a traditional part of the pre-season buildup and one of the rare chances Australia's great sprinter has to compete in front of a home crowd.
Robbie might not have won today, but it hardly seemed to matter. And while he is a 'love him or hate him' kind of bloke, in McEwen's home state of Queensland its very much the former.
"Look at the amount of people that come to watch this crit it's incredible and the sponsors they support the event, the organizers do such a great job of putting it on," an impressed McEwen said while sharing the moment with his son Ewen. "It's up to the guys like myself and Cadel, other team-mates Henk, even Gatesy here commentating with a broken ankle to support the event."
What about Stuey?
When asked if he'd like to see his bitter rival Stuart O'Grady contesting the Grand Prix series, McEwen was, as always, direct and to the point. "I'd like to see all the Australian pro's turn up to them," McEwen affirmed.
"It's good if a Queensland crowd and an Australian crowd can get to see Australia's best riders in action. I reckon everybody should make the effort to come to the crits because its good for our sport."
Photography
For a thumbnail gallery of these images, click here
Images by John Flynn/Cyclingnews.com
Images by Ben Manson
Results
1 Jaaron Poad (Aus)
2 Henk Vogels (Aus) Davitamon-Lotto
3 Jason Phillips (Aus)

Past winners
2004 Robbie McEwen (Aus) Lotto-Domo
2003 Allan Davis (Aus) O.N.C.E.-Eroski
2002 Matt White (Aus) US Postal
2001 Robbie McEwen (Aus) Domo-Farm Frites
2000 Scott Sunderland (Aus) Palmans
1999 Marcel Wüst (Ger)
1998 Stuart O'Grady (Aus)
1997 Robbie McEwen (Aus)