Joe Martin Stage Race - NE
USA, May 13-15, 2005
Main Page Results Overall standings Previous Stage
Stage 4 - May 15: Criterium
Moninger jumps up and Gaggioli holds on for the win
By Neemah Aaron
The women's podium lookin' chirpy
Photo ©: Paul Forsythe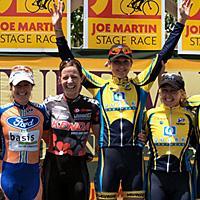 A new technical criterium at the Joe Martin Stage Race proved to be the opportunity to displace Team Jelly Belly from atop the overall standings on Sunday, as the 28th edition of this race came to a conclusion. Scott Moninger (Health Net) jumped to first place in the general classification after finishing a close second to Garrett Peltonin (Advantage Endeavour), who won Sunday's fourth and final stage.
Health Net was apparently ready for business, as two of their riders, Chris Wherry and John Lieswyn, immediately jumped out to an early lead, building a 40 second gap on the main field. They were eventually bridged by teammate Greg Henderson, but were continually pursued by a fast approaching peloton, once again led by Team Jelly Belly. Jelly Belly led with such a furious pace that it slowly dismantled the back of the pack, causing the majority of the field to peel off the rear.
About three-quarters of the way into the race, Ivan Dominquez (Health Net) and Karl Menzies (Advantage Endeavour) led a second attack, eventually absorbing the three other Health Net riders, and causing further decay to the peloton. Soon both riders were bridged by their teammates Scott Moninger (Health Net) and Garrett Peltonin (Advantage Endeavor). The two groups led a fast and furious chase for the final laps of the criterium, which motivated current general classification leader Ben Brooks (Jelly Belly) to desperately chase the lead riders.
But the pace proved too much for Brooks, who was unable to hold his top spot as Peltonin rode to victory, followed by Moninger and Menzies. The effort from Moninger was enough to lift him from third to first on GC, with Menzies finshing second and Brooks in third overall.
In the women's race, all eyes were on Lynn Gaggioli (Monex) as the women's criterium began, to see if she could hold on to win her fourth consecutive Joe Martin Stage Race. Gaggioli placed first in both Friday's road race and Saturday's Time Trial and was sitting first on GC, but without the support of any teammates.
After a third of Sunday's race had passed, Quark sent Audrey Lemieux to attack the field, and she was able to build a 20 second gap on the rest of the pack. Shortly thereafter Lisa Vetterlein (Kenda Tire) chased down Lemieux and the two worked together until the final sprint for the finish.
The two managed to barely stay in front up until the last stretch of Sunday's technical 1.3 mile loop criterium. The main field was closing fast on the pair, but Lemieux managed to save enough energy to take first, followed by Vetterlein. Laura Van Gilder (Quark) finished third. Gaggioli apparently never felt threatened by the attack, finishing in the main pack, to maintain her top spot overall for the fourth consecutive year.
Photography
For a thumbnail gallery of these images, click here
Images by Paul Forsythe
Results
Men

1 Garrett Peltonin (Advantage Endeavour)
2 Scott Moninger (Health Net)
3 Karl Menzies (Advantage Endeavour)

Women Pro 1 2	
	
1 Audrey Lemieux (Quark Cycling Team)
2 Lisa Vetterlein (Kenda Tire)
3 Laura Van Gilder (Quark Cycling Team)
4 Nicole Freeman (Ford-Basis)
5 Grace Fleury (Quark Cycling Team)
6 Annette Beutler (Quark Cycling Team)

Final General Classifications

1 Scott  Moninger (Health Net presented by Maxxis)             7.16.03
2 Karl Menzies (Advantage Benefits Endeavor Cycling Team)         0.03
3 Ben Brooks (Jelly Belly / Poolgel)                              0.20
4 Garrett Peltonen (Advantage Benefits Endeavor Cycling Team)     0.23
5 Danny Pate (Jelly Belly / Poolgel)                              0.24
6 Cavaliere Clemente (Aerospace Engineering)                      0.26
7 Todd Wells (GT/Hyundai)                                         0.40
8 Murphy Eric (Aerospace Engineering)                             0.51
9 James Mattis (Webcor Builders Cycling Team)                     0.54
10 Greg Henderson (Health Net presented by Maxxis)                0.55
11 Gord Fraser (Health Net presented by Maxxis)                   1.03
12 Olheiser Michael (Amateur Cycling Club of Memphis)             1.07
13 Justin England (Health Net presented by Maxxis)                1.08
14 Dustin MacBurnie (Broadmark Capital)                           1.09
15 John Lieswyn (Health Net presented by Maxxis)                  1.10
16 Ben Raby (Bianchi/Grand Performance)                           1.16
17 Frank Pipp (Advantage Benefits Endeavor Cycling Team)          1.18
18 Laza Viktor (Aerospace Engineering)                            1.29
19 winfield gibson (New Moon Media/Spin Cycle)                    1.37
20 Charles Dionne (Webcor Builders Cycling Team)                  1.44
21 Richard England (Advantage Benefits Endeavor Cycling Team)     1.51
22 Jeff Hopkins (Jittery Joes / Kalahari)                         1.53
23 Michael Sayers (Health Net presented by Maxxis)                2.32
24 Chris  Wherry (Health Net presented by Maxxis)                 3.13
25 Moran Hugh (Aerospace Engineering)                             3.27
26 Ivan Dominquez (Health Net presented by Maxxis)                3.36
27 Brad Huff (Mercy)                                              4.11
28 Janne Hamalainen (Tulsa Wheelmen)                              4.26
29 Eddy Hilger (Advantage Benefits Endeavor Cycling Team)         5.16
30 Ted Huang (Webcor Builders Cycling Team)                       6.34
31 Carl Decker (Broadmark Capital)                                6.38
32 Brian Dziewa (Mercy)                                           6.42
33 Ian Stanford (Flat City Cycling Club)                          6.53
34 Jed Schneider (AG Edwards)                                     6.56
35 Solomon Woras (Broadmark Capital)                              7.09
36 Glenn Fant (Monex)                                             7.44
37 Matt Seagrave (Compliance Depot/FCS cycling Team)              9.07
38 David Sojo (Tyson Racing)                                      9.21
39 Emile Abraham (Monex)                                          9.30
40 Andy Applegate (Honey Stinger / Spinergy)                      9.35
41 Lynn Neir (KCBC Racing Team)                                  10.54
42 Thomas Hallock (FCS Cycling Club / Compliance Depot)          12.45
43 Mike Jones (Health Net presented by Maxxis)                   13.37
44 Alex Welch (Mercy)                                            15.11
45 Blake McMahon (Team Power Train)                              20.41
46 Eddy Kwon (Mercy Cycling Team)                                20.56
47 Chris Strout (Team Mack Paper Co.)                            22.46
48 mat stephens (Mercy)                                          22.52
49 Cubric Radisa (Aerospace Engineering)                         23.44
50 Pleasure Jackson (Broadmark Capital)                          24.21
51 Owen Gue (Broadmark Capital)                                  24.34
52 Christian Reidys (Colavita Bolla Taos)                        25.02
53 Aaron Smathers (Plano Cycling/Cannondale/GS Tenzing)          26.08
54 justin jackson (Matrix/RBM)                                   27.42
55 Thomas Burke (West Michigan Coast Riders)                     29.11
56 Lanyon Michael (Mesa Cycles Racing)                           31.23
57 Chad Vande Lune (All 9 Yards.com / Ralph Henderson Racing)    32.08
58 Curtis Tolson (Texas Roadhouse)                               36.27
59 Robert Kron (Team Mack Paper Co.)                           1.07.51
60 marc walter (Lincoln Plating/ Lemond)                       1.08.49
 
Women
 
1 Lynn Gaggioli (Monex)                                        6.58.08
2 Grace Fleury (Quark Cycling Team)                               3.12
3 Chrissy Ruiter (Ford-Basis)                                     3.31
4 katharine carroll (BMW-Bianchi)                                 3.34
5 Dotsie Cowden (Colavita/Cooking Light)                          3.38
6 Audrey Lemieux (Quark Cycling Team)                             3.42
7 Lisa Vetterlein (Team Kenda Tire)                               3.43
8 Alisha Lion (Ford-Basis)                                        3.46
9 Sue Palmer-Komar (Colavita/Cooking Light)                       3.50
10 Annette Beutler (Quark Cycling Team)                           3.52
11 Kristen Robbins (Victory Brewing Cycling Team)                 3.57
12 Kate Sherwin (Victory Brewing Cycling Team)                    3.58
13 Laura Van Gilder (Quark cycling team)                          4.06
14 Barbara Howe (Velo Bella)                                      4.10
15 Jill McLaughlin (Velo Bella)                                   4.32
16 Tracy Huber (Revolution Fitness)                               4.35
17 Nichole Wangsgard (Subway)                                     4.44
18 Helen Kelly (Quark Cycling team)                               4.45
19 Candice Blickem (Quark Cycling Team)                           4.51
20 Sheila Orem (Team Kenda Tire)                                  4.54
21 Catherine Walberg (team kenda)                                 5.00
22 Jennifer Chapman (Velo Bella)                                  5.26
23 Allyson Brandt (Hotel San Jose)                                5.29
24 Nicole Freedman (Ford-Basis)                                  13.09
25 Lauren Franges (Victory Brewing Cycling Team)                 13.18
26 Michelle Beltran (Colavita/Cooking Light)                     13.59
27 Mindi Martin (Mercy Cycling Team)                             14.40
28 Megan Esmonde (Colavita/Cooking Light)                        21.26
29 Shannon Koch (Team LaS'port)                                  22.29
30 Liza Rachetto (Lipton Tea)                                    23.39
31 Kele Hulser (Ford-Basis)                                      24.00
32 Kim Geist (Victory Brewing Cycling Team)                      24.41
33 Trudy van der Straaten (Team Kenda Tire)                      25.41
34 Pam Hinton (BigShark)                                         27.24
35 allison carter (Team Kenda Tire)                              28.01
36 Teresa Holmgren (Saturn of Toledo)                            33.05
37 Stacey Bertsch (Mercy Cycling presented by Zero Mountain)     34.44
38 Kari Bradley (travelgirl)                                     38.21
39 Kimberly Sawyer (travelgirl)                                  38.30
40 Jennifer Reither (Colavita/Cooking Light)                     39.57
41 Gina Voci (DeFeet)                                            41.22
42 Elizabeth Begosh (Velo Bella)                                 41.30
43 Priscilla Cazer (Mercy Cycling Team)                          45.10
44 Lauren Gaffney (Ford-Basis)                                   49.28
45 Deborah Elliott (DeFeet Elite Women's Cycling Team)         1.01.20
46 Kim Foland (travelgirl)                                     1.06.40