Recently on Cyclingnews.com
9th Tour of Japan - 2.2
Japan, May 15-22, 2005
2004 results Stage List Preview Start List Past winners
The Stages
Stage 1 - May 15: Senboku Circuit Sakai City (Osaka), 140.8km
Stage 2 - May 16: Todaiji Temple - Nunome Dam Circuit, Nara, 146.2km
Rest day - May 17
Stage 3 - May 18: Iida Station - Shimohisakata Circuit - Matsuo Stadium, South-Shinshu, 155.3km
Rest day - May 19
Stage 4 - May 20: Mount Fuji ITT, 11.4km
Stage 5 - May 21: Japan Cycle Sports Center - Japan Cycle Sports Center, Izu, 130.35km
Stage 6 - May 22: Hibiya city - Ooi Wharf Circuit Tokyo, 138.5km
Big change for Tour of Japan
By Miwako Sasaki
2004 winner Shinichi Fukushima
Photo ©: Miwako Sasaki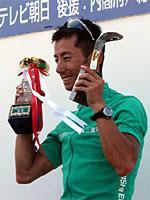 The 9th edition of the Tour of Japan, a 2.2 race on the UCI's new Asia Tour (2.2), will run from May 15-22. Three of the six stages are renewed, including an individual time trial on Mount Fuji, and only two stages will suited to the sprinters (Stage 1 and Stage 6). The race will thus be hillier and harder, even though the total distance has been reduced to 732.55km.
The first new stage will be held on May 18 in South-Shinshu, the mountainous middle part of Japan, and the course consists of 12 laps of a hilly circuit. The most important stage will be an individual time trial on Mount Fuji on May 20, and the riders must climb 11.4km, from 800m to 2000m. Before the finish in Tokyo, there will be also a new mountain stage in Izu.
A total of 16 teams of six riders will start on Sunday, including last year's winner Shinichi Fukushima (Team Bridgestone Anchor). His younger brother and teammate, Koji Fukushima will be also an important rider for the race. Koji is called the "Asian Jacky Durand" by the French media, as he finished fourth in the Trophée des Grimpeurs on May 1 after a long breakaway, and he was second on GC in the Circuit de Lorraine (April 27-30) as a result of a breakaway in the first stage, where he finished third. Koji has had an excellent season this year, he also won a stage of the Tour de Langkawi and wore the leader's jersey for five days.
Eight foreign teams will come to Japan, including Team Barloworld - Valsir (Felix Cardenas, Matteo Carrara and David Plaza), Team Konica Minolta (James Perry). Kazakh Cycling Team Capec will be also important team for the race, including ex-Telekom rider Andrey Mizourov.
Start list
Team Bridgestone Anchor                    Australian National Team
 
11 Shinichi Fukushima (Jpn)                21 Christopher Sutton (Aus)
12 Koji Fukushima (Jpn)                    22 Nicholas Sanderson (Aus)
13 Takashi Miyazawa (Jpn)                  23 Mathew Goss (Aus)
14 Junya Sano (Jpn)                        24 Simon Clarke (Aus)
15 Miyataka Shimizu (Jpn)                  25 Mathew Rex (Aus)
16 Yasutaka Tashiro (Jpn)                  26 James Meadley (Aus)
 
Shimano-Memory Corp                        Team Barloworld-Valsir
 
31 Yoshiyuki Abe (Jpn)                     41 Felix Rafael Cardenas Ravalo (Col)
32 Tomoya Kano (Jpn)                       42 Matteo Carrara (Ita)
33 Hidenori Nodera (Jpn)                   43 Luca Celli (Ita)
34 Yoshimasa Hirose (Jpn)                  44 Paolo Longoborghini (Ita)
35 Kaoru Ouchi (Jpn)                       45 David Plaza (Spa)
36 Masamichi Yamamoto (Jpn)                46 Gian Paolo Cheula (Ita)
 
Wismilak International Team                Casino Filipino-Pro Cycling Team
 
51 Tonton Susanto (Ina)                    61 Victor Espiritu (Phi)
52 Wawan Setyobudi (Ina)                   62 Ronald Gorantes (Phi)
53 Matnur Matnur (Ina)                     63 Merculio Ramos (Phi)
54 Phillip Thuaux (Aus)                    64 Tomas Martinez (Phi)
55 David Mckenzie (Aus)                    65 Bernard Luzon (Phi)
56 Christopher Bradford (Aus)              66 Joel Calderon (Phi)
 
Cycling Team Capec                         Purapharm
 
71 Andrey Mizurov (Kaz)                    81 Kam Po Wong (HKg)
72 Eugen Wacker (Kgz)                      82 Ngai Ching Wong (HKg)
73 Kairat Baigudinov (Kaz)                 83 Chun Hing Chan (HKg)
74 Assan Bazayev (Kaz)                     84 Wang Yip Tang (HKg)
75 Alexandr Dyachenko (Kaz)                85 Kai Tsun Lam (HKg)
76 Viktor Shestakov (Kaz)                  86 Kin San Wu (HKg)
 
Team Konica Minolta                        Team Nippo
 
91 James Perry (RSA)                       101 Kazuyuki Manabe (Jpn)
92 John-Lee Augustyn (RSA)                 102 Kazuya Okazaki (Jpn)
93 George Schoonraad (RSA)                 103 Yasuhiro Yamamoto (Jpn)
94 Fredrik Johansson (RSA)
95 Jacques Fullard (RSA)
 
Miyata-Subaru                              Kinan CCD
 
111 Masahiko Mifune (Jpn)                  121 Kyoshi Miura (Jpn)
112 Kojiro Nakagawa (Jpn)                  122 Ken Hashikawa (Jpn)
113 Akira Kakinuma (Jpn)                   123 Manabu Hirose (Jpn)
114 Takuya Nishimura (Jpn)                 124 Daisuke Hioki (Jpn)
115 Atsushi Takano (Jpn)                   125 Kuei Hsiang Peng (Jpn)
116 Takeaki Ayabe (Jpn)                    126 Makoto Nakamura (Jpn)
 
Sumita Ravanello Pearl Izumi               Aisan-Ind Racing Team
 
131 Makoto Iijima (Jpn)                    141 Mitsuteru Tanaka (Jpn)
132 Ikki Yoneyama (Jpn)                    142 Koki Shimbo (Jpn)
133 Yoshinori Iino (Jpn)                   143 Kazuhiro Mori (Jpn)
134 Shinichi Amagasa (Jpn)                 144 Satoshi Hirose (Jpn)
135 Yuyu Nakamoto (Jpn)                    145 Takumi Beppu (Jpn)
136 Yoshihisa Kimura (Jpn)                 146 Taiji Nishitani (Jpn)
 
Nalsima Friend                             Nakagawa As K'design
 
151 Yasuhiro Nito (Jpn)                    161 Taiki Kawasaki (Jpn)
152 Yuji Osabe (Jpn)                       162 Toshiyuki Tsuji (Jpn)
153 Kaoru Obata (Jpn)                      163 Kenji Tsuzuki (Jpn)
154 Yoshiaki Sudo (Jpn)                    164 Hiroyuki Ogita (Jpn)
155 Hideo Yoshida (Jpn)                    165 Masashi Fujita (Jpn)
156 Katsunosuke Ikeda (Jpn)                166 Takashi Kanda (Jpn)

Past winners
2004 Shinichi Fukushima (Jpn) Team Bridgestone Anchor
2003 Cancelled
2002 Oleksandr Klymenko (Ukr) Mroz
2001 Pawel Niedzwiecki (Pol) Mroz-Supradyn Witaminy
2000 Mauro Gianetti (Swi) Vini Caldirola-Sidermec
1999 Andrzej Sypytkowski (Pol) Mroz
1998 Frank McCormack (USA) Saturn
1997 Bart Bowen (USA) Saturn
1996 Jean-Philippe Duracka (Fra) French national team

Past winners by Mario Stiehl, www.world-of-cycling.com