32nd Cat's Hill Classic - NE
Los Gatos, California, USA, May 7, 2005
2004 Results Results Past winners
Jackson Stewart and Christine Thorburn take Cat's Hill wins
Jackson Stewart (Kodak Gallery/Sierra Nevada)
Photo ©: Rob O'Dea
After nearly 700 racers in 10 classes raced for over 8 hours through the streets of Los Gatos, the Testarossa Vineyards Cat's Hill Classic capped off its 32nd running with a victory in the Pro/1/2 Men's race by Los Gatos native Jackson Stewart of the Kodak Gallery/Sierra Nevada pro cycling team.
Stewart outsprinted his longtime friend, former teammate, and 1998 Los Gatos High School classmate Zach Walker of the McGuire-Langdale pro team.
With 15 laps remaining, Stewart and Walker were part of a group of four riders that went clear of the pack, along with Ben Haldeman (Webcor Builders) and .
After doing the bulk of the work to pull the group out to a lead of roughly 30 seconds, Mitchell fell off the pace with four laps to go and drifted back to the chasing trio of Erik Saunders (McGuire-Langdale), Bernard van Ulden (Webcor Builders), and Gen Kogure (Ritchey/VeloEuropa).
After Stewart took the win in front of Walker and Haldeman, Mitchell came across the line for fourth place, followed by Saunders, van Ulden, Kogure, and field sprint winner Dave McCook (Jelly Belly-PoolGel).
In the penultimate race for Pro/1/2 Women, 2004 Olympian enjoyed a solo victory after dropping breakaway companion , who earlier had bridged up to Thorburn and Stephanie Graeter (Webcor Builders), who fell off the break with six laps to go.
Christine Thorburn (Webcor)
Photo ©: Garrett Lau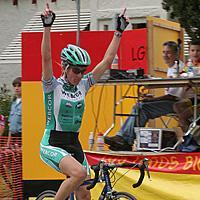 Webcor's Karen Brems won the field sprint for second place behind Thorburn, followed by Kim Cunningham (Morgan Stanley/24 Hour Fitness/Specialized) and Brenda Lyons (VeloBella).
The top Los Gatos Bicyle Racing Club finisher was Starr Falk in sixth place.
Except for the Juniors races, all the other races at this year's Cat's Hill Classic ended in field sprints.
Winning those races were Pat Pecknold (EMC-Documentum) in the Master 35+ 4/5, Courtenay Brown (McGuire Cycling) in the Women 3/4, Billy Clark (Morgan Stanley/24 Hour Fitness/Specialized) in the Masters 35+ 1/2/3, Brandon Gritters (Arete Racing) in the Category 3 race, Brian Bucholz (Webcor/Alto Velo) after an early solo breakaway in the Category 4, and Matt Faker in the Category 5 race.
The races for Junior Girls were won by Kim LaFleur (Webcor/Alto Velo) in the 17-18 group, Jerika Hutchinson (Mt Shasta Pedali) in the 15-16 group, Michelle Lafleur in the 13-14 field, and Katrina Howard (Central Valley Cycling) in the 10-12 age group.
Junior Boys winners were Eric Riggs (Lombardi Sports) in the 17-18, David Vuilleumier (Sacramento Golden Wheelman) for the 15-16, Lance Wolfsmith (Wolfpack) for the 13-14, and James LaBerge (Lombardi Sports) in the 10-12 group.
The Testarossa Vineyards Cat's Hill Classic was the first-ever race of the NCNCA Premier Series, which continues on June 19 with the Nevada City Classic.
Photography
For a thumbnail gallery of these images, click here
Images by Rob O'Dea/onetrak@comcast.net
Images by Garrett Lau/www.pbase.com/garrettlau
Results
Performance Techniques Elite Men Pro/1/2 
 
1 Jackson Stewart (Kodak Gallery / Sierra Nevada)
2 Zach Walker (McGuire / Langdale Pro Cycling)
3 Benjamin Haldeman (Webcor Builders)
4 Glen Mitchell (Kodak Gallery / Sierra Nevada)
5 Erik Saunders (McGuire / Langdale Pro Cycling)
6 Bernard van Ulden (Webcor Builders)
7 Gen Kogure (Ritchey / Veloeuropa)
8 David McCook (Jelly Belly Pol Gel)
9 Stezling Magnell (Monex)
10 Jeff Angermann (Team Spine)
 
Palo Alto Bicycles Elite Women 1/2/3 
 
1 Christine Thorburn (Webcor Builders)
2 Karen Brems (Webcor Builders)
3 Kim Cunningham (Morgan Stanley / 24Hr Fitness / Specialized)
4 Brenda Lyons (Velo Bella)
5 Cunthia Mommsen (Olympic Club)
6 Starr Falk (LGBRC / Easton / Specialized)
7 Jill McLaughlin (Velo Bella)
8 Amber Rais (Palo Alto Bicycles)
9 Betina Hold (Webcor Builders)
10 Cindy Carroll (Dewar's Racing Team)
11 Cat Malone (Webcor Builders)
12 Sarah Bambezer (Touchstone Climbing)
13 Melodie Metzger (Velo Bella)
14 Katheryn Curi (Webcor Builders)
15 Kristin Drumm (Morgan Stanley / 24Hr Fitness / Specialized)
16 Stephanie Graeter (Webcor / Alto Velo)
17 Julie Adams (Palo Alto Bicycles)
18 Martina Patella (LGBRC / Easton / Specialized)
19 Helene Drumm (Morgan Stanley / 24Hr Fitness / Specialized)
20 Barbara Howe (Velo Bella)
21 Christine Vardaros (Velo Bella)
22 Kristin Caldwell (Morgan Stanley / 24Hr Fitness / Specialized)
23 Jen Joynt (McGuire Cycling)
24 Beverley Harper (Touchstone Climbing)
25 Erin Alders (team tamarack)
26 Taitt Sato (LGBRC / Easton / Specialized)
27 Kate Maher (Morgan Stanley / 24Hr Fitness / Specialized)

 
Sports Gallery Masters 35+ 1/2/3 
 
1 Billy Clark (Morgan Stanley / 24Hr Fitness / Specialized)
2 Jeff Angermann (Team Spine)
3 Ben Standish (Dewar's Racing Team)
4 Michael Hernandez (Team Spine)
5 Mark Caldwell (Team Spine)
6 Scott Fonseca (Team Spine)
 
Steelman Cycles Elite Women 3/4 
 
1 Courtenay Brown (McGuire Cycling)
2 Tracey Ford (Bay Area Velo Girls)
3 Thea Rusthoven (Art's Cyclery Racing)
4 Shelley Olds (Village Peddler / Buy-Cell.com)
5 Jennifer Van Muckey (LGBRC / Easton / Specialized)
6 Carolyn Popovic (BikeWorks)
7 Brianne Burgess (Webcor / Alto Velo))
8 Maryann Levenson (Bay Area Velo Girls)
9 Hillary Daniels
10 Carola Berger (Webcor / Alto Velo)
11 Stella Carey (Kelly Bike Co.)
12 Anna Davenport (Village Peddler / Buy-Cell.com)
 
Hula Networks Masters 35+ 4/5 
 
1 Pat Pecknold (Team EMC / Documentum)
2 Robert Collier (Team EMC / Documentum)
3 Michael Lampe (Peninsula Velo / Kondra Systems)
4 David Schaefer (Peninsula Velo / Kondra Systems)
5 Dean Furukawa (Art's Cyclery Racing)
6 Thomas Oelsner (LGBRC / Easton / Specialized)
 
UC Davis Sports Medicine Elite Men Cat 3 
 
1 Brandon Gritters (Arete Racing)
2 Michael Rochlin (Eastside Cycles / Marin)
3 John Foster (Form Fitness / Niko Ventures Racing)
4 Elliot Jaramillo (RHVilla.com)
5 Tony Leal (Village Peddler / Buy-Cell.com)
6 Stephen Kent (McGuire Cycling)
7 Joaquim Neto (Team Tam)
8 Dominic Giampaolo (Webcor / Alto Velo)
 
Crossroads Bicycles Elite Men Cat 4 
 
1 Brian Buchholz (Webcor / Alto Velo)
2 Joshua Litwack (Unattached)
3 Ken Wu (Stanford Cycling)
4 Keith Bertani (Form Fitness / Niko Ventures Racing)
5 Patrick Ruggles (Veltec Sports)
6 Murray Swanson (Peninsula Velo / Kondra Systems)
7 Dillon Clapp (Art's Cyclery Racing)
 
Push Muscle Therapy Elite Men Cat 5 
 
1 Matt Faker
2 Chris Swan (Peninsula Velo / Kondra Systems)
3 Andrew Price (ZTeaM)
4 Rick Bradley (Rio Strada)
5 Brendan Miller (Godspeed Courier)
6 James Bridges (Webcor / Alto Velo)
7 Greg Gomez (Webcor / Alto Velo)
8 Salvador Borrego-Crumb (Team Bicycle Trip)
9 Matt Allie (France)
10 Wyatt Weisel (Equipe Le Matin)
 
Eden Bicycles Junior Boys 10-12 
 
1 James LaBerge (GS Lombardi Sports)
2 Dustin Benton ((Wolfpack)
3 Josef Nygaard (Team Swift)
4 David Tisdell (LGBRC / Easton / Specialized)
5 Mylo Stenstrom
6 Canaan Linder (LGBRC / Easton / Specialized)
 
Eden Bicycles Junior Boys 13-14 
 
1 Lance Wolfsmith (Wolfpack)
2 Joel Shaffer (Webcor / Alto Velo)
3 Peter Sarll (Wolfpack)
4 Charlie Avis (Webcor / Alto Velo)
5 Daniel Tisdel (LGBRC / Easton / Specialized)
6 Jeremy Blalock (Joselyn's Bicycle)
 
Calmar Cycles Junior Boys 15-16 
 
1 David Vuilleumier (Sacramento Golden Wheelmen)
2 Alex Wick (Davis Bike Club)
3 Bryan Larsen (SGW / City Bicycle Works)
4 Ben Barsi-Rhyne (LGBRC / Easton / Specialized)
5 Logan Loader (Central Valley Cycling)
6 Taylor Kuphaldt (Davis Bike Club)
 
Calmar Cycles Junior Boys 17-18 
 
1 Eric Riggs (Lombardi Sports)
2 Daniel Holloway (Lombardi Sports)
3 Tyler Gough (Tieni Duro)
4 Blake Anton (Davis Bike Club)
5 Jose Bonillo (California Giant Cycling)
6 Joseph Iannarell (Davis Bike Club)
 
Eden Bicycles Junior Girls 10-12 
 
1 Katrina Howard (Central Valley Cycling)
2 Lauren Wolfsmith (Wolfpack)
3 Taylor Meilak (International Christian Cycling Club)
 
Eden Bicycles Junior Girls 13-14 
 
1 Michelle LaFleur (Webcor / Alto Velo)
2 Lillian Gordis (Tieni Duro)
3 Elissa Stolman (Team Taylor)
4 Kendra Higgins (Wolfpak)
5 Natasha Brown (Unattached)
6 Brianna Ahumada (Wolfpak)
 
Calmar Cycles Junior Girls 15-16 
 
1 Jerika Hutchinson (Mt Shasta Pedali)
2 Kelly LaFleur (Webcor / Alto Velo)
3 Dawn Tisdell (LGBRC / Easton / Specialized)
 
Calmar Cycles Junior Girls 17-18 
 
1 Kimberly LaFleur (Webcor / Alto Velo)

Past winners
2004 Ben Jacques-Maynes (Sierra Nevada Cycling)   Karen Brems (Webcor/Alto Velo)
2003 Jonas Carney (Prime Alliance)                Karen Brems (Webcor / Alto Velo)
2002 Eric Wohlberg                                Karen Brems (nee Kurreck)
2001 Eric Wohlberg                                Lauren Smith
2000 Edwin Bull                                   Karen Kurreck
1999 Ted Huang                                    Cynthia Mommsen
1998 Derek Bouchard-Hall                          Karen Kurreck
1997 J. T. Burke                                  Kendra Wenzel
1996 Dylan Casey                                  Karen Kurreck
1995 Matt Carlson                                 Laura Charameda
1994 Roberto Gaggioli                             Karen Kurreck
1993 Ron Kiefel                                   Sally Zack
1992 Matt Hamon                                   Kim Applegate
1991 Eric Rekkas
1990 Johnny Franck                                Maureen Kaila
1989 Chris Huber                                  Katrin Tobin
1988 Matt Doval                                   Peggy Maas
1987 Ron Kiefel                                   Genny Brunet
1986 Mark Caldwell
1985 Fred Markham
1984 Sterling McBride                             Liz Chapman
1983 Fred Markham
1982 Chris Huber
1981 Dave Zanotti 
1980 Bill Watkins
1979 Bob Muzzy
1978 Greg Lemond
1977 Marc Brandt
1976 Bill Robertson
1975 Mark Pringle
1974 Paul Wilson