Captech Classic - NE
Richmond, Virginia, USA, May 26, 2005
2004 Results Results Past winners
Teutenberg and Davidenko survive long breaks
By Kristy Scrymgeour
The men get ready
Photo ©: Jon Devich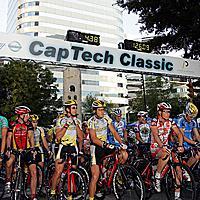 The sun finally came out on the East coast of the US today and downtown Richmond came alive for the third annual Cap Tech Classic in Virginia. It was all T-Mobile in the women's race with Ina Yoko Teutenberg displaying her form in an early breakaway, only to take the win later in the bunch sprint. In the men's race, Health Net seemed to be calling the shots early but it was Vassili Davidenko (Navigators) who came out on top at the end of the exciting race, continuing his winning streak of late.
After a corporate challenge to warm up the streets, the women started the night of racing on the so-called criterium course around the main streets of Richmond. Held over 1.6 miles, the eight corner course is more like a tough road race than a criterium, with the women racing 50km and the men 100km. According to Mark McCormack of Colavita, tonight's race was "as hard as most of the road race courses that you'll do in America." Immediately after the first corner the course starts, climbing before turning left and climbing again up a deceivingly steep pinch to the mountain sprint line. It descends so quickly that recovery between laps is non-existent and the climb starts again.
Teutenberg attacks early in the women's race
With a mountain sprint after only three laps of the women's race, the pace was on from the gun. Victory Brewing's Kate Sherwin took the first points at the top of the hill and was immediately countered by Teutenberg. Teutenberg immediately got a gap and was away for, lets say, one of her typical early breaks. "I didn't think I attacked that hard," Teutenberg told Cyclingnews after the race, "but I looked back and everyone was gone."
Ina Yoko-Teutenburg (T-Mobile)
Photo ©: Jon Devich

It was Megan Esmonde (Colavita CookingLight) who took the opportunity to go across the Teutenberg and within two laps had bridged the gap making the break two. "Ina is favourite at every race. If you see her go you just have to go," she said. Esmonde's move looked to be a good one as the pair increased their gap to the field. Behind Laura Van Gilder(Quark), Lynn Gaggioli (Monex) and Lauren Franges (Victory Brewing) attacked each climb but were covered each time by Lara Kroepsh who was keeping things in control for her T-Mobile teammate.
Midway through the race, the lead had increased to 50 seconds but then the chase began and the gap started to come down. When the gap had fallen to below 40 seconds Teutenberg knew she had to do something. "Megan was working well," she said, "but we just weren't going anywhere so I had to pick up the pace." Esmonde fell off the wheel but after continued persistence was caught by the chasers. By now Teutenberg's gap was still falling and with a strong attack up the climb by Van Gilder,it soon fell under 30 seconds. "When I saw it falling quickly," said Teutenberg, "I decided to sit up and save my legs," a decision that proved to be a good one for later in the race.
T-Mobile immediately countered and Brooke Ourada attacked but was chased by the Quark team. Attacks continued with Ourada trying again with two laps to go, setting up the finish for her teammates. Kroepsh started the lead out with Teutenberg in tow and came around the corner first. Her speed around the last couple of corners caused a small gap and Teutenberg left a gap for her hoping she'd take the win herself, but Freedman was right there and made her move causing Teutenberg to go for the sprint.Coming around Freedman with 100m to go, Teutenberg took her ninth win for the season, with Freedman taking second and Kroepsch hanging on for third place. Just behind Gina Grain (Victory Brewing), broken rib and all, came in for fourth place in front of her teammate Brenda Lyons.
Ina Yoko-Teutenburg (T-Mobile) punches the air
Photo ©: Jon Devich

Teutenberg was happy with her win but a little disappointed that Kroepsch didn't take the honours. "It would have been nice to see one of the other girls win as they have been working so hard all season," she said. "Lara did a great job of leading out and I thought she could hang on for the victory, but Nicole jumped and I had to follow."
Despite being dropped late in the race Esmonde had a very impressive race and was happy with the effort. "I was really hurting but I tried to stay there as long as I could," she explained. "I didn't want a free ride up there. I wanted to prove that I could do my turns, but I wasn't able to pull that hard and in the end she had to go alone. Finally after I got caught I hung in for a while but when Laura attacked, I had nothing."
A game of shuffle for the men
Mike Jones (Health Net/Maxxis) leads
Photo ©: Jon Devich

The men's race was just as exciting Health Net forced the pace early splitting up the bunch immediately. Within five laps of the start the bunch of over 120 had been reduced to half. Break after break started, always with more than one Health Net rider present and finally after about ten laps of racing a group of seven went up the road. In the group were three Health Net riders, Jones, John Lieswyn and Ivan Dominguez, Zach Taylor (TIAA Cref), Ivan Stevic (Aerospace Engineering), Vassili Davidenko (Navigators) and Aaron Olsen (Colavita Sutter Homes). The group gained up to 35 seconds on the bunch with the Advantage Benefits Endeavour team being forced to chase behind.
Eventually Advantage Benefits Endeavour's efforts started to pay off and the gap started to drop, at which point Health Net decided to attack. Jones used his form on the climbs and started to split things up. Jones was taking the points on the mountain sprint line and eventually got away alone with the rest of the break getting swallowed up by the bunch. It was then that Mark McCormack made his move, taking Davidenko with him with Aerospace Engineering in chase. The pair caught and passed Jones over the top of the climb and Clemente Cavliere got across, as did Karl Menzies from Advantage Benefits Endeavour.
Cavliere was dropped but another Aerospace guy, Eric Murphy bridged the gap making the break four riders. This was to be the deciding break of the race. Behind, riders continued to attack out of the bunch and small groups kept attacking and being caught. The shuffling continued until eventually there was a group of four chasing the four leaders. The group consisted of Mike Sayers (Health Net), Ben Jacques-Mayne(Kodak Gallery/Sierra Nevada), Erik Saunders (McGuire/Longdale) and EmileAbraham (Monex).
Karl Menzies (Endeavor) hammers through
Photo ©: Jon Devich

The front group continued to work hard with Health Net missing the boat. "We might have gone a little too hard too early," said Jones after the race, "with only five riders here today." The gap continued to grow and with four laps to go they had 31" on the chasing four and 1'30"on what remained of the bunch.
On the penultimate lap, Sayers made his move and tried to bridge the gap. Just as he was about to make contact, McCormack attacked in the front group and his effort failed. The four leaders remained in tact however and it was to come down to a four-man sprint. Murphy led the last lap with Menzies on this wheel but McCormack came around with a few corners to go, wanting to be at the front for the final corner. He took the corner first but couldn't hold off Davidenko or Menzies and Davidenko took another win for the season.
"With a couple of corners to go," explained the winner, "I left a little gap to Mark's wheel so that coming into the final straight I had more speed than him around the corner and I was able to pass him."
Very happy with his ride, Davidenko said that it was a hard day. "I felt terrible because I spent all day in the break. When I found myself in the break with only three other guys at the end I knew I needed to recover. Finally we slowed a little and I could rest for a short while, but then the gap to the second group really dropped and Mark attacked hard. I had to chase him."
"I had to be very smart," he added. "If you make one mistake you're done. I was planning all race and in the end my plan worked exactly, so I'm happy. It was an excellent performance by my team. We had someone in every break. Its so nice to be able to race in such a strong team.
The podium
Photo ©: Jon Devich

With Philadelphia coming up, Vassili says he is looking forward to it but trying not to think about it too much. "I've always thought too much about this race. This year I just want to have good legs and if something happens that will be good."
Cyclingnews also caught up with McCormack after the race who commented that it was a savage race. "Just like last year the dynamics kept changing and it was a shuffling game," he explained. "I think [Health Net] overestimated their power. They rode a strong race but it was a 54-lap race, not 40 laps. I felt a bit off. It was a bit like racing at altitude. If you had to put in an effort, you couldn't go too hard or you'd blow. In the end, the smart and strong guys made it into the break."
Photography
For a thumbnail gallery of these images, click here
Images by Jonathan Devich/epicimages.us
Results

Pro Men
 
1 Vassili Davidenko (Rus) Navigators                   2.28.24
2 Karl Menzies (Aus) Advantage Benefits Endeavour                   
3 Mark Mccormack (USA) Colavita Sutter Home               0.01
4 Eric Murphy (USA) Team Aerospace Engineering            0.03
5 Erik Saunders (USA) McGuire Langdale                    0.16
6 Ben Jacques Maynes (USA) Kodak Gallery Sierra Nevada        
7 Michael Sayers (USA) HealthNet                              
8 Emile Abraham (USA) Monex                               0.51
9 Carlos Vargas (Col) Monex                               1.01
10 Oleg Grishkine (Rus) Navigators                        1.14
11 Michael Jones (USA) HealthNet                              
12 Cameron Hughes (Aus) Subway ProCycling Team                
13 John Lieswyn (USA) HealthNet                               
14 Jonathan Page (USA) Colavita Sutter Home               1.15
15 Aaron Olson (USA) Colavita Sutter Home                     
16 Kyle Gritters (USA) Team Seasilver                         
17 Ivan Stevic (USA) Team Aerospace Engineering           1.16
18 Jackson Stewart (USA) Kodak Gallery Sierra Nevada      1.23
19 Eneas Freyre (USA) TargetTraining                      1.35
20 Gustavo Artacho (USA) Colavita Sutter Home             1.42
21 Ciaran Power (Irl) Navigators                          1.47
22 Josh Goodwin (USA) Monex                                   
23 Juanjose Haedo (USA) Colavita Sutter Home              2.06
24 Nathan Miller (USA) Monex                                  
25 Stefano Barberi (USA) Team TIAACREF                    2.07
26 Jason Baush (USA) Seasilver                                
27 Garrett Peltonen (USA) Advantage Benefits Endeavour    2.08
28 Alejandro Acton (USA) TargetTraining                  10.59
29 Clemente Cavliere (Ita) Team Aerospace Engineering    11.59
30 John Delong (USA) Snow Valley                         27.37
 
King of the mountains
 
1 Michael Jones (Health Net)                                10 pts
2 Ivan Dominguez (Health Net)                               10
3 Vassili Davidenko (Navigators)                             9
4 Stefano Barberi (TIAA-CREF)                                6
5 Mark McCormack (Colavita Sutter Homes)                     3
6 Jonathan Page (Colavita Sutter Homes)                      3
7 Will Frischkorn (TIAA-CREF)                                3
8 Karl Menzies (Endeavor Cycling)                            3
9 Ciaran Power (Navigators)                                  3
10 Clemente Cavliere (Team Aerospace)                        2
11 Eric Murphy (Team Aerospace)                              1
12 Ivan Stevic (Team Aerospace)                              1
 
Pro Women
 
1 Ina Yoko Teutenberg (Ger) T-Mobile                   1.26.09
2 Nicole Freedman (Isr) Ford Basis                            
3 Lara Kroepsh (USA) T-Mobile                             0.01
4 Gina Grain (Can) Victory Brewing                        0.02
5 Brenda Lyons (USA) Touchstone Climbing                      
6 Laura Van Gilder (USA) Quark Cycling Team               0.03
7 Lauren Franges (USA) Victory Brewing                    0.05
8 Brooke Blackwelder (USA) Team Tamarack                      
9 Allie Warfel (USA) Diet Cheerwine                           
10 Kristen Lasasso (USA) Team Lipton                          
11 MayBritt Hartwelll (Nor) Diet Cheerwine                    
12 Katie Lambden (USA) Team Lipton                        0.06
13 Candice Blickem (USA) Quark Cycling Team                   
14 Sarah Bamberger (USA) Touchstone Climbing              0.07
15 Andrea Dvorak (USA) Unattached                         0.08
16 Brooke Ourada (USA) T-Mobile                           0.42
17 Zoe Owers (USA) Team Lipton                            3.10
18 Kathleen Billington (USA) Diet Cheerwine                   
19 Rebecca Much (USA) T-Mobile                                
20 Megan Esmonde (USA) Colavita Cooking Light                 
21 Rebecca Larson (USA) Colavita Cooking Light            4.16
 
Queen of the mountains
 
1 Ina Yoko Teutenberg (T-Mobile)                            14 pts
2 Rebecca Larsen (Colavita Cooking Light)                    6
3 Laura Van Gilder (Quark)                                   5
4 Gina Grain (Victory Brewing)                               4
5 Andrea Dvorak (Unattached)                                 2
6 Lauren Franges (Victory Brewing)                           2
7 Candice Blickem (Quark)                                    1
8 Lara Kriepsch (T-Mobile)                                   1

Past winners
Men
 
2004 Gordon McCauley (Monex)
2003 Charles Dionne (Can) Saturn
 
Women
 
2004 Laura Van Gilder (Genesis Scuba/FFCC)
2003 Lynn Gaggioli (USA) Velo-Bella