San Dimas Stage Race - NE
California, USA, March 18-20, 2005
Main Page Results Previous Stage Next Stage
Stage 2 - March 19: Incycle/Cannondale Road Race, 56/98 miles
Health Net takes road stage and keeps top three overall
Breakaway limits time bonus damage potential
by Mark Zalewski
Team Health Net
Photo ©: Mitch Clinton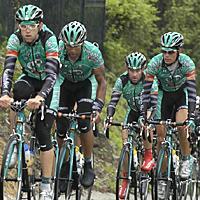 Health Net continued its domination over the San Dimas Stage Race today with a field sprint win by Canadian Gord Fraser. The field sprint means that Health Net still owns the top three spots on the overall leader board, after a sweep of the top four places in yesterday's time trial. However, the large amount of time bonuses available, a whopping one and a half minutes, meant that the team had to be vigilant all day guarding the sprints.
"There were a ridiculous amount of time bonuses today," said Health Net director Jeff Corbett. "And when you have first through fourth place, nobody is going to lift a finger to help you."
Luckily, a three-man break led for most of the day, gaining upwards of four minutes on the field -- a strategy that played into Health Net's favor by effectively neutralizing the time bonuses. "We didn't have anybody in the break, so we let it run for a while, eating the time bonuses," said Corbett. "We didn't really start chasing until three laps to go. The three made a good run, but they just didn't have enough in the break."
"Last year they didn't have any time bonuses -- to go to the other extreme is uncommon," said stage winner Gord Fraser. "Chasing time bonuses for me is a bummer because to do that much work would usually mean sacrifice winning the stage for me. But it was a surprise today [having the break] -- I owe it to my teammates who rode on the front from the first mile."
But riding a team time trial on the front all day took it's toll on Health Net, who were unable to organize a lead out for Fraser. "I didn't have any lead out, so I had to revert back to survival 101 skills as a sprinter. Fortunately I was able to find a hole when I needed to."
With some early season wins, it seems clear that Health Net will continue to be a top domestic team in 2005. "There are still a little chemistry issues to work out," explained Fraser. "We have some new guys getting used to being on a team of our stature, and it's going to take time. But so far so good!" It is also clear that Gord Fraser hasn't lost any of his speed. "This is my plan every year -- to come out and win races. It's nothing new for me."
Photography
For a thumbnail gallery of these images, click here
Images by Mitch Clinton/www.clintonphoto.com
Images by Steve Cohen
Results
Men
 
1 Gord Fraser (Health Net/Maxxis)                     3.54.12
2 Ben Brooks (JellyBelly/Poolgel)                            
3 Karl Menzies (Advantage Benefits Endeavour)                
4 Cory Lange (Symmetrics Cycling)                            
5 Juan Haedo (Colavita Olive Oil/Sutter Home)                
6 Lucas Euser (Webcor Builders Cycling Team)                 
7 Caleb Manion (JellyBelly/Poolgel)                          
8 Josh Horowitz (Kahala LaGrange)                            
9 Geoff Rapaport (McGuire Langdale)                          
10 Alex Candeloria (JellyBelly/Poolgel)                      
11 Billy Innes (GS Lombardi Sports)                          
12 Bernard Van Ulden (Webcor Builders Cycling Team)          
13 Ben Haldeman (Webcor Builders Cycling Team)               
14 Eric Wohlberg (Symmetrics Cycling)                        
15 Chris Wherry (Health Net/Maxxis)                          
16 Brain Sheedy (Advantage Benefits Endeavour)               
17 Todd Herriott (Colavita Olive Oil/Sutter Home)            
18 Dominque Perras (Kodak Gamery/Sierra Nevada)              
19 John Lieswyn (Health Net/Maxxis)                          
20 Mark Mccormack (Colavita Olive Oil/Sutter Home)           
21 Will Routley (Symmetrics Cycling)                         
22 Mike Jones (Health Net/Maxxis)                            
23 Scott Moninger (Health Net/Maxxis)                        
24 Neil Shirley (Seasilver)                                  
25 Danny Pate (JellyBelly/Poolgel)                       0.08
26 Gustavo Artacho (Colavita Olive Oil/Sutter Home)      0.13
27 Adam Switters (Lombardi Sports)                       0.19
28 Ryan Yee (Seasilver)                                      
29 Philip Wong (Fiordifrutta)                                
30 Brent Bookwalter (Advantage Benefits Endeavour)           
31 Frank Pipp (Advantage Benefits Endeavour)                 
32 Mati Rice (JellyBelly/Poolgel)                            
33 Chad Beyer (Team 5280)                                    
34 Cameron Brenneman (Kahala-LaGrange)                       
35 Tyler Wren (Colavita Olive Oil/Sutter Home)               
36 Michael Sayers (Health Net/Maxxis)                        
37 Erik Saunders (McGuire Langdale)                          
38 Michael Dietrich (Fiordifrutta)                           
39 Joshua Dillon (Louis Garneau Racing)                      
40 James Mattis (Webcor Builders Cycling Team)               
41 Davide Frattini (Colavita Olive Oil/Sutter Home)          
42 Rob Alvarez (Landis/Trex/VW)                              
43 Eddy Hilger (Advantage Benefits Endeavour)                
44 Darby Thomas (Onion River Sports)                         
45 Luke Stockwell (Lifecycle Cycling CLub)                   
46 John Kelly (Webcor Builders Cycling Team)                 
47 Curtis Gunn (Seasilver)                               0.41
48 Ryan Lane (Kahala-LaGrange)                               
49 Peter Andersen (TEAM CARINA)                              
50 Marc Hagenlocher (Webcor Builders Cycling Team)           
51 Michael Henson (Team Cobblestone/Nature's Path)       0.48
52 Peter Lopinto (Seasilver)                                 
53 Chris Walker (Labor Power)                                
54 Lance Doherty (Team Spine)                            1.12
55 Adam Livingston (Seasilver)                           1.17
56 Andrew Touchstone (GS Lombardi Sports)                1.35
57 Doug Ollerenshaw (Health Net/Maxxis)                  1.53
58 Jeremiah Wiscovitch (Seasilver)                           
59 Caros Vargas ()                                       3.00
60 Omer Kem (Subway)                                     3.10
61 Chris Mcdonald (Karl Strauss/SDBC)                    5.24
62 Justin England (Health Net/Maxxis)                    6.33
63 Victor Ayala (Kahala-LaGrange)                            
64 Brian Dziewa (Zero Mountain/Mercy Fitness)                
65 Louie Amelburu (Paul Tracy/Labor)                         
66 Andy Brown (Team Carina)                                  
67 Daniel Ramsey (Seasilver)                                 
68 Andrew Pinfold (Symmetrics Cycling)                       
69 Ivan Dominquez (Health Net/Maxxis)                        
70 Marsh Cooper (Symmetrics Cycling)                         
71 Dan Schmatz (Seasilver)                               8.29
72 Randall Coxworth (Karl Strauss/SDBC)                  8.55
73 Dario Falquier (Webcor Builders Cycling Team)             
74 Keith Miller (Lombardi Sports)                            
75 Jake Erker (Symmetrics Cycling)                      17.10
76 Svein Tuft (Symmetrics Cycling)                           
77 Brice Jones (JellyBelly/Poolgel)                          
78 Kayle Leogrande (JellyBelly/Poolgel)                 17.17
79 Ryan Blickem (Landis/Trex/VW)                        17.44
80 Brian Lemke (Landis/Trex/VW)                         19.24
81 Jose Quintero (Ranchos)                                   
82 David Reid (Landis/Trex/VW)                          20.19
83 Dean Laberge (g.s. lombardi sports)                  22.27
84 Joshua Gewirtz (Fiordifrutta)                        24.29
88 Dan Timmerman (Fiordifrutta)                              
DNF Chris Daggs (Karl Strauss/SDBC)                          
DNF Ryan Mckenzie (Subway Pro Cycling Team)                  
DNF David Sommerville (Ideal Tile Brielle Cyclery - Y)       
DNF Kyle Barbary (Team Spine)                                
DNF Justin Deschila (Landis/Trex/VW)                         
DNF Tim Carolaw (Landis/Trex/VW)                             
DNF Cody Powell (NERAC.COM)                                  
DNF Ben Stafford (Webcor Builders Cycling Team)              
DNF Edgar Yepez (Team Dare)                                  
DNF Nick Onate (Karl Strauss/SDBC)                           
DNF Aaron Quesnell (Karl Strauss/SDBC)                       
DNF Kevin Vanes (Subway Pro Cycling Team)                    
DNF Todd Cornelius (Subway Pro Cycling Team)                 
DNF Cameron Hughes (Subway Pro Cycling TEam)                 
DNF David Richter (Subway Pro cycling Team)                  
DNF Jeff Prinz (Karl Strauss/SDBC)                           
DNF Mario Aledia (LOS GATOS, CA USA)                         
DNF Peter Femal (Subway Pro Cycling Team)                    
DNF Scott Blanchard (Eclipse Racing)                         
DNF Rigoberto Meza (Team Dare)                               
DNF Ted Huang (Webcor Builders Cycling Team)                 
DNF Kevin Attkisson (Texas Roadhouse Cycling)                
DNF Bart Fidelus (TEAM RANCHOS)                              
DNF David Harward (Canyon Squadra Elite)                     
DNF Aaron Olson (Colavita Olive Oil/Sutter Home)             
DNF Burke Swindlehurst (Seasilver)                           
DNF Derek Wilkerson (Colavita Olive Oil/Sutter Home)         
DNF David Gustafson (Team Carina)                            
DNF Charles Dionne (Webcor Builders Cycling Team)            
DNF Jake Rytlewski (Advantage Benefits Endeavour)            
DNF Garrett Peltonen (Advantage Benefits Endeavour)          
DNF Graham Howard (Advantage Benefits Endeavour)             
DNF Michael Anderson (Team Carina)                           
DNS Jason Bausch (Seasilver)                                 
DNS Skiles Keith (texas roadhouse)                           
DNS Remi Mcmanus (Subway Pro Cycling Team)                   
DNS Migal Meza (Team Dare)                                   
DNS Nick Reistead (Advantage Benefits Endeavour)             
DNS Chris Spence (Private Member(None))                      
 
Women
 
1 Erinne Willock (Webcor Builders Cycling Team)       2.34.36
2 Tina Pic (Quark Cycling Team)                          0.19
3 Magen Long (The Bicycle Store)                             
4 Genevieve Jeanson (Rona-Colnago)                           
5 Laura Yoisten (TEAM DIET CHEERWINE)                        
6 Dotsie Cowden (Colavita/Cooking Light Women's)             
7 Annette Beutler (Quark Cycling Team)                       
8 Gina Grain (Victory Brewing Cycling Team)                  
9 Sarah Tillotson (ABD Cycling Team)                         
10 Brenda Lyons (Velo Bella)                                 
11 Rhonda Stickle (Team Diet Cheerwine)                      
12 Michelle Beltran (Colavita/Cooking Light Women's)         
13 Betsy Bloom-Galenti (Bicycle John's Serious Cycling)      
14 Amy Moore (Victory Brewing Cycling Team)                  
15 Christine Thorburn (Webcor Builders Cycling Team)         
16 Kele Hulser (Ford-Basis)                                  
17 Kim Anderson (Colavita/Cooking Light Women's)             
18 Nichole Wangsgard (Express Racing)                        
19 Yukie Nakamura (Webcor Builders Cycling Team)             
20 Betina Hold (Webcor Builders Cycling Team)                
21 Gabriela Gonzalez-Ferrat (Velo Bella)                     
22 Kristin Armstrong (T-Mobile)                              
23 Lauren Franges (Victory Brewing Cycling Team)             
24 Kimberly Baldwin (T-Mobile)                               
25 Julia Whiteside (Paramount Racing)                        
26 Kate Sherwin (Victory Brewing Cycling Team)               
27 Lisa Hunt (The Olympic Club)                              
28 Kelly Benjamin (ABD Cycling Team)                         
29 Lynn Gaggioli (Monex)                                     
30 Sima Trapp (Subway Pro Cycling Team)                      
31 Kirsten Robbins (Victory Brewing Cycling Team)            
32 Cindy Carroll (Dewars Racing Team)                        
33 Grace Fleury (Quark Cycling Team)                         
34 Melissa Sanborn (Subway Pro Cycling Team)                 
35 Stefanie Graeter (Webcor Builders Cycling Team)           
36 Jill Mclaughlin (Velo Bella)                              
37 Sandy Espeseth (Victory Brewing Cycling Team)             
38 Leigh Hobson (Diet Cheerwine)                             
39 Kristin Danielson (Ford-Basis)                            
40 Katheryn Curi (Webcor Builders Cycling Team)              
41 Megan Esmonde (Colavita/Cooking Light Women's)            
42 Liza Rachetto (Subway Pro Cycling Team)               0.29
43 Laura Van Gilder (Quark Cycling Team)                 0.32
44 Helen Kelly (Quark Cycling Team)                          
45 Dolly Ginter (radsport)                               0.55
46 Elizabeth Begosh (Velo Bella)                             
47 Melodie Metzger (VeloBella)                               
48 Jennifer Chapman (Velo Bella)                         3.46
49 Candice Blickem (Quark Cycling Team)                  4.06
50 Chrissy Ruiter (Ford-Basis)                           5.06
51 Darcie Murphy (Ogden One Cycling Club)                    
52 Lara Kroepsch (T-Mobile)                                  
53 Anna Milkowski (CRCA)                                 7.06
54 Carolyn Donnelly (Landis/Trek/VW)                         
55 Jennifer Gersbach (Colorado Premier Training)         9.29
56 Melinda Johnson (Paramount Racing)                   14.03
57 Maria Bello (BorCal Velo/Hammergel)                       
58 Lana Atchley (Paramount Racing)                           
59 Cynthia Mommsen (The Olympic Club)                        
60 Crystal Yap (Subway Pro Cycling Team)                     
61 Juliane Mortello (Landis/Trek/VW)                         
62 Jennifer Reither (Bicycle John's Serious Cycling)         
63 Brooke Ourada (T-Mobile)                                  
64 Carol Neal (Paramount Racing)                             
65 Ashlee Zimmer (Eastside Cycles/Marin)                     
66 Jennifer Wilson (Amgen)                              16.04
67 Aimee Vasse (Velo Bella)                             16.14
68 Maegan Daigler (Colorado Premier Training)           16.32
69 Lea Adams ()                                         18.57
70 Allison Carter (team kenda tire)                     19.21
71 Dorothy Wong (Bicycle John's Serious Cycling)             
72 Lauren Trull (Team Diet Cheerwine)                        
73 Tara Ross (Team Diet Cheerwine)                           
74 Laura Perdew (Firestone/Griffen)                          
75 Kara Vidaca (Bicycle John's Serious Cycling)              
DNF Jennifer Stern (Team Kenda Tire)                         
DNF Merrill Sapp (Landis/Trek/VW)                            
DNF Summer Calder (Velo Bella)                               
DNF Alisha Lion (Ford-Basis)                                 
DNF Erin Kassoy (Velo Bella)                                 
DNF Audrey Lemieux (Quark Cycling Team)                      
DNF Julie Belanger (Diet Cheerwine)                          
DNF Maggie Williams (Landis/Trek/Vw)                         
DNF Jill Gass (Firestone/Griffen)                            
DNF Sandra Kolb (Bicycle John's Serious Cycling)             
DNF Carla Figueroa (Paramount Racing)                        
DNF Claire House (NorCal Velo)                               
DNF Laurel Green (Bay Area Velo Girls)                       
DNF Kirsten Kotval (Ogden One/Heartstrings)                  
DNF Lori Alvarez (Santa Cruz Spokesman Women's)              
DNF Rebecca Much (T-Mobile)                                  
DNF Jennifer Franklin (Bicycle John's Serious Cycling)       
DNF Irene Thomas-Johnson (Bicycle John's Serious Cycling)    
DNF Katheryn Patterson (Team Carina)                         
DNS Jamie Crawford (Santa Cruz Spokesman)                    
DNS Kristen Lasasso (CRCA/LIPTON)                            
DNS Martina Patella (Colorado Premier Training)