60th Giro Della Provincia Di Reggio Calabria - 1.1
Italy, March 28, 2005
2004 Results Results Past winners
Panaria says Bongiorno
Ruben Bongiorno (Ceramica Panaria)
Photo ©: Fotoreporter Sirotti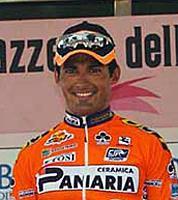 Argentinean Guillermo Ruben Bongiorno (Ceramica Panaria) has won the 60th edition of the Giro Della Provincia Di Reggio Calabria in a bunch sprint, beating Lampre's Samuele Marzoli and Miche's Fabio Borghesi in the dash for the line.
The 60th edition of the Giro Della Provincia Di Reggio Calabria left Da Palmi at 11:00, with a small field of only 77 riders. Massimo Mazzanti, Massimiliano Martella and Scott Davis didn't start. The first attack was made at km 4 by Mariano Giallorenzo (Colombia - Selle Italia), who gained 20 seconds before he was recaptured at km 15. On the Passo del Mercante (km 32), Pasquale Muto (Miche) attacked and was successful.
Over the next 10 km, the Italian gained 3'40, and by km 72, his lead had grown to a maximum of 5'06. The peloton began to wake up, courtesy of Panaria, and after 100 km of racing, Muto was back to 3'50 in front. Panaria rode a steady tempo for the next 40 km, picking up another 2 minutes on the leader. But when Cunego's Lampre-Caffita squad and Androni Giocattoli-3C joined the chase, the pace picked up even further and Muto came back after 152 km, 120 of which he had spent alone in front.
Claudio Astolfi (Acqua & Sapone) was the next to try his hand, attacking with 17 km to go to gain a maximum lead of 15 seconds before being caught with 8 km to go. Attacks and counter-attacks flew in the final kilometres, but the sprinters teams kept it together for a bunch sprint. Guillermo Ruben Bongiorno proved to be the quickest in the sprint, beating Marzoli and Borghesi on the line.
Photography
For a thumbnail gallery of these images, click here
Images by Fotoreporter Sirotti
Results - 172 km
1 Guillermo Ruben Bongiorno (Arg) Ceramica Panaria        4.29.16 (38.32 km/h)
2 Samuele Marzoli (Ita) Lampre - Caffita
3 Fabio Borghesi (Ita) Miche

4 Giuseppe Palumbo (Ita) Acqua & Sapone - Adria Mobil        
5 Artur Krzeszowiec (Pol) Amore & Vita - Beretta - Polska    
6 Daniele Pietropolli (Ita) Tenax                            
7 Moreno Di Biase (Ita) Colombia - Selle Italia              
8 Stefano Guerrini (Ita) Ceramica Flaminia                   
9 Dmitri Konyshev (Rus) Team LPR                             
10 Luca De Angeli (Ita) Colombia - Selle Italia              
11 Krzysztof Szczawinski (Pol) Ceramica Flaminia             
12 Massimiliano Gentili (Ita) Naturino - Sapore di Mare      
13 Marco Marcato (Ita) Team Androni Giocattoli               
14 Raffaele Illiano (Ita) Colombia - Selle Italia            
15 Leonardo Caneschi (Ita) Miche                             

Courtesy of Alberto Milotti



Past winners
2004 Andris Nauduzs (Lat) Domina Vacanze                    
2003 Aitor Gonzalez Jimenez (Spa) Fassa Bortolo
1998 (2) Michele Bartoli (Ita)
1996 Michele Bartoli (Ita)
1993 (2) Andrea Ferrigato (Ita)
1992 Davide Cassani (Ita)
1991 Andrea Ferrigato (Ita)
1990 Giuseppe Saronni (Ita)
1989 Adriano Baffi (Ita)
1988 Moreno Argentin (Ita)
1987 Tony Rominger (Swi)
1986 Guido Bontempi (Ita)
1985 Silvano Ricco (Ita)
1984 Alfredo Chinetti (Ita)
1983 Pierino Gavazzi (Ita)
1982 Ricardo Magrini (Ita)
1981 Alfio Vandi (Ita)
1980 Gianbattista Baronchelli (Ita)
1979 Giovanni Battaglin (Ita)
1978 Knut Knudsen (Nor)
1977 Costante Conti (Ita)
1976 Enrico Paolini (Ita)
1975 Giuseppe Perletto (Ita)
1974 Francesco Moser (Ita)
1973 Wladimiro Panizza (Ita)
1972 Franco Bitossi (Ita)
1971 Gianni Motta (Ita)
1970 Walter Godefroot (Bel)
1969 Vittorio Adorni (Ita)
1968 (3) Michele Dancelli (Ita)
1967 (2) Michele Dancelli (Ita)
1966 Michele Dancelli (Ita)
1965 Adriano Durante (Ita)
1964 Diego Ronchini (Ita)
1963 Ercole Baldini (Ita)
1962 Luigi Sarti (Ita)
1961 Dino Bruni (Ita)
1960 Guido Carlesi (Ita)
1959 Waldemaro Bartolozzi (Ita)
1958 Angelo Conterno (Ita)
1957 Gastone Nencini (Ita)
1956 (2) Giuseppe Minardi (Ita)
1955 Rino Benedetti (Ita)
1954 Giuseppe Minardi (Ita)
1953 (2) Luciano Maggini (Ita)
1952 Gino Bartali (Ita)
1951 Luciano Maggini (Ita)
1950 Fausto Coppi (Ita)
1949 Sergio Pagliazzi (Ita)
1945 Giovanni Corrieri (Ita)
1931 Learco Guerra (Ita)
1930 Luidi Marchisio (Ita)
1929 (2) Felice Gremo (Ita)
1928 Felice Gremo (Ita)
1926 (2) Nello Ciaccheri (Ita)
1923 Nello Ciaccheri (Ita)
1922 Angelo De Francesco (Ita)
1920 Mario Giorgianni (Ita)
Past winners by Mario Stiehl, www.world-of-cycling.com