Recently on Cyclingnews.com
60th Nokere Koerse - 1.1
Belgium, March 16, 2005
2004 Results Results Past winners
De Jongh too powerful in Nokere
Steven De Jongh & Rory Sutherland
Photo ©: Bart Hazen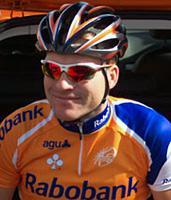 Dutchman Steven de Jongh (Rabobank) has continued Rabobank's winning run of late by taking out the 60th edition of the Nokere Koerse, which was raced in fine Belgian spring weather. De Jongh beat Igor Abakoumov (Jartazi Granville Team) and Geert Omloop (MrBookmaker.com-SportsTech) in the uphill, cobbled finish, and had plenty of time to celebrate his victory.
"During the race it was never easy," said De Jongh afterwards. "I came out of Paris-Nice with a light cold and I felt that a bit during the race. I had to spare my strength. It wasn't really easy in this race with the wind and eleven times up the Nokereberg. But apparently I had some breath to spare during the finale because of that caution. On the last lap, I was immediately in the deciding breakaway. At 300 metres to go, I started the sprint. When I looked back with 50 metres to go, I saw that I had 20 metres gap and so the first win of the season is done."
The race started in Oudenaarde with 185 riders. In the big opening lap, a group of 18, including Ludo Dierckxsens, tried to get clear, but failed. On the first of the 10 finishing laps, there was an attack by Mickael Delage (Francaise des Jeux), Rémy Di Grégorio (Française des Jeux), Bastiaan Giling (T-Mobile), Niels Scheuneman (Rabobank), Kurt Hovelynck (Chocolade Jacques), Bert Roesems (Davitamon-Lotto), Christophe Edaleine (Cofidis), Ludo Dierckxsens (Landbouwkrediet-Colnago), Christian Knees (Wiesenhof), Rudi Kemna (Shimano-Memory Corp), Kirk O'Bee (Navigators), Christoph Von Kleinsorgen (Lamonta) and Jos Lucassen (AXA). The group managed to gain 45 seconds on the second lap, but was hauled in on lap 3.
The breakaway
Photo ©: Bart Hazen

The next counter-attack was more decisive, as Frédéric Amorison and Björn Leukemans (Davitamon - Lotto), Marcus Burghardt (T-Mobile), Niels Scheuneman (Rabobank), Maxime Monfort (Landbouwkrediet-Colnago) and Eddy Seigneur (R.A.G.T Semences) got clear, and gained 1'30 by the fourth lap. In the fifth and sixth laps, their advantage grew to a maximum of 4'30 before Chocolade Jacques started the chase. On the eighth lap, the gap was just 50 seconds despite an attack by Scheuneman, it came back together at the end of the lap.
The last lap saw the winning move go clear, with some 20 riders getting away and most of the major teams represented. In the sprint, De Jongh was far too strong for Abakoumov and Omloop, and signaled himself as a contender for the upcoming Flemish classics.
Photography
For a thumbnail gallery of these images, click here
Images by Bart Hazen/www.cyclingfx.nl
Results - 193 km
1 Steven De Jongh (Ned) Rabobank                                   4.29.00 (43.85 km/h)
2 Igor Abakoumov (Bel) Jartazi Granville Team                             
3 Geert Omloop (Bel) MrBookmaker.com - SportsTech                         
4 Eric Baumann (Ger) T-Mobile                                             
5 Mark Walters (Can) Navigators Insurance Cycling Team                    
6 Steffen Radochla (Ger) Wiesenhof                                        
7 Matthé Pronk (Ned) MrBookmaker.com - SportsTech                         
8 Bert De Waele (Bel) Landbouwkrediet - Colnago                           
9 Sergey Lagutin (Uzb) Landbouwkrediet - Colnago                          
10 Bert Roesems (Bel) Davitamon - Lotto                                   
11 Koen Barbé (Bel) Chocolade Jacques - T Interim                         
12 Christoph Von Kleinsorgen (Ger) Lamonta                                
13 Paul Van Schalen (Ned) AXA                                             
14 Arnaud Coyot (Fra) Cofidis - Le Crédit par Téléphone                   
15 Joost Van Leijen (Ned) Van Vliet - EBH Advocaten                       
16 Marco Bos (Ned) Shimano - Memory Corp                                  
17 Thorwald Veneberg (Ned) Rabobank                                   0.10
18 André Greipel (Ger) Wiesenhof                                      0.14
19 Jos Pronk (Ned) Eurogifts.com                                      0.18
20 Kristof De Zutter (Bel) Bodysol- Win for Life - Jong Vlaanderen    0.56
21 Staf Scheirlinckx (Bel) Cofidis - Le Crédit par Téléphone              
22 David Boucher (Fra) MrBookmaker.com - SportsTech                       
23 Marcel Sieberg (Ger) Lamonta                                       1.06
24 Peter Farazijn (Bel) Cofidis - Le Crédit par Téléphone             1.19
25 Martin Müller (Ger) Wiesenhof                                          
26 Peter Ronsse (Bel) Jartazi Granville Team                          1.39
27 Hamish Haynes (Gbr) Cyclingnews.com                                1.47
28 Nick Ingels (Bel) Bodysol- Win for Life - Jong Vlaanderen          1.52
29 Thierry De Groote (Bel) Landbouwkrediet - Colnago                  2.12
30 Jos Lucassen (Ned) AXA                                             2.19
31 Olivier Kaisen (Bel) R.A.G.T Semences                              2.40
32 Peter Möhlmann (Ned) AXA                                           2.53
33 Sjef De Wilde (Bel) Bodysol- Win for Life - Jong Vlaanderen            
34 Martyn Maaskant (Ned) Van Vliet - EBH Advocaten                        
35 Kurt Hovelynck (Bel) Chocolade Jacques - T Interim                     
36 Hilton Clarke (Aus) Navigators Insurance Cycling Team                  
37 Pieter Weening (Ned) Rabobank                                          
38 Bastiaan Giling (Ned) T-Mobile                                         
39 Jeroen Van Rij (Bel) Bodysol- Win for Life - Jong Vlaanderen           
40 Wim De Vocht (Bel) Davitamon - Lotto                                   
41 Cameron Jennings (Aus) Team Cyclingnews.com                            
42 Robert Retschke (Ger) ComNet - Senges                                  
43 Rory Sutherland (Aus) Rabobank                                         
44 Bert Scheirlinckx (Bel) Flanders                                       
45 Mickael Delage (Fra) Française des Jeux                                
46 Christophe Mengin (Fra) Française des Jeux                             
47 Jose Antonio Garrido (Spa)                                             
48 Dimitri De Fauw (Bel) Quickstep                                        
49 Arnaud Gérard (Fra) Française des Jeux                                 
50 Pascal Hermes (Ned) AXA                                                
51 Rémy Di Grégorio (Fra) Française des Jeux                              
52 Christian Knees (Ger) Wiesenhof                                        
53 Erwin Thijs (Bel) MrBookmaker.com - SportsTech                         
54 Sam Van Rooy (Bel) Bodysol- Win for Life - Jong Vlaanderen             
55 Frank Dressler (Ger) ComNet - Senges                                   
56 Stefan Cohnen (Ned) Lamonta                                            
57 Theo Eltink (Ned) Rabobank                                             
58 Sven Nevens (Bel) Amuzza.com-Davo                                      
59 Johan Svensson (Swe) Jartazi Granville Team                            
60 Maarten Wijnants (Bel) Chocolade Jacques - T Interim                   
61 Bart Dockx (Bel) Davitamon - Lotto                                     
62 Piet Rooijakkers (Ned) AXA                                             
63 Gorik Gardeyn (Bel) MrBookmaker.com - SportsTech                       
64 Elnathan Heizmann (Ger) ComNet - Senges                                
65 Ronny Poelvoorde (Bel)                                                 
66 Niels Scheuneman (Ned) Rabobank                                        
67 Raimondas Vilcinskas (Ltu) Jartazi Granville Team                      
68 Robby Meul (Bel) Jartazi Granville Team                                
69 Stefan Van Dijk (Ned) MrBookmaker.com - SportsTech                     
70 Bernhard Kohl (Aut) T-Mobile                                           
71 Christophe Edaleine (Fra) Cofidis - Le Crédit par Téléphone            
72 Kristof Trouve (Bel) MrBookmaker.com - SportsTech                      
73 Kirk O'Bee (USA) Navigators Insurance Cycling Team                     
74 Jeff Louder (USA) Navigators Insurance Cycling Team                    
75 Glenn D'Hollander (Bel) Landbouwkrediet - Colnago                      
76 Steven De Neef (Bel) Bodysol- Win for Life - Jong Vlaanderen           
77 Preben Van Hecke (Bel) Davitamon - Lotto                               
78 Frederik Willems (Bel) Chocolade Jacques - T Interim                   
79 Cyrille Monnerais (Fra) Française des Jeux                             
80 Ludo Dierckxsens (Bel) Landbouwkrediet - Colnago                       
81 Sébastien Minard (Fra) R.A.G.T Semences                                
82 Mathieu Claude (Fra) Bouygues Telecom                                  
83 Lilian Jégou (Fra) Française des Jeux                                  
84 Yohann Gène (Fra) Bouygues Telecom                                     
85 Christophe Kern (Fra) Bouygues Telecom                                 
86 Christophe Stevens (Bel) Skil Moser                                    
87 Wouter Mol (Ned) Skil Moser                                            
88 Nick Gates (Aus) Davitamon - Lotto                                     
89 Peter Mazur (Pol) Skil Moser                                           
90 Kevin Van Impe (Bel) Chocolade Jacques - T Interim                     
91 Jehudi Schoonacker (Bel) Skil Moser                                    
92 Björn Leukemans (Bel) Davitamon - Lotto                                
93 Jeremy Hunt (GBr) MrBookmaker.com - SportsTech                         
94 Pieter Ghyllebert (Bel) Chocolade Jacques - T Interim                  


Past winners
           1st                     2nd                      3rd
2004  Max Van Heeswijk (Ned)  Rudi Kemna (Ned)        Jo Planckaert (Bel)

2003  Matthé Pronk (Ned)      Magnus Backstedt (Swe)  Hendrik Van Dijck (Bel)
2002  Aurélien Clerc (Swi)    Jans Koerts (Ned)       Steven De Jongh (Ned)
2001  Michel Van Haecke       Bart Voskamp (Ned)      Nico Eeckhout (Bel)
2000  Hendrik Van Dyck        Nico Mattan             Jan Koerts (Ned)
1999  Jeroen Blijlevens       Michel Van Haecke       Wielfried Cretskens 
1998  Scott Sunderland (Aus)  Leon Van Bon (Ned)      Chris Peers
1997  Hendrik Van Dyck        Wim Feys                Bart Voskamp (Ned)
1996  Hendrik Van Dyck        Jelle Nydam (Ned)       Michel Cornelisse (Ned)
1995  Jo Planckaert           Michel Vermote          Geert Van Bondt
1994  Peter De Clercq         Michel Cornelisse       Chris Peers
1993  Michel Cornelisse (Ned) Jan Bogaert             Mario De Clercq 
1992  Johan Capiot            Peter De Clercq         Benjamin Van Itterbeeck
1991  Koen Van Rooy           Johan Capiot            Martin Koekelhoren (Ned)
1990  Herman Frison           Roger Vandenbossche     Filip Van Vooren
1989  Rik Van Slycke          André Mierzejewski      Peter Spanhoven
1988  Patrick Versluys        Yves Godimus            Danny Janssens
1987  Etienne De Wilde        Francky Van Oyen        Ludo Giesberts
1986  Luc Colyn               Jan Van Camp            Rony Van Holen
1985  Didier Foubert          Patrick Versluys        Jan Bogaert
1984  Jan Bogaert             Patrick Versluys        Eric Stevens
1983  Walter Schoonjans       Patrick Cocquyt         Gerald Veldschoten (Ned)
1982  William Tackaert        Ludo De Keulenaer       Rudi Matthys
1981  Gerrit Knetemann (Ned)  Herman Van Springel     Claude Criquelion
1980  Jos Van De Poel         Johan Vandevelde (Ned)  Paul Jesson (NZl)
1979  Hendrik De Vos          William Tackaert        Tony Houbrechts
1978  Gustaaf Van Roosbroeck  Jan Aling (Ned)         Jos Jacobs
1977  Frans Van Looy          Gerrit Knetemann (Ned)  Roberto Cerieto (Ita)
1976  Luc Leman               Lucien De Brauwere      Geert Malfait
1975  Marc De Meyer           Willy Teirlinck         Jan Raas (Ned)
1974  Freddy Maertens         Pierrino Gavazzi (Ita)  Ronald De Witte
1973  Noël Van Tieghem        Claude Magni (Ita       Gerard Vianen (Ned)
1972  Tony Houbrechts         Rony Van Marcke         Willy Planckaert
1971  Herman Van Springel     Eric Leman              Maurice Eyers
1970  Andre Dierick           Patrick Sercu           Bernard Van De Kerkhove 
1969  Roger Rosiers           Frans Mintjes           Michel Jacquemin
1968  Frans Brands            Roger Cooreman          Michel Jacquemin
1967  Walter Godefroot        Jacques De Boever       Roger Blockx 
1966  Jacques De Boever       Oswald De Clercq        Reindert De Jongh (Ned)
1965  Arthuur De Cabooter     Jos Mathy               Gustaaf De Smet
1964  Robert De Middeleir     Leon Van Daele          André Noyelle
1963  Frans De Mulder         Daniël Doom             Norbert Kerckbove
1961  Leon Van Daele          Jozef Vloeberghs        Gilbert Maes
1960  Gilbert De Smet         Louis Troonbeeckx       Pol Rosseel
1959  No race
1958  Arthuur De Cabooter     Gilbert Desmet          Julien Schepens
1957  André Aucquier          Pino Cerami             Francis Kemplaire
1956  Marcel Ryckaert         Roger Declerck          Lucien Mathijs
1955  Jozef Schils            Briek Schotte           Henri Denijs
1954  Jan Zagers              Roger Decock            Roger Desmet
1953  Baziel Wambeke          Rik Jochums             Julien Pascal
1952  Wim Van Est             André Pieters           Rafaël Jonckheere
1951  Gerard Buyl             Maurice Blomme          Valeer