6th Classic Loire Atlantique - 1.2
France, March 18, 2005
2004 Results Results Past winners
Former Euskaltel star makes Agritubel happy
By Jean-François Quénet in Basse-Goulaines
The final podium:
Photo ©: JF Quenet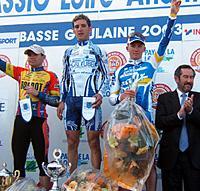 Remember the man who beat no less than Lance Armstrong in the Critérium International three years ago? At the time, Alberto Martinez was an up and coming talent riding for his local team Euskaltel. After a quiet year with Relax, he's back in the country where he got most of his results: with the new division 2 team Agritubel whose owner is also originally from Spain - that's why Sir José Fornes wanted a Spaniard in the squad. "They have offered me the opportunity to give a new start to my career and I'm happy to thank them with a victory," Martinez said after winning the 6th Classic Loire-Atlantique.
The weather was beautiful with no wind in the west part of the Loire valley, thus it was difficult for a breakaway to succeed. The only one that managed to get more than one minute lead was formed by Eddy Seigneur (RAGT), Timothée Lefrançois (U Nantes-Atlantique), Gaylord Cumont (Oddass-Diemme), Evgeny Sokolov (Omnibike), Noan Lelarge (Bretagne-Jean Floc'h) and Sylvain Cheval (Côtes d'Armor-Maître Jacques). They took off with 48km to go and got caught with 10 to go. "There were 8km remaining when I tried to go alone," Martinez said. His directeur sportif Denis Leproux, who was a professional with Z in the late 80s and again with BigMat in the late 90s after a 10 years break as an amateur, was confident: "I knew about Alberto's abilities as a time triallist, it gave us a good chance of winning."
Ag2r was the main team chasing during the last 50km - not to say the only team chasing. "Unfortunately we never caught Martinez and he deserves his win," Alexandre Usov, 3rd, commented. Ag2r still hasn't taken its first win this year, meanwhile Agritubel has scored three in a row in the 1.2 category, with Florent Brard claiming the Monts du Lubéron and Paris-Troyes during Paris-Nice. "We still hope for a Tour de France wild card," Martinez added, although it looks unlikely that ASO will invite a 22nd team in addition to the 20 Pro Teams and Ag2r.
Alexandre Usov
Photo ©: JF Quenet

Martinez is right on time. "I had planned to be on top for the Critérium International again," he said. "I hope to do well again in one week time. I've won this race before and I'm highly motivated again."
Another Spaniard with the same first name, also 30 this year, paired with Martinez on the podium: Alberto Benito from Portuguese team Barbot-Pascoal is also a former big hope of a big team, as he used to win sprints for Banesto. With the first Frenchman, Alexandre Pichot of Bouygues Telecom's feeder team Vendée U, lying 7th, the Classic Loire-Atlantique was very international this year.
Photography
For a thumbnail gallery of these images, click here
Images by Jean-Francois Quenet
Results - 173 km
1 Alberto Martinez (Spa)  Agritubel                    3.54.50 (44.2 km/h)
2 Alberto Benito (Spa) Barbot-Pascoal                     0.12
3 Alexandre Usov (Blr) AG2r Prévoyance                         
4 John Nilsson (Swe) Auber 93                                  
5 Roman Luhovyy (Ukr) R.A.G.T Semences                         
6 Igor Abakoumov (Bel) Jartazi Granville Team                  
7 Alexandre Pichot (Fra) Vendée U                             
8 Jonas Holmkvist (Swe) Amore & Vita - Beretta - Polska        
9 Ivan Terenin (Rus) Omnibike Dinamo Moscou                   
10 Lénaïc Olivier (Fra) Agritubel                              
11 Médéric Clain (Fra) Team Oddass-Diemme                     
12 Aivaras Baranauskas (Ltu) VC Roubaix                       
13 Mathieu Rompion (Fra) Vendée U                             
14 Serge Pauwels (Ned) Rabobank Continental                    
15 Tim Cassidy (Irl) VC La Pomme-Marseille                    
16 Tom Veelers (Ned) Rabobank Continental                      
17 Remco Van Der Ven (Ned) Rabobank Continental                
18 Julien Mazet (Fra) Auber 93                                 
19 Cyrille Noël (Fra) Côtes d'Armor-Maître Jacques            
20 Jonathan Dayus (GBr) Team U Nantes-Atlantique              
21 William Bonnet (Fra) Auber 93                               
22 Romain Paillard (Fra) Team U Nantes-Atlantique             
23 Mikhail Mikheev (Rus) Omnibike Dynamo Moscow                
24 Christophe Agnolutto (Fra) Agritubel                        
25 Mathieu Drujon (Fra) Team U Nantes-Atlantique              
26 Alexandre Cabrera (Fra) AVC Aix                            
27 Renaud Dion (Fra) R.A.G.T Semences                          
28 Jonas Ljungblad (Swe) Amore & Vita - Beretta - Polska       
29 Ludovic Poilvet (Fra) Bretagne-Jean Floc'h                  
30 Christophe Diguet (Fra) Team U Nantes-Atlantique           
31 David Tanner (Aus) VC Roubaix                              
32 Tom Leezer (Ned) Rabobank Continental                       
33 Maxim Rudenko (Ukr) Jartazi Granville Team                  
34 Eduard Vorganov (Rus) Omnibike Dynamo Moscow                
35 Takehiro Mizutani (Jpn) Bridgestone Anchor                  
36 Vytautas Kaupas (Ltu) Jartazi Granville Team                
37 Ruslan Sambris (Mda) VC La Pomme-Marseille                 
38 Freddy Ravaleu (Fra) Team Oddass-Diemme                    
39 Georges Toussaint (Fra) Team Oddass-Diemme                 
40 Celestino Pinho (Por) Barbot - Pascoal                      
41 Celestino Pinho (Por) Barbot - Pascoal                      
42 Erki Pütsep (Est) AG2r Prévoyance                           
43 Leonardo Luque (Fra) Jartazi-Revor                         
44 Tarmo Raudsepp (Est) Team U Nantes-Atlantique              
45 Julien Guay (Fra) Vendée U                                 
46 Shinichi Fukushima (Jpn) Bridgestone Anchor                 
47 Jamie Burrow (GBr) Amore & Vita - Beretta - Polska          
48 Maxim Karpatchev (Rus) Omnibike Dynamo Moscow               
49 Timothée Lefrançois (Fra) Team U Nantes-Atlantique         
50 Joel Pearson (Aus) Côtes d'Armor-Maître Jacques            
51 Bartosz Kolendo (Pol) VC La Pomme-Marseille                
52 Hubert Dupont (Fra) R.A.G.T Semences                        
53 Stef Clement (Ned) Rabobank Continental                     
54 Stéphane Barthe (Fra) Team Oddass-Diemme                   
55 Andrey Pchelkin (Rus) Omnibike Dynamo Moscow                
56 David Peribanez (Fra) Barbot-Pascoal                       
57 Sébastien Duret (Fra) Bretagne-Jean Floc'h                  
58 Darryl Impey (RSA) VC La Pomme-Marseille                   
59 Kimmo Kananen (Fin) Amore & Vita - Beretta - Polska         
60 Christophe Rinero (Fra) R.A.G.T Semences                    
61 Thijs Zonneveld (Ned) AVC Aix                              
62 Florent Brard (Fra) Agritubel                           0.26
63 Tristan Valentin (Fra) Auber 93                             
64 Antoine Perche (Fra) VC Roubaix                            
65 Vincent Jérôme (Fra) Vendée U                              
66 Simon Gerrans (Aus) AG2r Prévoyance                         
67 Sylvain Cheval (Fra) Côtes d'Armor-Maître Jacques          
68 Denis Robin (Fra) Agritubel                                 
69 Thierry David (Fra) VC La Pomme-Marseille                  
70 Fernando Sousa (Por) Barbot - Pascoal                       
71 David Bréard (Fra) Auber 93                                 
72 David Lelay (Fra) Bretagne-Jean Floc'h                      
73 Perrig Quemeneur (Fra) Vendée U                            
74 Yann Huguet (Fra) AVC Aix                                  
75 Jérôme Bouchet (Fra) VC Roubaix                            
76 Antoine Dalibard (Fra) Bretagne-Jean Floc'h                 
77 Lionel Faure (Fra) VC La Pomme-Marseille                   
78 Yasutaka Tashiro (Jpn) Bridgestone Anchor                   
79 Benoit Salmon (Fra) Agritubel                               
80 Stéphane Bergès (Fra) Agritubel                             
81 Mikhail Timochine (Rus) Omnibike Dinamo Moscou             
82 Arnaud Lesvenan (Fra) Côtes d'Armor-Maître Jacques     0.35
83 Eric Berthou (Fra) R.A.G.T Semences                         
84 Thomas Nosari (Fra) VC Roubaix                             
85 Carl Naibo (Fra) Bretagne-Jean Floc'h                       
86 Mathieu Perget (Fra) VC Roubaix                            
87 Yevgueni Sokolov (Rus) Omnibike Dinamo Moscou              
88 Gaylord Cumont (Fra) Team Oddass-Diemme                    
89 Koji Fukushima (Jpn) Bridgestone Anchor                     
90 Noan Lelarge (Fra) Bretagne-Jean Floc'h                 5.32
91 Eddy Seigneur (Fra) R.A.G.T Semences                        
92 Nicolas Crosbie (Fra) Agritubel                             


Past winners
2004 Erki Pütsep (Est) Ag2r Prévoyance 
2003 Thomas Voeckler (Fra) Brioches La Boulangère
2002 Rune Jogert (Nor)