Wells Fargo Twilight Criterium - NE
Boise, ID, USA, July 23, 2005
Insanity on Main Street
Hopkins and Teutenberg take impressive wins
Jeff Hopkins (Jittery Joe's Kalahari)
Photo ©: Kristy Scrymgeour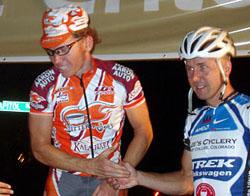 The sidewalk of downtown Boise was ten deep with screaming spectators to watch Jeff Hopkins (Jittery Joe-Kalahari) and Ina Yoko Teutenberg (T-Mobile) take out the 2005 edition of the Wells Fargo Twilight Criterium. It wasn't merely the boisterous crows that made the atmosphere insane, but the extreme number of $100 primes during the races that made for fast and furious racing.
After Cat 4, Cat 3 and Masters, Junior racing and some very entertaining kids races, the Women's event started just before dark. On the start line was two-time winner of the event Melissa Sanborn (Subway) hoping for a hat trick ride. To the surprise of no-body, it was Teutenberg who made the first attack. Without waiting for one lap to be completed, she had a gap on the field making the women's race fast from the gun.
After three laps she was caught and her teammate Brooke Ourada countered. She was quickly reeled in, opening up an opportunity for local girl Liza Rachetto to show her form. Gaining a very quick 15 seconds on the field, Rachetto looked strong and was able to hold her lead for over ten laps, with the field in full chase.
Teutenberg attacked again taking Rachel Couch (America's Dairyland) and Sanborn with her. The move died, and Teutenberg went again with Sanborn grabbing the wheel again. They caught Rachetto and things came back together. Teutenberg made yet another move, this time covered by Subway rider Crystal Howard, with Darcie Murphy (Ogden One Heartstrings) not far behind. Again this group was caught only for Rachetto to try again.
Finally the decisive move was made when Trish Palmer (America's DairyLand) attacked taking Teutenberg and another hometown rider Sima Trapp (Subway) with her. The trio opened up a convincing gap and the peloton was shut down by T-Mobile and America's Dairyland, both happy with the move. Teutenberg forced the pace with Palmer, in her first year of racing, do her best to come through for turns. Eventually Palmer lost the wheel and it was down to two.
Ina Yoko Teutenberg (T-Mobile)
Photo ©: Joe Savola
With a 30 second lead with five laps remaining and Teutenberg and Trapp working well it was obvious that one of them would take the win. With two laps to go, Teutenberg attacked and Trapp couldn't go with it. Teutenberg rode solo to her 14th victory of the year, with Trapp very happy to take second place in front of her hometown crowd.
"Ina was so strong," Trapp told Cyclingnews after the race. "It was almost surreal to be in the break with her. She was really nice to work with too but when she attacked, I just didn't have the legs."
During the race Trapp could her the crowd chanting 'Sima' the whole way around the course. "I almost wanted to give her the win," said Teutenberg after the race. "It was cool to hear the crowd behind her like that."
Sanborn took the bunch sprint for third place in from of Rachetto and was happy that her teammate got away, but not so happy about the earlier part of the race when a move with her and Teutenberg didn't go anywhere.
By the time the men's race started the crowds were even bigger and with a $100 prime on lap one the field was strung out from the gun and never slowed down. Subway made the first move and attacked solo with Jittery Joe's chasing. $100-$200 primes were given away every other lap and sometimes on consecutive laps.
With attack after attack to go for primes, the field was constantly splitting up and regrouping. Many of the teams were saving their best sprinter for the finish and sending the others out to win some money mid-race.
With ten laps to go Cameron Hughes and Kirk Willet attacked and stayed away to take a prime. Lars Erik Johnson tried to bridge but it was all brought back. With two laps to go Subway put a couple of guys on the front to start the lead out but by the next lap the full Jittery Joe's team has taken over and were flying around the course with their sprinter Hopkins tucked in.
On the final corner Eddy Gragus, already winning the masters race earlier in the night, managed to jump in front of Hopkins to take second wheel. Hopkins was able to come around him though to take his second Twilight win in three years.
"It was flat out," said Hopkins about the pace of the race. "With so many primes, it just never slowed down."
With his teammates going for the primes throughout the race, Hopkins said his job was to sit back and hide for most of the race. "This race always comes down to a bunch sprint. I knew there weren't that many fast guys out there who could beat me in a sprint, so we just went for some primes to make a bit of money and I went for the sprint."
"The boys had it strung out at the end but when Eddie jumped on the last corner he split me up from [lead out man] Evan," added Hopkins. "But I had enough juice to get around him."
With the race over, Hopkins and his team were keen to meet up with some locals and hit the very cool downtown area of Boise. "I love coming to Boise. When I won this race a couple of years ago, we had a great night out after."
Cameron Hughes and the Subway team
Photo ©: Joe Savola

Local rider Remi McManus (Subway Pro Cycling Team), only a couple of days later after his wife had their first baby, managed to pull off a 9th place, despite serious lack of sleep lately. He was disappointed after the race that his teammate was disqualified, who originally took second in the sprint, was disqualified for receiving a hand sling.
"Its just part of racing to give someone a hand sling to get back up there," he told Cyclingnews. "He got caught behind someone who left a gap open, so we slung him back up there."
Aside from that McManus was disappointed that he couldn't get himself up for the win in front of a home crowd. "The guys worked hard all day. I just wish I could have pulled it off at the end."
Photography
For a thumbnail gallery of these images, click here
Images by Joe Savola
Images by Kristy Scrymgeour
Results

Pro Cat1/2 Men
 
1 Jeff Hopkins (Jittery Joes/Kalahari)                             
2 Eddy Gragus                                                      
3 Esteban Jukich                                                   
4 Alex Robles (Unattached)                                         
5 Chad Nikolz (Unattached)                                         
6 Todd Hageman (Park City Cycling Academy)                         
7 Gonzaco Tagliaboe                                                
8 Kirk Willet                                                      
9 Remi McManus (Subway Pro Cycling Team)                           
10 Gregg Medinilla (Team Monex)                                    
11 Evan Elken (Jittery Joes/Kalahari)                              
12 Eric Martin (Team One Racing)                                   
13 Rayn Mackinsey (Subway)                                         
14 Stephen Higgins (BRICycling Team CNC Sports)                    
15 Allan Butler (Healthy Choice/Goble Knee Clinic)                 
16 Troy Heithecker (BRICycling Team CNC Sports)                    
17 Shawn Mitchell (BODE)                                           
18 Aaron Tuckerman (Team Rubicon)                                  
19 James Stangeland (Wines Of Washington/Rauxa)                    
20 Bill Olson                                                      
21 David Richter (Subway)                                          
22 Joshua Tack (University of Montana)                             
23 Timothy Root (Boise Cycling Club)                               
24 Bradley Lewis (Boat Street Cycle Club BSCC)                     
25 Robert Lofgran (Ogden One)                                      
26 Robby Ketchell (CSU Rams Cycling)                               
27 Walker Starr (Team Rubicon)                                     
28 Matt Weyen (Title One Orbea)                                    
29 Cody Hall (BODE)                                                
30 Michael Martin (Guinness)                                       
31 Travis Brown (University of Idaho)                              
32 Marc Yap (Healthy Choice Goble Knee Clinic)                     
33 Winfired Gibson                                                 
34 Justin Mayfield (TitleOneOrbea)                                 
35 Jason Dykstra (BODE)                                            
36 Whitney Albright (Sun Valley Road & Dirt Camps LLC)             
37 Matthew Scott (Unattached)                                      
38 Anthony Johnson (Unattached)                                    
39 Zan Treasure (Autoliv)                                          
40 Alex Moore (ParkCityCyclingAcademy)                             
41 ChristophTopher Hurley (IntermountainOrthopaedicsLRC)           
42 Ken Jones (IntermountainOrthopaedicsLRC)                        
43 LarsErik Johnson                                                
44 Matt Newbill (BODE)                                             
45 Thomas Grant (IntermountainOrthopaedicsLRC)                     
46 Steven Parker (GSCobella)                                       
47 GeorgeTad Hamilton (TitleOneOrbea)                              
48 Jeffrey Gasser (BCCGeorgesCycles)                               
49 Christopher Liby (BODE)                                         
50 Kenneth Williams (Unattached)                                   
51 LAlexander Gardner (Unattached)                                 
52 Jonny Sundt (JitteryJoesKalahari)                               
53 Ryan Barrett (Healthy Choice Goble Knee Clinic)                 
54 Robert Hoene (Boise Cycling Club)                               
55 Christopher MCGILL (BODE)                                       
56 Craig Wilcox (Jittery Joes/Kalahari)                            
57 Jesse Lawler (Jittery Joes/Kalahari)                            
58 Cameron Hughes (Subway)                                         
59 Scott Allen (TeamRubicon)                                       
60 Todd Cornilies (Subway)                                         
61 Jimmy Tart                                                      
DNF Chad Brothers (Wines of Washington/Rauxa)                      
DNF Steve Wright (Quaker City Wheelmen)                            
DNF Patrick Andersen (Intermountain Orthopaedics LRC)              
DNF David godfrey (Team Rubicon)                                   
DNF Dean Tracy (Team Rubicon)                                      
DNF nate spangler (Grand Canyon Racing)                            
DNF Rob Vankirk (Idaho Cycling Enthusiasts)                        
DNF Uhl Albert (IMTBOC Sports Medicine)                            
DNF Cameron Hoffman (Ogden One)                                    
DNF Omer Kem (Subway)                                              
DNF Robert Velez (Wines of Washington/Rauxa)                       
DNF Joe Baratto (Wines of Washington/Rauxa)                        
DNF Adam Curry (Broadmark)                                         
 
Pro/Cat 1/2/3 Women
 
1 Ina Yoko Teuteuberg (T-Mobile)                                   
2 Sima Trapp (Subway)                                              
3 Melissa Sanborn (Subway)                                     
4 Liza Rachetto (Lipton Tea)                                       
5 Brooke Blackwelder (Team Tamarack)                               
6 Rachel Couch (Americas Dairyland)                                
7 Annette Hanson (Unattached)                                      
8 Kristin Armstrong (UCIWPT/T-Mobile)                              
9 Denise VandeKamp (Ogden One Cycling Club)                        
10 Kirsten Kotval                                                  
11 Darcie Murphy (Ogden One Heartstrings)                          
12 Traci Carroll (Team Rubicon)                                    
13 Jana Repulski (Team Tamarack Resort)                            
14 Heather Albert (Ford Basis)                                     
15 Marley Shipps (Colorado Premier Training)                       
16 Miranda Duff (Team Rubicon)                                     
17 Carrie Eller                                                    
18 Patricia Palmer (America's DairyLand)                             
19 Crystal Howard (Subway)                                         
20 Brooke Ourada (UCIWPTTMobile)                                   
21 Emily Westbrook (Unattached)                                    
22 Laurn Dorsch                                                    
DNF Monique Simone (Tamarack)                                      
DNF Kelly Crawford (Logan Race Club)                               
DNF Heather Thiry                                                  
DNF Brooke Bergdahl (Unattached)                                   
DNF Suzanne Peters (Velo Bella)                                    
DNF Laura Downey (America's Dairyland)                                      
 
Cat3 Masters 35 Men
 
1 Eddy Gragus (Unattached)                                         
2 Timothy Root (Boise Cycling Club)                                
3 Jon Gardner (OgdenOne)                                           
4 Brandon AKERS (Tamarack Resort)                                  
5 Dennis Sisemore (Intermountain Orthopaedics LRC)                 
6 Casey Smith (Unattached)                                         
7 Erik Valencia (Team Dobbiaco)                                    
8 Moses Mexia                                                      
9 Rick Hunter (Boise Cycling Club)                                 
10 Ryan Parnes (Sawtooth Velo)                                     
11 Steve Wright (Quaker City Wheelmen)                             
12 Ted Burgess (Intermountain Orthopaedics LRC)                    
13 Matt Rossman (Park City Cycling Academy)                        
14 Brian Boudreau (Team DARE)                                      
15 Derek Stallines                                                 
16 Mark Chrysler (DARE)                                            
17 Chris Stuart (Unattached)                                       
18 Russell Thorstrom (Unattached)                                  
19 Carl Majors (Rhodes)                                            
20 Simon Aleksander (Lactic Acid Cycling)                          
21 Will Macfarlane (Canyon Bicycle)                                
22 Mark Miller (CanyonBicycles)                                    
23 Mark Bockenstette (LACBOC Sportmedicine)                        
24 Greg MacMillan (Dobbiaco)                                       
25 Bradley Turpen (Intermountain Orthopedics Lost River Cycles)    
26 Jonathan Ryan (Union Bay Cycling)                               
27 Kris Thoresm                                                    
28 Tyler Moore (Blue Rain)                                         
29 Shawn Cehney (Canyon Bicycles)                                  
30 Bob Walker (Autoliv)                                            
31 Kris Henthorn (OgdenOne)                                        
32 Klaas Vandenbeld (Intermountain Orthopaedics)                   
33 Bryan Funsten (Sawtooth)                                        
34 Paul McKenna (Unattached)                                       
35 David Shavaltes                                                 
35 Bill Crum                                                       
36 Reid Warner (Wines of Washington/Rauxa)                         
37 Ken Louder (Sobieski Bradley Sportsbaseonline.com)              
38 Mark Hinman (Wines of Washington King5)                         
39 Andrew Davis (Boise Cycling Club)                               
40 Jon Gould (Goldys)                                              
41 Michael Gerhardt (Unattached)                                   
42 Kyrk WRIGHT (BlueRain)                                          
43 Todd Hageman (Park City Cycling Academy)                        
44 Henry Harper (Intermountain Orthopaedics LRC)                   
45 Louis Gilbert (Unattached)                                      
46 Adam Steinke (Rocky Mountain Cycling Club)                      
47 Phillip WOOD (Concept Construction Fazolis)                     
48 Dirk Cowley                                                     
49 Caleb Mattravers (BODE)                                         
50 Linde Smith (biogenidec)                                        
DNF Kurt Holzer (Intermountain Orthopaedics LRC)                   
DNF JeffJT Theis (Intermountain Orthopaedics LRC)                  
DNF Jason Haase (Sawtooth Velo)                                    
DNF Chris Bondtrdnt                                                
DNF Racer Gibson (Racer's Cycle Service)                                      
DNF Scott White                                                    
DNF Bill Crum (Boise Cycling Club)                                 
 
Cat4/5 Men
 
1 Harris McMullin (Unattached)                                     
2 Reid Block (Cadence Performance Cycling Centers)                 
3 Clint Carter (NEW MOON MEDIA)                                    
4 Brian Naeve (Team Dobbiaco)                                      
5 Michael McDonald (Intermountain Orthopaedics LRC)                
6 Jef Marquez                                                      
7 eric kafka (Sun Valley Road & Dirt)                              
8 Carl Arriola (Boise Cycling Club)                                
9 Eric Denning (AERO Cyclos)                                       
10 Justin Harvey (TeamDobbiaco)                                    
11 Justin Rose (ICE University of Denver)                          
12 Douglas Albrecht (Wines of Washington/Rauxa)                    
13 Mike Kennedy                                                    
14 Paul Adams (Tamarack Resort)                                    
15 Colby Dees (Caffertys)                                          
16 Cory Marsh (Lost River Cycling)                                 
17 Chris Stuart (Unattached)                                       
17 Kerry Anderson                                                  
18 Troy DeLong (Reno Wheelmen)                                     
19 Liam Dolan (Unattached)                                         
20 Joshua Kern (Wines of Washington/Rauxa)                         
21 Greg Parker (Boise Cycling Club)                                
22 Jerrad Hanson (NA)                                              
23 Do Haung                                                        
24 Rob Deebe                                                       
25 Matt Campbell (OgdenOne)                                        
26 Matthew Hanson (Unattached)                                     
27 Drew Kirk (Intermountain Orthopaedics LRC)                      
28 Gene Harding (Boise Cycling Club)                               
29 Reider Oyen                                                     
30 russell smith (na)                                              
31 Kristian Timmons (Unattached)                                   
32 Brian Wallace                                                   
33 Greg Estes (WinesofWaking5)                                     
DNF Pete Dickerson (NA)                                            
DNF Erik Antink (Team Heinous)                                     
DNF Brian Allen (Lost River Cycling)                               
DNF Bob Grover (Scott Valley Velo)                                 
DNF Alvino Garcia (NA)                                             
DNF Joe Snyder                                                     
DNF Reed McCashland                                                
DNF Kurt Nilsson (Lost River Cycling)                              
DNF Jon Gould (Goldys)                                             
DNF Stewart Jones                                                  
DNF Paul De Coursey-Clark                                          
DNF Jeremy Miller                                                  
DNF Jeffrey Brown (Unattached)                                     
DNF Jasen Kohlen                                                   
DNF Walther Guifarro (KingsVelo)                                   
DNF Scott Foss                                                     
DNF Chadwick Howard (Unattached)                                   
DNF Jon Kenzes                                                     
DNF John McDewitt