18th Trust House Classic (Tour of Wellington) - 2.2
New Zealand, January 26-30, 2005
Main Page Results Previous Stage Next Stage
Stage 5 - January 29: Masterton Circuit, 125.3km
Lead changes to Lloyd
By Cycletournz.com
Matthew Lloyd (Jayco-VIS)
Photo ©: Mike Heydon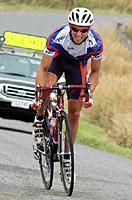 With over a thousand metres of climbing, the fifth stage of the Trust House Cycle Classic had plenty of potential to rock the boat. And after barely three and a quarter hours of racing, the GC was transformed.
Young Australian Matt Lloyd (Australia-Jayco) took the stage, out-sprinting countryman Peter McDonald to the crest of the 500 metre high Admiral Hill road. In doing so, Lloyd also took the yellow jersey from Peter Latham, who is now fourth and two minutes down.
New Zealanders Fraser McMaster and Jeremy Vennell, both Subway riders, are now second and third on GC, a minute and a half down on Lloyd.
The early break
Photo ©: Mike Heydon

The shake-up resulted from yet another early attack, which saw six riders break clear virtually from the word go. Lloyd, McDonald, Michael Cupitt, Troy Glennan, Nash Kent and Marc Ryan quickly opened up a couple of minutes' gap from the bunch, which basically held a solid tempo, with plenty of riders sitting in for the ride.
Kent took the mid-race sprint at 42km, while polka dot jersey wearer Glennan grabbed the KOM points on the first serious climb of the day at 48km, before falling back from the break - which by now had about four minutes' advantage.
At 85km, the steep kilometre-long Limestone Hill blew the main field apart. The chase was on - but with only 40km to go the four still left in the break had the upper hand. Up front, the break was soon down to two, with Lloyd and McDonald riding clear on the second-to-last climb of the day, a 2km-long 14 percent grind (with nasty large chip seal to boot). A screaming-fast descent, a couple of kilometres on the flat, and the duo was onto Admiral Hill.
The Admiral is not especially steep. There are several flats and even a short descent to break the effort. Still it's a 12km climb from virtually sea level: no easy finish for two riders who had by now been in a break for well over 100km. Behind Lloyd and McDonald, McMaster and Vennell made their move from the lead bunch early on the climb and began to chase. The top came too soon though, and McMaster crossed the line a bit over a minute down.
Lloyd wasn't one of the pre-race big names, but today's was a fine effort and he's a deserving holder of yellow.
The question now is, how much can a 12km time trial and a criterium remix the standings? The TT course is round the Wellington coastline, very scenic but notoriously exposed to the wind. Lloyd has a decent buffer - but there's no room for lassitude.
Photography
For a thumbnail gallery of these images, click here
Images by Mike Heydon/www.jetphotography.co.nz
Results
1 Mathew Lloyd (Aus) Australia - Jayco                  3.12.52
2 Peter Mcdonald (Aus) Trust House Team                    0.06
3 Fraser Macmaster (NZl) Team Subway                       1.16
4 Jeremy Vennell (NZl) Team Subway                         1.20
5 Robin Reid (NZl) Samsung New Zealand                     2.06
6 Simon Clarke (Aus) Australia - Jayco                         
7 Ric Reid (NZl) Geniusbikes.com / Castelli                    
7 Tony Mann (Aus) MG Xpower Presented By BigPond               
7 Peter Latham (NZl) Samsung New Zealand                       
7 Scott Lyttle (NZl) Solway Park Team                          
7 Jonathan Clarke (Aus) Australia - Jayco                      
12 Aaron Strong (NZl) MG Xpower Presented By BigPond       2.11
12 Hilton Mcmurdo (Aus) Pravda                                 
12 Michael Cupitt (NZl) Handy Rentals                          
15 Luke Mccarthy (NZl) Avery Ford                          2.15
16 Joshua Wilson (Aus) Solway Park Team                    2.18
17 Timothy Gudsell (NZl) Samsung New Zealand               2.23
18 Stuart Cowin (Aus) United Water / Team xstrata          4.16
19 Shaun Higgerson (Aus) MG Xpower Presented By BigPond    4.31
20 Graeme Stone (NZl) Trust House Team                     4.54
21 Matt Harvey (NZl) Solway Park Team                      6.01
21 Murray Spencer (NZl) Team Subway                            
23 Mathew Illingworth (GBr) Solway Park Team               6.47
24 Nick Hotchin (NZl) Geniusbikes.com / Castelli           6.49
25 Marc Ryan (NZl) Samsung New Zealand                     7.42
25 Nash Kent (Aus) United Water / Team xstrata                 
27 Justin Kerr (NZl) Geniusbikes.com / Castelli            8.11
27 Stuart Shaw (Aus) MG Xpower Presented By BigPond            
29 Troy Klink (NZl) Trust House Team                       8.25
29 Stephen Wooldridge (Aus) Trust House Team                   
29 Nathan Wise (NZl) Avery Ford                                
29 Walker Starr (NZl) Xplore Team                              
29 Scott Wilder (NZl) Pravda                                   
29 Patrick Shaw (Aus) Australia - Jayco                        
35 Benjamin Mackinnon (NZl) Pravda                         9.33
36 Gordon Mccauley (NZl) Cervelo                          10.33
36 Paul Sumich (NZl) Cervelo                                   
36 Richard Speer (NZl) Cervelo                                 
39 Paul Davies (NZl) Mizone                               11.26
39 Hayden Lawrence (NZl) BP NZ                                 
41 Ben Vanderkamp (Aus) United Water / Team xstrata       16.07
41 Mathew Rex (Aus) Australia - Jayco                          
43 Jim Robinson (NZl) Avery Ford                          18.42
44 Richard Bowker (NZl) Geniusbikes.com / Castelli        20.38
44 James Mccarthy (NZl) Avery Ford                             
44 Chris D'amelio (NZl) Avery Ford                             
44 Troy Glennan (Aus) MG Xpower Presented By BigPond           
44 Darren Gordon (NZl) Mizone                                  
44 Joseph Cooper (NZl) Mizone                                  
44 Jason Allen (NZl) Samsung New Zealand                       
44 Mathew Yates (NZl) Cervelo                                  
44 Daniel Warren (NZl) Cervelo                                 
44 Dion Neems (NZl) Xplore Team                                
44 Chris Carson (Aus) United Water / Team xstrata              
44 Brian Appleyard (Aus) United Water / Team xstrata           
44 Andrew Wells (NZl) Handy Rentals                            
44 Ben Oleson (NZl) Handy Rentals                              
44 Adrian Mccabe (NZl) Handy Rentals                           
44 Jordan Wood (NZl) BP NZ                                     
44 Aaron Rusden (NZl) BP NZ                                    
44 Robert Kilvington (NZl) BP NZ                               
44 Hayden Godfrey (NZl) Team Subway                            
44 Gordon Bearman (NZl) Team Subway                            
64 Michael Kraakman (NZl) Pravda                          33.26
64 Jerry O'Flynn (NZl) BP NZ                                   
DNS Andrew Jamieson (NZl) Mizone                               
DNS Scott Strong (NZl) Xplore Team                             
 
General classification after stage 5
 
1 Mathew Lloyd (Aus) Australia - Jayco                 12.12.52
2 Fraser Macmaster (NZl) Team Subway                       1.33
3 Jeremy Vennell (NZl) Team Subway                         1.36
4 Peter Latham (NZl) Samsung New Zealand                   2.00
5 Hilton Mcmurdo (Aus) Pravda                              2.15
6 Jonathan Clarke (Aus) Australia - Jayco                  2.20
7 Robin Reid (NZl) Samsung New Zealand                     2.31
8 Ric Reid (NZl) Geniusbikes.com / Castelli                2.40
8 Tony Mann (Aus) MG Xpower Presented By BigPond               
10 Aaron Strong (NZl) MG Xpower Presented By BigPond       2.43
11 Shaun Higgerson (Aus) MG Xpower Presented By BigPond    4.31
12 Stuart Shaw (Aus) MG Xpower Presented By BigPond        8.24
13 Gordon Mccauley (NZl) Cervelo                          10.44
14 Peter Mcdonald (Aus) Trust House Team                  10.49
15 Simon Clarke (Aus) Australia - Jayco                   13.18
16 Stuart Cowin (Aus) United Water / Team xstrata         15.28
17 Luke Mccarthy (NZl) Avery Ford                         18.49
18 Timothy Gudsell (NZl) Samsung New Zealand              18.58
19 Marc Ryan (NZl) Samsung New Zealand                    20.06
20 Mathew Illingworth (GBr) Solway Park Team              23.22
21 Scott Lyttle (NZl) Solway Park Team                    24.43
22 Justin Kerr (NZl) Geniusbikes.com / Castelli           24.45
23 Troy Klink (NZl) Trust House Team                      24.59
24 Scott Wilder (NZl) Pravda                              29.21
25 Joshua Wilson (Aus) Solway Park Team                   29.31
26 Paul Davies (NZl) Mizone                               30.11
27 Michael Cupitt (NZl) Handy Rentals                     30.29
28 Hayden Godfrey (NZl) Team Subway                       31.40
29 Troy Glennan (Aus) MG Xpower Presented By BigPond      31.50
30 Graeme Stone (NZl) Trust House Team                    32.07
31 Ben Vanderkamp (Aus) United Water / Team xstrata       32.42
32 Matt Harvey (NZl) Solway Park Team                     33.14
33 Nash Kent (Aus) United Water / Team xstrata            34.55
34 Murray Spencer (NZl) Team Subway                       35.25
35 Stephen Wooldridge (Aus) Trust House Team              35.38
35 Walker Starr (NZl) Xplore Team                              
37 Nick Hotchin (NZl) Geniusbikes.com / Castelli          35.52
38 Nathan Wise (NZl) Avery Ford                           37.46
39 Hayden Lawrence (NZl) BP NZ                            38.02
40 Patrick Shaw (Aus) Australia - Jayco                   38.06
41 Richard Speer (NZl) Cervelo                            39.57
42 Paul Sumich (NZl) Cervelo                              42.08
43 Mathew Rex (Aus) Australia - Jayco                     43.34
44 Joseph Cooper (NZl) Mizone                             44.31
45 Darren Gordon (NZl) Mizone                             47.37
46 Richard Bowker (NZl) Geniusbikes.com / Castelli        47.51
46 Mathew Yates (NZl) Cervelo                                  
46 Daniel Warren (NZl) Cervelo                                 
46 Chris Carson (Aus) United Water / Team xstrata              
50 Chris D'amelio (NZl) Avery Ford                        48.56
51 Jason Allen (NZl) Samsung New Zealand                  50.02
51 Robert Kilvington (NZl) BP NZ                               
51 Gordon Bearman (NZl) Team Subway                            
54 Brian Appleyard (Aus) United Water / Team xstrata      50.47
55 James Mccarthy (NZl) Avery Ford                        52.13
55 Adrian Mccabe (NZl) Handy Rentals                           
55 Jordan Wood (NZl) BP NZ                                     
58 Michael Kraakman (NZl) Pravda                        1.00.39
59 Benjamin Mackinnon (NZl) Pravda                      1.02.44
60 Dion Neems (NZl) Xplore Team                         1.04.01
61 Jim Robinson (NZl) Avery Ford                        1.04.16
62 Ben Oleson (NZl) Handy Rentals                       1.08.24
62 Aaron Rusden (NZl) BP NZ                                    
64 Jerry O'Flynn (NZl) BP NZ                            1.10.09
65 Andrew Wells (NZl) Handy Rentals                     1.16.46
 
Sprints classification
 
1 Hayden Godfrey (NZl) Team Subway                           17 pts
2 Aaron Rusden (NZl) BP NZ                                   11
3 Simon Clarke (Aus) Australia - Jayco                       10
4 Marc Ryan (NZl) Samsung New Zealand                         8
5 Nash Kent (Aus) United Water / Team xstrata                 7
6 Troy Glennan (Aus) MG Xpower Presented By BigPond           6
7 Aaron Strong (NZl) MG Xpower Presented By BigPond           6
8 Tony Mann (Aus) MG Xpower Presented By BigPond              4
9 Jonathan Clarke (Aus) Australia - Jayco                     3
10 Peter Mcdonald (Aus) Trust House Team                      2
11 Ben Vanderkamp (Aus) United Water / Team xstrata           2
12 Nick Hotchin (NZl) Geniusbikes.com / Castelli              1
13 Gordon Mccauley (NZl) Cervelo                              1
 
KOM classification
 
1 Troy Glennan (Aus) MG Xpower Presented By BigPond          18 pts
2 Marc Ryan (NZl) Samsung New Zealand                        12
3 Mathew Lloyd (Aus) Australia - Jayco                       10
4 Peter Mcdonald (Aus) Trust House Team                      10
5 Fraser Macmaster (NZl) Team Subway                          6
6 Shaun Higgerson (Aus) MG Xpower Presented By BigPond        6
7 Jeremy Vennell (NZl) Team Subway                            4
8 Hayden Godfrey (NZl) Team Subway                            4
9 Ric Reid (NZl) Geniusbikes.com / Castelli                   4
10 Robin Reid (NZl) Samsung New Zealand                       2
11 Tony Mann (Aus) MG Xpower Presented By BigPond             2
 
Teams classification
 
1 Samsung New Zealand                                  36.46.20
2 MG Xpower Presented By BigPond                           2.03
3 Australia - Jayco                                        8.04
4 Team Subway                                             12.46
5 Geniusbikes.com / Castelli                              53.28
6 Trust House Team                                      1.00.17
7 Pravda                                                1.00.44
8 Solway Park Team                                      1.09.06
9 United Water / Team xstrata                           1.15.21
10 Cervelo                                              1.18.36
11 Avery Ford                                           1.35.51
12 Mizone                                               1.51.38
13 BP NZ                                                2.10.22
14 Handy Rentals                                        2.23.22