18th Trust House Classic (Tour of Wellington) - 2.2
New Zealand, January 26-30, 2005
Main Page Results Previous Stage Next Stage
Stage 2 - January 27: Featherston - Masterton, 94.4 km
Melting tar
By cycletournz.com
Peter Latham
Photo ©: Mike Heydon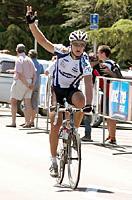 Suddenly the Trust House Cycle Classic is a real mid-summer scorcher. Today's temperature soared to thirty, cooled only by light breezes, and there wasn't a cloud in the sky all day. The certainty of a thirsty effort was matched only by the certainty of an attack, and sure as neck sunburn on a day like this, heading down the rolling roads from the Featherstone start, a group of 16 riders snuck away from the bunch.
Overnight leader Hayden Godfrey (Team Subway) and Matt Yates (Cervelo) were notably back in the bunch but with team mates up front, looked pretty relaxed about the fact. At first it was more of a split than an attack, just a few seconds' air in the field, but then a few more, and a few more. Down the bottom of the lake after 35km the gap had stretched over a minute; which is about when the main field shut off the gas and race contention was riding away up the road.
The main field's pace wasn't surprising: Samsung New Zealand, Cervelo, Team Subway and MG Xpower all had riders up-front.
Aaron Rusden won the sprint from Aaron Strong into the pretty wine-country town of Martinborough. Then Shaun Higgerson took the tour's first KOM points on an undulation a few kilometres from the drag-strip finish straight into Masterton, where Peter Latham prevailed to take the leader's jersey, Fraser MacMaster second, Aaron Strong third.
A bit over ten minutes down, the main field rolled in, completing a hot but hardly torrid morning's work.
Photography
For a thumbnail gallery of these images, click here
Images by Mike Heydon/www.jetphotography.co.nz
Results
1 Peter Latham (NZl) Samsung New Zealand               2.46.03
2 Fraser Macmaster (NZl) Team Subway                          
3 Aaron Strong (NZl) MG Xpower Presented By BigPond           
4 Shaun Higgerson (Aus) MG Xpower Presented By BigPond        
5 Stuart Shaw (Aus) MG Xpower Presented By BigPond            
6 Hilton Mcmurdo (Aus) Pravda                                 
7 Ric Reid (NZl) Geniusbikes.com / Castelli                   
7 Tony Mann (Aus) MG Xpower Presented By BigPond              
7 Timothy Gudsell (NZl) Samsung New Zealand                   
7 Robin Reid (NZl) Samsung New Zealand                        
7 Gordon Mccauley (NZl) Cervelo                               
7 Ben Vanderkamp (Aus) United Water / Team xstrata            
7 Mathew Illingworth (GBr) Solway Park Team                   
7 Jeremy Vennell (NZl) Team Subway                            
7 Mathew Lloyd (Aus) Australia - Jayco                        
7 Jonathan Clarke (Aus) Australia - Jayco                     
17 Nick Hotchin (NZl) Geniusbikes.com / Castelli         10.23
18 Peter Mcdonald (Aus) Trust House Team                 10.38
18 Troy Klink (NZl) Trust House Team                          
18 Stephen Wooldridge (Aus) Trust House Team                  
18 Graeme Stone (NZl) Trust House Team                        
18 Justin Kerr (NZl) Geniusbikes.com / Castelli               
18 Richard Bowker (NZl) Geniusbikes.com / Castelli            
18 Luke Mccarthy (NZl) Avery Ford                             
18 James Mccarthy (NZl) Avery Ford                            
18 Jim Robinson (NZl) Avery Ford                              
18 Chris D'amelio (NZl) Avery Ford                            
18 Nathan Wise (NZl) Avery Ford                               
18 Troy Glennan (Aus) MG Xpower Presented By BigPond          
18 Darren Gordon (NZl) Mizone                                 
18 Paul Davies (NZl) Mizone                                   
18 Alistair Crossling (NZl) Mizone                            
18 Andrew Jamieson (NZl) Mizone                               
18 Joseph Cooper (NZl) Mizone                                 
18 Marc Ryan (NZl) Samsung New Zealand                        
18 Jason Allen (NZl) Samsung New Zealand                      
18 Mathew Yates (NZl) Cervelo                                 
18 Paul Sumich (NZl) Cervelo                                  
18 Richard Speer (NZl) Cervelo                                
18 Daniel Warren (NZl) Cervelo                                
18 Ryan Hoogenberg (NZl) Xplore Team                          
18 Scott Strong (NZl) Xplore Team                             
18 Dion Neems (NZl) Xplore Team                               
18 Blair Brydon (NZl) Xplore Team                             
18 Walker Starr (NZl) Xplore Team                             
18 Chris Carson (Aus) United Water / Team xstrata             
18 Nash Kent (Aus) United Water / Team xstrata                
18 Brian Appleyard (Aus) United Water / Team xstrata          
18 Stuart Cowin (Aus) United Water / Team xstrata             
18 Scott Wilder (NZl) Pravda                                  
18 Michael Kraakman (NZl) Pravda                              
18 Benjamin Mackinnon (NZl) Pravda                            
18 Andrew Wells (NZl) Handy Rentals                           
18 Ben Oleson (NZl) Handy Rentals                             
18 Adrian Mccabe (NZl) Handy Rentals                          
18 Michael Cupitt (NZl) Handy Rentals                         
18 Scott Lyttle (NZl) Solway Park Team                        
18 Paul Galbraith (NZl) Solway Park Team                      
18 Joshua Wilson (Aus) Solway Park Team                       
18 Matt Harvey (NZl) Solway Park Team                         
18 Hayden Lawrence (NZl) BP NZ                                
18 Jordan Wood (NZl) BP NZ                                    
18 Aaron Rusden (NZl) BP NZ                                   
18 Jerry O'Flynn (NZl) BP NZ                                  
18 Robert Kilvington (NZl) BP NZ                              
18 Hayden Godfrey (NZl) Team Subway                           
18 Gordon Bearman (NZl) Team Subway                           
18 Murray Spencer (NZl) Team Subway                           
18 Mathew Rex (Aus) Australia - Jayco                         
18 Simon Clarke (Aus) Australia - Jayco                       
18 Patrick Shaw (Aus) Australia - Jayco                       
DNS Chris Stuart (NZl) Pravda                                 
 
General classification after stage 2
 
1 Peter Latham (NZl) Samsung New Zealand               3.56.32
2 Fraser Macmaster (NZl) Team Subway                      0.02
3 Aaron Strong (NZl) MG Xpower Presented By BigPond       0.04
4 Shaun Higgerson (Aus) MG Xpower Presented By BigPond    0.06
4 Stuart Shaw (Aus) MG Xpower Presented By BigPond            
4 Hilton Mcmurdo (Aus) Pravda                                 
4 Ric Reid (NZl) Geniusbikes.com / Castelli                   
4 Tony Mann (Aus) MG Xpower Presented By BigPond              
4 Timothy Gudsell (NZl) Samsung New Zealand                   
4 Robin Reid (NZl) Samsung New Zealand                        
4 Gordon Mccauley (NZl) Cervelo                               
4 Ben Vanderkamp (Aus) United Water / Team xstrata            
4 Mathew Illingworth (GBr) Solway Park Team                   
4 Jeremy Vennell (NZl) Team Subway                            
4 Mathew Lloyd (Aus) Australia - Jayco                        
4 Jonathan Clarke (Aus) Australia - Jayco                     
17 Nick Hotchin (NZl) Geniusbikes.com / Castelli         10.29
18 Hayden Godfrey (NZl) Team Subway                      10.34
19 Mathew Rex (Aus) Australia - Jayco                    10.38
20 Brian Appleyard (Aus) United Water / Team xstrata     10.40
21 Peter Mcdonald (Aus) Trust House Team                 10.44
21 Troy Klink (NZl) Trust House Team                          
21 Stephen Wooldridge (Aus) Trust House Team                  
21 Graeme Stone (NZl) Trust House Team                        
21 Justin Kerr (NZl) Geniusbikes.com / Castelli               
21 Richard Bowker (NZl) Geniusbikes.com / Castelli            
21 Luke Mccarthy (NZl) Avery Ford                             
21 James Mccarthy (NZl) Avery Ford                            
21 Chris D'amelio (NZl) Avery Ford                            
21 Nathan Wise (NZl) Avery Ford                               
21 Troy Glennan (Aus) MG Xpower Presented By BigPond          
21 Darren Gordon (NZl) Mizone                                 
21 Paul Davies (NZl) Mizone                                   
21 Alistair Crossling (NZl) Mizone                            
21 Andrew Jamieson (NZl) Mizone                               
21 Marc Ryan (NZl) Samsung New Zealand                        
21 Jason Allen (NZl) Samsung New Zealand                      
21 Mathew Yates (NZl) Cervelo                                 
21 Paul Sumich (NZl) Cervelo                                  
21 Richard Speer (NZl) Cervelo                                
21 Daniel Warren (NZl) Cervelo                                
21 Ryan Hoogenberg (NZl) Xplore Team                          
21 Walker Starr (NZl) Xplore Team                             
21 Chris Carson (Aus) United Water / Team xstrata             
21 Nash Kent (Aus) United Water / Team xstrata                
21 Stuart Cowin (Aus) United Water / Team xstrata             
21 Scott Wilder (NZl) Pravda                                  
21 Michael Kraakman (NZl) Pravda                              
21 Ben Oleson (NZl) Handy Rentals                             
21 Adrian Mccabe (NZl) Handy Rentals                          
21 Michael Cupitt (NZl) Handy Rentals                         
21 Scott Lyttle (NZl) Solway Park Team                        
21 Paul Galbraith (NZl) Solway Park Team                      
21 Joshua Wilson (Aus) Solway Park Team                       
21 Matt Harvey (NZl) Solway Park Team                         
21 Hayden Lawrence (NZl) BP NZ                                
21 Jordan Wood (NZl) BP NZ                                    
21 Aaron Rusden (NZl) BP NZ                                   
21 Robert Kilvington (NZl) BP NZ                              
21 Gordon Bearman (NZl) Team Subway                           
21 Murray Spencer (NZl) Team Subway                           
21 Simon Clarke (Aus) Australia - Jayco                       
21 Patrick Shaw (Aus) Australia - Jayco                       
64 Joseph Cooper (NZl) Mizone                            13.41
64 Benjamin Mackinnon (NZl) Pravda                            
64 Jerry O'Flynn (NZl) BP NZ                                  
67 Scott Strong (NZl) Xplore Team                        16.38
67 Blair Brydon (NZl) Xplore Team                             
67 Andrew Wells (NZl) Handy Rentals                           
70 Jim Robinson (NZl) Avery Ford                         22.32
70 Dion Neems (NZl) Xplore Team                               

Sprint classification
 
1 Aaron Rusden (NZl) BP NZ                                   7 pts
2 Aaron Strong (NZl) MG Xpower Presented By BigPond          6
3 Marc Ryan (NZl) Samsung New Zealand                        5
4 Tony Mann (Aus) MG Xpower Presented By BigPond             3
5 Troy Glennan (Aus) MG Xpower Presented By BigPond          3
6 Nash Kent (Aus) United Water / Team xstrata                3
7 Jonathan Clarke (Aus) Australia - Jayco                    3
8 Ben Vanderkamp (Aus) United Water / Team xstrata           2
9 Hayden Godfrey (NZl) Team Subway                           2
10 Nick Hotchin (NZl) Geniusbikes.com / Castelli             1
 Gordon Mccauley (NZl) Cervelo                               1
 
KOM classification
 
1 Shaun Higgerson (Aus) MG Xpower Presented By BigPond       6 pts
2 Ric Reid (NZl) Geniusbikes.com / Castelli                  4
3 Tony Mann (Aus) MG Xpower Presented By BigPond             2
 
Team classification
 
1 MG Xpower Presented By BigPond                      11.49.54
2 Samsung New Zealand                                         
3 Australia - Jayco                                      10.38
4 Team Subway                                                 
5 Geniusbikes.com / Castelli                             21.01
6 Cervelo                                                21.16
7 Pravda                                                
8 Solway Park Team                                            
9 United Water / Team xstrata                                 
10 Avery Ford                                            31.54
11 BP NZ                                                      
12 Handy Rentals                                              
13 Mizone                                                     
14 Trust House Team                                           
15 Xplore Team                                           37.48