14th Challenge Illes Balears - 1.1 (x5)
Spain, February 6-10, 2005
Main Page Results Previous Stage
Stage 5 - February 10: Magalluf-Palmanova (Trofeo Calvia), 148.3 km
Balears does the double
Toni Colom (Illes Balears)
Photo ©: Franklin Tello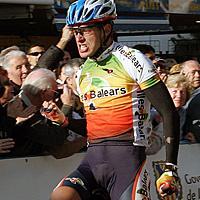 The Illes Balears team has completed a stage and general classification double hit on the last day of the Challenge Balears series with Toni Colom taking the final stage and Alejandro Valverde clinching the overall title, the second year running that the the home team has started the season with overall victory.
It was another attacking day, with a dangerous eight-rider break escaping early, that included Rolf Aldag (T-Mobile) and Garcia Quesada (C. Valenciana), both in the top five overall and therefore potential threats to Illes Balears' overall goal. The eight built a gap of 2:12, but Illes Balears moved to the front and one again took control to chase down the break, catching it 16km from the finish.
Colom attacked on the final climb after the break was absorbed and was able to stay away - just! - until the finale with José Antonio Pecharromán (Quick Step) leading a chase group in just two seconds behind.
Valverde said afterwards that he had not expected to win, "but I found myself in very good form. I wanted to win the Mallorca series for the team and so we are very happy. It's a superb start for the team and for me because this is my first important win [of the year] and the first victory with my new team.
The Illes Balears led peloton
Photo ©: Franklin Tello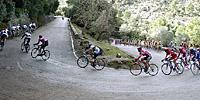 "Now it's time to rest and get ready for the next test, which will be Paris-Nice."
Toni Colom dedicated his stage win to his recently deceased sister, saying it was "the most special victory of my career."
Colom had wanted to go for a repeat win in the whole series, he said, but things had not gobe his way in the third stage, "so I worked for Valverde and as soon as the general classification was certain, I tried for a stage win. The final stage worked out well for me."
Photography
For a thumbnail gallery of these images, click here
Images by Franklin Tello/Franklin Tello Photography
Results
1 Toni Colom (Spa) Illes Balears                      3.52.00
2 José Antonio Pecharromán (Spa) Quick Step              0.02
3 David De La Fuente (Spa) Saunier Duval-Prodir              
4 Alejandro Valverde (Spa) Illes Balears                 0.09
5 Aitor Pérez Arrieta (Spa) Spiuk                            
6 Angel Edo (Spa) Saunier Duval-Prodir                       
7 Ricardo Serrano (Spa) Kaiku                                
8 Marc Lotz (Ned) Quick Step                                 
9 Javier Cherro (Spa) Comunidad Valenciana                   
10 Matthew Hayman (Aus) Rabobank                             
11 Josep Jufre (Spa) Relax Fuenlabrada                       
12 Andreas Klier (Ger) Team T-Mobile                         
13 David Muñoz (Spa) Comunidad Valenciana                    
14 Jaime Rovira (Spa) Andalucía-Paul Versan                  
15 José Almagro (Spa) Relax Fuenlabrada                      
16 Raúl G. De Mateos (Spa) Relax Fuenlabrada                 
17 Ángel Gómez (Spa) Saunier Duval-Prodir                    
18 Grischa Niermann (Ger) Rabobank                           
19 Addy Engels (Ned) Quick Step                              
20 Rubén Oarbeaskoa (Spa) Kaiku                              
21 David Fernández (Spa) Andalucía-Paul Versan               
22 Aarón Villegas (Spa) Orbea                                
23 David Cañada (Spa) Saunier Duval-Prodir                   
24 Juan Manuel Gárate (Spa) Saunier Duval-Prodir             
25 Luis Pasamontes (Spa) Relax Fuenlabrada                   
26 Xavier Tondo (Spa) Catalunya-Ángel Mir                    
27 Thorwald Veneberg (Ned) Rabobank                          
28 Tadej Valjavec (Slo) Phonak                               
29 Moisés Dueñas (Spa) Relax Fuenlabrada                     
30 Adrián Palomares (Spa) Kaiku                              
31 Adolfo García Quesada (Spa) Comunidad Valenciana          
32 Antonio Olmo (Spa) Comunidad Valenciana                   
33 Toni Tauler (Spa) Illes Balears                           
34 Igor Anttón (Spa) Eukaltel-Euskadi                        
35 José Luis Martínez (Spa) Comunidad Valenciana             
36 Maarten Den Bakker (Ned) Rabobank                         
37 David Bernabéu (Spa) Comunidad Valenciana                 
38 David López (Spa) Eukaltel-Euskadi                        
39 Sergio Domínguez (Spa) Spiuk                              
40 Patrik Sinkewitz (Ger) Quick Step                         
41 José A. Gómez Marchante (Spa) Saunier Duval-Prodir    0.23
42 Joseba Agirrezabala (Spa) Andalucía-Paul Versan       0.28
43 Óscar Freire (Spa) Rabobank                               
44 Ezequiel Mosquera (Spa) Kaiku                         1.12
45 Steven De Jongh (Ned) Rabobank                        1.24
46 Erik Zabel (Ger) Team T-Mobile                            
47 Efrain Gutiérrez (Spa) Andalucía-Paul Versan              
48 José A. Benítez (Spa) Spiuk                               
49 Israel Núñez (Spa) Kaiku                                  
50 Rolf Aldag (Ger) Team T-Mobile                            
51 Gustavo César Veloso (Spa) Kaiku                          
52 Xavier Florencio (Spa) Relax Fuenlabrada                  
53 Beñat Albizuri (Spa) Orbea                            1.27
54 Oliver Zaugg (Swi) Saunier Duval-Prodir                   
55 Rubén Lobato (Spa) Saunier Duval-Prodir                   
56 Marc Wauters (Bel) Rabobank                               
57 Karsten Kroon (Ned) Rabobank                              
58 Jesús J. Ramírez (Spa) Spiuk                              
59 Unai Etxebarria (Ven) Eukaltel-Euskadi                    
60 Xabat Otxotorena (Spa) Orbea                          2.30
61 David Herrero (Spa) Eukaltel-Euskadi                  3.19
62 Carlos Castaño (Spa) Andalucía-Paul Versan                
63 Sergi Escobar (Spa) Illes Balears                         
64 Julen Zubero (Spa) Orbea                                  
65 Dailos Díaz (Spa) Orbea                                   
66 Torsten Hiekmann (Ger) Team T-Mobile                  5.56
67 Rory Sutherland (Aus) Rabobank                            
68 Carlos Torrent (Spa) Catalunya-Ángel Mir              8.32
69 Pablo Lastras (Spa) Illes Balears                     8.36
70 Nacor Burgos (Spa) Relax Fuenlabrada                      
71 Xabier Zandio (Spa) Illes Balears                         
72 Joaquín Rodríguez (Spa) Saunier Duval-Prodir              
73 Ángel Vallejo (Spa) Relax Fuenlabrada                     
74 Daniel Moreno (Spa) Relax Fuenlabrada                     
75 José Ruiz (Spa) Andalucía-Paul Versan                     
76 Eloy Teruel (Spa) Spanish national track team             
77 Niki Aebersold (Swi) Phonak                               
78 Yon Bru Pascal (Spa) Kaiku                                
79 Bernhard Kohl (Aut) Team T-Mobile                         
80 Iker Mezo (Spa) Orbea                                     
81 Pablo Urtasun (Spa) Kaiku                                 
82 Alexandre Moos (Swi) Phonak                               
83 Andoni Aranaga (Spa) Kaiku                                
84 Alberto López De Munain (Spa) Eukaltel-Euskadi            
85 Javier Ruiz De Larrinaga (Spa) Kaiku                      
86 Unai Osa (Spa) Illes Balears                              
87 Alan Pérez (Spa) Orbea                               11.10
88 Luis Pérez (Spa) Relax Fuenlabrada                   12.41
89 Gorka Arrizabalaga (Spa) Orbea                       16.10
90 Alberto Rodríguez (Spa) Catalunya-Ángel Mir               
91 Unai Elorriaga (Spa) Spanish national track team          
 
Mountains
 
Coll De Sa Gramola - Cat. 2, km 23,60
1 Yon Bru Pascal (Spa) Kaiku                               10 pts
2 Luis Pérez (Spa) Relax Fuenlabrada                        7
3 Joaquín Rodríguez (Spa) Saunier Duval-Prodir              5
4 Joan Llaneras (Spa) Spanish national track team           3
5 Karsten Kroon (Ned) Rabobank                              2
6 Juan Manuel Gárate (Spa) Saunier Duval-Prodir             1
 
Coll De Claret - Cat. 3, km 53,20
1 Joan Llaneras (Spa) Spanish national track team           6 pts
2 Daniel Moreno (Spa) Relax Fuenlabrada                     4
3 Luis Pérez (Spa) Relax Fuenlabrada                        2
4 Rolf Aldag (Ger) Team T-Mobile                            1
 
Coll De Soller - Cat. 2, km 85,30
1 Daniel Moreno (Spa) Relax Fuenlabrada                    10 pts
2 Rolf Aldag (Ger) Team T-Mobile                            7
3 Adolfo García Quesada (Spa) Comunidad Valenciana          5
4 Joaquín Rodríguez (Spa) Saunier Duval-Prodir              3
5 Luis Pérez (Spa) Relax Fuenlabrada                        2
6 Karsten Kroon (Ned) Rabobank                              1
 
Coll De Claret - Cat. 2, km 112,10
1 Yon Bru Pascal (Spa) Kaiku                               10 pts
2 Joaquín Rodríguez (Spa) Saunier Duval-Prodir              7
3 Adolfo García Quesada (Spa) Comunidad Valenciana          5
4 Karsten Kroon (Ned) Rabobank                              3
5 Rolf Aldag (Ger) Team T-Mobile                            2
6 Daniel Moreno (Spa) Relax Fuenlabrada                     1
 
Coll Des Tords - Cat. 3, km 134,90
1 Toni Colom (Spa) Illes Balears                            6 pts
2 José A. Gómez Marchante (Spa) Saunier Duval-Prodir        4
3 Javier Cherro (Spa) Comunidad Valenciana                  2
4 Juan Manuel Gárate (Spa) Saunier Duval-Prodir             1
 
Metas Volantes
 
Calvia, km 6,70
1 Antonio Olmo (Spa) Comunidad Valenciana                   3 pts
2 Javier Cherro (Spa) Comunidad Valenciana                  2
3 Adolfo García Quesada (Spa) Comunidad Valenciana          1
 
Esporles, km 118,20
1 Joaquín Rodríguez (Spa) Saunier Duval-Prodir              3 pts
2 Karsten Kroon (Ned) Rabobank                              2
3 Yon Bru Pascal (Spa) Kaiku                                1
 
Special Sprints
 
Deia, km 65,70
1 Karsten Kroon (Ned) Rabobank                              3 pts
2 Luis Pérez (Spa) Relax Fuenlabrada                        2
3 Joaquín Rodríguez (Spa) Saunier Duval-Prodir              1
 
Establiments, km 124,20
1 Karsten Kroon (Ned) Rabobank                              3 pts
2 Adolfo García Quesada (Spa) Comunidad Valenciana          2
3 Yon Bru Pascal (Spa) Kaiku                                1
 
Teams
 
1 Illes Balears                                      11.36.18
2 Saunier Duval-Prodir                                   0.02
3 Quickstep                                                  
4 Relax-Fuenlabrada                                      0.09
5 Comunidad Valenciana                                       
6 Rabobank                                                   
7 Kaiku                                                      
8 Andalucia-Paul Versan                                  0.28
9 Spiuk                                                  1.24
10 Fundacion C. Euskadi                                  1.27
11 T-Mobile Team                                         2.39
12 Orbea                                                 3.48
13 Phonak H. S.                                         17.03
14 Catalunya-Angel Mir                                  24.33
 
Final general classification
 
1 Alejandro Valverde (Spa) Illes Balears             17.26.13
2 David Muñoz (Spa) Comunidad Valenciana                 1.18
3 Aitor Pérez Arrieta (Spa) Spiuk                        1.21
4 Ricardo Serrano (Spa) Kaiku                                
5 Adolfo García Quesada (Spa) Comunidad Valenciana       1.38
6 Toni Tauler (Spa) Illes Balears                        2.42
7 Ángel Gómez (Spa) Saunier Duval-Prodir                 2.43
8 Luis Pasamontes (Spa) Relax Fuenlabrada                3.03
9 Rolf Aldag (Ger) Team T-Mobile                         3.15
10 Ezequiel Mosquera (Spa) Kaiku                         3.20
11 Marc Lotz (Ned) Quick Step                            3.41
12 Antonio Olmo (Spa) Comunidad Valenciana               4.29
13 José Luis Martínez (Spa) Comunidad Valenciana         4.50
14 Toni Colom (Spa) Illes Balears                        9.48
15 Erik Zabel (Ger) Team T-Mobile                        9.49
16 Javier Cherro (Spa) Comunidad Valenciana             16.55
17 Carlos Castaño (Spa) Andalucía-Paul Versan           18.56
18 Xavier Florencio (Spa) Relax Fuenlabrada             19.30
19 David De La Fuente (Spa) Saunier Duval-Prodir        21.36
20 Jaime Rovira (Spa) Andalucía-Paul Versan             21.43
 
Mountains classification
 
1 Ezequiel Mosquera (Spa) Kaiku                            33 pts
2 Toni Tauler (Spa) Illes Balears                          24
3 Adolfo García Quesada (Spa) Comunidad Valenciana         23
4 Toni Colom (Spa) Illes Balears                           18
5 Alejandro Valverde (Spa) Illes Balears                   18
6 Rolf Aldag (Ger) Team T-Mobile                           12
7 Carlos Castaño (Spa) Andalucía-Paul Versan                6
8 Antonio Olmo (Spa) Comunidad Valenciana                   5
9 Erik Zabel (Ger) Team T-Mobile                            5
10 David Muñoz (Spa) Comunidad Valenciana                   4
11 Aitor Pérez Arrieta (Spa) Spiuk                          4
 
Metas volantes classification
 
1 Antonio Olmo (Spa) Comunidad Valenciana                   7 pts
2 Toni Colom (Spa) Illes Balears                            3
3 Javier Cherro (Spa) Comunidad Valenciana                  2
4 Adolfo García Quesada (Spa) Comunidad Valenciana          1
 
Special sprints classification
 
1 Antonio Olmo (Spa) Comunidad Valenciana                   6 pts
2 Toni Tauler (Spa) Illes Balears                           3
3 Adolfo García Quesada (Spa) Comunidad Valenciana          2
4 Javier Cherro (Spa) Comunidad Valenciana                  2
5 Alejandro Valverde (Spa) Illes Balears                    2
 
Balearic rider classification
 
1 Toni Tauler (Spa) Illes Balears                            
2 Toni Colom (Spa) Illes Balears                             
 
Teams classification
 
1 Illes Balears                                      52.23.15
2 Comunidad Valenciana                                   0.54
3 Kaiku                                                  1.56
4 T-Mobile Team                                          9.06
5 Saunier Duval-Prodir                                   9.26
6 Rabobank                                               9.36
7 Relax-Fuenlabrada                                     27.27
8 Andalucia-Paul Versan                                 37.52