14th Challenge Illes Balears - 1.1 (x5)
Spain, February 6-10, 2005
Main Page Results Previous Stage Next Stage
Stage 2 - February 7: Port d'Alcudia-Port d'Alcudia (Trofeo Alcudia), 163.2 km
Oscar again!
Freire makes it two for two, but won't be back for three-in-a-row
Oscar Freire (Rabobank) wins
Photo ©: Franklin Tello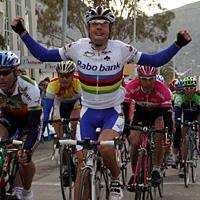 Oscar Freire has won the second stage of the Challenge Illes Balears, once again out-sprinting Isaac Galvez (Illes Balears) at the finish.
Today's stage was slightly more sedate than stage 1's opening dash as the peloton made its way along a 163km loop that started and finished in Port d'Alcudia. An eight-man break went away after 33km, comprising Toni Tauler (Illes Balears), Íñigo Cuesta (Saunier), Matt Hayman and Karsten Kroon (Rabobank), David Bernabéu and Rubén Plaza (Comunidad Valenciana), Josep Jufre (Relax Fuenlabrada) and José Antonio López (Kaiku).
It was almost as though the break had permission from the peloton to go out on its own for a while and by the 43km mark the gap was eight minutes. That was the cue for the Illes Balears team to increase the tempo and work with Rabobank and T-Mobile to bring the peloton back together for a sprint finish.
Despite having a man in the break, Illes Balears' strategy was to set things up for sprinter Galvez and Tauler was instructed not to work with his companions out front. The break was reeled in after 152km and the stage was set for another sprint showdown. But the rainbow-clad Freire once again demonstrated that he has scorching form this season and comfortably eclipsed Galvez to take the win.
The peloton rolls out
Photo ©: Franklin Tello

"I have to make the most of the excellent form I'm in," said Freire. "I feel very comfortable and had to take this opportunity. The breakaway made for a very fast stage, so the day was harder than we expected."
While Freire heads the overall classification at the Challenge Illes balears, he won't be trying to keep it. "I am not going to fight for the general [classification]," he said, "because I won't start tomorrow. I believe I have already done my work and now have to think about other things."
The Illes Balears team is hoping to have one of its riders pull on Friere's overall classification jersey after tomorrow's third stage, which is why Tauler was ordered not to work with today's breakaway. "The team had to do a lot of work again to chase down the escape," said Illes Balears rider Vicente Reynés, "because Bernabéu is a dangerous man to our hopes of winning the general [classification]."
The break lasted
Photo ©: Franklin Tello

"I have very good feelings about tomorrow's stage," continued Reynes. "It is the key day. I am sure the Challenge will be decided there and the team's plan is to fight for a repeat of last year's success."
Toni Tauler agreed, saying that he was in a good break, "but the team told me to stop. Those are the orders of the team and you have to obey them. Tomorrow is a decisive and key stage for the final victory, so we are all ready to give it the maximum."
Photography
For a thumbnail gallery of these images, click here
Images by Franklin Tello/Franklin Tello Photography
Images by Mario Stiehl/www.world-of-cycling.com
Results
1 Oscar Freire (Spa) Rabobank                 3.41.12
2 Isaac Galvez (Spa) Illes Balears                   
3 Dimitri De Fauw (Bel) Quickstep                    
4 Erik Zabel (Ger) T-Mobile Team                     
5 Unai Elorriaga (Spa) Sel. Española                 
6 Vidal Celis (Spa) Orbea                            
7 Mikel Gaztanaga (Spa) Catalunya-Angel Mir          
8 Olaf Pollack (Ger) T-Mobile Team                   
9 David Muñoz (Spa) Comunidad Valenciana             
10 Alejandro Valverde (Spa) Illes Balears            
11 Andreas Klier (Ger) T-Mobile Team                 
12 Vicente Reynes (Spa) Illes Balears                
13 Daniel Moreno (Spa) Relax-Fuenlabrada             
14 Antonio Colom (Spa) Illes Balears                 
15 Ricardo Serrano (Spa) Kaiku                       
16 Steven De Jongh (Ned) Rabobank                    
17 Martin Elmiger (Swi) Phonak Hearing Systems       
18 Unai Etxebarria (Ven) Fundacion C. Euskadi        
19 Aitor Perez (Spa) Spiuk                           
20 Luis Pasamontes (Spa) Relax-Fuenlabrada           
21 Carlos Castaño (Spa) Andalucia-Paul Versa         
22 Pablo Urtasun (Spa) Kaiku                         
23 M.A M.Perdiguero (Spa) Phonak Hearing Systems     
24 Antonio Miguel (Spa) Catalunya-Angel Mir          
25 Mikel Artetxe (Spa) Fundacion C. Euskadi          
26 Javier Cherro (Spa) Comunidad Valenciana          
27 Angel Edo (Spa) Saunier Duval-Prodir              
28 Jordi Berenguer (Spa) Catalunya-Angel Mir         
29 Jorge Ferrio (Spa) Spiuk                          
30 Jorge Azanza (Spa) Kaiku                          
31 Angel Gomez (Spa) Saunier Duval-Prodir            
32 Yon Bru (Spa) Kaiku                               
33 Iker Camano (Spa) Fundacion C. Euskadi            
34 Adolfo Garcia (Spa) Comunidad Valenciana          
35 José A. Bonilla (CRc) Comunidad Valenciana        
36 Benat Albizuri (Spa) Orbea                        
37 Pedro Romero (Spa) Spiuk                          
38 Fernando Serrano (Spa) Kaiku                      
39 Luis Perez (Spa) Relax-Fuenlabrada                
40 Juan A. Pastor (Spa) Andalucia-Paul Versa         
41 Ruben Perez (Spa) Orbea                           
42 Gorka Arrizabalaga (Spa) Orbea                    
43 Jaume Rovira (Spa) Andalucia-Paul Versa           
44 Javier Benitez (Spa) Relax-Fuenlabrada            
45 Eloy Teruel (Spa) Sel. Española                   
46 Bert Grabsch (Ger) Phonak Hearing Systems         
47 Ivan Mayoz (Spa) Relax-Fuenlabrada                
48 Xabier Zandio (Spa) Illes Balears                 
49 Victor M. Gomes (Spa) Andalucia-Paul Versa        
50 David De La Fuente (Spa) Saunier Duval-Prodir     
51 Antonio Olmo (Spa) Comunidad Valenciana           
52 Antonio Tauler (Spa) Illes Balears                
53 Christian Werner (Ger) T-Mobile Team              
54 Rafael Macarron (Spa) Spiuk                       
55 Miguel Alzamora (Spa) Sel. Española               
56 Rory Sutherland (Aus) Rabobank                    
57 Raul Garcia (Spa) Relax-Fuenlabrada               
58 Rolf Aldag (Ger) T-Mobile Team                    
59 Gerben Löwik (Ned) Rabobank                       
60 Rodrigo Garcia (Spa) Kaiku                        
61 Ignacio Gutierrez (Spa) Phonak Hearing Systems    
62 Aketza Peña (Spa) Fundacion C. Euskadi            
63 Javier P.Llorente (Spa) Comunidad Valenciana      
64 Julen Zubero (Spa) Orbea                          
65 Aaron Villegas (Spa) Orbea                        
66 Sebastian Franco (Spa) Sel. Española              
67 José L. Martinez (Spa) Comunidad Valenciana       
68 Johann Tschopp (Swi) Phonak Hearing Systems       
69 Alan Perez (Spa) Orbea                            
70 Mathew Hayman (Aus) Rabobank                      
71 Igor Anton H. (Spa) Fundacion C. Euskadi          
72 Carlos Torrent (Spa) Catalunya-Angel Mir          
73 Xabier Tondo (Spa) Catalunya-Angel Mir            
74 Theo Eltink (Ned) Rabobank                        
75 Iker Flores (Spa) Fundacion C. Euskadi            
76 José E. Gutierrez (Spa) Phonak Hearing Systems    
77 Iker Mezo (Spa) Orbea                             
78 David Fernandez (Spa) Andalucia-Paul Versa        
79 Daniel Schnider (Swi) Phonak Hearing Systems      
80 Angel Rodriguez (Spa) Spiuk                       
81 Efrain Gutierrez (Spa) Andalucia-Paul Versa       
82 Fernando Torres (Spa) Spiuk                       
83 Tadej Valjavec (Slo) Phonak Hearing Systems       
84 José Ruiz (Spa) Andalucia-Paul Versa              
85 Marc Lotz (Ned) Quickstep                         
86 Juan M. Garate (Spa) Saunier Duval-Prodir         
87 Dailos Diaz (Spa) Orbea                           
88 Fco. José Martinez (Spa) Andalucia-Paul Versa     
89 Ezequiel Mosquera (Spa) Kaiku                     
90 Fco. J. Garcia (Spa) Catalunya-Angel Mir          
91 Cristian Moreni (Ita) Quickstep                   
92 Tomasz Nose (Slo) Phonak Hearing Systems          
93 Oliver Zaugg (Swi) Saunier Duval-Prodir           
94 Jan Schaffrath (Ger) T-Mobile Team                
95 Imanol Erviti (Spa) Illes Balears                 
96 Sergio Dominguez (Spa) Spiuk                      
97 Steffen Wesemann (Ger) T-Mobile Team              
98 Alberto Benitez (Spa) Spiuk                       
99 Joan Llaneras (Spa) Sel. Española                 
100 Stephan Schreck (Ger) T-Mobile Team              
101 Maarten Den Bakker (Ned) Rabobank                
102 Anton Luengo (Spa) Fundacion C. Euskadi          
103 Ruben Plaza (Spa) Comunidad Valenciana           
104 Ruben Lobato (Spa) Saunier Duval-Prodir          
105 David Bernabeu (Spa) Comunidad Valenciana        
106 Angel L. Casero (Spa) Comunidad Valenciana       
107 Moises Duenas (Spa) Relax-Fuenlabrada            
108 Patrik Sinkewitz (Ger) Quickstep                 
109 Andoni Aranaga (Spa) Kaiku                       
110 Iker Leonet (Spa) Illes Balears                  
111 Paolo Bettini (Ita) Quickstep                    
112 David Herrero (Spa) Fundacion C. Euskadi         
113 Jos. Aguirrezabala (Spa) Andalucia-Paul Versa    
114 Jesus Buendia (Spa) Sel. Española                
115 José A. Garrido (Spa) Quickstep                  
116 Rik Verbrugghe (Bel) Quickstep                   
117 José A. Pecharroman (Spa) Quickstep              
118 Juan M. Mercado (Spa) Quickstep                  
119 Gorka Amuriza (Spa) Orbea                        
120 Mads Christensen DEM Quickstep                   
121 Alexandr Kolobnev (Rus) Rabobank                 
122 Aitor Alonso (Spa) Sel. Española                 
123 Javier Ruiz (Spa) Kaiku                          
124 Jorge Sanchez (Spa) Spiuk                        
125 Iñigo Cuesta (Spa) Saunier Duval-Prodir          
126 Alberto Lopez (Spa) Fundacion C. Euskadi         
127 Jose A. Gomez (Spa) Saunier Duval-Prodir         
128 Karsten Kroon (Ned) Rabobank                     
129 David Cañada (Spa) Saunier Duval-Prodir          
130 Nicolas Fritsch (Fra) Saunier Duval-Prodir       
131 Roberto Laiseka (Spa) Fundacion C. Euskadi       
132 Alfonso Rodriguez (Spa) Spiuk                0.20
133 Xavier Florencio (Spa) Relax-Fuenlabrada         
134 José A. Lopez (Spa) Kaiku                        
135 Guillermo Ferrer (Spa) Sel. Española             
136 David Navas (Spa) Illes Balears                  
137 Francisco Lara (Spa) T-Mobile Team               
138 Torsten Hiekmann (Ger) T-Mobile Team             
139 Marc Wauters (Bel) Rabobank                      
140 Angel Vallejo (Spa) Relax-Fuenlabrada        0.35
141 Josep Jufre (Spa) Relax-Fuenlabrada          1.41
 
Mountains
 
Comuna De Petra - Cat. 4, km 132,00
1 Ruben Plaza (Spa)                                 3 pts
2 Antonio Tauler (Spa)                              2
3 David Bernabeu (Spa)                              1
 
Metas Volantes
 
Llucmajor, km 77,00
1 José A. Lopez (Spa)                               3 pts
2 Josep Jufre (Spa)                                 2
3 David Bernabeu (Spa)                              1
 
Manacor, km 117,60
1 Mathew Hayman (Aus)                               3 pts
2 José A. Lopez (Spa)                               2
3 Josep Jufre (Spa)                                 1
 
Special sprints
 
Sa Pobla, km 12,60
1 Alberto Benitez (Spa)                             3 pts
2 Pedro Romero (Spa)                                2
3 Fernando Torres (Spa)                             1
 
Felanitx, km 104,30
1 José A. Lopez (Spa)                               3 pts
2 Josep Jufre (Spa)                                 2
3 Iñigo Cuesta (Spa)                                1
 
Teams
 
1 T-Mobile Team                              11.03.36
2 Illes Balears                                      
3 Catalunya-Angel Mir                                
4 Kaiku                                              
5 Comunidad Valenciana                               
6 Relax-Fuenlabrada                                  
7 Rabobank                                           
8 Fundacion C. Euskadi                               
9 Orbea                                              
10 Spiuk                                             
11 Phonak Hearing Systems                            
12 Andalucia-Paul Versan                             
13 Sel. Española                                     
14 Saunier Duval-Prodir                              
15 Quickstep                                         
 
General classification after stage 2
 
1 Oscar Freire (Spa) Rabobank                 5.14.11
2 Isaac Galvez (Spa) Illes Balears                   
3 Dimitri De Fauw (Bel) Quickstep                    
4 Erik Zabel (Ger) T-Mobile Team                     
5 Unai Elorriaga (Spa) Sel. Española                 
6 Vicente Reynes (Spa) Illes Balears                 
7 Vidal Celis (Spa) Orbea                            
8 Mikel Gaztanaga (Spa) Catalunya-Angel Mir          
9 David Muñoz (Spa) Comunidad Valenciana             
10 Ricardo Serrano (Spa) Kaiku                       
11 Aitor Perez (Spa) Spiuk                           
12 Pablo Urtasun (Spa) Kaiku                         
13 Martin Elmiger (Swi) Phonak Hearing Systems       
14 Carlos Castaño (Spa) Andalucia-Paul Versa         
15 Alejandro Valverde (Spa) Illes Balears            
16 Luis Pasamontes (Spa) Relax-Fuenlabrada           
17 Javier Cherro (Spa) Comunidad Valenciana          
18 Yon Bru (Spa) Kaiku                               
19 Unai Etxebarria (Ven) Fundacion C. Euskadi        
20 Antonio Colom (Spa) Illes Balears                 
21 Steven De Jongh (Ned) Rabobank                    
22 Javier Benitez (Spa) Relax-Fuenlabrada            
23 Antonio Miguel (Spa) Catalunya-Angel Mir          
24 Luis Perez (Spa) Relax-Fuenlabrada                
25 Adolfo Garcia (Spa) Comunidad Valenciana          
26 José A. Bonilla (CRc) Comunidad Valenciana        
27 Rodrigo Garcia (Spa) Kaiku                        
28 M.A M.Perdiguero (Spa) Phonak Hearing Systems     
29 Jordi Berenguer (Spa) Catalunya-Angel Mir         
30 Victor M. Gomes (Spa) Andalucia-Paul Versa        
31 Jorge Azanza (Spa) Kaiku                          
32 Olaf Pollack (Ger) T-Mobile Team                  
33 Angel Edo (Spa) Saunier Duval-Prodir              
34 Xabier Zandio (Spa) Illes Balears                 
35 David De La Fuente (Spa) Saunier Duval-Prodir     
36 Jaume Rovira (Spa) Andalucia-Paul Versa           
37 Juan A. Pastor (Spa) Andalucia-Paul Versa         
38 Iker Camano (Spa) Fundacion C. Euskadi            
39 David Fernandez (Spa) Andalucia-Paul Versa        
40 Cristian Moreni (Ita) Quickstep                   
41 Pedro Romero (Spa) Spiuk                          
42 Angel Gomez (Spa) Saunier Duval-Prodir            
43 Iker Mezo (Spa) Orbea                             
44 José E. Gutierrez (Spa) Phonak Hearing Systems    
45 Gerben Löwik (Ned) Rabobank                       
46 Bert Grabsch (Ger) Phonak Hearing Systems         
47 Benat Albizuri (Spa) Orbea                        
48 Raul Garcia (Spa) Relax-Fuenlabrada               
49 Paolo Bettini (Ita) Quickstep                     
50 Fco. J. Garcia (Spa) Catalunya-Angel Mir          
51 Mathew Hayman (Aus) Rabobank                      
52 Angel Rodriguez (Spa) Spiuk                       
53 Mikel Artetxe (Spa) Fundacion C. Euskadi          
54 Rafael Macarron (Spa) Spiuk                       
55 Ignacio Gutierrez (Spa) Phonak Hearing Systems    
56 Eloy Teruel (Spa) Sel. Española                   
57 José L. Martinez (Spa) Comunidad Valenciana       
58 Aketza Peña (Spa) Fundacion C. Euskadi            
59 Antonio Tauler (Spa) Illes Balears                
60 Aaron Villegas (Spa) Orbea                        
61 Daniel Schnider (Swi) Phonak Hearing Systems      
62 Fco. José Martinez (Spa) Andalucia-Paul Versa     
63 Juan M. Garate (Spa) Saunier Duval-Prodir         
64 Antonio Olmo (Spa) Comunidad Valenciana           
65 Efrain Gutierrez (Spa) Andalucia-Paul Versa       
66 Imanol Erviti (Spa) Illes Balears                 
67 Rolf Aldag (Ger) T-Mobile Team                    
68 Julen Zubero (Spa) Orbea                          
69 Oliver Zaugg (Swi) Saunier Duval-Prodir           
70 Ruben Perez (Spa) Orbea                           
71 Miguel Alzamora (Spa) Sel. Española               
72 Rory Sutherland (Aus) Rabobank                    
73 Fernando Torres (Spa) Spiuk                       
74 Christian Werner (Ger) T-Mobile Team              
75 José Ruiz (Spa) Andalucia-Paul Versa              
76 Ezequiel Mosquera (Spa) Kaiku                     
77 Sebastian Franco (Spa) Sel. Española              
78 Tadej Valjavec (Slo) Phonak Hearing Systems       
79 Alberto Benitez (Spa) Spiuk                       
80 Carlos Torrent (Spa) Catalunya-Angel Mir          
81 David Herrero (Spa) Fundacion C. Euskadi          
82 Xabier Tondo (Spa) Catalunya-Angel Mir            
83 Tomasz Nose (Slo) Phonak Hearing Systems          
84 Ruben Plaza (Spa) Comunidad Valenciana            
85 Dailos Diaz (Spa) Orbea                           
86 Juan M. Mercado (Spa) Quickstep                   
87 David Bernabeu (Spa) Comunidad Valenciana         
88 Steffen Wesemann (Ger) T-Mobile Team              
89 Stephan Schreck (Ger) T-Mobile Team               
90 José A. Pecharroman (Spa) Quickstep               
91 Aitor Alonso (Spa) Sel. Española                  
92 Alexandr Kolobnev (Rus) Rabobank                  
93 Patrik Sinkewitz (Ger) Quickstep                  
94 Rik Verbrugghe (Bel) Quickstep                    
95 Karsten Kroon (Ned) Rabobank                      
96 Iñigo Cuesta (Spa) Saunier Duval-Prodir           
97 Andreas Klier (Ger) T-Mobile Team             0.12
98 Marc Lotz (Ned) Quickstep                     0.19
99 Sergio Dominguez (Spa) Spiuk                      
100 Ruben Lobato (Spa) Saunier Duval-Prodir          
101 Jan Schaffrath (Ger) T-Mobile Team               
102 Angel L. Casero (Spa) Comunidad Valenciana       
103 Joan Llaneras (Spa) Sel. Española                
104 Jesus Buendia (Spa) Sel. Española                
105 José A. Garrido (Spa) Quickstep                  
106 Mads Christensen DEM Quickstep                   
107 David Cañada (Spa) Saunier Duval-Prodir          
108 Nicolas Fritsch (Fra) Saunier Duval-Prodir       
109 Xavier Florencio (Spa) Relax-Fuenlabrada     0.20
110 José A. Lopez (Spa) Kaiku                        
111 David Navas (Spa) Illes Balears              1.01
112 Torsten Hiekmann (Ger) T-Mobile Team             
113 Josep Jufre (Spa) Relax-Fuenlabrada          1.41
 
Mountains classification
 
1 Ruben Plaza (Spa) Comunidad Valenciana            3 pts
2 Antonio Tauler (Spa) Illes Balears                2
3 David Bernabeu (Spa) Comunidad Valenciana         1
 
Metas volantes classification
 
1 José A. Lopez (Spa) Kaiku                         5 pts
2 Mathew Hayman (Aus) Rabobank                      3
3 Luis Perez (Spa) Relax-Fuenlabrada                3
4 Josep Jufre (Spa) Relax-Fuenlabrada               3
5 Antonio Olmo (Spa) Comunidad Valenciana           2
6 David Fernandez (Spa) Andalucia-Paul Versa        2
7 David Bernabeu (Spa) Comunidad Valenciana         1
8 Alberto Benitez (Spa) Spiuk                       1
 
Special sprints classification
 
1 Alberto Benitez (Spa) Spiuk                       7 pts
2 José A. Lopez (Spa) Kaiku                         3
3 Bert Grabsch (Ger) Phonak Hearing Systems         3
4 Antonio Olmo (Spa) Comunidad Valenciana           3
5 Josep Jufre (Spa) Relax-Fuenlabrada               2
6 Pedro Romero (Spa) Spiuk                          2
7 Rory Sutherland (Aus) Rabobank                    2
8 Iñigo Cuesta (Spa) Saunier Duval-Prodir           1
9 Fernando Torres (Spa) Spiuk                       1
 
Baleares rider classification
 
1 Vicente Reynes (Spa) Illes Balears                 
2 Antonio Colom (Spa) Illes Balears                  
 
Teams classification
 
1 Quickstep                                  15.42.33
2 T-Mobile Team                                      
3 Illes Balears                                      
4 Kaiku                                              
5 Catalunya-Angel Mir                                
6 Orbea                                              
7 Comunidad Valenciana                               
8 Relax-Fuenlabrada                                  
9 Rabobank                                           
10 Andalucia-Paul Versan                             
11 Fundacion C. Euskadi                              
12 Spiuk                                             
13 Phonak Hearing Systems                            
14 Sel. Española                                     
15 Saunier Duval-Prodir