Eastern Suburbs Trophy Race - NE
Heffron Park, Australia, December 20, 2005
2004 Results Results Past winners
Josh Marden wins 2005 Trophy Race
By John Sunde and Jeff Jones
The finish: Marden gets it
Photo ©: Stuart Baker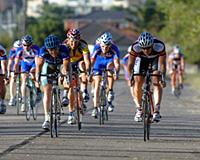 Local boy Josh Marden from the Randwick Botany club, now part of the FRF Couriers/Caravello team, managed to outwit and outsprint a stellar A grade field to win the 2005 Eastern Suburbs Trophy Race when he beat the form rider of the summer, Steve Fitzpatrick, and the 'King is Back', Anthony Spurgeon.
The Trophy Race is an annual criterium for a perpetual trophy traditionally held the week before Christmas, and for the past 20 years has been conducted as part of the club's popular Tuesday night summer racing programme. The race is a unique part of the summer programme in that it's over the slightly longer distance of 20 laps (which is a lot of laps in the wind at Heffron Park) and gives A grade the chance to really strut their stuff with a big prize, not to mention the honour of having your name engraved on the Trophy.
Sydney's pro cycling contingent once again turned out to support the event, and no doubt grab a share of the $1000 prize pool on offer to buy some last minute Xmas presents. Lining up in their new team strips for 2006 were dual winner Chris Sutton (Cofidis), Trent Wilson (Jittery Joe's) looking sharp in his new orange strip, and Ben Brooks (Jelly Belly), the master of sock height. Matt White (Discovery) was on hand to lend support from the sidelines along with English TT Olympian Stuart Dangerfield.
Trent Wilson (Jittery Joe's)
Photo ©: Stuart Baker
Add in a strong contingent of local teams like FRF Couriers/Caravello - Troy Glennan, Josh Marden, Robbie Cater, Shaun Higgerson and eight times winner of the event Anthony Spurgeon, defending champion Jose Rodriguez, Matt Fleming (both Clarence St Cyclery), and of course the St George juggernaut of Steve Fitzpatrick, Warren Scott and Gavin Bates, plus all the usual Tuesday night big hitters like Stewart Campbell (Easts), Liam Kelly, Jeff Jones, Dave Treacy (Randwick Botany), along with Brad Mills and Ben Isaksen, and it was bound to be a hard fought affair.
The field of over 50 A and B graders lined up and set off at a very relaxed pace, courtesy of one Anthony Spurgeon. But the calm didn't remain for long as the screws were turned in the crosswind down the main straight to try and reduce the bunch down to size. That proved successful, with Ben Brooks, Chris Sutton, Trent Wilson and Stewart Campbell being the main punishers, and by halfway the field was pared down quite significantly. A crash on the tennis court corner early on also took out a few riders in a tangle of bikes, although none were seriously hurt.
Robbie Cater (FRF-Caravello)
Photo ©: Stuart Baker

All the breakaways thus far had proved unsuccessful, although the stop/start pace was gradually taking its toll. Trent Wilson was particularly active, and seemed to be in every move, until the off season - find out why at www.theoffy.org - started to catch up with him later on. Chris Sutton, Dave Treacy, Josh Fleming, Liam Kelly, and Ben Brooks were also getting in amongst it.
As the race approached five to go, the nerves began to show and everyone started to manoeuvre into position for an expected bunch sprint. But at three to go, Robbie Cater (FRF-Caravello) soloed off the front, followed by Cyclingnews' Jeff Jones (Randwick Botany), then Ben Isaksen (Lidcombe), and Matt Fleming (Clarence St) bridging up. The quartet held a slender advantage over the peloton over the final laps, before the St George train took up the chase for their sprinter Steve Fitzpatrick, and the race came together again with 600m to go.
This time, Steve Fitzpatrick didn't get it his own way, as the powerful Josh Marden (FRF) was able to claim line honours and get his name on the trophy. Fitzy was still second, while Spurge showed the benefits of some training to finish third, sounding a stern warning to the pretenders to his throne in the Trek Summer Series next year. The top ten places were deservedly won by the A grade riders, although fine rides by Scott Callum, John Kenny, Paul Rowney and Matt Lucas showed they well and truly ready for the step up to A grade.
Support race
Frank Fortuna (Randwick Botany)
Photo ©: Stuart Baker

In the C grade support event a field of 40 riders contested a 15 lap race which saw defending title holder Luke Davison record an impressive double when he outsprinted the godfather of Randwick Botany, Frank Fortuna, to give the club a clean sweep of the night's racing. Steve Pearson came home strongly for third, while Pete O'Connor who always manages to find a place somewhere on the podium got fourth in front of Cyclingnews' very own Les Clarke (Lidcombe).
Big bunches of flowers and thank you's tonight for Jenny Spurgeon and Helen Vella who handle the entries and numbers each week - no easy task, especially tonight without Frank Conceicao on hand to count the money and arbitrate over grading. Unfortunately Frank was busy looking after his partner Jo Palazzetti who had a nasty fall at the weekend and is still in St George Hospital under observation and tests for a neck injury. We all wish her a speedy recovery and hear she should be home for Xmas, just in time for Frank to cook the turkey.
Tuesday night racing returns to Heffron Park on 10th January with the launch of 2006 Trek Bikes Summer Series. Have a safe and happy Christmas, get some training in, because chances are, you'll need it come January.
Photography
For a thumbnail gallery of these images, click here
Images by Stuart Baker
Results
A + B grade - 20 laps (40.4 km)

1 Joshua Marden (FRF Couriers/Caravello)
2 Steve Fitzpatrick (St George)
3 Anthony Spurgeon (FRF Couriers/Caravello)
4 Chris Sutton (Cofidis)
5 Warren Scott (St George)
6 Stewart Campbell (Easts)
7 Jose Rodriguez (Clarence St Cyclery)
8 Liam Kelly (Sydney)
9 Brent Jenkins ( Randwick Botany)
10 Robbie Cater (FRF Couriers/Caravello)
 
C Grade - 15 laps (30km)

1 Luke Davison (Randwick Botany)
2 Frank Fortuna (Randwick Botany)
3 Steve Pearson (Lidcombe)
4 Peter O'Connor (Easts)
5 Les Clarke (Lidcombe)
Past winners
2004 Jose Rodriguez (Randwick Botany/FRF)
2003 Chris Sutton (FDJ-NSWIS/St George)
2002 Chris Sutton (FDJ-NSWIS/St George)
2001 Liam Kelly (Eastern Suburbs)
2000 Anthony Spurgeon (Caravello)
1999 Anthony Spurgeon (Caravello)
1998 Anthony Spurgeon (Caravello)
1997 Stewart Campbell (Eastern Suburbs)
1996 Paul Rowney (Eastern Suburbs)
1995 Jose Rodriguez (Randwick Botany)
1994 Anthony Spurgeon (Caravello)
1993 Anthony Spurgeon (Caravello)
1992 Anthony Spurgeon (Eastern Suburbs)
1991 Anthony Spurgeon (Eastern Suburbs)
1990 Anthony Spurgeon (Eastern Suburbs)
1989 Bob Rasenberg (Holland)
1988 Gary Stewart (Skipper-Spear & Jackson)
1987 Gary Stewart (Skipper-Spear & Jackson)
1986 Gary Stewart (Skipper-Spear & Jackson)
1985 Barney St George (Skipper-Spear & Jackson)
1984 Gary Stewart (Clarence St Cyclery)
1983 Gary Stewart (Clarence St Cyclery)
1982 Ken McMillan (Randwick Botany)