Le Tour du Grand Montréal - 2.9.1
Canada, May 31-June 2, 2004
Main Page Results Previous Stage
Schleicher sprints to final stage win; Arndt wins overall
Official report
Regina Schleicher (Safi-Pasta Zara Manhattan)
Photo ©: Rob Karman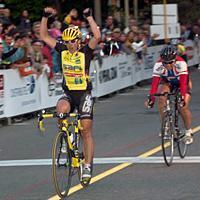 With solid help by her two remaining teammates, German Judith Arndt (Nurnberger-Versicherung) manages to hold on to her yellow jersey and win the final victory in the Tour of Greater Montreal tonight in Terrebonne, a Montreal suburb. Regina Schleicher (Safi-Pasta Zara Manhattan) won the stage, outsprinting Norwegian Anita Valen (S.A.T.S.) and 20-year old Laura Yoisten, of the Canadian Development team.
The 15 first finishers tonight were credited with the same time -- 2 hours, 1 minute and 8 seconds, for an average speed of 39.62 km/h.
Arndt won overall with a slim 5-second lead over Anita Valen, who climbed up from fourth to second spot tonight, and a 10-second lead over third-place Canadian Lyne Bessette (Quark). Genesis Scuba won the team general classification, 16 seconds in front of Team RONA.
The Terrebonne stage, raced on a 10-kilometre course, offers no serious difficulty and always ends in a massive sprint. Arndt started this last stage of the Tour with an 11-second lead over Dede Demet Barry and 12-second over Lyne Bessette. With a possibility of 19 bonus seconds for any one rider, between the intermediary sprints and the stage win, the race was far from over.
Judith Arndt (Nurnberger)
Photo ©: Rob Karman
Petra Rossner, Arndt's teammate and one of the best sprinters in the world, won the three intermediary sprints - and a total of 9 bonus seconds - thus minimizing the take for the contenders. It then behooved Arndt to prevent any serious break to form. She had to chase herself several attempts to leave the pack. The race was not particularly aggressive, but a few riders attacked several times. Among those who did were Erinne Willock (RONA), Amy Moore (Quark), Arantzazu Azpiroz (Spain) and especially Lyne Bessette, who tried in vain to generate a break during the last 20 kilometres. But each time the pack prevented anything to materialize.
Regina Schleicher won the final sprint. "I knew I could win that," she said. "My teammate Diana (Ziliute) led me out from the last turn, shortly after the 200-metre mark. Then I passed Anita at the last moment."
For her part, Arndt was as relieved as she was happy. "We made it," she said, referring to her minimal team. "I'm cooked in my head. Small gaps like that are tough on the nerves. Anita was making up seconds in the sprints, but my teammates were amazing."
"I love this race," she said about the Tour of Greater Montreal. "I love the Little Italy criterium, with so many people watching, here in Terrebonne too, it's really fun."
Party time
Photo ©: Rob Karman
Photography
Images by Rob Karman/www.roadbikephotos.com
Stage 4 - June 2: Terrebonne circuit race, 80 km
Results
1 Regina Schleicher (Ger) Safi-Pasta Zara Manhattan         2.01.08
2 Anita Valen (Nor) Team S.A.T.S.                                  
3 Laura Yoisten (Can) Canadian National Development Team           
4 Petra Rossner (Ger) Nurnberger Versicherung                      
5 Oenone Wood (Aus) Australian National Team                       
6 Annette Beutler (Swi) World Team                                 
7 Lyne Bessette (Can) Quark Cycling Team                           
8 Katrina Berger-Grove (USA) Équipe Cycliste RONA                  
9 Anna Gusmini (Ita) Nobili Rubinetterie Guerciotti                
10 Dede Demet-Barry (USA) T-Mobile Professional Cycling Team       
11 Teodora Ruano Sanchon (Spa) Spanish National Team               
12 Tina Mayolo-Pic (USA) Genesis Scuba/FFCC                        
13 Judith Arndt (Ger) Nurnberger Versicherung                      
14 Anne Samplonius (Can) Équipe du Québec                          
15 Charlotte Goldsmith (GBr) British National Team                 
16 Diana Ziliute (Ltu) Safi-Pasta Zara Manhattan               0.07
17 Andrea Graus (Aut) World Team                                   
18 Daniela Fusar Poli (Ita) Nobili Rubinetterie Guerciotti         
19 Amy Moore (Can) Quark Cycling Team                              
20 Anna Zugno (Ita) Safi-Pasta Zara Manhattan                      
21 Barbara Heeb (Swi) World Team                                   
22 Geneviève Jeanson (Can) Équipe Cycliste RONA                    
23 Susan Palmer-Komar (Can) Genesis Scuba/FFCC                     
24 Kori Kelly (USA) Genesis Scuba/FFCC                             
25 Modesta Vzesniauskaite (Ltu) Safi-Pasta Zara Manhattan          
26 Julie Bélanger (Can) Canadian National Development Team         
27 Julie Hutsebaut (Can) Équipe du Québec                          
28 Christine Thorburn (USA) Webcor Cycling Team Composite          
29 Margaret Hemsley (Aus) Australian National Team                 
30 Sigrid Corneo (Ita) Nobili Rubinetterie Guerciotti              
31 Amber Neben (USA) T-Mobile Professional Cycling Team            
32 Magali Le Floch (Fra) Quark Cycling Team                        
33 Tara Ross (Can) Canadian National Development Team              
34 Christina Peick-Anderson (Den) Team S.A.T.S.                    
35 Iosune Murillo Elkano (Spa) Spanish National Team               
36 Catherine Hare (GBr) British National Team                      
37 Zita Urbonaite (Ltu) Safi-Pasta Zara Manhattan                  
38 Candice Blickem (USA) Genesis Scuba/FFCC                        
39 Émilie Roy (Can) Quark Cycling Team                             
40 Mari Holden (USA) T-Mobile Professional Cycling Team            
41 Alison Wright (Aus) Nobili Rubinetterie Guerciotti              
42 Trine Hansen (Den) Team S.A.T.S.                                
43 Laura Van Gilder (USA) Genesis Scuba/FFCC                       
44 Katheryn Curi (USA) Équipe Cycliste RONA                        
45 Kim Anderson (USA) T-Mobile Professional Cycling Team           
46 Anna Milkowski (USA) Équipe Cycliste RONA                       
47 Maribel Moreno (Spa) Spanish National Team                      
48 Manon Jutras (Can) Team S.A.T.S.                                
49 Felicia Greer (Can) Webcor Cycling Team Composite               
50 Jeannie Longo-Ciprelli (Fra) World Team                         
51 Dotsie Cowden (USA) T-Mobile Professional Cycling Team          
52 Erinne Willock (Can) Équipe Cycliste RONA                       
53 Hiroko Shimada (Jpn) Webcor Cycling Team Composite              
54 Yulia Razenkova (Rus) Safi-Pasta Zara Manhattan                 
55 Helen Kelly (Aus) Équipe Cycliste RONA                          
56 Leah Toffolon (USA) Verizon Wireless Wheelworks                 
57 Meredith Miller (USA) Team S.A.T.S.                             
58 Grace Fleury (USA) Genesis Scuba/FFCC                           
59 Joan Davies (USA) Webcor Cycling Team Composite                 
60 Monika Schachl (Aut) World Team                                 
61 Leticia Gil Parra (Spa) Spanish National Team                   
62 Rachel Heal (GBr) British National Team                     0.24
63 Naiara Telletxea Lopez (Spa) Spanish National Team              
64 Madeleine Lindberg (Swe) Nurnberger Versicherung            0.29
65 Chrissy Ruiter (USA) Basis Aude                             0.56
66 Michelle Beltran (USA) Webcor Cycling Team Composite        1.04
67 Arantzazu Azpiroz (Spa) Spanish National Team               6.30
68 Emily Sandwith (Can) Canadian National Development Team     9.53
69 Caroline Montminy (Can) Équipe du Québec                        
70 Alicia Genest (USA) Verizon Wireless Wheelworks                 
71 Kele Hulser (USA) Basis Aude                                    
DNF Katy St-Laurent (Can) Basis Aude                               
 
Final general classification
 
1 Judith Arndt (Ger) Nurnberger Versicherung                6.50.43
2 Anita Valen (Nor) Team S.A.T.S.                              0.05
3 Lyne Bessette (Can) Quark Cycling Team                       0.10
4 Dede Demet-Barry (USA) T-Mobile Professional Cycling Team    0.12
5 Tina Mayolo-Pic (USA) Genesis Scuba/FFCC                     0.15
6 Katrina Berger-Grove (USA) Équipe Cycliste RONA              0.16
7 Anne Samplonius (Can) Équipe du Québec                       0.18
8 Teodora Ruano Sanchon (Spa) Spanish National Team            0.19
9 Amber Neben (USA) T-Mobile Professional Cycling Team         0.23
10 Kori Kelly (USA) Genesis Scuba/FFCC                         0.26
11 Susan Palmer-Komar (Can) Genesis Scuba/FFCC                 0.27
12 Manon Jutras (Can) Team S.A.T.S.                            0.28
13 Amy Moore (Can) Quark Cycling Team                              
14 Christine Thorburn (USA) Webcor Cycling Team Composite      0.29
15 Geneviève Jeanson (Can) Équipe Cycliste RONA                0.30
16 Regina Schleicher (Ger) Safi-Pasta Zara Manhattan           0.32
17 Erinne Willock (Can) Équipe Cycliste RONA                   0.35
18 Diana Ziliute (Ltu) Safi-Pasta Zara Manhattan               0.36
19 Trine Hansen (Den) Team S.A.T.S.                                
20 Margaret Hemsley (Aus) Australian National Team             0.37
21 Andrea Graus (Aut) World Team                               0.38
22 Maribel Moreno (Spa) Spanish National Team                  0.39
23 Grace Fleury (USA) Genesis Scuba/FFCC                       0.40
24 Magali Le Floch (Fra) Quark Cycling Team                    0.42
25 Oenone Wood (Aus) Australian National Team                      
26 Anna Zugno (Ita) Safi-Pasta Zara Manhattan                  0.43
27 Katheryn Curi (USA) Équipe Cycliste RONA                    0.46
28 Barbara Heeb (Swi) World Team                               0.50
29 Modesta Vzesniauskaite (Ltu) Safi-Pasta Zara Manhattan      0.57
30 Felicia Greer (Can) Webcor Cycling Team Composite           0.58
31 Christina Peick-Anderson (Den) Team S.A.T.S.                0.59
32 Chrissy Ruiter (USA) Basis Aude                             1.24
33 Kim Anderson (USA) T-Mobile Professional Cycling Team       1.36
34 Hiroko Shimada (Jpn) Webcor Cycling Team Composite          1.52
35 Sigrid Corneo (Ita) Nobili Rubinetterie Guerciotti          2.29
36 Helen Kelly (Aus) Équipe Cycliste RONA                      3.06
37 Madeleine Lindberg (Swe) Nurnberger Versicherung            3.30
38 Laura Van Gilder (USA) Genesis Scuba/FFCC                   4.33
39 Laura Yoisten (Can) Canadian National Development Team      4.37
40 Mari Holden (USA) T-Mobile Professional Cycling Team        4.40
41 Jeannie Longo-Ciprelli (Fra) World Team                     4.41
42 Dotsie Cowden (USA) T-Mobile Professional Cycling Team      4.42
43 Anna Milkowski (USA) Équipe Cycliste RONA                   4.46
44 Meredith Miller (USA) Team S.A.T.S.                         4.51
45 Zita Urbonaite (Ltu) Safi-Pasta Zara Manhattan              4.53
46 Yulia Razenkova (Rus) Safi-Pasta Zara Manhattan             4.55
47 Iosune Murillo Elkano (Spa) Spanish National Team           4.56
48 Monika Schachl (Aut) World Team                             5.06
49 Alison Wright (Aus) Nobili Rubinetterie Guerciotti          5.07
50 Annette Beutler (Swi) World Team                            7.41
51 Émilie Roy (Can) Quark Cycling Team                         7.54
52 Anna Gusmini (Ita) Nobili Rubinetterie Guerciotti           7.55
53 Daniela Fusar Poli (Ita) Nobili Rubinetterie Guerciotti     7.57
54 Catherine Hare (GBr) British National Team                  8.02
55 Naiara Telletxea Lopez (Spa) Spanish National Team          8.18
56 Michelle Beltran (USA) Webcor Cycling Team Composite        8.50
57 Candice Blickem (USA) Genesis Scuba/FFCC                   12.12
58 Tara Ross (Can) Canadian National Development Team         13.50
59 Petra Rossner (Ger) Nurnberger Versicherung                14.18
60 Julie Hutsebaut (Can) Équipe du Québec                     15.05
61 Leticia Gil Parra (Spa) Spanish National Team              15.12
62 Rachel Heal (GBr) British National Team                    15.18
63 Charlotte Goldsmith (GBr) British National Team            15.22
64 Arantzazu Azpiroz (Spa) Spanish National Team              21.33
65 Julie Bélanger (Can) Canadian National Development Team    22.51
66 Joan Davies (USA) Webcor Cycling Team Composite            23.12
67 Leah Toffolon (USA) Verizon Wireless Wheelworks            24.00
68 Caroline Montminy (Can) Équipe du Québec                   25.13
69 Kele Hulser (USA) Basis Aude                               30.43
70 Emily Sandwith (Can) Canadian National Development Team    32.57
71 Alicia Genest (USA) Verizon Wireless Wheelworks            34.03
 
Points classification
 
1 Petra Rossner (Ger) Nurnberger Versicherung                    36 pts
2 Anita Valen (Nor) Team S.A.T.S.                                29
3 Regina Schleicher (Ger) Safi-Pasta Zara Manhattan              17
4 Amy Moore (Can) Quark Cycling Team                             10
5 Judith Arndt (Ger) Nurnberger Versicherung                     10
6 Laura Yoisten (Can) Canadian National Development Team          7
7 Helen Kelly (Aus) Équipe Cycliste RONA                          6
8 Lyne Bessette (Can) Quark Cycling Team                          6
9 Candice Blickem (USA) Genesis Scuba/FFCC                        5
10 Laura Van Gilder (USA) Genesis Scuba/FFCC                      5
11 Tina Mayolo-Pic (USA) Genesis Scuba/FFCC                       5
12 Teodora Ruano Sanchon (Spa) Spanish National Team              5
13 Dede Demet-Barry (USA) T-Mobile Professional Cycling Team      4
14 Magali Le Floch (Fra) Quark Cycling Team                       4
15 Oenone Wood (Aus) Australian National Team                     3
16 Katheryn Curi (USA) Équipe Cycliste RONA                       2
17 Daniela Fusar Poli (Ita) Nobili Rubinetterie Guerciotti        2
18 Alison Wright (Aus) Nobili Rubinetterie Guerciotti             2
19 Leticia Gil Parra (Spa) Spanish National Team                  1
20 Maribel Moreno (Spa) Spanish National Team                     1
21 Mari Holden (USA) T-Mobile Professional Cycling Team           1
22 Annette Beutler (Swi) World Team                               1
23 Kori Kelly (USA) Genesis Scuba/FFCC                            1
 
Teams classification
 
1 Genesis Scuba/FFCC                                       20.33.14
2 Équipe Cycliste RONA                                         0.16
3 Quark Cycling Team                                           0.20
4 Team S.A.T.S.                                                0.22
5 Safi-Pasta Zara Manhattan                                    0.47
6 T-Mobile Professional Cycling Team                           1.06
7 Webcor Cycling Team Composite                                2.14
8 Équipe Internationale                                        4.51
9 Équipe Nationale d'Espagne                                       
10 Nobili Rubinetterie Guerciotti                             14.11
11 Nurnberger Versicherung                                    17.02
12 Équipe Nationale de Grande Bretagne                        37.37
13 Équipe du Québec                                           39.14
14 Équipe Nationale du Canada Developpement                   40.08