40th Tour de la Manche - 2.6
France, May 6-9, 2004
Main Page Results Previous Stage
Stage 5 - May 9: Mortain - Granville, 160 km
South Africans give it their all but couldn't stop Ludovic Auger
By Jean-François Quénet in Granville
Ian McLeod (HSBC) wins the stage
Photo ©: www.velofotopro.fr.st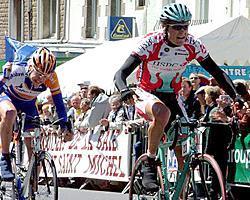 The 40th Tour de la Manche has been very interesting all the way to the finish with a new leader each day. Nic White of HSBC took the yellow jersey from Ludovic Auger after the Stage 3 time trial, but the Frenchman from Auber 93 took it back in the afternoon after putting a big effort with 7km to go into the stage.
HSBC was reduced to three men backing White since Jamie Ball pulled out of the race and flew back to South Africa after the sad death of his father. By only two seconds, White had to leave the yellow jersey but HSBC deeply wanted to go out of the race with a great result.
It happened on the last stage with Ian McLeod breaking clear after only 15km with four other riders: Kai Reus (Rabobank), Riadh Baatout (VC Evreux), Cyril Lemoine (Crédit Agricole) and Cory Jay (Canada), who couldn't follow the group on McLeod's first attack as the Tour de la Manche had a perfect view on the Mont St-Michel, France's second most visited monument after the Eiffel Tower in Paris.
Lemoine went away on his own on the final circuit in Granville. When he got caught, Reus and McLeod formed a duo at the front. They played it all in the final hill and McLeod proved to be the strongest of the day. "I really wanted to produce a good result for Jamie," he said. There was an extra motivation inside the HSBC team, also for the final GC. Auger was unlucky to puncture with 10km to go but got back on quickly. He showed he and his team were too strong, but White still attacked them when a Rabobank rider moved on with 5km to go.
"There was nothing else to do," White said, but he can be happy with a second place, coming from South Africa where the races are usually 100 kilometres long. Only one week after claiming the last stage of the Ruban Granitier Breton, he gave HSBC the best result a South African ever had in an international stage race in Europe apart from Robert Hunter.
Rabobank also showed a never-ending fighting spirit. The future of these young guys looks beautiful. Stage winners Joost Posthuma and Jukka Vastaranta will not last long in the reserve team of the Dutch task force.
Photography
Images by www.velofotopro.fr.st
Results

1 Ian McLeod (RSA) HSBC                          4.12.11
2 Kai Reus (Ned) Rabobank
3 Cyril Lemoine (Fra) Crédit Agricole               0.04
4 Riadh Baatout (Tun) VC Evreux                     0.10
5 Saulius Ruskys (Lit) Oktos                        3.38
6 Jukka Vastaranta (Fin) Rabobank
7 Yauheni Hutarovitch (Bel) UV Aube
8 Theo Eltink (Ned) Rabobank
9 Tom Van de Gehuchte (Bel) De Jong Vlaanderen
10 Ludovic Auger (Fra) Auber 93
11 Yannick Talabardon (Fra) Auber 93
12 Benoît Legrix (Fra) DIVPA
13 Damien Drancourt (Fra) ESEG Douai
14 Hervé Duclos-Lassalle (Fra) Crédit Agricole
15 Cédric Bruneaux (Fra) UV Aube
16 Sven Renders (Bel) De Jong Vlaanderen
17 Franck Bisiaux (Fra) ESEG Douai
18 Maxim Gourov (Kaz) Oktos
19 Aron Huysmans (Bel) De Jong Vlaanderen
20 Richard Groenendaal (Ned) Rabobank
 
Final general classification
 
1 Ludovic Auger (Fra) Auber 93                  15.13.21
2 Nicholas White (RSA) HSBC                         0.11
3 Theo Eltink (Ned) Rabobank                        2.51
4 Maxim Gourov (Kaz) Oktos                          3.52
5 David Arassus (Fra) Crédit Agricole               4.03
6 Sven Renders (Bel) De Jong Vlaanderen
7 Jukka Vastaranta (Fin) Rabobank                   9.03
8 Joost Posthuma (Ned) Rabobank                     9.27
9 Ian McLeod (RSA) HSBC                            10.20
10 David Bréard (Fra) Auber 93                     10.42
11 Yannick Talabardon (Fra) Auber 93               14.05
12 Saulius Ruskys (Lit) Oktos                      14.06
13 Erik Hoffmann (Ger) Stuttgart                   15.03
14 Ludovic Lemaréchal (Fra) DIVPA                  15.21
15 Kai Reus (Ned) Rabobank                         16.55
16 Julien Mazet (Fra) Crédit Agricole              18.15
17 Saul Raisin (USA) Crédit Agricole               18.20
18 Stef Clement (Ned) Rabobank                     18.43
19 Lenaïc Olivier (Fra) Auber 93                   18.53
20 Benoît Legrix (Fra) DIVPA                       19.12
21 Richard Groenendaal (Ned) Rabobank              19.18
22 Cédric Bruneaux (Fra) UV Aube                   19.36
23 Alexandre Girout (Fra) VC Evreux                19.38
24 Daniel Spence (RSA) HSBC                        20.19
25 Cory Jay (Can) Canada                           22.08
26 Stéphane Arassus (Fra) UV Aube                  22.47
27 Yann Buiron (Fra) VC Evreux                     22.49
28 Cyril Lemoine (Fra) Crédit Agricole             25.04
29 Riadh Baatout (Tun) VC Evreux                   25.36
30 Jens Lehmann (Ger) TEAG                         28.42