Tour de L'Aude Feminin - 2.9.1
France, May 14-23, 2004
Main Page Results Previous Stage Next Stage
Stage 9 - May 22: Couiza to Arques, 132km
Nurnberger safely holds yellow; Ljungskog takes a stage
By Kristy Scrymgeour
Susanne Ljungskog (Team S.A.T.S) back to winning form
Photo ©: velopalmares.free.fr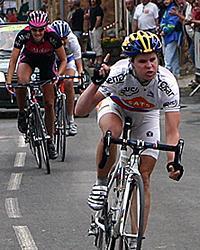 Current World Champion, Susanne Ljungskog (Team S.A.T.S), took out penultimate stage of Tour de l'Aude today after following an attack by Kristen Armstrong (T-Mobile) and arriving at the line in a small group of three. At the beginning of the day Ljunskog sat in 11th place on GC, 3'46" behind race leader Trixi Worrack. Her effort today moved her up to 9th place.
Today's stage was another challenging day in the mountains and a day that could well have changed the yellow jersey holder once again in this tour that has become a tug-of war for the jersey. The stage travelled 132km over four category one climbs and two cat two climbs before arriving at Arques. The first climb was relatively tame but on the descent Nurnberger started to set the pace and the second climb caused much attrition in the bunch.
Over top of the second climb Armstrong attacked taking Ljunskog with her. Judith Arndt was also able to follow the attack, which was a vital move for Nurnberger to protect the yellow jersey. With no immediate chase occurring, due to Nurnberger being content to have Arndt up there, the break soon stretched out the gap to over four minutes with Arndt becoming leader on the road.
With 50km to go a chase was organised to reduce the gap and a group of eight took off in pursuit of the front break. In the small chase group was Anita Valen (Team S.A.T.S), Priska Doppmann (Vlaanderen T Interim), Lyne Bessette (Canadian National Team), Edita Pucinskaite (Sc Michela Fanini Record Rox), Valentina Polkhanova (Nobili Rubineterie-Guerciotti), Edwige Pitel (French National Team), Kimberly Bruckner (T-Mobile) and Worrack.
By the finish line the time gap had been reduced to 56" and Worrack held onto her yellow jersey for another day. She now leads by eight seconds to her teammate Arndt, with Bruckner sitting in third another 30" back.
Tomorrow may be the last stage, but it is not the easiest. It will be another challenging day, which is very likely to produce another break. Nurnberger however still holds the yellow jersey safely, and hold second place for security.
Photography
Images by velopalmares.free.fr
Results
1 Susanne Ljungskog (Swe) Team S.A.T.S                        3.57.11
2 Kristin Armstrong (USA) T-Mobile                                   
3 Judith Arndt (Ger) Nurnberger Versicherung                         
4 Anita Valen (Nor) Team S.A.T.S                                 0.56
5 Priska Doppmann (Bel) Vlaanderen T Interim                         
6 Lyne Bessette (Can) Canadian National Team                         
7 Trixi Worrack (Ger) Nurnberger Versicherung                        
8 Edita Pucinskaite (Ltu) Sc Michela Fanini Record Rox               
9 Valentina Polkhanova (Rus) Nobili Rubineterie-Guerciotti           
10 Edwige Pitel (Fra) French National Team                           
11 Kimberly Bruckner (USA) T-Mobile                              0.58
12 Deidre Demet-Barry (USA) T-Mobile                             4.04
13 Ghita Beltman (Ned) @Home Cycling Team                        5.40
14 Claudia Stumpf (Ger) German National Team                         
15 Elisabeth Chevanne-Brunel (Fra) Inter Region Pruneau              
16 Trine Hansen (Den) Team S.A.T.S                                   
17 Erinne Willock (Can) Canadian National Team                       
18 Theresa Senff (Ger) German National Team                          
19 Olivia Gollan (Aus) Australian National Team                      
20 Tina Liebig (Ger) Nurnberger Versicherung                     5.47
21 Jolanta Polikeviciute (Ltu) Lithuanian National Team         10.39
22 Corinne Hierckens (Bel) Basis-Aude Mixed                          
23 Andrea Bosman (Ned) Ondernemers Van Nature                   12.13
24 Loes Gunnewijk (Ned) Ondernemers Van Nature                       
25 Irene Van Den Broek (Ned) Therme Skin Care                        
26 Luise Keller (Ger) German National Team                           
27 Liane Bahler (Ger) German National Team                           
28 Kathy Watt (Aus) Basis-Aude Mixed                                 
29 Sharon Van Essen (Ned) Ondernemers Van Nature                     
30 Birgit Hollmann (Ger) Equipe Composite Rostex Quantum             
31 Sandra Rombouts (Ned) Basis-Aude Mixed                            
32 Sonia Huguet (Fra) French National Team                           
33 Amy Moore (Can) Canadian National Team                            
34 Rasa Polikeviciute (Ltu) Lithuanian National Team                 
35 Leah Goldstein (Isr) Basis-Aude Mixed                             
36 Mette Fisher Andreasen (Den) Team S.A.T.S                         
37 Margaret Hemsley (Aus) Australian National Team                   
38 Christina Peick-Anders (Den) Team S.A.T.S                         
39 Meredith Miller (USA) Team S.A.T.S                                
40 Kimberly Anderson (USA) T-Mobile                                  
41 Barbara Cazzaniga (Ita) Sc Michela Fanini Record Rox              
42 Rachel Heal (GBr) British National Team                           
43 Madeleine Lindberg (Swe) Nurnberger Versicherung                  
44 Jessica Philipps (USA) Nurnberger Versicherung                    
45 Nadia Triquet Claude (Fra) Inter Region Pruneau              23.17
46 Alessandra Borchi (Ita) Sc Michela Fanini Record Rox              
47 Kristen Lasasso (USA) Basis-Aude Mixed                       28.58
48 Sigrid Corneo (Ita) Nobili Rubineterie-Guerciotti                 
49 Natalie Bates (Aus) Australian National Team                      
50 Ombretta Ugolini (Ita) Nobili Rubineterie-Guerciotti              
51 Sandrine Marcuz (Fra) French National Team                        
52 Francis Linthorst (Ned) Therme Skin Care                          
53 Hayley Rutherford (Aus) Sc Michela Fanini Record Rox              
54 Suzanne Bayer (Ger) Equipe Composite Rostex Quantum               
55 Angela Brodtka (Ger) German National Team                         
56 Cindy Pieters (Bel) Vlaanderen T Interim                          
57 Nicole Demars (Can) Canadian National Team                        
58 Corrien Van Haastert (Ned) Ondernemers Van Nature                 
59 Aneke Hassink (Ned) @Home Cycling Team                            
60 Chantal Beltman (Ned) Ondernemers Van Nature                      
61 Helen Saunders (GBr) British National Team                   34.56
62 Erika Vilunaite (Ltu) Lithuanian National Team                    
63 Anke Wichmann (Ger) Equipe Composite Rostex Quantum               
64 Debby Mansveld (Bel) Vlaanderen T Interim                         
65 Catherine Hare (GBr) British National Team                        
66 Kristen Wild (Ned) @Home Cycling Team                             
67 Saskia Elemans (Ned) @Home Cycling Team                           
68 Karine Dalmais (Fra) French National Team                         
69 Lara Kroepsch (USA) T-Mobile                                      
70 Catherine Marsal (Fra) Nobili Rubineterie-Guerciotti              
71 Martina Ruzickova (Cze) Equipe Composite Rostex Quantum           
72 Magalie Finot Laivier (Fra) Inter Region Pruneau                  
73 Ramune Lipinskaite (Ltu) Lithuanian National Team            57.14
74 Elodie Leroux (Fra) Inter Region Pruneau                          
75 Bertine Spijkerman (Ned) @Home Cycling Team                       
76 Janildes Silva (Bra) Sc Michela Fanini Record Rox                 
77 Gina Grain (Can) Canadian National Team                           
DNF Kym Shirley (Aus) Nobili Rubineterie-Guerciotti                  
DNF Alison Wright (Aus) Nobili Rubineterie-Guerciotti                
DNF Zlatica Gavlakova-Bazola (Fra) Inter Region Pruneau              
DNF Janieke Vos (Ned) Therme Skin Care                               
DNF Sara Symington (GBr) British National Team                       
DNF Diana Elmentaite (Ltu) Lithuanian National Team                  
DNF Minke Van Dongen (Ned) Ondernemers Van Nature                    
DNS Petra Rossner (Ger) Nurnberger Versicherung                      
DNS Charlotte Goldsmith (GBr) British National Team                  
DNS Klara Sintakova (Cze) Equipe Composite Rostex Quantum            
 
General classification after stage 9
 
1 Trixi Worrack (Ger) Nurnberger Versicherung                23.35.52
2 Judith Arndt (Ger) Nurnberger Versicherung                     0.08
3 Kimberly Bruckner (USA) T-Mobile                               0.38
4 Kristin Armstrong (USA) T-Mobile                               1.03
5 Lyne Bessette (Can) Canadian National Team                     2.03
6 Edita Pucinskaite (Ltu) Sc Michela Fanini Record Rox           2.14
7 Priska Doppmann (Bel) Vlaanderen T Interim                     2.24
8 Valentina Polkhanova (Rus) Nobili Rubineterie-Guerciotti       2.37
9 Susanne Ljungskog (Swe) Team S.A.T.S                           2.40
10 Deidre Demet-Barry (USA) T-Mobile                             3.36
11 Edwige Pitel (Fra) French National Team                       5.11
12 Anita Valen (Nor) Team S.A.T.S                                8.00
13 Ghita Beltman (Ned) @Home Cycling Team                        8.27
14 Olivia Gollan (Aus) Australian National Team                  8.59
15 Erinne Willock (Can) Canadian National Team                  14.07
16 Theresa Senff (Ger) German National Team                     14.50
17 Elisabeth Chevanne-Brunel (Fra) Inter Region Pruneau         16.15
18 Corinne Hierckens (Bel) Basis-Aude Mixed                     16.17
19 Claudia Stumpf (Ger) German National Team                    17.00
20 Trine Hansen (Den) Team S.A.T.S                              17.04
21 Rachel Heal (GBr) British National Team                      18.21
22 Jolanta Polikeviciute (Ltu) Lithuanian National Team         18.28
23 Margaret Hemsley (Aus) Australian National Team              19.58
24 Loes Gunnewijk (Ned) Ondernemers Van Nature                  20.12
25 Tina Liebig (Ger) Nurnberger Versicherung                    21.00
26 Amy Moore (Can) Canadian National Team                       21.14
27 Liane Bahler (Ger) German National Team                      21.24
28 Leah Goldstein (Isr) Basis-Aude Mixed                        21.25
29 Luise Keller (Ger) German National Team                      21.28
30 Christina Peick-Anders (Den) Team S.A.T.S                    21.49
31 Rasa Polikeviciute (Ltu) Lithuanian National Team            23.11
32 Sonia Huguet (Fra) French National Team                      23.15
33 Irene Van Den Broek (Ned) Therme Skin Care                   25.04
34 Mette Fisher Andreasen (Den) Team S.A.T.S                    27.36
35 Sandra Rombouts (Ned) Basis-Aude Mixed                       30.18
36 Birgit Hollmann (Ger) Equipe Composite Rostex Quantum        31.04
37 Andrea Bosman (Ned) Ondernemers Van Nature                   33.14
38 Sharon Van Essen (Ned) Ondernemers Van Nature                33.43
39 Nadia Triquet Claude (Fra) Inter Region Pruneau              35.26
40 Cindy Pieters (Bel) Vlaanderen T Interim                     36.54
41 Sandrine Marcuz (Fra) French National Team                   40.02
42 Kimberly Anderson (USA) T-Mobile                             40.26
43 Sigrid Corneo (Ita) Nobili Rubineterie-Guerciotti            41.27
44 Meredith Miller (USA) Team S.A.T.S                           41.31
45 Kristen Lasasso (USA) Basis-Aude Mixed                       46.34
46 Jessica Philipps (USA) Nurnberger Versicherung               48.10
47 Barbara Cazzaniga (Ita) Sc Michela Fanini Record Rox         48.51
48 Angela Brodtka (Ger) German National Team                    49.04
49 Chantal Beltman (Ned) Ondernemers Van Nature                 49.48
50 Anke Wichmann (Ger) Equipe Composite Rostex Quantum          52.10
51 Hayley Rutherford (Aus) Sc Michela Fanini Record Rox         52.45
52 Ombretta Ugolini (Ita) Nobili Rubineterie-Guerciotti         54.58
53 Nicole Demars (Can) Canadian National Team                   56.56
54 Karine Dalmais (Fra) French National Team                    57.18
55 Suzanne Bayer (Ger) Equipe Composite Rostex Quantum          58.30
56 Kathy Watt (Aus) Basis-Aude Mixed                          1.07.49
57 Alessandra Borchi (Ita) Sc Michela Fanini Record Rox       1.08.08
58 Francis Linthorst (Ned) Therme Skin Care                   1.14.08
59 Madeleine Lindberg (Swe) Nurnberger Versicherung           1.14.12
60 Natalie Bates (Aus) Australian National Team               1.20.12
61 Catherine Marsal (Fra) Nobili Rubineterie-Guerciotti       1.20.36
62 Catherine Hare (GBr) British National Team                 1.21.14
63 Lara Kroepsch (USA) T-Mobile                               1.22.50
64 Saskia Elemans (Ned) @Home Cycling Team                    1.30.00
65 Aneke Hassink (Ned) @Home Cycling Team                     1.31.43
66 Corrien Van Haastert (Ned) Ondernemers Van Nature          1.32.59
67 Magalie Finot Laivier (Fra) Inter Region Pruneau           1.36.01
68 Helen Saunders (GBr) British National Team                 1.45.23
69 Kristen Wild (Ned) @Home Cycling Team                      1.51.36
70 Debby Mansveld (Bel) Vlaanderen T Interim                  1.57.28
71 Elodie Leroux (Fra) Inter Region Pruneau                   2.03.38
72 Martina Ruzickova (Cze) Equipe Composite Rostex Quantum    2.05.40
73 Erika Vilunaite (Ltu) Lithuanian National Team             2.10.01
74 Gina Grain (Can) Canadian National Team                    2.39.48
75 Janildes Silva (Bra) Sc Michela Fanini Record Rox          2.47.11
76 Bertine Spijkerman (Ned) @Home Cycling Team                2.49.48
77 Ramune Lipinskaite (Ltu) Lithuanian National Team          4.00.17
 
Points classification
 
1 Anita Valen (Nor) Team S.A.T.S                                  173 pts
2 Priska Doppmann (Bel) Vlaanderen T Interim                      144
3 Judith Arndt (Ger) Nurnberger Versicherung                      142
4 Ghita Beltman (Ned) @Home Cycling Team                          114
5 Trixi Worrack (Ger) Nurnberger Versicherung                     107
6 Angela Brodtka (Ger) German National Team                       106
7 Edita Pucinskaite (Ltu) Sc Michela Fanini Record Rox             92
8 Chantal Beltman (Ned) Ondernemers Van Nature                     86
9 Deidre Demet-Barry (USA) T-Mobile                                83
10 Lyne Bessette (Can) Canadian National Team                      80
11 Kristin Armstrong (USA) T-Mobile                                69
12 Susanne Ljungskog (Swe) Team S.A.T.S                            65
13 Olivia Gollan (Aus) Australian National Team                    55
14 Kimberly Bruckner (USA) T-Mobile                                53
15 Rachel Heal (GBr) British National Team                         48
16 Hayley Rutherford (Aus) Sc Michela Fanini Record Rox            37
17 Valentina Polkhanova (Rus) Nobili Rubineterie-Guerciotti        36
18 Luise Keller (Ger) German National Team                         34
19 Corinne Hierckens (Bel) Basis-Aude Mixed                        33
20 Mette Fisher Andreasen (Den) Team S.A.T.S                       32
21 Amy Moore (Can) Canadian National Team                          30
22 Nadia Triquet Claude (Fra) Inter Region Pruneau                 27
23 Cindy Pieters (Bel) Vlaanderen T Interim                        26
24 Loes Gunnewijk (Ned) Ondernemers Van Nature                     23
25 Claudia Stumpf (Ger) German National Team                       22
26 Elisabeth Chevanne-Brunel (Fra) Inter Region Pruneau            21
27 Liane Bahler (Ger) German National Team                         18
28 Edwige Pitel (Fra) French National Team                         16
29 Andrea Bosman (Ned) Ondernemers Van Nature                      14
30 Jolanta Polikeviciute (Ltu) Lithuanian National Team            13
31 Theresa Senff (Ger) German National Team                        13
32 Kristen Wild (Ned) @Home Cycling Team                           12
33 Catherine Marsal (Fra) Nobili Rubineterie-Guerciotti            11
34 Alessandra Borchi (Ita) Sc Michela Fanini Record Rox             8
35 Erika Vilunaite (Ltu) Lithuanian National Team                   7
36 Elodie Leroux (Fra) Inter Region Pruneau                         6
37 Karine Dalmais (Fra) French National Team                        6
38 Kimberly Anderson (USA) T-Mobile                                 5
39 Margaret Hemsley (Aus) Australian National Team                  4
40 Natalie Bates (Aus) Australian National Team                     4
41 Erinne Willock (Can) Canadian National Team                      3
42 Sigrid Corneo (Ita) Nobili Rubineterie-Guerciotti                3
43 Rasa Polikeviciute (Ltu) Lithuanian National Team                3
44 Sonia Huguet (Fra) French National Team                          3
45 Trine Hansen (Den) Team S.A.T.S                                  2
46 Debby Mansveld (Bel) Vlaanderen T Interim                        2
 
Mountains classification
 
1 Olivia Gollan (Aus) Australian National Team                     39 pts
2 Trixi Worrack (Ger) Nurnberger Versicherung                      32
3 Theresa Senff (Ger) German National Team                         28
4 Susanne Ljungskog (Swe) Team S.A.T.S                             23
5 Kristin Armstrong (USA) T-Mobile                                 22
6 Judith Arndt (Ger) Nurnberger Versicherung                       20
7 Valentina Polkhanova (Rus) Nobili Rubineterie-Guerciotti         18
8 Rachel Heal (GBr) British National Team                           9
9 Hayley Rutherford (Aus) Sc Michela Fanini Record Rox              8
10 Lyne Bessette (Can) Canadian National Team                       8
11 Edwige Pitel (Fra) French National Team                          7
12 Anita Valen (Nor) Team S.A.T.S                                   5
13 Aneke Hassink (Ned) @Home Cycling Team                           5
14 Edita Pucinskaite (Ltu) Sc Michela Fanini Record Rox             5
15 Kathy Watt (Aus) Basis-Aude Mixed                                3
16 Tina Liebig (Ger) Nurnberger Versicherung                        3
17 Cindy Pieters (Bel) Vlaanderen T Interim                         3
18 Chantal Beltman (Ned) Ondernemers Van Nature                     2
19 Priska Doppmann (Bel) Vlaanderen T Interim                       2
20 Kimberly Bruckner (USA) T-Mobile                                 1
21 Deidre Demet-Barry (USA) T-Mobile                                1
 
Sprints classification
 
1 Ghita Beltman (Ned) @Home Cycling Team                           22 pts
2 Debby Mansveld (Bel) Vlaanderen T Interim                        20
3 Janildes Silva (Bra) Sc Michela Fanini Record Rox                15
4 Gina Grain (Can) Canadian National Team                          11
5 Cindy Pieters (Bel) Vlaanderen T Interim                          8
6 Rachel Heal (GBr) British National Team                           8
7 Chantal Beltman (Ned) Ondernemers Van Nature                      7
8 Trixi Worrack (Ger) Nurnberger Versicherung                       6
9 Susanne Ljungskog (Swe) Team S.A.T.S                              5
10 Hayley Rutherford (Aus) Sc Michela Fanini Record Rox             5
11 Erika Vilunaite (Ltu) Lithuanian National Team                   5
12 Elodie Leroux (Fra) Inter Region Pruneau                         5
13 Kristen Wild (Ned) @Home Cycling Team                            5
14 Lyne Bessette (Can) Canadian National Team                       4
15 Kristin Armstrong (USA) T-Mobile                                 3
16 Aneke Hassink (Ned) @Home Cycling Team                           3
17 Priska Doppmann (Bel) Vlaanderen T Interim                       3
18 Judith Arndt (Ger) Nurnberger Versicherung                       2
19 Bertine Spijkerman (Ned) @Home Cycling Team                      2
20 Madeleine Lindberg (Swe) Nurnberger Versicherung                 2
21 Olivia Gollan (Aus) Australian National Team                     1
22 Kimberly Bruckner (USA) T-Mobile                                 1
23 Sonia Huguet (Fra) French National Team                          1
 
Young rider classification
 
1 Trixi Worrack (Ger) Nurnberger Versicherung                23.35.52
2 Erinne Willock (Can) Canadian National Team                   14.07
3 Theresa Senff (Ger) German National Team                      14.50
4 Corinne Hierckens (Bel) Basis-Aude Mixed                      16.17
5 Claudia Stumpf (Ger) German National Team                     17.00
6 Liane Bahler (Ger) German National Team                       21.24
7 Luise Keller (Ger) German National Team                       21.28
8 Mette Fisher Andreasen (Den) Team S.A.T.S                     27.36
9 Sharon Van Essen (Ned) Ondernemers Van Nature                 33.43
10 Barbara Cazzaniga (Ita) Sc Michela Fanini Record Rox         48.51
11 Angela Brodtka (Ger) German National Team                    49.04
12 Alessandra Borchi (Ita) Sc Michela Fanini Record Rox       1.08.08
13 Catherine Hare (GBr) British National Team                 1.21.14
14 Aneke Hassink (Ned) @Home Cycling Team                     1.31.43
15 Corrien Van Haastert (Ned) Ondernemers Van Nature          1.32.59
16 Helen Saunders (GBr) British National Team                 1.45.23
17 Kristen Wild (Ned) @Home Cycling Team                      1.51.36
18 Bertine Spijkerman (Ned) @Home Cycling Team                2.49.48
19 Ramune Lipinskaite (Ltu) Lithuanian National Team          4.00.17
 
Teams classification
 
1 T-Mobile                                                   70.52.58
2 Nurnberger Versicherung                                        6.24
3 Team S.A.T.S                                                  13.15
4 Canada                                                        31.54
5 German National Team                                          42.27
6 Basis-Aude Mixed                                              54.00
7 Ondernemers Van Nature                                        58.22
8 French National Team                                        1.03.01
9 Australian National Team                                    1.10.56
10 Nobili Rubineterie Guerciotti                              1.18.14
11 Sc Michela Fanini Record Rox                               1.27.38
12 Vlaanderen T Interim                                       1.43.17
13 Inter Region Pruneau                                       1.49.00
14 Equipe Composite Rostex Quantim                            2.16.22
15 Lithuanian National Team                                   2.32.27
16 @Home Cycling Team                                         2.52.06
17 British National Team                                      2.53.47