Recently on Cyclingnews.com
Redlands Bicycle Classic - 2.5/2.9.2
Redlands, California, March 23-28, 2004
Main Page Results Previous Stage
Stage 5 - March 28: Redlands Business Center Sunset Road Race, 99.5/142km
Horner and Bessette seal the deal
Reversal of fortune for Dionne and Demars
By Rob Karman in Redlands
Lyne Bessette (Quark) under control
Photo ©: Rob Karman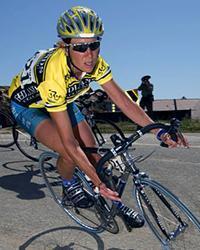 Chris Horner (Webcor Builders) and Lyne Bessette (Quark) were able to easily hold on to their overall leads in the final stage of the 20th annual Redlands Classic, with today's stage honors went to Charles Dionne (Webcor Builders) and Nicole Demars (Victory Brewing).
First up it was the ladies who tackled eight laps of the Sunset loop plus the start and finish segments from the out and back loop to downtown Redlands. Just after the QOM on lap 1, Nicole Demars set out for a long day of hilly TT practice, only to be joined with by mountain bike star Sue Haywood (T-Mobile) with 3km remaining, who started to bridge the two minute gap on the second to last lap. Demars' extensive road racing experience in comparison to asphalt newcomer Haywood would be the decisive factor as they entered the final kilometer together. Demars timed her jump perfectly with 500 meters remaining and was able to hold off Haywood and the fast closing field for the stage win, which hopefully marks the end of a string of bad luck her Victory Brewing team has had thus far this season. Speedster Tina Pic (Genesis Scuba) led the pack home for third.
In men's action, it was the quartet of Will Frischkorn (Colavita-Bolla), Scott Moninger (Health Net/Maxxis), Doug Ollerenshaw (Jelly Belly-Aramark), and Eric Wohlberg (Sierra Nevada) who made the first move. They were joined shortly thereafter by Jacob Erker (Sea Silver), Gordon McCauley (Monex), Ben Brooks (Jelly Belly-Aramark) and Jurgen Van Den Broeck (USPS). As no one in the break represented a real threat to Chris Horner's GC lead, the gap was allowed to grow until Jelly Belly-Aramark felt the pressure of possibly having Adam Bergman bumped off the podium for third by Postal's Van Den Broek. With the field back together, it was a sea of green jerseys on the front as both Health Net and Webcor tried to set up their sprinters for the stage win. In the end, it was yesterday's unlucky last lap mishap victim Charles Dionne (Webcor Builders) taking the honors ahead of Alex Candelario (Jelly Belly-Aramark) and Greg Henderson (Health Net).
Photography
Images by Rob Karman/www.roadbikephotos.com
Results
Men
 
1 Charles Dionne (Can) Webcor Builders                       3.26.49
2 Alex Candelario (USA) Jelly Belly                                 
3 Greg Henderson (NZl) Health Net/Maxxis                            
4 Ben Brooks (Aus) Jelly Belly                                      
5 Trent Klasna (USA) Sierra Nevada                                  
6 Erik Saunders (USA) Ofoto                                         
7 Damon Kluck (USA) U.S. Postal Service                             
8 Jason Klikna (USA) Sierra Nevada                                  
9 Doug Otterenshaw (USA) Jelly Belly                                
10 Tim Larkin (USA) Ofoto                                           
11 Cesar Grajales (Col) Jittery Joe's Coffee                        
12 Mark McCormack (USA) Colavita                                    
13 Tyler Wren (USA) Colavita                                        
14 Liam Killeen (GBr) IMPSport                                      
15 Eddy Hilger (USA) Gearlink.com                                   
16 Chris Horner (USA) Webcor Builders                               
17 Chris Wherry (USA) Health Net/Maxxis                             
18 Davide Frattini (Ita) Team Monex                                 
19 Adam Bergman (USA) Jelly Belly                                   
20 Aaron Olson (USA) Colavita                                       
21 Eric Wohlberg (Can) Sierra Nevada                                
22 Jason Bausch (USA) Ofoto                                         
23 Michael Hernandez (USA) Reno Wheelmen                            
24 Philip Dixon (GBr) IMPSport                                      
25 Jurgen Van Den Broeck (Bel) U.S. Postal Service                  
26 Gustavo Artacho (USA) Colavita                                   
27 John Lieswyn (USA) Health Net/Maxxis                             
28 Tomoya Kano (Jpn) Shimano Racing                                 
29 Glen Mitchell (NZl) Sierra Nevada                                
30 Yoshyuki Abe (Jpn) Shimano Racing                                
31 Will Frischkorn (USA) Colavita                                   
32 Craig Lewis (USA) TIAA-CREF/5280                                 
33 Jacob Erker (USA) Seasilver                                      
34 Ernie Lechuge (USA) Jelly Belly                                  
35 Hisafumi Imanishi (Jpn) Shimano Racing                           
36 Kevin Bouchard-Hall (USA) U23 National Team                      
37 Bryan Smith (USA) Endeavour Cycling                              
38 Brice Jones (USA) Health Net/Maxxis                              
39 Zach Walker (USA) Ofoto                                          
40 Bart Fidelus (USA) Reno Wheelmen                                 
41 Daniel Rincon (Col) U.S. Postal Service                          
42 Todd Herriott (USA) Colavita                                     
43 Gordon McCauley (USA) Team Monex                                 
44 Imanol Ayesteran (Spa) Webcor Builders                           
45 John Hunt (USA) Taylor                                           
46 Michael Creed (USA) U.S. Postal Service                          
47 Scott Moninger (USA) Health Net/Maxxis                           
48 Danny Pate (USA) Health Net/Maxxis                               
49 Timmy Duggan (USA) TIAA-CREF/5280                            0.58
50 Blake Caldwell (USA) TIAA-CREF/5280                              
51 Kirk Albers (USA) Jelly Belly                                    
52 Enrique Espinoa (Col) Team Monex                                 
53 Justin England (USA) Webcor Builders                             
54 Steve Tilford (USA) IMPSport                                 2.51
55 Caleb Manion (Aus) Jelly Belly                               6.51
56 Juan Jose Haedo (Arg) Colavita                               7.59
57 Marc Hegenlocher (USA) Webcor Builders                           
58 Jed Schneider (USA) Jittery Joe's Coffee                         
59 Daniel Doornbos (USA) Gearlink.com                               
60 Chris Frederick (USA) Aerospace Engineering/Atlas Mining         
61 James Mattis (USA) Webcor Builders                               
62 Ben Haldeman (USA) Webcor Builders                               
63 Jon Tarkington (USA) Global Sales-Healthy Choice                 
64 Roddi Lega (Can) Pacific Sport National                          
65 Carlos Vargas (USA) Endeavour Cycling                            
66 Kyle Gritters (USA) Team Monex                                   
67 Peteer Knudsen (USA) Seasilver                                   
68 Gordy Jackson (USA) Global Sales-Healthy Choice             10.55
69 Karl Bodine (USA) Team Monex                                     
70 Victor Ayala (Mex) Velo Club LaGrange                       12.41
71 Steve Mlujeak (USA) Gearlink.com                            13.51
72 Chuck Coyle (USA) Global Sales-Healthy Choice                    
73 Colin Beardsley (USA) McGuire                                    
74 Derek McMaster (Can) Pacific Sport National                 14.41
75 Chris Zukowski (USA) Reno Wheelmen                          16.03
76 Samuel Dean (USA) SDBC-San Diego                                 
77 Bryce Mead (USA) Endeavour Cycling                          22.43
78 Mike Sayers (USA) Health Net/Maxxis                         50.13
79 Matthew Sadauckas (USA) Seasilver                                
80 Bryson Perry (USA) Global Sales-Healthy Choice                   
81 Scott Zwizanski (USA) Ofoto                                      
82 Andrew Manart (USA) TIAA-CREF/5280                               
83 Russell Hamby (USA) Sierra Nevada                                
84 Geoff Rapoport (USA) Velo Club LaGrange                          
85 Todd Terlecki (USA) SDBC-San Diego                               
86 Vigus Devon (USA) McGuire                                 1.16.11
87 Mike Taylor (USA) McGuire                                        
88 Gord Fraser (Can) Health Net/Maxxis                       1.24.26
DNF Patrick McCarty (USA) U.S. Postal Service                       
DNF Robbie Ventura (USA) U.S. Postal Service                        
DNF Matt Dubberley (USA) Sierra Nevada                              
DNF Chris McGovern (USA) Sierra Nevada                              
DNF Peter Lopinto (USA) Ofoto                                       
DNF Shinri Suzuki (Jpn) Shimano Racing                              
DNF Yoshimasa Hirose (Jpn) Shimano Racing                           
DNF Kaoru Ouchi (Jpn) Shimano Racing                                
DNF Masamichi Yamamoto (Jpn) Shimano Racing                         
DNF Ivan Dominguez (USA) Colavita                                   
DNF Jonathan Jundt (USA) Jittery Joe's Coffee                       
DNF Chad Hartley (USA) Jittery Joe's Coffee                         
DNF Jacob Rosenbarger (USA) Jittery Joe's Coffee                    
DNF Josh Klikna (USA) McGuire                                       
DNF Walker Ferguson (USA) U23 National Team                         
DNF Rob Alvarez (USA) Velo Club LaGrange                            
DNF Patrick Carro (USA) Team Monex                                  
DNF Jacob Rubelt (USA) Landis/Trek/VW                               
DNF Todd Bauer (USA) Landis/Trek/VW                                 
DNS Nathan Mitchell (USA) TIAA-CREF/5280                            
DNF Martin Ford (GBr) IMPSport                                      
DNF John Osguthorpe (USA) Global Sales-Healthy Choice               
DNS Emile Abraham (Tri) Aerospace Engineering/Atlas Mining          
DNS Frank Travieso (Cub) Aerospace Engineering/Atlas Mining         
DNF Justin Lucke (USA) Gearlink.com                                 
DNF Aron Huerta (USA) Taylor                                        
DNF Miguel Meza (USA) DARE                                          
DNF Rigoberto Meza (USA) DARE                                       
DNF Frank Pipp (USA) Endeavour Cycling                              
 
Women
 
1 Nicole Demars (Can) Victory Brewing                        2.48.45
2 Susan Haywood (USA) T-Mobile                                  0.03
3 Tina Pic (USA) Genesis Scuba/FFCC                             0.15
4 Kristin Armstrong (USA) T-Mobile                                  
5 Mari Holden (USA) T-Mobile                                        
6 Magali LeFloch (Fra) Quark                                        
7 Lynn Gaggioli (USA) T-Mobile                                      
8 Jennifer Eyerman (USA) Red 5 Racing                               
9 Katrina Grove (USA) Rona                                          
10 Carla Hukee (USA) Kenda Tire                                     
11 Bridget Evans (Aus) Lake Mary Cycles/ORC                         
12 Lauren Franges (USA) Victory Brewing                             
13 Kate Maher (USA) Basis                                           
14 Rhonda Quick (USA) Red 5 Racing                                  
15 Sarah Noble (Can) Ford                                           
16 Amy Moore (Can) Quark                                            
17 Lyne Bessette (Can) Quark                                        
18 Karen Bockel (Ger) TDS-Schwalbe                                  
19 Susan Palmer-Komar (Can) Genesis Scuba/FFCC                      
20 Meredith Miller (USA) S.A.T.S.                                   
21 Rook Campbell (USA) Genesis Scuba/FFCC                           
22 Genevieve Jeanson (Can) Rona                                     
23 Jennifer Stevens (USA) Red 5 Racing                              
24 Helen Kelly (Aus) Rona                                           
25 Kim Anderson (USA) T-Mobile                                      
26 Christine Thorburn (USA) Webcor                                  
27 Joan Davies (USA) TDS-Schwalbe                                   
28 Kathryn Curi (USA) Rona                                          
29 Kristin Johnson (USA) Basis                                      
30 Stefanie Graeter (USA) Webcor                                    
31 Katherine Sherwin (USA) Kenda Tire                               
32 Sara Bresnick (USA) Verizon Wireless - Wheelworks                
33 Kori Kelly (USA) Genesis Scuba/FFCC                              
34 Grace Fleury (USA) Genesis Scuba/FFCC                            
35 Hiroko Shimada (Jpn) Velo Bella                                  
36 Johanna Buick (NZl) Victory Brewing                              
37 Sandy Espeseth (Can) Victory Brewing                             
38 Brooke Ourada (USA) Victory Brewing                              
39 Melanie McQuaid (Can) Ford                                       
40 Megan Esmonde (USA) Lake Mary Cycles/ORC                         
41 Dara Marks-Marino (USA) Ford                                     
42 Erin Carter (Can) TDS-Schwalbe                                   
43 Julia Whiteside (Ger) Paramount Racing                       2.17
44 Michelle Beltran (USA) Red 5 Racing                              
45 Cynthia Carroll (USA) Lake Mary Cycles/ORC                       
46 Lisa Matlock (USA) Ford                                          
47 Gabriela Gonzales De Ferrat (Mex) Velo Bella                     
48 Laura Van Gilder (USA) Genesis Scuba/FFCC                        
49 Lara Kroepsch (USA) T-Mobile                                 3.47
50 Alisha Little (USA) ABD                                          
51 Suz Weldon (USA) Tamarack/Goldy's                                
52 Cat Malone (USA) Webcor                                      4.40
53 Carli Figueroa (USA) Paramount Racing                        5.06
54 Elizabeth Morse (USA) The Bicycle Store/Worlddiff.com            
55 Anne Samplonius (Can) TDS-Schwalbe                           7.55
56 Christine Fletcher (Can) Dizzy Chicks                            
57 Megan Elliott (USA) Quark                                        
58 Christina Peick-Anderson (Den) S.A.T.S.                      9.21
59 Anna Milkowski (USA) Rona                                   14.08
60 Magen Long (USA) The Bicycle Store/Worlddiff.com            15.18
61 Sherri Stedje (USA) The Bicycle Store/Worlddiff.com              
62 Lisa Magness (USA) Wells Fargo/Ragatz                       16.17
63 Melissa Sanborn (USA) Wells Fargo/Ragatz                         
64 Andrea Hannos (Can) Rona                                    17.18
65 Julie Emmerman (USA) Vitamin Cottage                             
66 Becky Broeder (USA) Wells Fargo/Ragatz                           
67 Karina Sorensen (Den) S.A.T.S.                                   
68 Gina Grain (Can) Victory Brewing                                 
69 Catherine Walberg (USA) Kenda Tire                               
70 Julie Hutsebaut (Can) Terry Precision                            
71 Ivana Bisaro (Can) Terry Precision                               
72 Renee Eastman (USA) Vitamin Cottage                              
73 Amanda Lawerence (USA) Vitamin Cottage                           
74 Sarah Faulkner (USA) The Bicycle Store/Worlddiff.com             
75 Sima Trapp (Ira) Tamarack/Goldy's                                
76 Emily Westbrook (USA) Tamarack/Goldy's                           
77 Ann Marie Miller (USA) Verizon Wireless - Wheelworks             
78 Leah Toffolon (USA) Verizon Wireless - Wheelworks                
79 Maatje Benassi (Ned) Wells Fargo/Ragatz                          
80 Rachel Massey (USA) WLTR                                         
81 Sarah Tillotson (USA) ABD                                        
82 Brenda Lyons (USA) ABD                                           
83 Crystal Yap (USA) 9th/9th - SLC                                  
84 Shawn Heidgen (USA) TDS-Schwalbe                                 
85 Christine Vardaros (USA) Velo Bella                         19.51
86 Yukie Nakamura (USA) Webcor                                      
87 Beth Leasure (USA) Dizzy Chicks                             20.58
88 Kerry Rohan (USA) Wells Fargo/Ragatz                        26.01
DNF Betsy Sellers (USA) Kenda Tire                                  
DNF Elizabeth Begosh (USA) Velo Bella                               
DNS Laura Downey (USA) LaGrange                                     
DNS Catherine Powers (USA) LaGrange                                 
 
Final general classificaton
 
Men
 
1 Chris Horner (USA) Webcor Builders                        15.05.35
2 Cesar Grajales (Col) Jittery Joe's Coffee                     1.49
3 Adam Bergman (USA) Jelly Belly                                3.53
4 John Lieswyn (USA) Health Net/Maxxis                          4.27
5 Jurgen Van Den Broeck (Bel) U.S. Postal Service               4.33
6 Liam Killeen (GBr) IMPSport                                   4.50
7 Glen Mitchell (NZl) Sierra Nevada                             5.01
8 Tim Larkin (USA) Ofoto                                            
9 Davide Frattini (Ita) Team Monex                              5.13
10 Daniel Rincon (Col) U.S. Postal Service                      5.27
11 Scott Moninger (USA) Health Net/Maxxis                       5.28
12 Ben Brooks (Aus) Jelly Belly                                 6.10
13 Trent Klasna (USA) Sierra Nevada                             6.18
14 Tomoya Kano (Jpn) Shimano Racing                             6.36
15 Mark McCormack (USA) Colavita                                7.33
16 Will Frischkorn (USA) Colavita                               7.42
17 Justin England (USA) Webcor Builders                         7.56
18 Eric Wohlberg (Can) Sierra Nevada                            8.05
19 Hisafumi Imanishi (Jpn) Shimano Racing                       8.11
20 Craig Lewis (USA) TIAA-CREF/5280                             8.12
21 Chris Wherry (USA) Health Net/Maxxis                         8.17
22 John Hunt (USA) Taylor                                       8.18
23 Doug Otterenshaw (USA) Jelly Belly                           8.37
24 Bryan Smith (USA) Endeavour Cycling                         10.12
25 Philip Dixon (GBr) IMPSport                                 10.24
26 Michael Creed (USA) U.S. Postal Service                     10.45
27 Eddy Hilger (USA) Gearlink.com                              10.48
28 Jason Bausch (USA) Ofoto                                    11.32
29 Yoshyuki Abe (Jpn) Shimano Racing                           12.31
30 Bart Fidelus (USA) Reno Wheelmen                            12.43
31 Ernie Lechuge (USA) Jelly Belly                             12.56
32 Aaron Olson (USA) Colavita                                  13.03
33 Gustavo Artacho (USA) Colavita                              13.09
34 Enrique Espinoa (Col) Team Monex                            13.16
35 Blake Caldwell (USA) TIAA-CREF/5280                         13.24
36 Steve Tilford (USA) IMPSport                                     
37 Danny Pate (USA) Health Net/Maxxis                          14.27
38 Jacob Erker (USA) Seasilver                                 14.37
39 Zach Walker (USA) Ofoto                                     16.53
40 Charles Dionne (Can) Webcor Builders                        18.58
41 Kevin Bouchard-Hall (USA) U23 National Team                 19.16
42 Timmy Duggan (USA) TIAA-CREF/5280                           20.41
43 Gordon McCauley (USA) Team Monex                            22.18
44 Todd Herriott (USA) Colavita                                22.27
45 Caleb Manion (Aus) Jelly Belly                              23.57
46 Kirk Albers (USA) Jelly Belly                               24.20
47 Imanol Ayesteran (Spa) Webcor Builders                      25.39
48 Carlos Vargas (USA) Endeavour Cycling                       25.44
49 Jason Klikna (USA) Sierra Nevada                            25.55
50 Brice Jones (USA) Health Net/Maxxis                         27.23
51 Tyler Wren (USA) Colavita                                   27.44
52 Jon Tarkington (USA) Global Sales-Healthy Choice            27.53
53 Alex Candelario (USA) Jelly Belly                           27.59
54 Juan Jose Haedo (Arg) Colavita                              28.47
55 Roddi Lega (Can) Pacific Sport National                     29.49
56 Erik Saunders (USA) Ofoto                                   30.10
57 Marc Hegenlocher (USA) Webcor Builders                      31.27
58 Greg Henderson (NZl) Health Net/Maxxis                      33.41
59 Chris Frederick (USA) Aerospace Engineering/Atlas Mining    33.52
60 Colin Beardsley (USA) McGuire                               34.05
61 Damon Kluck (USA) U.S. Postal Service                       35.16
62 James Mattis (USA) Webcor Builders                          37.19
63 Peteer Knudsen (USA) Seasilver                              37.22
64 Kyle Gritters (USA) Team Monex                              39.29
65 Jed Schneider (USA) Jittery Joe's Coffee                    40.24
66 Ben Haldeman (USA) Webcor Builders                          40.54
67 Derek McMaster (Can) Pacific Sport National                 41.14
68 Daniel Doornbos (USA) Gearlink.com                          41.34
69 Karl Bodine (USA) Team Monex                                43.06
70 Steve Mlujeak (USA) Gearlink.com                            46.27
71 Michael Hernandez (USA) Reno Wheelmen                       46.41
72 Victor Ayala (Mex) Velo Club LaGrange                       46.42
73 Samuel Dean (USA) SDBC-San Diego                            57.52
74 Bryce Mead (USA) Endeavour Cycling                          59.41
75 Mike Sayers (USA) Health Net/Maxxis                       1.00.42
76 Gordy Jackson (USA) Global Sales-Healthy Choice           1.04.36
77 Geoff Rapoport (USA) Velo Club LaGrange                   1.10.08
78 Chris Zukowski (USA) Reno Wheelmen                        1.12.30
79 Todd Terlecki (USA) SDBC-San Diego                        1.14.02
80 Russell Hamby (USA) Sierra Nevada                         1.16.18
81 Scott Zwizanski (USA) Ofoto                               1.23.50
82 Chuck Coyle (USA) Global Sales-Healthy Choice             1.25.12
83 Andrew Manart (USA) TIAA-CREF/5280                        1.28.32
84 Matthew Sadauckas (USA) Seasilver                         1.37.01
85 Mike Taylor (USA) McGuire                                 1.41.15
86 Bryson Perry (USA) Global Sales-Healthy Choice            1.44.25
87 Vigus Devon (USA) McGuire                                 1.46.01
88 Gord Fraser (Can) Health Net/Maxxis                       1.50.08
 
Women
 
1 Lyne Bessette (Can) Quark                                 12.23.59
2 Genevieve Jeanson (Can) Rona                                  0.54
3 Christine Thorburn (USA) Webcor                               1.33
4 Susan Palmer-Komar (Can) Genesis Scuba/FFCC                   2.05
5 Kristin Armstrong (USA) T-Mobile                              2.15
6 Magali LeFloch (Fra) Quark                                    5.49
7 Rhonda Quick (USA) Red 5 Racing                               6.01
8 Tina Pic (USA) Genesis Scuba/FFCC                             6.05
9 Amy Moore (Can) Quark                                         6.21
10 Kim Anderson (USA) T-Mobile                                  6.52
11 Mari Holden (USA) T-Mobile                                   7.13
12 Kathryn Curi (USA) Rona                                      7.31
13 Karen Bockel (Ger) TDS-Schwalbe                              7.38
14 Katrina Grove (USA) Rona                                     7.39
15 Johanna Buick (NZl) Victory Brewing                          7.43
16 Sarah Noble (Can) Ford                                       8.10
17 Brooke Ourada (USA) Victory Brewing                          9.28
18 Susan Haywood (USA) T-Mobile                                10.21
19 Melanie McQuaid (Can) Ford                                  10.43
20 Kori Kelly (USA) Genesis Scuba/FFCC                         10.44
21 Katherine Sherwin (USA) Kenda Tire                          11.11
22 Sandy Espeseth (Can) Victory Brewing                        11.52
23 Kristin Johnson (USA) Basis                                 12.12
24 Hiroko Shimada (Jpn) Velo Bella                             13.34
25 Stefanie Graeter (USA) Webcor                               13.35
26 Dara Marks-Marino (USA) Ford                                13.56
27 Grace Fleury (USA) Genesis Scuba/FFCC                       14.04
28 Bridget Evans (Aus) Lake Mary Cycles/ORC                    14.18
29 Kate Maher (USA) Basis                                      14.21
30 Rook Campbell (USA) Genesis Scuba/FFCC                      14.28
31 Jennifer Eyerman (USA) Red 5 Racing                         14.54
32 Gabriela Gonzales De Ferrat (Mex) Velo Bella                15.47
33 Joan Davies (USA) TDS-Schwalbe                              16.14
34 Jennifer Stevens (USA) Red 5 Racing                         16.31
35 Carla Hukee (USA) Kenda Tire                                16.39
36 Suz Weldon (USA) Tamarack/Goldy's                           16.44
37 Lynn Gaggioli (USA) T-Mobile                                17.29
38 Julia Whiteside (Ger) Paramount Racing                      18.47
39 Lisa Matlock (USA) Ford                                     19.34
40 Lara Kroepsch (USA) T-Mobile                                22.46
41 Cynthia Carroll (USA) Lake Mary Cycles/ORC                  22.49
42 Laura Van Gilder (USA) Genesis Scuba/FFCC                   24.35
43 Nicle Demars (Can) Victory Brewing                          27.52
44 Meredith Miller (USA) S.A.T.S.                              29.28
45 Alisha Little (USA) ABD                                     30.13
46 Helen Kelly (Aus) Rona                                      31.06
47 Becky Broeder (USA) Wells Fargo/Ragatz                      34.33
48 Michelle Beltran (USA) Red 5 Racing                         35.26
49 Catherine Walberg (USA) Kenda Tire                          37.18
50 Sara Bresnick (USA) Verizon Wireless - Wheelworks           37.59
51 Magen Long (USA) The Bicycle Store/Worlddiff.com            39.03
52 Brenda Lyons (USA) ABD                                      39.29
53 Sima Trapp (Ira) Tamarack/Goldy's                           39.53
54 Maatje Benassi (Ned) Wells Fargo/Ragatz                     39.54
55 Erin Carter (Can) TDS-Schwalbe                              40.43
56 Christine Fletcher (Can) Dizzy Chicks                       41.18
57 Lauren Franges (USA) Victory Brewing                        41.38
58 Christina Peick-Anderson (Den) S.A.T.S.                     42.47
59 Cat Malone (USA) Webcor                                     43.56
60 Shawn Heidgen (USA) TDS-Schwalbe                            44.05
61 Ivana Bisaro (Can) Terry Precision                          44.18
62 Andrea Hannos (Can) Rona                                    45.38
63 Sarah Tillotson (USA) ABD                                   45.54
64 Melissa Sanborn (USA) Wells Fargo/Ragatz                    46.07
65 Anne Samplonius (Can) TDS-Schwalbe                          46.52
66 Anna Milkowski (USA) Rona                                   47.10
67 Amanda Lawerence (USA) Vitamin Cottage                      47.58
68 Lisa Magness (USA) Wells Fargo/Ragatz                       49.22
69 Megan Esmonde (USA) Lake Mary Cycles/ORC                    51.39
70 Megan Elliott (USA) Quark                                   52.16
71 Crystal Yap (USA) 9th/9th - SLC                             53.13
72 Ann Marie Miller (USA) Verizon Wireless - Wheelworks        55.20
73 Sarah Faulkner (USA) The Bicycle Store/Worlddiff.com        56.48
74 Yukie Nakamura (USA) Webcor                                 56.53
75 Julie Hutsebaut (Can) Terry Precision                       56.55
76 Carli Figueroa (USA) Paramount Racing                       57.37
77 Christine Vardaros (USA) Velo Bella                         57.56
78 Gina Grain (Can) Victory Brewing                            58.28
79 Renee Eastman (USA) Vitamin Cottage                       1.02.20
80 Elizabeth Morse (USA) The Bicycle Store/Worlddiff.com     1.04.19
81 Julie Emmerman (USA) Vitamin Cottage                      1.05.33
82 Karina Sorensen (Den) S.A.T.S.                            1.08.58
83 Leah Toffolon (USA) Verizon Wireless - Wheelworks         1.13.15
84 Sherri Stedje (USA) The Bicycle Store/Worlddiff.com       1.13.24
85 Emily Westbrook (USA) Tamarack/Goldy's                    1.21.11
86 Beth Leasure (USA) Dizzy Chicks                           1.27.25
87 Kerry Rohan (USA) Wells Fargo/Ragatz                      1.30.10
88 Rachel Massey (USA) WLTR                                  1.33.42