McLane Pacific Cycling Classic - NE
California, USA, March 13-14, 2004
Main Page Results Previous Stage
Stage 2 - March 14: Foothills Road Race, 192/153km
Pic and Fraser double up
By Kristy Scrymgeour and Rob Karman
A long lone break
Photo ©: Rob Karman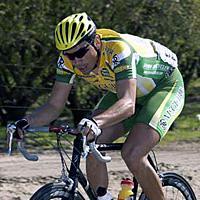 Gord Fraser (Health Net presented by Maxxis) and Tina Pic (Genesis Scuba) both backed up their wins in yesterday's criterium, by taking out today's Foothills road race.
The Race was set in the vineyards in central California, and traditionally, the wind plays a big part, as the course is open with rolling hills offering no protection from the elements. The course was a 24-mile loop in which the women raced four laps for a total of 96 miles and the men five laps (120 miles).
In the men's race there was an early break from a solo rider, which, aided by the rest of the peloton being neutralized to let the Cat 2's past, dwindled out to over five minutes. It was a long day however and he was eventually reeled in with two laps remaining. His capture sparked a counter attack, which featured about 16 riders who quickly gained 45" on the bunch. The break looked good and featured representation by most of the teams in the race, but it was not to be and it came back half a lap later.
It was now Chris Horner's (Webcor) turn to start his frenzy of attacks. His first attempt failed, but he was eager to go again and again until after his third attack, Ivan Dominguez (Colavita Olive Oil) countered him and went away with two others bridging up to him. With about a third of a lap remaining, and just as they were catching the women's field, the peloton came back together and the Health Net Team started ramping it up for the lead out.
Health Net patrolled
Photo ©: Rob Karman

Mixing it up at the front were also the Jelly Belly team and Horner. Mariano Friedick (Jelly Belly) jumped first and Horner hopped on his wheel with Australian Ben Brooks, also from Jelly Belly sitting in third. Fraser, mirroring yesterdays victory was able to come around and take his second win in as many days. Horner took second place and Brooks, third.
Tina Mayolo-Pic (Genesis-Scuba)
Photo ©: Rob Karman

As for the women, the first couple of laps of the four-lap race were very aggressive, with attacks persisting going. Nothing was able to escape though until the last lap with about 15 miles to go. A break of eight formed and worked hard together to arrive at the finish line ahead.
Pic took the win again from Quark's Magali Le Floch and the initiator of the break Helene Drumm (Morgan Stanley). Victory Brewing's Sandy Espeseth came in fourth.
Excited when Cyclingnews caught up with her after the race, Pic said "The break formed going around a corner when someone just put the pace on, I hopped on the wheel and when I looked back we had a gap. I think one of my teammates sat up to let the gap form," she added. "I had no idea how far to the finish and unfortunately I was running out of water and my calf was cramping, but it seemed to go well at the end."
This concludes the two-day race in Merced County. The next race on the national calendar is Pomona Valley, which starts on Thursday.
Photography
Images by Rob Karman/www.roadbikephotos.com
Results

Pro men 
 
1 Gord Fraser (HealthNet)
2 Chris Horner (Webcor)
3 Ben Brooks (Jelly Belly)
4 Glen Mitchell (Sierra Nevada)
5 Juan Jose Haedo (Colavita Bolla)
6 Trent Klasna (Sierra Nevada)
7 Alex Candelrio (Jelly Belly)
8 Neil Shirley (Team Seasilver)
9 Gustavo Artacho (Colavita Bolla)
10 John Hygelund (Sierra Nevada)
11 Sterling Magnell (Sierra Nevada)
12 Scott McKinley (USPS)
13 Davide Frattini (Team Monex)
14 Lionel Syne (Marco Polo)
15 Will Frischkorn (Colavita Bolla)
16 Roberto Gaggioli (Team Monex)
17 Carlos Vargas (Endeavour Cycling Team)
18 Christopher Hipp (Labor Power)
19 Aaron Norman (Owens Healthcare)
20 Charles Dione (Webcor )
21 Caleb Manion (Jelly Belly)
22 Richard delValle (GS Lombardi)
23 NA 
24 Aron Huerta (Taylor Cycling team)
25 David McCook (McGuire Pro Cycling)
26 Nathan Mitchell (TIAA CREF)
27 NA 
28 Michael Hernandez (Reno Wheelmen)
29 NA 
30 Jason Bausch (Ofoto - Lombardis)
31 Greg Wolf (Team Monex)
32 Marcano Fredrick (Jelly Belly)
33 Mike Sayers (HealthNet)
34 NA 
35 Scott Zwizanski (Ofoto - Lombardis)
36 Eirc Wohlberg (Sierra Nevada)
37 Peter Lopinto (Ofoto - Lombardis)
38 Drew Deter 
39 Patrick Dunaway (McGuire Pro Cycling)
40 NA 
41 Frank Pipp (Endeavour Cycling Team)
42 Billy Innes (650 Racing)
43 Bart Fidelus (Team Monex)
44 Agretti Sheldrake (TIAA CREF)
45 Craig Wilcox (RMS)
46 Aaron Olson (Colavita Bolla)
47 Daniel Kaukola 
48 Timmy Duggan (TIAA CREF)
49 Chris McGovern (Sierra Nevada)
50 Mark McCormack (Colavita Bolla)
51 JOHN Hunt (Taylor Cycling team)
52 Tyler Wren (Colavita Bolla)
53 Dirk Copeland (Palace Cycling)
54 John Semmelhack (ABD )
55 Andrew Touchstone (GS Lombardi)
56 Aleajandro Ivanou 
57 Daniel Hopley (Taylor Cycling team)
58 Matt Bromen (La Grange)
59 Michael Norton (Ideal Title)
60 Andres Gilbert (Delta Velo)
61 Dean Meyer (Winning Wheelspoke)
62 Kyle Gritters (Team Monex)
63 Michael Henson (Visit Britian)
64 Karl Bordine (Team Monex)
65 Craig Lewis (TIAA CREF)
66 Ben Jacques-Maynes (Sierra Nevada)
67 NA 
68 Ian MacGregor (TIAA CREF)
69 Nieko Biskner (Ofoto - Lombardis)
70 Devon Vigas (McGuire Pro Cycling)
71 Mike Talor (McGuire Pro Cycling)
72 NA 
73 Roman Kilun (McGuire Pro Cycling)
74 Chris Wherry (HealthNet)
75 NA 
76 John Hygelund (Sierra Nevada)
77 Ernie Lechuga (Jelly Belly)
78 Erik Saunders (Ofoto - Lombardis)
79 Michael Ebert (ABD )
80 Thad Dulin (Colavita Bolla)
81 Zach Walker (Ofoto - Lombardis)
82 Matt Dubberley (Sierra Nevada)
83 Ivan Dominguez (Colavita Bolla)
84 NA 
85 Andy Badjadati (Ofoto - Lombardis)
86 Mathew Gilbert (Team Monex)
87 Gordon McCauley (Team Monex)
88 Josh Klikna (McGuire Pro Cycling)
 
Women
 
1 Tina Pic (Genesis Scuba)
2 Magali LeFloch (Quark Cycling Team)
3 Helene Drumm (Morgan Stanley)
4 Sandy Espeseth (Victory Brewing)
5 Heather Albert 
6 Amy Moore (Quark Cycling Team)
7 Laura Downey (Velo Club La Grange)
8 Laura Van Gilder (Genesis Scuba)
9 Sarah Uhl (Quark Cycling Team)
10 Brenda Lyons (ABD)
11 Gina Grain (Victory Brewing)
12 Bridget Evans (Ffast)
13 Catherine Powers (Velo Club La Grange)
14 Cyt Mommsen (Olympic Club)
15 Taitt Sato (LGBRC)
16 Kimberly Cunningham 
17 Jule Hutsebaut (Team Terry)
18 Kristin Drumm (Morgan Stanley)
19 Laura Downey (Velo Club La Grange)
20 Nicole Freedman
21 Iona Wynter (Genesis Scuba)
22 Jill McLaughlin (Palo Alto)
23 Michelle Beltran 
24 Rook Campbell (Genesis Scuba)
25 Kerry Soraci 
26 Ashlee Zimmer (Windsor Bikes)
27 Yukie Nakamura (Webcor Builders)
28 Kate Maher (Team Basis)
29 Suzane Sonye (Helen's Trek VW)
30 Cheryl Roth (Helen's Trek VW)
31 Kelly Benjamin (ABD)
32 Nicole Demars (Victory Brewing)
33 Leah Tiffdan 
34 Christine Thorburn (Webcor Alto Velo)
35 Johanna Buick (Victory Brewing)
36 Jane Despas 
37 Alison Littlefield (9th & 9th)
38 Candice Blickem (Genesis Scuba)
39 Lisa Hauck 
40 Magen Long (OBR)
41 Jenni Tafoya 
42 Lisa Hunt (Olympic Club)
43 Starr Falk (LGBRC)
44 Carla Hukee (Team Kinda Tire)
45 Melissa Sanborn (Wells Fargo / Ragatz)
46 Maggie Shirley (Genesis Scuba)
47 Cynthia Carroll (Dewar's)
48 Lyne Bessette (Quark Cycling Team)
49 Emma Rickards (Victory Brewing)
50 Brooke Ourada (Victory Brewing)
51 Jamie Crawford 
52 Crystal Yap (9th & 9th)
53 Carla Koehler (Velo Club La Grange)
54 Cory Irimes (Axiom Realty Racing)
55 Kirsten Robbins (Victory Brewing)
56 Troy Watson (McGuire Cycling)
57 Lauren Gaffney 
58 Cat Malone (Webcor Cycling Team)
59 Betsy Bloom (Velo Club La Grange)
60 Pat Ross 
61 Katherine Sherwin (Team Kinda Tire)
62 Linda Elgart 
63 Heather Woodhouse 
64 Stefanie Graeter (Webcor Cycling Team)
65 NA 
66 Desira Utzig (Velo Club La Grange)
67 Nicole Brandt (Velo Club La Grange)
68 Sophie StJacques (Victory Brewing)