Irish National Road Championships - CN
Sligo, Ireland, June 27, 2004
Nationals results National champions summary
Wins for O'Loughlin and O'Hagan
Olympic places for Scanlon and Power
By Shane Stokes, irishcycling.com
Winner David O'Loughin (Totalcycling.com)
Photo ©: Shane Stokes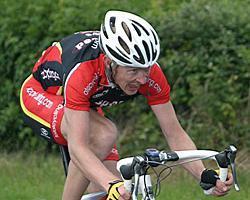 David O'Loughlin (Totalcycling.com – Litespeed) today raced to a dominant win in the national road race championships in Sligo , redisplaying the fine form which won him the Shay Elliott Memorial, the Lincoln Grand Prix and a stage in this year's FBD Milk Rás. The Mayo rider had gone clear as part of a fourteen man breakaway before the halfway point of the 104 mile race, got into a four man move with three and a half laps remaining and then made his bid for glory with about five miles to go.
O'Loughlin hit the line 47 seconds ahead of David McCann (Giant Asia) and an impressive Nicolas Roche, the 19 year old son of the 1987 Tour de France winner Stephen Roche.
Philip Deignan had also gone clear in that four-man break and he was next home, crossing the line 1 minute and 20 seconds down. A third espoir from the Marseille club, Paídi O'Brien, was fifth. The three VC La Pomme riders will now represent Ireland in the European championships in Estonia this August.
Navigators professional Ciarán Power, stage winner in the recent GP Cycliste de Beauce in Canada and tenth overall, was tipped as a possible winner today but he missed the crucial break and was sixth, with Tommy Evans (Totalcycling.com), Roger Aiken (Banbridge CC), Tim Cassidy (VC La Pomme) and Mark Cassidy (Cycleways Lee Strand) rounding out the top ten.
The women's road race championship went to Julie O'Hagan (All Systems Dublin Wheelers), who lives in Luton but has Irish grandparents. She took out an Irish racing licence several weeks ago with the aim of winning gold, and that certainly paid off today. O'Hagan, a former triathlete, attacked the main field with a lap and a half remaining and time trialled to the finish. Colette Swift (Old Portlians CC) took silver for the second year in succession, while Roisin Kennedy just edged out her Usher IRC team-mate Clare O'Reilly for bronze.
'I am delighted with this win. This has been my big goal for the year and I have worked hard towards it,' she said.
Photography
Images by Shane Stokes/www.irishcycling.com
Results
Men, 104 miles
  
1 David O'Loughlin (Totalcycling.com)             4.12.00
2 David McCann (Giant Asia)                          0.47
3 Nicolas Roche (VC La Pomme)
4 Philip Deignan (VC La Pomme)                       1.20
5 Paídi O'Brien (VC La Pomme)                        3.49
6 Ciarán Power (Navigators)                          4.51
7 Tommy Evans (Totalcycling.com)                     6.46
8 Roger Aiken (Banbridge CC)                         7.07
9 Tim Cassidy (VC La Pomme)                          8.27
10 Mark Cassidy (Cycleways Lee Strand)               9.54
11 Philip Finegan (Cycleways Lee Strand)
12 Bill Moore (Stamullen M. Donnelly)
13 Greg Swinand (Usher IRC)
14 Andrew Roche (Team Maestro)
15 Daniel Lynch (Kanturk Credit Union)
16 Stephen Gallagher (Flanders)
17 Sean Lacey (Earl of Desmond)
18 Craig Sweetman (Stamullen M. Donnelly)
19 David Peelo (Usher IRC)
20 Aaron Deane (Totalcycling.com)
 
Team: Totalcycling.com (O'Loughlin, Evans, Deane)
 
Women, 43 miles
 
1 Julie O'Hagan (All Systems Dublin Wheelers)     1.58.19
2 Colette Swift (Old Portlians CC)                   0.36
3 Roisin Kennedy (Usher IRC)                         0.38
4 Claire Moore (Usher IRC)
5 Ann McFarland (Omagh Wheelers)                     0.39
6 Trudy Brown (Northern CC)
7 Ann Paul (East Tyrone)
8 Joanie Burns (Orwell – Dundrum SC)
9 Siobhan Dervan (St. Finbarrs)
10 S. Jacob (Usher IRC)
11 K. Bothwell (Orwell - Dundrum SC)
12 L. Moriarty (Dublin Skip)