Recently on Cyclingnews.com
Euskal Bizikleta - 2.1
Spain, June 2-6, 2004
Main Page Results Previous Stage Next Stage
Stage 2 - June 3: Karrantza - Agurain, 155.6 km
Perdi doubles up
By Martin Hardie in Agurain
Miguel Angel Martin Perdiguero (Saunier Duval)
Photo ©: AFP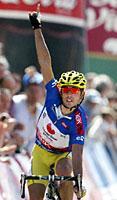 Miguel Angel Martin Perdiguero, better known as Perdi, repeated his 2002 result in Agurain today when he took another small group sprint to continue as leader of the Euskal Bizikleta. As he was yesterday, Perdi was followed to the line by Liberty's Angel Vicioso. Third was Relax rider and one man to keep a keen eye on as the race heads towards Saturday's time trial, Alberto Martinez.
With Perdi's win and the way it was brought about, the theme of the day might be described as concerning air conditioning. Perdi's team, sponsored by the multinational air conditioning company Saunier Duval, and in particular their young dynamic team director Joxean Fernandez Matxin, are in many ways a breath of fresh air in the world of cycling. Although at the present, they have not been granted a position in either the starting line up of the Tour de France, or the UCI Pro Tour, one wonders how either event could exist without them. The gust of air created by Perdi as he rushed passed Liberty's Angel Vicioso to set up his sprint win today however in the beginning was the result of a more old-fashioned form of air conditioning and maybe a more old-fashioned form of director, one who is possibly out to prove this year that he has the goods to take a grand tour.
How it unfolded
The peloton
Photo ©: AFP

The planning and patience of Liberty Seguros Director Manolo Saiz paid off today and brought about another crucial selection in a stage of the Euskal that was touted as the "easy" one. In the Spanish language, the word abanico is used to describe what we call in English or French an echelon - that formation a bike race assumes when the riders fan out across the road to seek shelter from a cross wind. An abanico is literally one of those hand held devices you might associate with a flamenco dancer or an Andulacian madien, used for cooling the temperature of one's face. It is also a device Manolo uses to perfection to rip a peloton apart, and this is what he did today with little more than ten kilometres to the finish when he ordered his team to take over the control of the front of the race.
Liberty, who had not been seen near the front of the race all day - having left first Saunier Duval, then Euskaltel and later Lampre to control the head of the peloton - came en masse to the front when the route looped back on itself across the skirts of the mountain range to the south of Agurain. Here the abanico formed and within seconds, the race which had proceeded as an orderly hunt of the day's four breakaways, Aitor Osa (Illes Baleares), Aitor Perez (Cafes Baque), Paco Lara (Paternina Costa Almeria) and Anthony Charteau (La Boulangère), turned into a nightmare for anyone who wasn't close enough to the front.
The race was ripped apart. A group of 19 with seven out of the eight Liberty team members represented were away, and behind groups were all trying first to get together and then if and when that was possible, trying to regain their losses. The 19 driven by Liberty's seven tunneled its way through the wind, with Euskaltel's Samuel Sanchez and Haimar Zubeldia active at the front as well. Notable others present were Sylvain Chavanel, Didier Rous (both Brioches), Alberto Martinez (Relax), Txema del Olmo (Maia), Luis Perez (Cofidis) and of course Perdi. They quickly scooped up the four escapees and their advantage yo-yoed at 20 seconds, 12 seconds, 15 seconds...
With four klicks left, Chavanel and Luis Perez drove off the front. They managed a small opening for a moment. Two kilometres later, Luis Perez gave it gas and went hard down the left hand side of the road and he was followed by Baque's Aitor Perez who passed him and got a gap himself. They managed to hold a 3 second advantage until through the three roundabouts into town when Liberty pulled them back. With 500 metres to go it was all back together - that is most of the group of 23 or so, as some of the Libertys had been shed doing their job of creating the tunnel through the wind.
Watch where you point that thing!
Photo ©: AFP

Down the left hand side into the finishing straight went Mikel Pradera of Illes Baleares, and Didier Rous charged after him. Then Vicioso launched a chase with Perdi on his wheel and that was it again, a rush of air as Perdi took two in two, down the same road as two years ago. Vicioso held on for second and Martinez third. The peloton 26 seconds behind.
The abanico caused spilt has reduced yesterday's twelve contenders to nine now. Of them, a few have to be discounted as they will play a supporting role. But the result is that heading into tomorrow's tough climbing day (with 2 Cat. 1's in the last 40 kilometres, preceded here as always by a battery of Cat 2's and 3's) we can judge the likely contenders for the finale as being drawn from amongst five riders: Heras and Gil for Liberty, Sanchez and Zubeldia for Euskaltel and Alberto Martinez from Relax. Luis Perez (Cofidis) and Txema del Olmo (Maia) of course still might have a bit to say about that.
Photography
Images by AFP Photo
Images by Martin Hardie
Results
1 M.A. Martin Perdiguero (Spa) Saunier Duval-Prodir             3.49.53
2 Angel Vicioso (Spa) Liberty Seguros                                  
3 Alberto Martinez (Spa) Relax-Bodysol                                 
4 Didier Rous (Fra) Brioches La Boulangere                             
5 Samuel Sanchez (Spa) Euskaltel-Euskadi                               
6 Haimar Zubeldia (Spa) Euskaltel-Euskadi                              
7 Roberto Heras (Spa) Liberty Seguros                                  
8 Txema Del Olmo (Spa) Milaneza Maia                                   
9 Sylvain Chavanel (Fra) Brioches La Boulangere                        
10 Mikel Pradera (Spa) Illes Balears-Banesto                           
11 Francisco José Lara (Spa) Costa De Almeria-Paternina                
12 Iñigo Cuesta (Spa) Cofidis, le credit par Telephone                 
13 Anthony Charteau (Fra) Brioches La Boulangere                       
14 Marcos Serrano (Spa) Liberty Seguros                                
15 Ivan Parra (Col) Comunidad Valenciana-Kelme                         
16 Luis Perez (Spa) Cofidis, le credit par Telephone                   
17 Carlos Barredo (Spa) Liberty Seguros                                
18 Unai Yus (Spa) Brioches La Boulangere                               
19 Koldo Gil (Spa) Liberty Seguros                                     
20 Aitor Osa (Spa) Illes Balears-Banesto                               
21 Aitor Perez (Spa) Cafes Baque                                   0.08
22 René Andrle (Cze) Liberty Seguros                                   
23 Alvaro Glez. Galdeano (Spa) Liberty Seguros                     0.13
24 Mauro Santanbrogio (Ita) Team L.P.R.-Piacenza Management SRL    0.27
25 Bruno Pires (Por) Milaneza Maia                                     
26 Roberto Petito (Ita) Fassa Bortolo                                  
27 Ion Del Rio (Spa) Costa De Almeria-Paternina                        
28 Giuseppe Palumbo (Ita) Acqua & Sapone-Caffe Mokambo                 
29 Matthieu Sprick (Fra) Brioches La Boulangere                        
30 David Herrero (Spa) Costa De Almeria-Paternina                      
31 Pablo Lastras (Spa) Illes Balears-Banesto                           
32 Lander Euba (Spa) Costa De Almeria-Paternina                        
33 Renato Silva (Por) Milaneza Maia                                    
34 Angel Edo (Spa) Milaneza Maia                                       
35 Gustavo Dominguez (Spa) Relax-Bodysol                               
36 Leonardo Piepoli (Ita) Saunier Duval-Prodir                         
37 Marco Pinotti (Ita) Lampre                                          
38 Francisco Palacio (Spa) Cafes Baque                                 
39 Aitor Hernandez (Spa) Team L.P.R.-Piacenza Management SRL           
40 Eladio Jimenez (Spa) Comunidad Valenciana-Kelme                     
41 Peter Farazjin (Bel) Cofidis, le credit par Telephone               
42 Mikel Elgezabal (Spa) Costa De Almeria-Paternina                    
43 Peio Arreitunandia (Spa) Cafes Baque                                
44 Tom Danielson (USA) Fassa Bortolo                                   
45 Hugo Sabido (Por) Milaneza Maia                                     
46 Gorka Gonzalez (Spa) Euskaltel-Euskadi                              
47 Michele Scotto (Ita) Lampre                                         
48 Aitor Gonzalez (Spa) Fassa Bortolo                                  
49 Roberto Sgambelluri (Ita) Vini Caldirola-Nobili Rubinetterie        
50 Joaquin Lopez (Spa) Costa De Almeria-Paternina                      
51 David Latasa (Spa) Comunidad Valenciana-Kelme                       
52 José Luis Arrieta (Spa) Illes Balears-Banesto                       
53 Joaquin Rodriguez (Spa) Saunier Duval-Prodir                        
54 Rafael Casero (Spa) Saunier Duval-Prodir                            
55 Paulo Barroso (Por) Milaneza Maia                                   
56 Valery Kobzarenko (Ukr) Acqua & Sapone-Caffe Mokambo                
57 Matteo Carrara (Ita) Lampre                                         
58 Daniele Contrini (Ita) Team L.P.R.-Piacenza Management SRL          
59 Daniel Atienza (Spa) Cofidis, le credit par Telephone               
60 Hernan Buenahora (Col) Cafes Baque                                  
61 Mauro Facci (Ita) Fassa Bortolo                                     
62 Paolo Longo (Ita) Vini Caldirola-Nobili Rubinetterie                
63 Jonathan Gonzalez (Spa) Costa De Almeria-Paternina                  
64 Jon Odriozola (Spa) Comunidad Valenciana-Kelme                      
65 Sergio Barbero (Ita) Lampre                                         
66 Roberto Laiseka (Spa) Euskaltel-Euskadi                             
67 Cedric Vasseur (Fra) Cofidis, le credit par Telephone               
68 Julián Sanchez (Spa) Fassa Bortolo                                  
69 Jose Antonio Lopez Gil (Spa) Illes Balears-Banesto                  
70 Xabier Zandio (Spa) Illes Balears-Banesto                           
71 Giampaolo Cheula (Ita) Vini Caldirola-Nobili Rubinetterie           
72 Joseba Beloki (Spa) Brioches La Boulangere                          
73 Unai Etxebarria (Ven) Euskaltel-Euskadi                             
74 Felix Cardenas (Col) Cafes Baque                                1.42
75 Alessandro Ballan (Ita) Lampre                                  2.45
76 Simone Bertoletti (Ita) Lampre                                 10.59
77 Alberto Lopez De Munain (Spa) Euskaltel-Euskadi                     
78 Joseba Zubeldia (Spa) Euskaltel-Euskadi                             
79 Javier Ramirez (Spa) Liberty Seguros                                
80 Kyrylo Pospyeyev (Ukr) Acqua & Sapone-Caffe Mokambo                 
81 Dmitri Fofonov (Kaz) Cofidis, le credit par Telephone               
82 Nacor Burgos (Spa) Relax-Bodysol                                    
83 David De La Fuente (Spa) Saunier Duval-Prodir                       
84 Hector Guerra (Spa) Relax-Bodysol                                   
85 Ivan Mayoz (Spa) Relax-Bodysol                                      
86 Giulio Tomi (Ita) Vini Caldirola-Nobili Rubinetterie           21.25
87 Juan Carlos Dominguez (Spa) Saunier Duval-Prodir                    
88 Gustavo Cesar (Spa) Relax-Bodysol                                   
89 Francesco Chicchi (Ita) Fassa Bortolo                               
90 Luca Celli (Ita) Vini Caldirola-Nobili Rubinetterie                 
91 Unai Osa (Spa) Illes Balears-Banesto                                
92 Claudio Lucchini (Ita) Team L.P.R.-Piacenza Management SRL          
93 Daniele Masolino (Ita) Team L.P.R.-Piacenza Management SRL          
94 Lizuarte Manuel Martins (Por) Milaneza Maia                         
95 Claudio Astolfi (Ita) Acqua & Sapone-Caffe Mokambo                  
96 Marco Cavallari (Ita) Vini Caldirola-Nobili Rubinetterie            
97 Jokin Ormaetxea (Spa) Costa De Almeria-Paternina                    
98 Antonio Olmo (Spa) Comunidad Valenciana-Kelme                       
99 Staf Scheirlinckx (Bel) Cofidis, le credit par Telephone            
100 Christophe Kern (Fra) Brioches La Boulangere                       
101 Marco Gili (Ita) Vini Caldirola-Nobili Rubinetterie                
102 Luis Perez Romero (Spa) Relax-Bodysol                              
103 Alessandro D'andrea (Ita) Acqua & Sapone-Caffe Mokambo             
104 Elio Aggiano (Ita) Team L.P.R.-Piacenza Management SRL             
105 Luca Nardello (Ita) Team L.P.R.-Piacenza Management SRL            
106 Ricardo Serrano (Spa) Cafes Baque                                  
107 Romans Vainsteins (Lat) Lampre                                     
108 Rubén Plaza (Spa) Comunidad Valenciana-Kelme                       
109 Dimitri Konyshev (Rus) Team L.P.R.-Piacenza Management SRL         
DNF Gorka Beloki (Spa) Brioches La Boulangere                          
DNF Igor Astarloa (Spa) Lampre                                         
DNF Ruben Lobato (Spa) Saunier Duval-Prodir                            
DNF Constantino Zaballa (Spa) Saunier Duval-Prodir                     
DNF Gerhard Trampusch (Aut) Acqua & Sapone-Caffe Mokambo               
 
Points
 
1 M.A. Martin Perdiguero (Spa) Saunier Duval-Prodir                  25 pts
2 Angel Vicioso (Spa) Liberty Seguros                                20
3 Alberto Martinez (Spa) Relax-Bodysol                               16
4 Didier Rous (Fra) Brioches La Boulangere                           14
5 Samuel Sanchez (Spa) Euskaltel-Euskadi                             12
6 Haimar Zubeldia (Spa) Euskaltel-Euskadi                            10
7 Roberto Heras (Spa) Liberty Seguros                                 9
8 Txema Del Olmo (Spa) Milaneza Maia                                  8
9 Sylvain Chavanel (Fra) Brioches La Boulangere                       7
10 Mikel Pradera (Spa) Illes Balears-Banesto                          6
11 Francisco José Lara (Spa) Costa De Almeria-Paternina               5
12 Iñigo Cuesta (Spa) Cofidis, le credit par Telephone                4
13 Anthony Charteau (Fra) Brioches La Boulangere                      3
14 Marcos Serrano (Spa) Liberty Seguros                               2
15 Ivan Parra (Col) Comunidad Valenciana-Kelme                        1
 
Mountains
 
La Escrita, km 7 3 
1 Francisco José Lara (Spa) Costa De Almeria-Paternina                3 pts
2 Giampaolo Cheula (Ita) Vini Caldirola-Nobili Rubinetterie           1
 
Altube, km 71 3 
1 Francisco José Lara (Spa) Costa De Almeria-Paternina                3 pts
2 Aitor Perez (Spa) Cafes Baque                                       1
 
Metas volantes
 
Murgia, km 76 
1 Aitor Perez (Spa) Cafes Baque                                       3 pts
2 Anthony Charteau (Fra) Brioches La Boulangere                       2
3 Aitor Osa (Spa) Illes Balears-Banesto                               1
 
Landa, km 101.7 
1 Aitor Perez (Spa) Cafes Baque                                       3 pts
2 Aitor Osa (Spa) Illes Balears-Banesto                               2
3 Francisco José Lara (Spa) Costa De Almeria-Paternina                1
 
Teams
 
1 Liberty Seguros                                              11.29.39
2 Brioches La Boulangere                                               
3 Euskaltel - Euskadi                                              0.27
4 Illes Balears - Banesto                                              
5 Cofidis, le credit par telephone                                     
6 Milaneza - Maia                                                  0.54
7 Costa de Almeria - Paternina                                         
8 Saunier Duval - Prodir                                               
9 Kelme - Comdad. Valenciana                                           
10 Cafes Baque                                                     1.02
11 Fassa Bortolo                                                   1.21
12 T. L.P.R. Piacenza                                                  
13 Lampre                                                              
14 Vini Caldirola                                                      
15 Relax-Bodysol                                                  11.26
16 Acqua & Sapone - Caffe Mokambo                                 11.53
 
General classification after stage 2
 
1 M.A. Martin Perdiguero (Spa) Saunier Duval-Prodir             8.05.06
2 Angel Vicioso (Spa) Liberty Seguros                                  
3 Alberto Martinez (Spa) Relax-Bodysol                                 
4 Samuel Sanchez (Spa) Euskaltel-Euskadi                               
5 Roberto Heras (Spa) Liberty Seguros                                  
6 Haimar Zubeldia (Spa) Euskaltel-Euskadi                              
7 Txema Del Olmo (Spa) Milaneza Maia                                   
8 Marcos Serrano (Spa) Liberty Seguros                                 
9 Luis Perez (Spa) Cofidis, le credit par Telephone                    
10 Koldo Gil (Spa) Liberty Seguros                                     
11 Leonardo Piepoli (Ita) Saunier Duval-Prodir                     0.27
12 Roberto Laiseka (Spa) Euskaltel-Euskadi                             
13 Eladio Jimenez (Spa) Comunidad Valenciana-Kelme                 0.40
14 Iñigo Cuesta (Spa) Cofidis, le credit par Telephone             0.53
15 Didier Rous (Fra) Brioches La Boulangere                        0.59
16 Francisco José Lara (Spa) Costa De Almeria-Paternina                
17 Pablo Lastras (Spa) Illes Balears-Banesto                       1.20
18 Peio Arreitunandia (Spa) Cafes Baque                                
19 Michele Scotto (Ita) Lampre                                         
20 Giuseppe Palumbo (Ita) Acqua & Sapone-Caffe Mokambo             1.26
21 Aitor Gonzalez (Spa) Fassa Bortolo                                  
22 David Latasa (Spa) Comunidad Valenciana-Kelme                       
23 Joaquin Rodriguez (Spa) Saunier Duval-Prodir                        
24 Mikel Pradera (Spa) Illes Balears-Banesto                       1.55
25 Carlos Barredo (Spa) Liberty Seguros                                
26 Ivan Parra (Col) Comunidad Valenciana-Kelme                         
27 Aitor Perez (Spa) Cafes Baque                                   2.03
28 Ion Del Rio (Spa) Costa De Almeria-Paternina                    2.22
29 Lander Euba (Spa) Costa De Almeria-Paternina                        
30 Mikel Elgezabal (Spa) Costa De Almeria-Paternina                    
31 Marco Pinotti (Ita) Lampre                                          
32 Francisco Palacio (Spa) Cafes Baque                                 
33 Hugo Sabido (Por) Milaneza Maia                                     
34 Joaquin Lopez (Spa) Costa De Almeria-Paternina                      
35 Matteo Carrara (Ita) Lampre                                         
36 Roberto Sgambelluri (Ita) Vini Caldirola-Nobili Rubinetterie        
37 Cedric Vasseur (Fra) Cofidis, le credit par Telephone               
38 Hernan Buenahora (Col) Cafes Baque                                  
39 Anthony Charteau (Fra) Brioches La Boulangere                   2.29
40 Bruno Pires (Por) Milaneza Maia                                 2.56
41 Peter Farazjin (Bel) Cofidis, le credit par Telephone               
42 Rafael Casero (Spa) Saunier Duval-Prodir                            
43 Mauro Santanbrogio (Ita) Team L.P.R.-Piacenza Management SRL    4.14
44 Gustavo Dominguez (Spa) Relax-Bodysol                               
45 Aitor Hernandez (Spa) Team L.P.R.-Piacenza Management SRL           
46 Tom Danielson (USA) Fassa Bortolo                                   
47 Valery Kobzarenko (Ukr) Acqua & Sapone-Caffe Mokambo                
48 José Luis Arrieta (Spa) Illes Balears-Banesto                       
49 Jonathan Gonzalez (Spa) Costa De Almeria-Paternina                  
50 Daniel Atienza (Spa) Cofidis, le credit par Telephone               
51 Mauro Facci (Ita) Fassa Bortolo                                     
52 Julián Sanchez (Spa) Fassa Bortolo                                  
53 Aitor Osa (Spa) Illes Balears-Banesto                           4.55
54 Xabier Zandio (Spa) Illes Balears-Banesto                       5.22
55 Sylvain Chavanel (Fra) Brioches La Boulangere                   5.48
56 René Andrle (Cze) Liberty Seguros                               5.56
57 Alvaro Glez. Galdeano (Spa) Liberty Seguros                     6.01
58 Renato Silva (Por) Milaneza Maia                                6.15
59 Matthieu Sprick (Fra) Brioches La Boulangere                        
60 Paulo Barroso (Por) Milaneza Maia                                   
61 Sergio Barbero (Ita) Lampre                                         
62 Jon Odriozola (Spa) Comunidad Valenciana-Kelme                      
63 Daniele Contrini (Ita) Team L.P.R.-Piacenza Management SRL          
64 Paolo Longo (Ita) Vini Caldirola-Nobili Rubinetterie                
65 Unai Yus (Spa) Brioches La Boulangere                           7.16
66 Joseba Beloki (Spa) Brioches La Boulangere                      7.44
67 Roberto Petito (Ita) Fassa Bortolo                              9.57
68 Angel Edo (Spa) Milaneza Maia                                       
69 David Herrero (Spa) Costa De Almeria-Paternina                      
70 Gorka Gonzalez (Spa) Euskaltel-Euskadi                              
71 Giampaolo Cheula (Ita) Vini Caldirola-Nobili Rubinetterie           
72 Unai Etxebarria (Ven) Euskaltel-Euskadi                             
73 Alessandro Ballan (Ita) Lampre                                 12.15
74 Jose Antonio Lopez Gil (Spa) Illes Balears-Banesto             12.26
75 Alberto Lopez De Munain (Spa) Euskaltel-Euskadi                14.06
76 Felix Cardenas (Col) Cafes Baque                               15.07
77 Simone Bertoletti (Ita) Lampre                                 16.47
78 Hector Guerra (Spa) Relax-Bodysol                                   
79 Javier Ramirez (Spa) Liberty Seguros                                
80 Dmitri Fofonov (Kaz) Cofidis, le credit par Telephone               
81 Nacor Burgos (Spa) Relax-Bodysol                               20.29
82 Kyrylo Pospyeyev (Ukr) Acqua & Sapone-Caffe Mokambo                 
83 David De La Fuente (Spa) Saunier Duval-Prodir                       
84 Ivan Mayoz (Spa) Relax-Bodysol                                      
85 Joseba Zubeldia (Spa) Euskaltel-Euskadi                        23.13
86 Lizuarte Manuel Martins (Por) Milaneza Maia                    23.54
87 Unai Osa (Spa) Illes Balears-Banesto                           27.13
88 Staf Scheirlinckx (Bel) Cofidis, le credit par Telephone            
89 Jokin Ormaetxea (Spa) Costa De Almeria-Paternina                    
90 Antonio Olmo (Spa) Comunidad Valenciana-Kelme                       
91 Rubén Plaza (Spa) Comunidad Valenciana-Kelme                        
92 Marco Gili (Ita) Vini Caldirola-Nobili Rubinetterie            30.06
93 Giulio Tomi (Ita) Vini Caldirola-Nobili Rubinetterie           30.55
94 Gustavo Cesar (Spa) Relax-Bodysol                                   
95 Juan Carlos Dominguez (Spa) Saunier Duval-Prodir                    
96 Marco Cavallari (Ita) Vini Caldirola-Nobili Rubinetterie            
97 Luca Nardello (Ita) Team L.P.R.-Piacenza Management SRL             
98 Luis Perez Romero (Spa) Relax-Bodysol                               
99 Elio Aggiano (Ita) Team L.P.R.-Piacenza Management SRL              
100 Romans Vainsteins (Lat) Lampre                                33.24
101 Dimitri Konyshev (Rus) Team L.P.R.-Piacenza Management SRL         
102 Francesco Chicchi (Ita) Fassa Bortolo                         33.39
103 Claudio Lucchini (Ita) Team L.P.R.-Piacenza Management SRL         
104 Claudio Astolfi (Ita) Acqua & Sapone-Caffe Mokambo                 
105 Daniele Masolino (Ita) Team L.P.R.-Piacenza Management SRL         
106 Alessandro D'andrea (Ita) Acqua & Sapone-Caffe Mokambo             
107 Christophe Kern (Fra) Brioches La Boulangere                  34.21
108 Ricardo Serrano (Spa) Cafes Baque                             34.50
109 Luca Celli (Ita) Vini Caldirola-Nobili Rubinetterie           35.32
 
Points classification
 
1 M.A. Martin Perdiguero (Spa) Saunier Duval-Prodir                  50 pts
2 Angel Vicioso (Spa) Liberty Seguros                                40
3 Alberto Martinez (Spa) Relax-Bodysol                               30
4 Samuel Sanchez (Spa) Euskaltel-Euskadi                             28
5 Roberto Heras (Spa) Liberty Seguros                                19
6 Haimar Zubeldia (Spa) Euskaltel-Euskadi                            18
7 Txema Del Olmo (Spa) Milaneza Maia                                 14
8 Marcos Serrano (Spa) Liberty Seguros                               14
9 Didier Rous (Fra) Brioches La Boulangere                           14
10 Koldo Gil (Spa) Liberty Seguros                                    9
11 Luis Perez (Spa) Cofidis, le credit par Telephone                  7
12 Sylvain Chavanel (Fra) Brioches La Boulangere                      7
13 Mikel Pradera (Spa) Illes Balears-Banesto                          6
14 Leonardo Piepoli (Ita) Saunier Duval-Prodir                        5
15 Francisco José Lara (Spa) Costa De Almeria-Paternina               5
16 Roberto Laiseka (Spa) Euskaltel-Euskadi                            4
17 Iñigo Cuesta (Spa) Cofidis, le credit par Telephone                4
18 Eladio Jimenez (Spa) Comunidad Valenciana-Kelme                    3
19 Anthony Charteau (Fra) Brioches La Boulangere                      3
20 Pablo Lastras (Spa) Illes Balears-Banesto                          2
21 Michele Scotto (Ita) Lampre                                        1
22 Ivan Parra (Col) Comunidad Valenciana-Kelme                        1
 
Mountains classification
 
1 Luca Celli (Ita) Vini Caldirola-Nobili Rubinetterie                12 pts
2 M.A. Martin Perdiguero (Spa) Saunier Duval-Prodir                  10
3 Koldo Gil (Spa) Liberty Seguros                                     8
4 Francisco José Lara (Spa) Costa De Almeria-Paternina                6
5 Samuel Sanchez (Spa) Euskaltel-Euskadi                              6
6 Luis Perez (Spa) Cofidis, le credit par Telephone                   5
7 Roberto Heras (Spa) Liberty Seguros                                 4
8 Marcos Serrano (Spa) Liberty Seguros                                2
9 Paolo Longo (Ita) Vini Caldirola-Nobili Rubinetterie                2
10 Aitor Perez (Spa) Cafes Baque                                      1
11 Alvaro Glez. Galdeano (Spa) Liberty Seguros                        1
12 Giampaolo Cheula (Ita) Vini Caldirola-Nobili Rubinetterie          1
13 Ricardo Serrano (Spa) Cafes Baque                                  1
 
Metas volantes classification
 
1 Aitor Perez (Spa) Cafes Baque                                       6 pts
2 Luca Celli (Ita) Vini Caldirola-Nobili Rubinetterie                 6
3 Hugo Sabido (Por) Milaneza Maia                                     4
4 Aitor Osa (Spa) Illes Balears-Banesto                               3
5 Anthony Charteau (Fra) Brioches La Boulangere                       2
6 Francisco José Lara (Spa) Costa De Almeria-Paternina                1
7 Giulio Tomi (Ita) Vini Caldirola-Nobili Rubinetterie                1
8 Mauro Santanbrogio (Ita) Team L.P.R.-Piacenza Management SRL        1
 
Teams classification
 
1 Liberty Seguros                                              24.15.18
2 Euskaltel - Euskadi                                              0.27
3 Saunier Duval - Prodir                                           1.53
4 Cofidis, le credit par telephone                                 3.15
5 Kelme - Comdad. Valenciana                                       4.01
6 Milaneza - Maia                                                  5.18
7 Costa de Almeria - Paternina                                     5.43
8 Cafes Baque                                                      5.45
9 Lampre                                                           6.04
10 Illes Balears - Banesto                                         7.02
11 Brioches La Boulangere                                          9.16
12 Fassa Bortolo                                                   9.54
13 T. L.P.R. Piacenza                                             14.43
14 Vini Caldirola                                                 17.45
15 Relax-Bodysol                                                  21.01
16 Acqua & Sapone - Caffe Mokambo                                 21.21