Recently on Cyclingnews.com
Belgian National Road Championships - CN
Tessenderlo, Belgium, June 27, 2004
Nationals results National champions summary
2003 Results Results Past winners
Vintage Steels
Looks like Tom Steels (Landbouwkrediet-Colnago)
Photo ©: AFP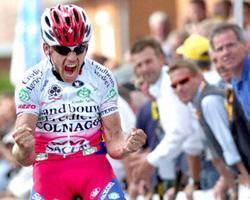 Tom Steels has added a fourth Belgian tricolore jersey to his impressive collection, winning today's Elite Men's Championships in Tessenderlo in a three man sprint. Steels made the final selection together with defending champion Geert Omloop (MrBookmaker) and Geert Verheyen (Chocolade Jacques), comfortably beating Omloop to take the title.
How it unfolded
Although the 13.35 km parcours (ridden 18 times) was not selective in itself, the way it was raced and a moderate wind was sufficient to break up the peloton. Cyclo-crosser Bart Wellens (Spaar Select) was the first rider to attack, but he wasn't allowed any freedom. After a flurry of counter-attacks, a group containing: Christoph Roodhooft and Kristof Trouvé (MrBookmaker.com-Palmans), Christophe Brandt and Thierry Marichal (Lotto-Domo), Pieter Mertens (Vlaanderen-T Interim), Johan Verstrepen (Landbouwkrediet-Colnago), Preben Van Hecke (Relax-Bodysol) and Frédéric Amorison (Quick.Step-Davitamon) managed to get away on the first lap and was not chased.
After 40 km, the leaders already had 6'15 to the peloton, and this grew to 7'57 before the peloton reacted. On the eighth lap, Tom Steels precipitated a split in the peloton that resulted in a 20 man chase group forming behind the eight leaders. Along with Steels were his teammate Bert De Waele, Quick.Step's Wilfried Cretskens, Kevin Hulsmans and Sven Vanthourenhout, Vlaanderen's Steven Caethoven, Paul Van Hyfte, Jehudi Schoonacker, Kevin Van Der Slagmolen and Wouter Van Mechelen, MrBookmaker's Geert Omloop, Johan Coenen and Jo Planckaert, Lotto-Domo's Leif Hoste, Wim Vansevenant, Gert Steegmans, Chocolade JAcques' Michael Blanchy and Geert Verheyen, Relax-Bodysol's Nico Mattan and FDJeux.com's sole starter Philippe Gilbert. Surprisingly, Tom Boonen (Quick.Step) missed the move and did not see the leaders again.
Steels takes his fourth
Photo ©: AFP

The big chase group started working and picked up all the leaders with five laps to go to form a group of 27 in front after Marichal was dropped. But the group didn't last together for long, as Gilbert countered and took Mattan, Cretskens, Van Mechelen, Steegmans, Steels, Verheyen and Omloop with him, with Van Der Slagmolen, Caethoven, Vanthourenhout, De Waele, Amorison and Hoste closing the gap with just under four laps to go to form a group of 14.
With under two laps (25 km) to go, the decisive attack was made by Steels, Omloop and Verheyen, and the very experienced trio quickly opened up a gap of 30 seconds on the rest of the chasers. Several attempts were made to bridge, with Steven Caethoven (Vlaanderen) getting within 15 seconds, but in the end the three leaders had plenty of time to play out the final sprint.
Omloop went first on the last uphill before the downhill finish, but straight away Steels had his wheel. In the end it was Verheyen who led out with Steels coming from second wheel to claim the title, extremely satisfied with his result.
Photography
Images by AFP
Results
1 Tom Steels (Landbouwkrediet-Colnago)                5.35.27 (42.927 km/h)
2 Geert Omloop (MrBookmaker.com-Palmans)                     
3 Geert Verheyen (Chocolade Jacques-Wincor Nixdorf)          
4 Gert Steegmans (Lotto-Domo)                            0.22
5 Nico Mattan (Relax-Bodysol)                            0.27
6 Philippe Gilbert (FDJeux.com)                          0.55
7 Sven Vanthourenhout (Quick.Step-Davitamon)                 
8 Steven Caethoven (Vlaanderen-T Interim)                    
9 Wouter Van Mechelen (Vlaanderen-T Interim)                 
10 Kevin Van Der Slagmolen (Vlaanderen-T Interim)            
11 Bert De Waele (Landbouwkrediet-Colnago)                   
12 Wilfried Cretskens (Quick.Step-Davitamon)                 
13 Frédéric Amorison (Quick.Step-Davitamon)              2.12
14 Leif Hoste (Lotto-Domo)                                   
15 Preben Van Hecke (Relax-Bodysol)                      7.50
16 Michael Blanchy (Chocolade Jacques-Wincor Nixdorf)    7.57
17 Christoph Roodhooft (MrBookmaker.com-Palmans)             
18 Kevin Hulsmans (Quick.Step-Davitamon)                     
19 Johan Coenen (MrBookmaker.com-Palmans)                    
20 Jo Planckaert (MrBookmaker.com-Palmans)                   
21 Pieter Mertens (Vlaanderen-T Interim)                     
22 Johan Verstrepen (Landbouwkrediet-Colnago)                
24 Christophe Brandt (Lotto-Domo)                            
25 Jehudi Schoonacker (Vlaanderen-T Interim)                 
26 Paul Van Hyfte (Vlaanderen-T Interim)                     


Past winners
2003 Geert Omloop (Palmans-Collstrop) 
2002 Tom Steels
2001 Ludovic Capelle
2000 Axel Merckx
1999 Ludo Dierckxsens 
1998 Tom Steels 
1997 Tom Steels