56th Wiesbauer Tour/Tour of Austria - 2.2
Austria, June 7-13, 2004
Stage 1 - June 7: Salzburg - Salzburg, 148 km  
Steels wins Austrian opener
Tom Steels (Landbouwkrediet-Colnago)
Photo ©: Cor Vos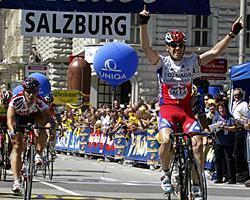 Belgian sprinter Tom Steels (Landbouwkrediet-Colnago) is continuing his come back to top form, picking up his third win of the season in the first stage of the Wiesbauer Tour (Tour of Austria). The 32 year old, who won the final stage of this race last year, beat Gorik Gardeyn (Lotto-Domo) and Michel Van Haecke (MrBookmaker-Palmans) in a bunch sprint in Salzburg.
"Better to win the first stage than the last," commented Steels. "Now I no longer have the pressure and will go for another stage win in Vienna after the mountains."
Steels also has the yellow jersey of tour leader now, with a one second advantage over Swiss rider Pascal Hungerbühler (Volksbank Ideal), who picked up nine bonus seconds during the stage today.
How it unfolded
The 148 km stage consisted of four 37 km laps around Salzburg, with a Cat. 3 climb each lap, although there were no points on offer on the final lap. There were also three intermediate sprints across the start/finish line each lap, with the winner of each of these getting three seconds bonus. The course was the same to that which will be used for the individual time trial at the 2006 World Championships.
Riders will head for the high mountains in days to come
Photo ©: Cor Vos
It took 20 km before the first serious breakaway group formed, with four riders going clear: Pascal Hungerbühler (Volksbank), Matteo Cappe (Formaggi Pinzolo Fiave), Fritz Berein (Hervis APO sport) and Stefan Rucker (Elk House Union Schrems) made up the quartet, which at one stage managed to get a 10 minute lead. Hungerbühler won each intermediate sprint while Stefan Rucker was the best overall on the climbs, and these riders will start tomorrow in the sprints and mountains jerseys.
The Landbouwkrediet-Colnago team controlled the tempo well, and brought the four leaders back with 3 km to go. Steels was far too strong in the sprint, and took a delighted stage win ahead of Gardeyn and Van Haecke.
Tomorrow's second stage will certainly test the riders, starting in Salzburg and finishing atop the 1,670m Kitzbüheler Horn, the first serious mountain test of this tour.
Photography
Images by Cor Vos/www.corvos.nl
Images by Klaus Titzer
Results
1 Tom Steels (Bel) Landbouwkrediet-Colnago                    3.28.12 (42.65 km/h)
2 Gorik Gardeyn (Bel) Lotto-Domo
3 Michel Van Haecke (Bel) MrBookmaker.com-Palmans
4 David Kopp (Ger) Team Lamonta
5 James Vanlandschoot (Bel) Relax-Bodysol
6 Gerrit Glomser (Aut) Saeco
7 Rene Weissinger (Ger) Volksbank Ideal Leingruber
8 Werner Riebenbauer (Aut) Team Hervis Apo Sport
9 Massimiliano Mori (Ita) Domina Vacanze
10 Matej Stare (Slo) Perutnina Ptuj
11 Mitja Mahoric (Slo) Perutnina Ptuj
12 Tom Vannoppen (Bel) MrBookmaker.com-Palmans
13 Jo Planckaert (Bel) MrBookmaker.com-Palmans
14 Jochen Summer (Aut) Elk Haus Radteam Sportunion Schrems
15 Petr Herman (Cze) Team Hervis Apo Sport
16 Sebastien Rosseler (Bel) Relax-Bodysol
17 Jan Kuyckx (Bel) Vlaanderen-T Interim
18 Torsten Hiekmann (Ger) T-Mobile Team
19 Gert Vanderaerden (Bel) MrBookmaker.com-Palmans
20 Jukka Vastaranta (Fin) Rabobank TT3
21 Lubomir Kejval (Cze) Ed' System-ZVVZ
22 Bernhard Kohl (Aut) Rabobank TT3
23 Frederic Gabriel (Fra) MrBookmaker.com-Palmans
24 Andreas Matzbacher (Aut) Saeco
25 Tomas Konecny (Cze) T-Mobile Team
26 Francesco Failli (Ita) Domina Vacanze
27 Massimo Giunti (Ita) Domina Vacanze
28 Peter Pichler (Aut) Radclub-Resch & Frisch Eybl Wels
29 Nico Mattan (Bel) Relax-Bodysol
30 Jens Renders (Bel) MrBookmaker.com-Palmans
31 Gerhard Trampusch (Aut) Austrian National Team
32 Ludo Dierckxsens (Bel) Landbouwkrediet-Colnago
33 Theo Eltink (Ned) Rabobank TT3
34 Gorazd Stangelj (Slo) Saeco
35 Danilo Amdrenacci (Ita) Formaggi Pinzolo Fiave'
36 Tomislav Danculovic (Cro) Perutnina Ptuj
37 Jehudi Schoonacker (Bel) Vlaanderen-T Interim
38 Giuseppe Di Grande (Ita) Formaggi Pinzolo Fiave'
39 Paul Kasis (Aut) Austrian National Team
40 Wolfgang Murer (Aut) Elk Haus Radteam Sportunion Schrems
41 Geoffrey Demeyere (Bel) Vlaanderen-T Interim
42 Christian Werner (Ger) T-Mobile Team
43 Cadel Evans (Aus) T-Mobile Team
44 Frederik Willems (Bel) Vlaanderen-T Interim
45 Adam Homolka (Cze) Team Hervis Apo Sport
46 Markus Eibegger (Aut) Austrian National Team
47 Wim Van Huffel (Bel) Vlaanderen-T Interim
48 Patrick Riedesser (Aut) Team Hervis Apo Sport
49 Siegfried Bauer (Aut) Corratec Austria-Arboe
50 Stephan Schreck (Ger) T-Mobile Team
51 Thomas Mair (Aut) Radclub-Resch & Frisch Eybl Wels
52 Christoph Kerschbaum (Aut) Austrian National Team
53 Yaroslav Popovych (Ukr) Landbouwkrediet-Colnago
54 Hans De Clercq (Bel) Lotto-Domo
55 Harald Morscher (Aut) Volksbank Ideal Leingruber
56 Matija Kvasina (Cro) Perutnina Ptuj
57 Eddy Lembo (Fra) MrBookmaker.com-Palmans
58 Jure Golcer (Slo) Formaggi Pinzolo Fiave'
59 Paolo Valoti (Ita) Domina Vacanze
60 Luis Laverde Jimenez (Col) Formaggi Pinzolo Fiave'
61 Koos Moerenhout (Ned) Lotto-Domo
62 Leif Hoste (Bel) Lotto-Domo
63 Walter Bonca (Slo) Perutnina Ptuj
64 Jan Valach (Svk) Ed' System-ZVVZ
65 Rory Sutherland (Aus) Rabobank TT3
66 Rene Kopeinig (Aut) Corratec Austria-Arboe
67 Mario Aerts (Bel) T-Mobile Team
68 Martin Fischerlehner (Aut) Elk Haus Radteam Sportunion Schrems
69 Lubor Tesar (Cze) Ed' System-ZVVZ
70 Roland Wafler (Aut) Elk Haus Radteam Sportunion Schrems
71 Harald Berger (Aut) Austrian National Team
72 Maurizio Vandelli (Ita) Radclub-Resch & Frisch Eybl Wels
73 Johan Van Summerein (Bel) Relax-Bodysol
74 Bert Roesems (Bel) Relax-Bodysol
75 Serge Pauwels (Bel) Rabobank TT3
76 Björn Glasner (Ger) Team Lamonta
77 Christian Pömer (Aut) Team Hervis Apo Sport
78 Sergey Yakovlev (Kaz) T-Mobile Team
79 Bert De Waele (Bel) Landbouwkrediet-Colnago
80 Preben Van Hecke (Bel) Relax-Bodysol
81 Sylvester Szmyd (Pol) Saeco
82 Michael Pichler (Aut) Radclub-Resch & Frisch Eybl Wels
83 Petr Bencik (Cze) Ed' System-ZVVZ
84 Stef Clement (Ned) Rabobank TT3
85 David Kupka (Cze) Ed' System-ZVVZ
86 Nick Gates (Aus) Lotto-Domo
87 Werner Faltheiner (Aut) Austrian National Team
88 Jef Peeters (Bel) Vlaanderen-T Interim
89 Francesco Secchiari (Ita) Domina Vacanze
90 Michele Scarponi (Ita) Domina Vacanze
91 Branko Filip (Slo) Perutnina Ptuj
92 Andrea Tonti (Ita) Saeco
93 Rudolf Ametsreiter (Aut) Radclub-Resch & Frisch Eybl Wels
94 Harald Totschnig (Aut) Elk Haus Radteam Sportunion Schrems
95 Thomas Rohregger (Aut) Team Hervis Apo Sport
96 Holger Sievers (Ger) Team Lamonta
97 Philipp Mamos (Ger) Team Lamonta
98 Paul Van Hyfte (Bel) Vlaanderen-T Interim
99 Andrew Bradley (Aut) Elk Haus Radteam Sportunion Schrems
100 Jean Nuttli (Swi) Volksbank Ideal Leingruber
101 Johann Jauk (Aut) Radclub-Resch & Frisch Eybl Wels
102 Marco Cedroni (Ita) Formaggi Pinzolo Fiave'
103 Paul Crake (Aus) Corratec Austria-Arboe
104 Björn Papstein (Ger) Team Lamonta
105 Filippo Simeoni (Ita) Domina Vacanze
106 Giuliano Sulpizi (Ita) Formaggi Pinzolo Fiave'
107 Christian Pfannberger (Aut) Austrian National Team
108 Massimo Demarin (Cro) Perutnina Ptuj
109 Hubert Hammerl (Aut) Corratec Austria-Arboe
110 Richard Groenendaal (Ned) Rabobank TT3
111 Pascal Hungerbühler (Swi) Volksbank Ideal Leingruber
112 Alessandro Spezialetti (Ita) Saeco
113 Niels Scheuneman (Ned) Relax-Bodysol
114 Hans Peter Obwaller (Aut) Volksbank Ideal Leingruber
115 Cristian Gasperoni (Ita) Landbouwkrediet-Colnago
116 Stefan Rucker (Aut) Elk Haus Radteam Sportunion Schrems
117 Stefan Schumacher (Ger) Team Lamonta
118 Nico Sijmens (Bel) Landbouwkrediet-Colnago
119 Sergey Lagutin (Uzb) Landbouwkrediet-Colnago
120 Peter Presslauer (Aut) Volksbank Ideal Leingruber
121 Andreas Knapp (Aut) Radclub-Resch & Frisch Eybl Wels
122 Adam Hansen (Aus) Corratec Austria-Arboe
123 Fraser Macmaster (NZl) Volksbank Ideal Leingruber
124 Hannes Pallhuber (Ita) Corratec Austria-Arboe
125 Leon Van Bon (Ned) Lotto-Domo                                1.33
126 Matteo Cappe (Ita) Formaggi Pinzolo Fiave'                   1.34
127 Friedrich Berein (Aut) Team Hervis Apo Sport                 1.40
128 Roman Bronis (Svk) Ed' System-ZVVZ                           3.06
 
General classification after stage 1
 
1 Tom Steels (Bel) Landbouwkrediet-Colnago                    3.28.02
2 Pascal Hungerbühler (Swi) Volksbank Ideal Leingruber           0.01
3 Gorik Gardeyn (Bel) Lotto-Domo                                 0.04
4 Stefan Rucker (Aut) Elk Haus Radteam Sportunion Schrems        0.05
5 Michel Van Haecke (Bel) MrBookmaker.com-Palmans                0.06
6 David Kopp (Ger) Team Lamonta                                  0.10
7 James Vanlandschoot (Bel) Relax-Bodysol
8 Gerrit Glomser (Aut) Saeco
9 Rene Weissinger (Ger) Volksbank Ideal Leingruber
10 Werner Riebenbauer (Aut) Team Hervis Apo Sport
11 Massimiliano Mori (Ita) Domina Vacanze
12 Matej Stare (Slo) Perutnina Ptuj
13 Mitja Mahoric (Slo) Perutnina Ptuj
14 Tom Vannoppen (Bel) MrBookmaker.com-Palmans
15 Jo Planckaert (Bel) MrBookmaker.com-Palmans
16 Jochen Summer (Aut) Elk Haus Radteam Sportunion Schrems
17 Petr Herman (Cze) Team Hervis Apo Sport
18 Sebastien Rosseler (Bel) Relax-Bodysol
19 Jan Kuyckx (Bel) Vlaanderen-T Interim
20 Torsten Hiekmann (Ger) T-Mobile Team
21 Gert Vanderaerden (Bel) MrBookmaker.com-Palmans
22 Jukka Vastaranta (Fin) Rabobank TT3
23 Lubomir Kejval (Cze) Ed' System-ZVVZ
24 Bernhard Kohl (Aut) Rabobank TT3
25 Frederic Gabriel (Fra) MrBookmaker.com-Palmans
26 Andreas Matzbacher (Aut) Saeco
27 Tomas Konecny (Cze) T-Mobile Team
28 Francesco Failli (Ita) Domina Vacanze
29 Massimo Giunti (Ita) Domina Vacanze
30 Peter Pichler (Aut) Radclub-Resch & Frisch Eybl Wels
31 Nico Mattan (Bel) Relax-Bodysol
32 Jens Renders (Bel) MrBookmaker.com-Palmans
33 Gerhard Trampusch (Aut) Austrian National Team
34 Ludo Dierckxsens (Bel) Landbouwkrediet-Colnago
35 Theo Eltink (Ned) Rabobank TT3
36 Gorazd Stangelj (Slo) Saeco
37 Danilo Amdrenacci (Ita) Formaggi Pinzolo Fiave'
38 Tomislav Danculovic (Cro) Perutnina Ptuj
39 Jehudi Schoonacker (Bel) Vlaanderen-T Interim
40 Giuseppe Di Grande (Ita) Formaggi Pinzolo Fiave'
41 Paul Kasis (Aut) Austrian National Team
42 Wolfgang Murer (Aut) Elk Haus Radteam Sportunion Schrems
43 Geoffrey Demeyere (Bel) Vlaanderen-T Interim
44 Christian Werner (Ger) T-Mobile Team
45 Cadel Evans (Aus) T-Mobile Team
46 Frederik Willems (Bel) Vlaanderen-T Interim
47 Adam Homolka (Cze) Team Hervis Apo Sport
48 Markus Eibegger (Aut) Austrian National Team
49 Wim Van Huffel (Bel) Vlaanderen-T Interim
50 Patrick Riedesser (Aut) Team Hervis Apo Sport
51 Siegfried Bauer (Aut) Corratec Austria-Arboe
52 Stephan Schreck (Ger) T-Mobile Team
53 Thomas Mair (Aut) Radclub-Resch & Frisch Eybl Wels
54 Christoph Kerschbaum (Aut) Austrian National Team
55 Yaroslav Popovych (Ukr) Landbouwkrediet-Colnago
56 Hans De Clercq (Bel) Lotto-Domo
57 Harald Morscher (Aut) Volksbank Ideal Leingruber
58 Matija Kvasina (Cro) Perutnina Ptuj
59 Eddy Lembo (Fra) MrBookmaker.com-Palmans
60 Jure Golcer (Slo) Formaggi Pinzolo Fiave'
61 Paolo Valoti (Ita) Domina Vacanze
62 Luis Laverde Jimenez (Col) Formaggi Pinzolo Fiave'
63 Koos Moerenhout (Ned) Lotto-Domo
64 Leif Hoste (Bel) Lotto-Domo
65 Walter Bonca (Slo) Perutnina Ptuj
66 Jan Valach (Svk) Ed' System-ZVVZ
67 Rory Sutherland (Aus) Rabobank TT3
68 Rene Kopeinig (Aut) Corratec Austria-Arboe
69 Mario Aerts (Bel) T-Mobile Team
70 Martin Fischerlehner (Aut) Elk Haus Radteam Sportunion Schrems
71 Lubor Tesar (Cze) Ed' System-ZVVZ
72 Roland Wafler (Aut) Elk Haus Radteam Sportunion Schrems
73 Harald Berger (Aut) Austrian National Team
74 Maurizio Vandelli (Ita) Radclub-Resch & Frisch Eybl Wels
75 Johan Van Summerein (Bel) Relax-Bodysol
76 Bert Roesems (Bel) Relax-Bodysol
77 Serge Pauwels (Bel) Rabobank TT3
78 Björn Glasner (Ger) Team Lamonta
79 Christian Pömer (Aut) Team Hervis Apo Sport
80 Sergey Yakovlev (Kaz) T-Mobile Team
81 Bert De Waele (Bel) Landbouwkrediet-Colnago
82 Preben Van Hecke (Bel) Relax-Bodysol
83 Sylvester Szmyd (Pol) Saeco
84 Michael Pichler (Aut) Radclub-Resch & Frisch Eybl Wels
85 Petr Bencik (Cze) Ed' System-ZVVZ
86 Stef Clement (Ned) Rabobank TT3
87 David Kupka (Cze) Ed' System-ZVVZ
88 Nick Gates (Aus) Lotto-Domo
89 Werner Faltheiner (Aut) Austrian National Team
90 Jef Peeters (Bel) Vlaanderen-T Interim
91 Francesco Secchiari (Ita) Domina Vacanze
92 Michele Scarponi (Ita) Domina Vacanze
93 Branko Filip (Slo) Perutnina Ptuj
94 Andrea Tonti (Ita) Saeco
95 Rudolf Ametsreiter (Aut) Radclub-Resch & Frisch Eybl Wels
96 Harald Totschnig (Aut) Elk Haus Radteam Sportunion Schrems
97 Thomas Rohregger (Aut) Team Hervis Apo Sport
98 Holger Sievers (Ger) Team Lamonta
99 Philipp Mamos (Ger) Team Lamonta
100 Paul Van Hyfte (Bel) Vlaanderen-T Interim
101 Andrew Bradley (Aut) Elk Haus Radteam Sportunion Schrems
102 Jean Nuttli (Swi) Volksbank Ideal Leingruber
103 Johann Jauk (Aut) Radclub-Resch & Frisch Eybl Wels
104 Marco Cedroni (Ita) Formaggi Pinzolo Fiave'
105 Paul Crake (Aus) Corratec Austria-Arboe
106 Björn Papstein (Ger) Team Lamonta
107 Filippo Simeoni (Ita) Domina Vacanze
108 Giuliano Sulpizi (Ita) Formaggi Pinzolo Fiave'
109 Christian Pfannberger (Aut) Austrian National Team
110 Massimo Demarin (Cro) Perutnina Ptuj
111 Hubert Hammerl (Aut) Corratec Austria-Arboe
112 Richard Groenendaal (Ned) Rabobank TT3
113 Alessandro Spezialetti (Ita) Saeco
114 Niels Scheuneman (Ned) Relax-Bodysol
115 Hans Peter Obwaller (Aut) Volksbank Ideal Leingruber
116 Cristian Gasperoni (Ita) Landbouwkrediet-Colnago
117 Stefan Schumacher (Ger) Team Lamonta
118 Nico Sijmens (Bel) Landbouwkrediet-Colnago
119 Sergey Lagutin (Uzb) Landbouwkrediet-Colnago
120 Peter Presslauer (Aut) Volksbank Ideal Leingruber
121 Andreas Knapp (Aut) Radclub-Resch & Frisch Eybl Wels
122 Adam Hansen (Aus) Corratec Austria-Arboe
123 Fraser Macmaster (NZl) Volksbank Ideal Leingruber
124 Hannes Pallhuber (Ita) Corratec Austria-Arboe
125 Leon Van Bon (Ned) Lotto-Domo                                1.43
126 Matteo Cappe (Ita) Formaggi Pinzolo Fiave'
127 Friedrich Berein (Aut) Team Hervis Apo Sport                 1.47
128 Roman Bronis (Svk) Ed' System-ZVVZ                           3.16

Points classification
 
1 Tom Steels (Bel) Landbouwkrediet-Colnago                       15 pts
2 Gorik Gardeyn (Bel) Lotto-Domo                                 12
3 Michel Van Haecke (Bel) MrBookmaker.com-Palmans                10
4 David Kopp (Ger) Team Lamonta                                   8
5 James Vanlandschoot (Bel) Relax-Bodysol                         7
6 Gerrit Glomser (Aut) Saeco                                      6
7 Rene Weissinger (Ger) Volksbank Ideal Leingruber                5
8 Werner Riebenbauer (Aut) Team Hervis Apo Sport                  4
9 Massimiliano Mori (Ita) Domina Vacanze                          3
10 Matej Stare (Slo) Perutnina Ptuj                               2

Mountains classification
 
1 Stefan Rucker (Aut) Elk Haus Radteam Sportunion Schrems         8 pts
2 Philipp Mamos (Ger) Team Lamonta                                4
3 Matteo Cappe (Ita) Formaggi Pinzolo Fiave'                      4
4 Michel Van Haecke (Bel) MrBookmaker.com-Palmans                 2
5 Pascal Hungerbühler (Swi) Volksbank Ideal Leingruber            2
6 Christian Pömer (Aut) Team Hervis Apo Sport                     1
 
Sprints classification
 
1 Pascal Hungerbühler (Swi) Volksbank Ideal Leingruber           12 pts
2 Stefan Rucker (Aut) Elk Haus Radteam Sportunion Schrems         5
3 Friedrich Berein (Aut) Team Hervis Apo Sport                    3
4 Matteo Cappe (Ita) Formaggi Pinzolo Fiave'                      1
 
Teams classification
 
1 MrBookmaker.com-Palmans                                    10.24.36
2 Relax-Bodysol
3 Perutnina Ptuj
4 Domina Vacanze
5 Saeco
6 Team Hervis Apo Sport
7 Rabobank TT3
8 T-Mobile Team
9 Landbouwkrediet-Colnago
10 Vlaanderen-T Interim
11 Austrian National Team
12 Lotto-Domo
13 Elk Haus Radteam Sportunion Schrems
14 Formaggi Pinzolo Fiave'
15 Radclub-Resch & Frisch Eybl Wels
16 Ed' System-ZVVZ
17 Volksbank Ideal Leingruber
18 Team Lamonta
19 Corratec Austria-Arboe