International Cycling Classic - Superweek - NE
USA, July 9-25, 2004
Main Page Results Previous Race Next Race
Race 6 - July 14: Saturn Whitnall Park Road Race
Fresh legs for Schmatz and Cowden, Hot Tubes does it again
By Kristy Scrymgeour
The men's podium
Photo ©: Kristy Scrymgeour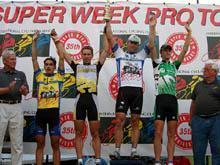 Dan Schmatz (Health Net p/b Maxxis), Dotsie Cowden (T-Mobile) and Spencer Beamer (Hot Tubes) won their respective races at day six of Superweek today as the weather cooled to give riders a break from the heat and humidity of previous days. Schmatz and Cowden came in late last night to participate in their first superweek race for this year, having somewhat fresh legs for the short circuit race and in the junior event Hot Tubes managed to take their third win in as many days in the three road races that were part of the World Championship selection point series.
The course was located just south west of the city of Milkwaukee in a closed circuit in Whitnall Park. Each lap of the circuit was 2.3 miles in length and was a flowing circular course on slightly undulating roads.
The juniors raced first and again a break went in the first lap of the race with the strong Hot Tubes team being aggressive from the gun. "My teammate Ryan [Keels] pulled hard in the first lap and I realized that not a lot of people were motivated today," said the eventual winner, Beamer, "so I attacked and a few guys came with me."
In the break were Beamer, Adam Switters (Lombardi/Klein), Jimmy Feely (MNJRC), Chris Ruhl (Team Rio Grande), Anton Nicola (Team Swift), Luke Pennington (Bike Gallery) and Alex Welch (Power Train). They worked well for the entire length of the race and stayed away to finish in a six person sprint.
"I attacked once going down the hill to try to get away but it didn't go anywhere so it ended up in a sprint," said Beamer. "I had to watch out for Ruhl and Switters because they are strong. Ruhl led it out and I was on his wheel," he added." Of the race tactics, Beamer said that he and his teammates just wanted to win the race and prevent Mike Sheppard from taking the points and the lead in the selection series. At the end of these races, Hot Tubes riders Zach Taylor and Zach Bolian are leading the points series and will automatically qualify for World Championships, with other places to be decided at National Championships in Park City next month.
Dotsie Cowden (T-Mobile) and Cheryl Roth (Helens/Trek VW)
Photo ©: Kristy Scrymgeour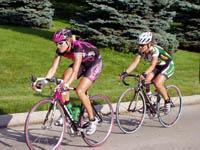 In the women's race, the race was very aggressive from the start with the cooler weather motivating riders to be aggressive. Megan Long (Sportsbook.com) was one of the first to attack, initiating a steam of attacks until finally in lap nine the decisive break of the day formed consisting of Cowden and Cheryl Roth (Helens/Trek VW).
The pair went away in lap nine of the sixteen lap course and worked consistently together to gain a gap over over a minute on the field. Leigh Ann Valletti (Genesis Scuba/FFCC) attacked in an attempt to bridge to the pair but was eventually swallowed up again, with Lynn Gaggioli countering her move. Gaggioli was also reeled in and at the end of the race it was Cowden and Roth sprinting for the win and the bunch sprinting for third place.
Women's podium -
Photo ©: Kristy Scrymgeour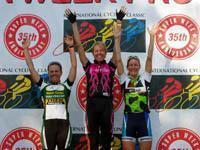 Cowden edged out Roth to take the win from Roth with series leader Tina Pic taking the bunch sprint for third place to keep her overall lead. She will wear the Americas Dairyland/Nicole Reinhart jersey going into the sixth day of racing for the women. Cowden was happy with the way she raced today with this being her first race back since Nationals in Redlands. "It was crazy out there today. Everybody was really aggressive and it was a very hard race. Cheryl and I worked well together. She didn't think she was strong, but she was."
In the men's race quite a few early breaks set off but all were reeled back in with the speed of the race. Mid way through the race a group of 10 riders got off the front and it looked like it would be the break to go. In the group were series leader Carlos Vargas, Jacob Nielsen (Glud & Marstrand Horsens), yesterday's winner Emile Abraham (Monex) and five other riders. Harm Jansen (Helens/Trek VW) knowing that this was the break to be with tried to get across to the group, eventually doing so, but was marked and the peloton caught him and the break.
With three laps to go a $60 prime was announced for the next lap and was won by Australian Brad Edmonds (MGZT), who kept it going to try and stay away with two others, however another prime was announced that was made up of money two young cycling fans, Jakob and Gretchen Grams had collected from the crowd. With one lap to go the peloton sprinted for the $100 prime which was taken by Dutchman Robert Van der Stelt, leaving the bunch in tact for the final lap.
Coming up the long slightly uphill drag to the finish to take the race was Schmatz, who just edged out Abraham for the win. Abraham took second followed by Richard England (MGZT) who claimed his second third placing for the series.
Schmatz was happy with his win having just driven the long road trip from Colorado to race at superweek. "But there's a lot more air down here for us to breath," he said. Schmatz was in the mid race break and said he "felt sure that that was it. After it came back I thought I might just get top five." This weekend, Schmatz looks forward to four other riders from his Health Net team to arrive. "Then we will be a force to be reckoned with," he said.
Photography
Images by Kristy Scrymgeour/Cyclingnews.com
Results
Men
 
1 Dan Schmatz (Health Net presented by Maxxis)                     
2 Emile Abraham (Team Monex)                                       
3 Richard England (Team MGZT)                                      
4 Harm Jansen (Helens RPM)                                         
5 Carlos Vargas (Endeavour Cycling Team)                           
6 Faloon Yosuany (Aerospace Engineering)                           
7 Rahsaan Bahat                                                    
8 Steve Tilford (BikeSource)                                       
9 Nathan Niller (McGuire Pro Cycling)                              
10 Jimmy Hansen (Glud & Marstrand Horsens)                         
11 Nathan Mitchell (US National Team/TIAA-CREF / 5280 Magazi)      
12 Sterling Magnell (Sierra Nevada)                                
13 Danny In't Ven (Antwerpse VC)                                   
14 Max Clauson (GS Ciao)                                           
15 Alex Robles (Trek-VW)                                           
16 Fran Travieso (Cyclist Warehouse)                               
17 Leonardo Martinez (Cyclists Warehouse)                          
18 Neil Shirley (Team Seasilver)                                   
19 Brandon Gavic (Team Salsa Cycles)                               
20 Andrew Crater (Team Monex)                                      
21 Burno Nella (Nella Madison)                                     
22 Clayton Barrows (RMCEF (Rocky Mtn. Cycling Ed. Foundation))     
23 Bill Stolte (HRRC)                                              
24 Robert Quinn (XXX Racing/Athletico)                             
25 Troy Critchlow                                                  
26 Todd Weitzenberg (Rocknasium)                                   
27 Davide Frattini (Team Monex)                                    
28 Garrett Peltonen (Endeavour Cycling Team)                       
29 Willie Gonzalez (Cyclists Warehouse)                            
30 Josh Goodwin (Team Monex)                                       
31 Ben Lund (Endeavour Cycling Team)                               
32 Dave Riemersma (IS Corp/NOVA)                                   
33 Mark Leffler (Rocknasium)                                       
34 Luca Fagundes (Spin City Cycling)                               
35 Paul Richards (Team MGZT)                                       
36 Robert Kron (Team Mack)                                         
37 Jai Crawford (Team MGZT)                                        
38 Jacob Nielsen (Glud & Marstrand Horsens)                        
39 John Semmelhack (ABD Cycling Team)                              
40 Ryan Gamma                                                      
 
Women
 
1 Dotsie Cowden (T-Mobile)                                         
2 Cheryl Roth (Helens/Trek/VW)                                     
3 Tina Pic (Genesis Scuba/FFCC)                                    
4 Magen Long (Sportsbook.com)                                      
5 Lynn Gaggioli (T-Mobile)                                         
6 Christina DeKraay (Team Fuji)                                    
7 Andrea Hannos (RONA)                                             
8 Caroline Soong (Purdue University)                               
9 Sima Trapp (Tamarack/Goldy's)                                    
10 Brenda Lyons (Velo Bella)                                       
11 Kerry Soraci (TDS/Schwalbe)                                     
12 Minay Ziffren-Hall (Team Group Health)                          
13 Brooke O'connor (Colavita-Bolla Racing)                         
14 Catherine Walberg (KENDA)                                       
15 Liza Rachetto (America's Dairyland)                             
16 Kerry Cohen (Athletes By Design)                                
17 Sheba Farrin (Hub Racing)                                       
18 Emily Westbrook (Tamarack/Goldy's)                              
19 Milissa Sanborn (TDS/Schwalbe)                                  
20 Elizabeth Morse (Sportsbook.com)                                
21 Jennifer Yaeso (Vitamin Cottage Cycling Team)                   
22 CarrieAnn Kopernik (Coyote Cycling)                             
23 Lauren Trull (Genesis Scuba/FFCC)                               
24 Alexis Brown (Genesis Scuba/FFCC)                               
25 Trudy Van Der Straaten (Kenda Tire)                             
26 Natalie Klemko (Athletes By Design)                             
27 Patti Kaufmann (Hampshire Cycling Club)                         
28 Alisha Little (ABD)                                             
29 Rebecca Anderson (America's Dairyland)                          
30 Mary Georgetti (Mystic Velo)                                    
31 Jana Repulski (Tamarack/Goldy's)                                
32 Suzanne Sonye (Helens Trek/VW)                                  
33 Sarah Applegate (Team Group Health)                             
34 Kristi Lewis (Sun & Ski Sports)                                 
35 Anne Meyer (Mercy-Specialized)                                  
36 Lia Winfield (Team Swift)

Junior men

1 Spencer Beamer (Hot Tubes)
2 Adam Switters (Lombardi/Klein)
3 Jimmy Feely (MNJRC)
4 Chris Ruhl (Team Rio Grande)
5 Anton Nicola (Team Swift)
6 Luke Pennington (Bike Gallery)
7 Alex Welch (Power Train)
8 Ryan Keels (Hot Tubes)
9 Brad Armstrong (Hot Tubes)
10 Chris Stockburger (Team Rio Grande)
11 Josh Nagode (PCW Cycling)
12 Chris Monteleone (Hincapie Sports/Bianchi)
13 Todd Elenz (Advantage Benefits Group)
14 Cassel Lessinger (ISCorp/Nova)
15 Chad Beyer (Domenics/Team Strada)
16 Ulric DeYoung (UW Health/Trek/Digisound)
17 Peter Stetina (TIAA-CREF/5280)
18 Joseph Iannarelli (Team Swift)
19 Alex Boyd (Major Motion Cycling Club)
20 Bjorn Selander (ALAN)
21 Derek Laan (MNJRC)
22 Jens Brabbit (Minnesota Junior Cycling)
23 Jason Carr (Nova/IS Corp)
24 Kip Spaude (GDVC)
25 Joseph Lewis (MNJRC)
26 Peter Edge (Team Champion/Tom's Pro Bike)
27 Robert Harris (Team Swift)
28 Tom French (PowerTrain)
29 Mike Souers (PBF/Citgo)
30 Aaron Woolsey (Team Swift)
31 Cullen Geppert (MNJRC)
32 Michael Sheppard (Major Motion)
33 Chase Renick (Team Swift)
34 Scott Hempel (CZ Velo)
35 Zach Bolian (Hot Tubes)
36 Nick Frey (Hot Tubes)
37 Zachary Taylor (Hot Tubes)
38 Michael Chauner (Team Rio Grande)
39 Reno Garcia (Team Swift)
40 Matthew Brandt (Nova/IS Corp)
41 Taylor Lane (Team Rio Grande)
42 Daniel Holloway (Lombardi Sports/Klein)
43 Benjamin Silk (Team Power Train/Tulsa world)
44 Tucker Olander (Team Rio Grande)
45 Jared Downing (Major Motion)
46 Jared Faciszewski (Nova/IS Corp)
47 Mike Margraf (Team Swift)
48 James Anderson (Team Rio Grande)
49 Guy East (NUVO)
50 Jordan Stohl (Team Bikesport/AAVC)
51 Erik Loberg (Stone Creek Coffee/One Percent More Racing)

Standings after race 6
Women's overall
 
1 Tina Pic (Genesis Scuba/FFCC)                                 150 pts
2 Andrea Hannos (RONA)                                          135
3 Christina DeKraay (Team Fuji)                                 118
4 Magen Long (Sportsbook.com)                                   103
5 Kerry Soraci (TDS/Schwalbe)                                    99
6 Brenda Lyons (Velo Bella)                                      90
7 Brooke O'connor (Colavita-Bolla Racing)                        83
8 Catherine Walberg (KENDA)                                      74
9 Cheryl Roth (Helens/Trek/VW)                                   67
10 Elizabeth Morse (Sportsbook.com)                              66
11 Rebecca Much (XXX Racing/AthletiCo)                           63
12 Lynn Gaggioli (T-Mobile)                                      60
13 Sima Trapp (Tamarack/Goldy's)                                 50
14 Dotsie Cowden (T-Mobile)                                      40
15 Kelly Benjamin (ABD)                                          38
16 Emily Gloeckner (TDS/Schwalbe)                                34
17 Jennifer Yaeso (Vitamin Cottage Cycling Team)                 32
18 Mindi Martin (Team Kendra Tire)                               31
19 Megan Monroe (TDS/Schwalbe)                                   31
20 Caroline Soong (Purdue University)                            25
21 Sheba Farrin (Hub Racing)                                     25
22 Sarah Tillotson (Athletes By Design)                          24
23 Liza Rachetto (America's Dairyland)                           24
24 Suzanne Sonye (Helens Trek/VW)                                23
25 Alisha Little (ABD)                                           23
26 Alison McNulty (Dent Wizard/Maplewood Bicycle)                19
27 Rebecca Anderson (America's Dairyland)                        18
28 Leigh Ann Valletti (Genesis Scuba/FFCC)                       17
29 Minay Ziffren-Hall (Team Group Health)                        17
30 Kimberly Strom (Bianchi/Grand Performance)                    17
31 CarrieAnn Kopernik (Coyote Cycling)                           15
32 Kerry Cohen (Athletes By Design)                              15
33 Pam Hinton (Dent Wizard)                                      13
34 Julie Tatar (America's Dairyland)                             12
35 Lauren Trull (Genesis Scuba/FFCC)                             11
36 Stacey Bertsch (Mercy Cycling Team)                           11
37 Elizabeth Wencel-Stone (Cycle Warehouse)                       9
38 Emily Westbrook (Tamarack/Goldy's)                             8
39 Milissa Sanborn (TDS/Schwalbe)                                 7
40 Natalie Klemko (Athletes By Design)                            5
41 Kristi Lewis (Sun & Ski Sports)                                3
42 Alexis Brown (Genesis Scuba/FFCC)                              2
43 Jana Repulski (Tamarack/Goldy's)                               2
44 Chelsea Harris (Stone creek coffe/One percent more! Racing)    2
45 Trudy Van Der Straaten (Kenda Tire)                            1
46 Katie Weber (Team Kenda Tire)                                  1
 
Men's overall
 
1 Carlos Vargas (Endeavour Cycling Team)                        145 pts
2 Emile Abraham (Team Monex)                                    108
3 Harm Jansen (Helens RPM)                                      103
4 Richard England (Team MGZT)                                    74
5 Jacob Nielsen (Glud & Marstrand Horsens)                       70
6 Davide Frattini (Team Monex)                                   64
7 Brian Sheedy (Team Seasilver)                                  62
8 Frank Dierking (ABD Cycling Team)                              62
9 Steve Tilford (BikeSource)                                     61
10 Walter Perez (National Team Argentina)                        58
11 Neil Shirley (Team Seasilver)                                 56
12 Andrew Crater (Team Monex)                                    56
13 Brian Jensen (HRRC)                                           55
14 Danny In't Ven (Antwerpse VC)                                 55
15 David Fuentes (Morgan Stanley)                                48
16 Jimmy Hansen (Glud & Marstrand Horsens)                       47
17 Dan Schmatz (Health Net presented by Maxxis)                  40
18 Kasper Klostergaard Larsen (Glud & Marstrand Horsens)         34
19 Dave McCook (McGuire Pro Cycling)                             33
20 Garrett Peltonen (Endeavour Cycling Team)                     33
21 Nicholas Reistad (Endeavour Cycling Team)                     32
22 Faloon Yosuany (Aerospace Engineering)                        29
23 Rahsaan Bahat                                                 27
24 Ben Raby (ABD Cycling Team)                                   27
25 Sterling Magnell (Sierra Nevada)                              26
26 Robbert Van Der Stelt (Van Hemert-Eurogifts)                  25
27 Wes Hartman (Team Mack)                                       24
28 Juan Gaspari (National team aregentina)                       24
29 Nathan Niller (McGuire Pro Cycling)                           23
30 Josh Goodwin (Team Monex)                                     23
31 Jeremiah Wiscovitch (LaGrange)                                21
32 Ricardo Hernandez (JC Investors Racing Team)                  21
33 Robbie Ventura (US Postal Service)                            20
34 Karl Menzies (Team MGZT)                                      20
35 Ryan Nenninger (ABD Cycling Team)                             20
36 Aron Huerta (Village Peddler)                                 20
37 Nathan Mitchell (US National Team/TIAA-CREF / 5280 Magazi)    19
38 Fran Travieso (Cyclist Warehouse)                             16
39 Burno Nella (Nella Madison)                                   16
40 Max Clauson (GS Ciao)                                         13
41 Eduardo Vicencio (Aidas/Zeta Gas)                             13
42 Alex Robles (Trek-VW)                                         11
43 Gavin Chilcott (Dewar's Racing Team)                          10
44 Brad Edmunds (Team MGZT)                                      10
45 Sam Horn (Intermountain)                                      10
46 John Semmelhack (ABD Cycling Team)                             9
47 Michael Ebert (ABD Cycling Team)                               9
48 Leonardo Martinez (Cyclists Warehouse)                         9
49 Jay Ku                                                         8
50 Daniel Ramsey (Seasilver)                                      8
51 Bryce Mead (Bianchi/Grand Performance)                         8
52 Marvin Van Der Pluym (Van Hemert - EuroGifts)                  7
53 John Puffer (ABD Cycling Team)                                 7
54 Brandon Gavic (Team Salsa Cycles)                              7
55 Reid Mumford (XXX Racing/AthletiCo)                            7
56 Adam Curry (Revolution Cycling Team)                           6
57 Steen Rose (Make Shift Bicycle Club)                           6
58 Thomas Hallock (Northwest Cycling Club)                        6
59 Zach Fiocca (Higher Gear)                                      5
60 Ryan Blickem (Aidas/Zeta Gas)                                  5
61 Granam Howard (ABD Cycling Team)                               5
62 Frank Pipp (Endeavour Cycling Team)                            4
63 Clayton Barrows (RMCEF (Rocky Mtn. Cycling Ed. Foundation))    4
64 Paul Ellis (Jelly Belly)                                       4
65 Bill Stolte (HRRC)                                             3
66 Ryan Gamma                                                     3
67 Brian Schaning (PCW Cycling)                                   3
68 Jamiel Danesh (McGuire Pro Cycling)                            2
69 Karl Bordine (Team Monex)                                      2
70 Robert Quinn (XXX Racing/Athletico)                            2
71 Peter Knudsen (Team Seasilver)                                 2
72 Stefano Barberi (JC Investors)                                 2
73 Victor Ayala (LaGrange)                                        1
74 Brant Hendler (West Michigan Coast Riders)                     1
75 Troy Critchlow                                                 1