International Cycling Classic - Superweek - NE
USA, July 9-25, 2004
Main Page Results Previous Race Next Race
Race 17 - July 24: The Columbia St. Mary's Great Downer Avenue Bike Race
Another hometown victory at Superweek
Jonas Carney finally adds Downer Ave to win list
by Mark Zalewski in Milwaukee
Jonas Carney
Photo ©: Mark Zalewski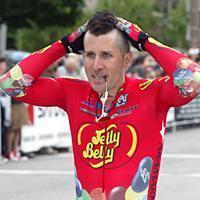 If the southern part of the U.S. has the Athens Twilight Criterium as its claim to domestic cycling fame, then the midwest has the Great Downer Avenue Criterium, the second-to-last race of Superweek, and by far the most historic and prestigous. That made it even more of a reason for local boy Jonas Carney (Jelly Belly p/b Aramark) to want to win this race -- a race that has eluded him his entire career. And what better way to enjoy your final year of professional bike racing than to win here, in front of friends and family.
Early winner Dave McCook (McGuire Pro Cycling)
Photo ©: Mark Zalewski

Frank Pipp leads the charge
Photo ©: Mark Zalewski

The field was never wider
Photo ©: Mark Zalewski

David Fuentes and the break
Photo ©: Mark Zalewski

One lap to go
Photo ©: Mark Zalewski

A late start means a dark finish
Photo ©: Mark Zalewski

The Downer Avenue podium
Photo ©: Mark Zalewski

Decked out in a brand new mohawk, the always entertaining Carney explained his ties to the community. "I've done [this race] maybe fifteen times. It's my hometown -- I just bought a house here, and all my friends live here. I had about a hundred people screaming for me all day."
All day yesterday, and for much of the entire series, Carney has made it known that he wanted to win here, and bad. But the reason that this race is so prestigous is that it is difficult. the course is a flat [almost] triangle with a long back stretch and two very close turns back on to the home stretch. Speeds here start fast, and get faster as more people cheer for their favorites.
Last year, a four-man break went away on the second lap, and stayed away the whole time, so every rider was attentive from the start. A few breaks tried to duplicate that success but failed to achieve the right combination of riders (i.e. not including Jonas Carney.)
With the pace remaining high, riders struggled to gain even a slight gap -- until one of a few crashes caused a split at the front, and the smart riders who were keeping near the front rolled off and finally had a gap. Sprint classification leader David Fuentes (Morgan Stanley) was one of the smart ones staying safe and attentive on the front, and rolled into the break. "The head of the field finally cracked and a group went off the front -- then a group of six came up to us and we just started rotating it really hard. The two Jelly Belly guys really started drilling it, especially Candelario for Carney."
Besides favorites Fuentes, Candelario and Carney, the break contained other familiar Superweek names, including Robbie Ventura (U.S. Postal Service), Andrew Crater (Monex), Peter Lopinto (Ofoto) and last year's sprint classification winner Frank Pipp (Endeavour). Pipp's teammate Carlos Vargas took the night off with second overall all but clinched. "[The overall] is pretty much decided, and Carlos has had a rough couple of days -- there's been some crazy stuff. Carlos decided to take the night off, he is still hurting from his crash. Tonight we just all went for it -- my team supported me great." This group of ten worked well together, as Carney's odds for winning shot up Soon, the break had almost a minute on the field with less than thirty laps to go.
With the break more than a half-lap from the field, three riders dropped off the pace, including Crater and Candelario. Candelario knew the break would catch the field, so he just sat-up and waited, ready to take Jonas back up to the front with teammate Kirk Aalbers.
Sure enough the break caught up and wasted no time in picking their way through the winding field. Now it was up to the three-man team of Jelly Belly to line up a sprint in traffic for Carney. But in the sport of field sprinting, one doesn't usually make too many friends. However, Carney had more than a few in today's race.
"I only had two guys out there, and I ended up burning some favors up in the end," Carney admitted. "You race as a pro for fifteen years and you do other people favors and you make a lot of friends. Being a field sprinter it's hard to not make enemies, but I've made a lot of friends in the sport. And a lot of guys that didn't lap the field came to my help, not asking for anything, just saying 'What can I do for you?' and I've got to thank all of them, and my teammates, Alex and Kirk. They just slaved away for me today. -- I'll never forget it."
With darkness enveloping the streets, the thousands of fans cheered the bell lap. Dan Schmatz (HealthNet) led through the start/finish, with Kirk Albers (Jelly Belly p/b Aramark) on his wheel, followed by sprinter Dave McCook (McGuire Pro Cycling), Candelario and Carney. "We definitely had some help, Schmatz drilled it and Albers drilled it, and I hit out the last corner -- obviously Jonas it one of the fastest guys," Candelario replayed.
To the line, delivered by Candelario, Jonas Carney raised his hands in victory, finally winning his hometown race. "I have some goals this year to win specific races in my last season. There have been a couple that I didn't get, but there are a couple that I did get this year. I didn't win Twilight, but I did win Gas Town which is one of my favorite races ever." And now Carney can finally add Downer Avenue.
Fellow local boy Robbie Ventura, who also finally won his hometown Superweek race just the night before, was glad to see his longtime friend and competitor win here. "I am so happy for Jonas. I won yesterday and he was today, and we're best friends so it's great. I think we first started racing together at junior nationals when we were like eight years old."
But Carney isn't stopping just yet, in this, his own twilight season. "Charlotte, New York CIty and the USPRO [criterium championships] are the three big ones. August is a big month, and I'm ready."
Superweek wraps up with one more criterium in Whitefish Bay, where the overall winners will claim their prizes. Since both the sprint and overall categories and mathematically decided, the only prize on the line is one more stage victory.
Photography
Images by Mark Zalewski/showchoir.net
Results
1 Jonas Carney (Jelly Belly)                                        
2 Frank Pipp (Endeavour Cycling Team)                               
3 Robbie Ventura (US Postal Service)                                
4 Peter Lopinto (Ofoto cycling team)                                
5 David Fuentes (Morgan Stanley)                                    
6 Aaron Olson (Colavita Pro Cycling)                                
7 Alex Candelario (Jelly Belly - Aramark)                           
8 Dave McCook (McGuire Pro Cycling)                                 
9 Harm Jansen (Helens RPM)                                          
10 Gustavo Carillo (Aerospace Engineering)                          
11 Steve Tilford (BikeSource)                                       
12 Richard England (Team MGZT)                                      
13 Buck Miller (Jetful Coffee cycling team)                         
14 Kyle Gritters (Team Monex)                                       
15 Jeremiah Wiscovitch (LaGrange)                                   
16 Kirk Albers (Jelly Belly/Aramark)                                
17 Skye Kraft (Eastside Cycling)                                    
18 Victor Ayala (LaGrange)                                          
19 Jacob Erker (Team Seasilver)                                     
20 David Guttenplan (Locos/Georgia Cycle Sport)                     
21 Todd Terlecki (Giant Factory Team)                               
22 Sterling Magnell (Sierra Nevada)                                 
23 Marvin Van Der Pluym (Van Hemert - EuroGifts)                    
24 Jason Van Marle                                                  
25 Todd Cornelius (Subway-Express)                                  
26 Garrett Peltonen (Endeavour Cycling Team)                        
27 Mike Tillman                                                     
28 Drew Deters (Team Seasilver)                                     
29 Rudy Robaina (Cycle Science)                                     
30 Brandon Gavic (Team Salsa Cycles)                                
31 Randy Dreyer (CritRacing.com)                                    
32 Nathan Snyder (Duke/Big Brothers)                                
33 Chris Bolling (2CC/Pony Shop)                                    
34 Jai Crawford (Team MGZT)                                         
35 Joshua Carter (Long John Silver's Cycling Team)                  
36 Billy Masterson (Excel Sports Boulder)                           
37 Dustin Stein (AST Cycling)                                       
38 Jacob Nielsen (Glud & Marstrand Horsens)                         
39 Mark Poznial (GearRacing.com)                                    
40 Reed Tanger (Evolution Cycling)                                  
41 Chuck Coyle (Vitamin Cottage)                                    
42 Luca Fagundes (Spin City Cycling)                                
43 Ben Lund (Endeavour Cycling Team)                                
44 Caine Opgrand (Parish Foundation cycling club)                   
45 (unknown rider)                                                  
46 Thomas Hallock (Northwest Cycling Club)                          
47 Ken Toman (Helens RPM)                                           
48 Jason Snider (Flanders/MBRC)                                     
49 Jason Snow (Team Fuji)                                           
50 Ulric DeYoung (UW Health/Trek/Digisound)                         
51 Gregg Medinilla (Team Monex)                                     
52 Ryan Nenninger (ABD Cycling Team)                                
53 John Hughes (Vision Quest)                                       
54 Greg Springborn (Proctor Cycling Team)                           
55 Paul Nilsen (Brazen Dropouts/Cronometro)                         
56 Juan Gaspari (Argentina National Team)                           
57 Shane Peltonen (Eclipse Racing)                                  
58 Erik Wochna (Velo RPM/Helen's Cycles)                            
59 Jeremy Sartain (Bianchi/Grand Performance)                       
60 Frank Dierking (ABD Cycling Team)                                
61 Robbert Van Der Stelt (Van Hemert-Eurogifts)                     
62 Stathy Toulonmis (Vision Quest coaching)                         
63 Morgan Wiswall (Team Wheel & Sprocket)                           
64 Chad Boyles (ISCorp/Nova)                                        
65 (unknown rider)                                                  
66 Paul Richards (Team MGZT)                                        
67 John Semmelhack (ABD Cycling Team)                               
68 Dave Riemersma (IS Corp/NOVA)                                    
69 Jimmy Hansen (Glud & Marstrand Horsens)                          
70 Andrew Hargarten (Hampshire Cycle Club)                          
71 Juan Curuchet (National Team Argentina)                          
72 Craig McCartney (Intermountain Color Cycling Team)               
73 Joe Siciliano (Rio Grande Cycling Team)                          
74 Mark Southard (Excel Sports Boulder)                             
75 Todd Miller (Endeavour Cycling Team)                             
76 David Sachs (Alberto's Sport)                                    
77 John Staroby                                                     
78 Matt Delks (PCW Cycling)                                         
79 Zach Reed (Long John Silver's Cycling Team)                      
80 Andrew Touchstone (G.S. Lombardi Sports)                         
81 Ryan Blickem (Aidas/Zeta Gas)                                    
82 Peter Femal (Nova/IS Corp)                                       
83 Steve Yurosek (Giant Factory Team)                               
84 Ben Stafford (Webcor Builders)                                   
85 Micah Thompson (Excel Sports Boulder)                            
86 Nathan Miller (McGuire Pro Cycling)                              
87 Al Senft (NUVO/Bicycle Action Project)                           
88 Ryan Roth                                                        
89 Jamiel Danesh (McGuire Pro Cycling)                              
90 Dan Schmatz (Health Net presented by Maxxis)                     
91 Duke Schimmer (McGuire)                                          
92 Kasper Klostergaard Larsen (Glud & Marstrand Horsens)            
 
Sprint Points - Men - Round 1
 
1 Peter Lopinto (Ofoto cycling team)                                
2 David Fuentes (Morgan Stanley)                                    
3 Jason Waddell (Sharper Image - Mathis Brothers)                   
4 Aaron Olson (Colavita Pro Cycling)                                
5 Jonas Carney (Jelly Belly)                                        
6 Alex Candelario (Jelly Belly - Aramark)                           
7 Frank Pipp (Endeavour Cycling Team)                               
 
Sprint Points - Men - Round 2
 
1 Frank Pipp (Endeavour Cycling Team)                               
2 Jonas Carney (Jelly Belly)                                        
3 Andrew Crater (Team Monex)                                        
4 Robbie Ventura (US Postal Service)                                
5 David Fuentes (Morgan Stanley)                                    
6 Alex Candelario (Jelly Belly - Aramark)                           
7 Jason Waddell (Sharper Image - Mathis Brothers)                   
 
Sprint Points - Men - Round 3
 
1 Frank Pipp (Endeavour Cycling Team)                               
2 Aaron Olson (Colavita Pro Cycling)                                
3 Jason Waddell (Sharper Image - Mathis Brothers)                   
4 Jonas Carney (Jelly Belly)                                        
5 Peter Lopinto (Ofoto cycling team)                                
6 David Fuentes (Morgan Stanley)                                    
7 Andrew Crater (Team Monex)                                        
 
Sprint Points - Men - Round 4
 
1 Frank Pipp (Endeavour Cycling Team)                               
2 Andrew Crater (Team Monex)                                        
3 Robbie Ventura (US Postal Service)                                
4 David Fuentes (Morgan Stanley)                                    
5 Alex Candelario (Jelly Belly - Aramark)                           
6 Aaron Olson (Colavita Pro Cycling)                                
7 Jason Waddell (Sharper Image - Mathis Brothers)                   
 
Sprint Points - Men - Round 5
 
1 Frank Pipp (Endeavour Cycling Team)                               
2 Robbie Ventura (US Postal Service)                                
3 David Fuentes (Morgan Stanley)                                    
4 Peter Lopinto (Ofoto cycling team)                                
5 Aaron Olson (Colavita Pro Cycling)                                
6 Jonas Carney (Jelly Belly)                                        
7 Robbert Van Der Stelt (Van Hemert-Eurogifts)                      
 
Overall standings
 
1 Harm Jansen (Helens RPM)                                       278 pts
2 Carlos Vargas (Endeavour Cycling Team)                         243
3 Emile Abraham (Team Monex)                                     203
4 Jacob Nielsen (Glud & Marstrand Horsens)                       161
5 Richard England (Team MGZT)                                    140
6 Andrew Crater (Team Monex)                                     136
7 Dave McCook (McGuire Pro Cycling)                              119
8 Steve Tilford (BikeSource)                                     110
9 Frank Dierking (ABD Cycling Team)                              108
10 Davide Frattini (Team Monex)                                  106
11 David Fuentes (Morgan Stanley)                                100
12 Michael Sayers (Health Net presented by Maxxis)                96
13 Brian Jensen (HRRC)                                            90
14 Peter Lopinto (Ofoto cycling team)                             83
15 Danny In't Ven (Antwerpse VC)                                  80
16 Sterling Magnell (Sierra Nevada)                               77
17 Dan Schmatz (Health Net presented by Maxxis)                   71
18 Walter Perez (Argentina National Team)                         71
19 Garrett Peltonen (Endeavour Cycling Team)                      69
20 Kasper Klostergaard Larsen (Glud & Marstrand Horsens)          67
21 Karl Menzies (Team MGZT)                                       63
22 Brian Sheedy (Team Seasilver)                                  62
23 Jimmy Hansen (Glud & Marstrand Horsens)                        60
24 Robbie Ventura (US Postal Service)                             58
25 Frank Pipp (Endeavour Cycling Team)                            58
26 Neil Shirley (Team Seasilver)                                  56
27 Jonas Carney (Jelly Belly)                                     55
28 Alex Candelario (Jelly Belly - Aramark)                        51
29 Juan Gaspari (Argentina National Team)                         51
30 Aaron Olson (Colavita Pro Cycling)                             50
31 Granam Howard (ABG)                                            47
32 Robbert Van Der Stelt (Van Hemert-Eurogifts)                   47
33 Adam Curry (Revolution Cycling Team)                           43
34 Jeremiah Wiscovitch (LaGrange)                                 39
35 Nicholas Reistad (Endeavour Cycling Team)                      37
36 John Lieswyn (Health Net presented by Maxxis)                  36
37 Jackson Stewart (Ofoto.com Lombardi Sport)                     35
38 Kirk Albers (Jelly Belly/Aramark)                              35
39 Rahsaan Bahati (Major Motion)                                  35
40 Frank Travieso (Cyclist Warehouse)                             34
41 Juan Jose Haedo (Colavita Pro Cycling)                         34
42 Charles Huff (Mercy Cycling Team)                              34
43 Mark Southard (Excel Sports Boulder)                           33
44 Victor Ayala (LaGrange)                                        32
45 Yosuany Falcon (Aerospace Engineering)                         31
46 Marvin Van Der Pluym (Van Hemert - EuroGifts)                  30
47 Jason Waddell (Sharper Image - Mathis Brothers)                28
48 Ben Raby (ABD Cycling Team)                                    27
49 Brian Schaning (UW Health)                                     26
50 Bill Stolte (HRRC)                                             25
51 Wes Hartman (Team Mack)                                        24
52 Nathan Miller (McGuire Pro Cycling)                            23
53 Josh Goodwin (Team Monex)                                      23
54 Jon Tarkington (Vitamin Cottage)                               21
55 Ricardo Hernandez (JC Investors Racing Team)                   21
56 Greg Henderson (Health Net presented by Maxxis)                20
57 Jai Crawford (Team MGZT)                                       20
58 Brad Edmunds (Team MGZT)                                       20
59 Ryan Nenninger (ABD Cycling Team)                              20
60 Aron Huerta (Village Peddler)                                  20
61 Gustavo Carillo (Aerospace Engineering)                        19
62 Nathan Mitchell (US National Team/TIAA-CREF / 5280 Magazi)     19
63 Alex Robles (Trek-VW)                                          19
64 Daniel Ramsey (Team Seasilver)                                 18
65 Jacob Erker (Team Seasilver)                                   18
66 Mark Poznial (GearRacing.com)                                  18
67 Jeremy Sartain (Bianchi/Grand Performance)                     17
68 Bart Heirewegh (Deschacht-Merckx)                              17
69 David Sachs (Alberto's Sport)                                  16
70 Jamiel Danesh (McGuire Pro Cycling)                            16
71 Buck Miller (Jetful Coffee cycling team)                       16
72 Eduardo Vicencio (Aidas/Zeta Gas)                              16
73 Burno Nella (Nella Madison)                                    16
74 Sebastian Alexandre (Colavita Pro Cycling)                     15
75 Juan Curuchet (National Team Argentina)                        13
76 Max Clauson (GS Ciao)                                          13
77 Ryan Blickem (Aidas/Zeta Gas)                                  13
78 Chuck Coyle (Vitamin Cottage)                                  12
79 John Durango (JC Investors)                                    12
80 Roman Kilun (McGuire Pro Cycling)                              12
81 David Guttenplan (Locos/Georgia Cycle Sport)                   12
82 Thomas Hallock (Northwest Cycling Club)                        12
83 Derek Wilkerson (Hillenbrand/Specialized)                      11
84 Gavin Chilcott (Dewar's Racing Team)                           10
85 Peter Knudsen (Team Seasilver)                                 10
86 Ron Scherer (Northwest Cycling Club)                           10
87 Michael Busa (Long John Silvers)                               10
88 Sam Horn (Intermountain)                                       10
89 John Semmelhack (ABD Cycling Team)                              9
90 Michael Ebert (ABD Cycling Team)                                9
91 Leonardo Martinez (Cyclists Warehouse)                          9
92 Rudy Robaina (Cycle Science)                                    8
93 Gregg Medinilla (Team Monex)                                    8
94 Jay Ku                                                          8
95 Kyle Gritters (Team Monex)                                      8
96 Bryce Mead (Bianchi/Grand Performance)                          8
97 Andrew Manart (Tiaa Cref)                                       7
98 John Puffer (ABD Cycling Team)                                  7
99 Dean Laberge (G.S. LOMBARDI SPORTS)                             7
100 Brandon Gavic (Team Salsa Cycles)                              7
101 Andrew Touchstone (G.S. Lombardi Sports)                       7
102 Reid Mumford (XXX Racing/AthletiCo)                            7
103 Daniel Larson (Cycle Science)                                  6
104 Joshua Carter (Long John Silver's Cycling Team)                5
105 Christian McCarthy (Vitamin Cottage)                           5
106 Zach Fiocca (Higher Gear)                                      5
107 Jeff Courter (GS Ciao)                                         5
108 Skye Kraft (Eastside Cycling)                                  4
109 Scott Walters (Long John Silvers)                              4
110 Paul Ellis (Jelly Belly)                                       4
111 Andy Clark (Rio Grande Cycling)                                4
112 Clayton Barrows (RMCEF (Rocky Mtn. Cycling Ed. Foundation))    4
113 Drew Deters (Team Seasilver)                                   3
114 Alex Welch (Power Train)                                       3
115 Ryan Gamma                                                     3
116 Jason Snow (Team Fuji)                                         2
117 Karl Bordine (Team Monex)                                      2
118 Jim Baldesare (ABD Cycling Team)                               2
119 Tristan Schouten (UW Health)                                   2
120 Robert Quinn (XXX Racing/Athletico)                            2
121 Stefano Barberi (JC Investors)                                 2
122 Chad Gibson (Outdoorlights.com)                                1
123 Brant Hendler (West Michigan Coast Riders)                     1
124 Caine Opgrand (Parish Foundation cycling club)                 1
125 Troy Critchlow                                                 1
 
 
Sprint standings
 
1 David Fuentes (Morgan Stanley)                                 215 pts
2 John Puffer (ABD Cycling Team)                                 122
3 Frank Pipp (Endeavour Cycling Team)                            118
4 Victor Ayala (LaGrange)                                        104
5 Karl Menzies (Team MGZT)                                        69
6 Andrew Crater (Team Monex)                                      58
7 Peter Lopinto (Ofoto cycling team)                              45
8 Juan Curuchet (National Team Argentina)                         42
9 Robbie Ventura (US Postal Service)                              36
10 Carlos Vargas (Endeavour Cycling Team)                         32
11 Richard England (Team MGZT)                                    31
12 Frank Dierking (ABD Cycling Team)                              31
13 Michael Sayers (Health Net presented by Maxxis)                30
14 Aaron Olson (Colavita Pro Cycling)                             30
15 Nicholas Reistad (Endeavour Cycling Team)                      28
16 Jonas Carney (Jelly Belly)                                     24
17 Dave McCook (McGuire Pro Cycling)                              21
18 Harm Jansen (Helens RPM)                                       21
19 Garrett Peltonen (Endeavour Cycling Team)                      20
20 Walter Perez (Argentina National Team)                         18
21 Paul Richards (Team MGZT)                                      18
22 Davide Frattini (Team Monex)                                   17
23 Dan Schmatz (Health Net presented by Maxxis)                   17
24 Peter Knudsen (Team Seasilver)                                 16
25 Emile Abraham (Team Monex)                                     16
26 Troy Critchlow                                                 15
27 Adam Curry (Revolution Cycling Team)                           15
28 Jason Waddell (Sharper Image - Mathis Brothers)                14
29 Aric Hareland (Salsa Cycles)                                   13
30 Jeremiah Wiscovitch (LaGrange)                                 12
31 Alex Candelario (Jelly Belly - Aramark)                        12
32 Chuck Coyle (Vitamin Cottage)                                  12
33 Wes Hartman (Team Mack)                                        11
34 Billy Jones (Endeavour Cycling Team)                           10
35 Jamiel Danesh (McGuire Pro Cycling)                            10
36 Frank Travieso (Cyclist Warehouse)                             10
37 Granam Howard (ABG)                                             9
38 Mat Stephens (Mercy cycling)                                    8
39 Juan Gaspari (Argentina National Team)                          8
40 Sterling Magnell (Sierra Nevada)                                8
41 Brian Jensen (HRRC)                                             8
42 Jacob Nielsen (Glud & Marstrand Horsens)                        8
43 Andrew Touchstone (G.S. Lombardi Sports)                        7
44 Jon Tarkington (Vitamin Cottage)                                7
45 Jackson Stewart (Ofoto.com Lombardi Sport)                      7
46 Greg Henderson (Health Net presented by Maxxis)                 7
47 Reid Mumford (XXX Racing/AthletiCo)                             7
48 Christian McCarthy (Vitamin Cottage)                            7
49 Mike Tillman                                                    6
50 Daniel Ramsey (Team Seasilver)                                  6
51 Jose Estevez (Team DBL)                                         6
52 David Sachs (Alberto's Sport)                                   6
53 Ryan Hamity (RMCEF (Rocky Mtn. Cycling Ed. Foundation))         6
54 Antony Galvan (Team DBL)                                        6
55 Gregg Medinilla (Team Monex)                                    6
56 Roman Kilun (McGuire Pro Cycling)                               5
57 Todd Weitzenberg (Rocknasium)                                   5
58 Reed Tanger (Evolution Cycling)                                 5
59 Todd Terlecki (Giant Factory Team)                              4
60 John Semmelhack (ABD Cycling Team)                              4
61 Craig McCartney (Intermountain Color Cycling Team)              4
62 Sebastian Alexandre (Colavita Pro Cycling)                      4
63 Robbert Van Der Stelt (Van Hemert-Eurogifts)                    4
64 Kasper Klostergaard Larsen (Glud & Marstrand Horsens)           4
65 Thomas Hallock (Northwest Cycling Club)                         3
66 Steve Tilford (BikeSource)                                      3
67 Buck Miller (Jetful Coffee cycling team)                        3
68 Matt Bromen (LaGrange)                                          3
69 Nathan Miller (McGuire Pro Cycling)                             3
70 Bill Stolte (HRRC)                                              3
71 Ken Toman (Helens RPM)                                          2
72 Colin Beardsley (McGuire Pro Cycling)                           2
73 Gavin Chilcott (Dewar's Racing Team)                            2
74 Paul Ellis (Jelly Belly)                                        2
75 Karl Bordine (Team Monex)                                       2
76 John Cimbura (AST Cycling)                                      2
77 Jim Baldesare (ABD Cycling Team)                                2
78 Ryan Nenninger (ABD Cycling Team)                               2
79 Neil Shirley (Team Seasilver)                                   2
80 Joshua Carter (Long John Silver's Cycling Team)                 1
81 Chris Bolling (2CC/Pony Shop)                                   1
82 Michael Ebert (ABD Cycling Team)                                1
83 John Lieswyn (Health Net presented by Maxxis)                   1
84 Tim Granshew (Morgan Stanley 24 Hour Fitness/Specialized)       1
85 Jeff Courter (GS Ciao)                                          1
86 Brian Hammer (Hampshire Cycle Club)                             1
87 Max Clauson (GS Ciao)                                           1
88 Stefano Barberi (JC Investors)                                  1