International Cycling Classic - Superweek - NE
USA, July 9-25, 2004
Main Page Results Previous Race Next Race
Race 13 - July 20: Global Communications Lake Front Road Race
Crater the Volcano Erupts in Milwaukee
Jensen Keeps Overall Lead
By Mark Zalewski in Milwaukee
Andrew Crater (Team Monex)
Photo ©: Mark Zalewski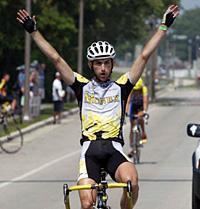 In the final road race of the seventeen races that make up the International Cycling Classic, Superweek, the overall classification riders were looking to inch closer to the yellow jersey worn by veteran Harm Jensen. Various U.S. professional and elite amateur teams sent partial squads, but Monex had by far the biggest contingent. And with Emile Abraham sitting in third place overall, their team was looking to gang-up on Jensen and the other contenders.
However, racing in excess of one hundred kilometres every day for more than two weeks takes its toll on many racers used to weekend criteriums or the occasional stage race. And for the professionals that have been racing constantly since February or March, keeping in peak racing form through July is a tall order. So when the Monex leader began dropping off the pace of the breakaway that his teammates worked to ensure he was in, fellow Monex teammate Andrew Crater got the green light.
"Our plan was to get Emile Abraham up the road, because he is third overall," said Crater. "Just try to get him away from Carlos Vargas and Harm Jensen, which we did. But they ended up bridging and bringing myself up with about four laps to go. I was still doing work, covering the moves -- but Emile kept gapping off the back, he was just not having a good day."
That is when self-proclaimed non-sprinter Jacob Neilson decided he needed to make his move. "I try to get in the breaks, everyday," said Neilson. "But those guys sit on my wheel the whole time, because I am no sprinter at all. They try to bring me back all the time. I was tired after yesterday which was 120km in the break with three guys -- it almost killed me! So, with two and a half to go there was a little gap and Crater came across to me."
The Monex team
Photo ©: Mark Zalewski

The Monex teammate took advantage of the opportunity when it was clear that his leader was not able to stay in contact with the break. "The group had split and I came from the back and just covered the move, trying to keep it together for Emile and my other teammates in the overall," Crater explained. "[Neilson] just dropped the hammer and I just hung on for as long as I could. I was finally able to start working when I wasn't hurting as much, but I was still trying to sit on. Then Emile said he had gotten dropped from the group during the series of attacks, so they just told me to ride."
With the original seven-man break shattering thirty seconds ahead of the field, the two managed to gain another thirty seconds. Into the final lap of the dog-bone shaped course, the gap began to shrink. Luckily Neilson's powerful riding ensured the two would stay away, and Crater began to focus on his sprinting abilities.
"Coming in through the last [s-curve] I used my old track tactics to gap him in front of me a little bit, and jumped him coming down the straight," Crater revealed.
Neilson was anything but surprised by the final outcome. "He's a sprinter and didn't ride yesterday, and so he went past me. But it was my chance to go, because if we get caught again he has two guys in behind -- second is better than nothing!"
"Supersize me!"
Photo ©: Mark Zalewski

The hard-charging field behind was still swallowing the remnants of the break, but not before Ofoto's Jackson Stewart was able to hold on for third place. In the overall, 'Mr. Holiday' Harm Jensen held on to the race leader's yellow jersey once again.
"Just like last year, I came here to relax and have a bit of a vacation!" Jensen explained. "I was doubtful whether I should even do the pro races. When I won the first one, with bad legs, I said maybe it's not going to turn out so bad! Everyone talks about Lance's [training] secret -- but he doesn't race that much, and neither do I! (laughs) So that is the only parallel I can find!"
And just like Lance in the Alps, Harm has scouted the Superweek race courses in advance, having raced at Superweek for the past eleven years. But Jensen's remaining holiday isn't going to be all fruity drinks and lounging by the pool.
"It's difficult when you are in the yellow jersey and you only have one teammate. You really have to use the race in order to position yourself. I have to take some chances -- let some people who are up in G.C. go up the road and get some hope -- but I felt strong enough that I could always bridge. And when that one break was up the road, I basically bridged in two miles -- forty seconds in two miles."
After than effort, maybe the hot tub is a better idea than the pool.
Photography
Images by Mark Zalewski/showchoir.net
Results
1 Andrew Crater (Team Monex)                                        
2 Jacob Nielsen (Glud & Marstrand Horsens)                          
3 Jackson Stewart (Ofoto.com Lombardi Sport)                        
4 Dave McCook (McGuire Pro Cycling)                                 
5 Harm Jansen (Helens RPM)                                          
6 Juan Jose Haedo (Colavita Pro Cycling)                            
7 John Lieswyn (Health Net presented by Maxxis)                     
8 Davide Frattini (Team Monex)                                      
9 Carlos Vargas (Endeavour Cycling Team)                            
10 Charles Huff (Mercy Cycling Team)                                
11 Aaron Olson (Colavita Pro Cycling)                               
12 Marvin Van Der Pluym (Van Hemert - EuroGifts)                    
13 Sebastian Alexandre (Colavita Pro Cycling)                       
14 Jason Waddell (Sharper Image - Mathis Brothers)                  
15 Emile Abraham (Team Monex)                                       
16 Michael Busa (Long John Silvers)                                 
17 Peter Lopinto (Ofoto cycling team)                               
18 Robbert Van Der Stelt (Van Hemert-Eurogifts)                     
19 Andrew Touchstone (G.S. Lombardi Sports)                         
20 Thomas Hallock (Northwest Cycling Club)                          
21 Gustavo Carillo (Aerospace Engineering)                          
22 Buck Miller (Jetful Coffee cycling team)                         
23 Mark Poznial (GearRacing.com)                                    
24 Nicholas Reistad (Endeavour Cycling Team)                        
25 Kyle Gritters (Team Monex)                                       
26 Chuck Coyle (Vitamin Cottage)                                    
27 (unknown rider)                                                  
28 Rahsaan Bahati (Major Motion)                                    
29 Matt Bromen (LaGrange)                                           
30 Max Clauson (GS Ciao)                                            
31 Joseph Spragins                                                  
32 Reed Tanger (Evolution Cycling)                                  
33 Jai Crawford (Team MGZT)                                         
34 Brandon Gavic (Team Salsa Cycles)                                
35 Ben Stafford (Webcor Builders)                                   
36 Karl Bordine (Team Monex)                                        
37 Ian Stanford (Nature Valley/Penn Cycle)                          
38 Reid Mumford (XXX Racing/AthletiCo)                              
39 Rudy Robaina (Cycle Science)                                     
40 Jason Snider (Flanders/MBRC)                                     
41 Paul Ellis (Jelly Belly)                                         
42 Chris Montague-Breakwell (Webcor Builder)                        
43 (unknown rider)                                                  
44 John Bergmann (McGuire Cycling)                                  
45 Jeff Schiller (GearRacing.com)                                   
46 Garrett Peltonen (Endeavour Cycling Team)                        
47 (unknown rider)                                                  
48 David Guttenplan (Locos/Georgia Cycle Sport)                     
49 Caleb Thompson (PCW Cycling)                                     
50 Chris Strout (Team Mack)                                         
51 Denny Yunk (CZ Velo)                                             
52 Skye Kraft (Eastside Cycling)                                    
53 Aron Huerta (Village Peddler)                                    
54 Caine Opgrand (Parish Foundation cycling club)                   
55 Raul Bello (Cyclists Warehouse)                                  
56 Billy Innes (65 Lonnbardi Sports)                                
57 (unknown rider)                                                  
58 Colin Beardsley (McGuire Pro Cycling)                            
59 Eduardo Vicencio (Aidas/Zeta Gas)                                
60 Ulric DeYoung (UW Health/Trek/Digisound)                         
61 Kasper Klostergaard Larsen (Glud & Marstrand Horsens)            
62 (unknown rider)                                                  
 
Overall standings
 
1 Harm Jansen (Helens RPM)                                       228 pts
2 Carlos Vargas (Endeavour Cycling Team)                         220
3 Emile Abraham (Team Monex)                                     175
4 Jacob Nielsen (Glud & Marstrand Horsens)                       161
5 Andrew Crater (Team Monex)                                     114
6 Dave McCook (McGuire Pro Cycling)                              106
7 Davide Frattini (Team Monex)                                   106
8 Frank Dierking (ABD Cycling Team)                               95
9 Brian Jensen (HRRC)                                             90
10 Steve Tilford (BikeSource)                                     87
11 Richard England (Team MGZT)                                    81
12 Michael Sayers (Health Net presented by Maxxis)                80
13 Danny In't Ven (Antwerpse VC)                                  80
14 Walter Perez (Argentina National Team)                         71
15 Kasper Klostergaard Larsen (Glud & Marstrand Horsens)          67
16 Sterling Magnell (Sierra Nevada)                               67
17 David Fuentes (Morgan Stanley)                                 64
18 Brian Sheedy (Team Seasilver)                                  62
19 Jimmy Hansen (Glud & Marstrand Horsens)                        60
20 Neil Shirley (Team Seasilver)                                  56
21 Dan Schmatz (Health Net presented by Maxxis)                   55
22 Granam Howard (ABG)                                            47
23 Garrett Peltonen (Endeavour Cycling Team)                      40
24 Alex Candelario (Jelly Belly - Aramark)                        37
25 Nicholas Reistad (Endeavour Cycling Team)                      37
26 Jonas Carney (Jelly Belly)                                     35
27 Jackson Stewart (Ofoto.com Lombardi Sport)                     35
28 Aaron Olson (Colavita Pro Cycling)                             35
29 Rahsaan Bahati (Major Motion)                                  35
30 Peter Lopinto (Ofoto cycling team)                             35
31 Frank Travieso (Cyclist Warehouse)                             34
32 Juan Jose Haedo (Colavita Pro Cycling)                         34
33 Charles Huff (Mercy Cycling Team)                              34
34 Mark Southard (Excel Sports Boulder)                           33
35 Robbert Van Der Stelt (Van Hemert-Eurogifts)                   33
36 Yosuany Falcon (Aerospace Engineering)                         31
37 Jeremiah Wiscovitch (LaGrange)                                 28
38 John Lieswyn (Health Net presented by Maxxis)                  27
39 Ben Raby (ABD Cycling Team)                                    27
40 Adam Curry (Revolution Cycling Team)                           25
41 Bill Stolte (HRRC)                                             25
42 Wes Hartman (Team Mack)                                        24
43 Marvin Van Der Pluym (Van Hemert - EuroGifts)                  24
44 Juan Gaspari (National team aregentina)                        24
45 Victor Ayala (LaGrange)                                        23
46 Josh Goodwin (Team Monex)                                      23
47 Nathan Miller (McGuire Pro Cycling)                            23
48 Frank Pipp (Endeavour Cycling Team)                            21
49 Ricardo Hernandez (JC Investors Racing Team)                   21
50 Robbie Ventura (US Postal Service)                             20
51 Karl Menzies (Team MGZT)                                       20
52 Jai Crawford (Team MGZT)                                       20
53 Brad Edmunds (Team MGZT)                                       20
54 Brian Schaning (UW Health)                                     20
55 Ryan Nenninger (ABD Cycling Team)                              20
56 Aron Huerta (Village Peddler)                                  20
57 Nathan Mitchell (US National Team/TIAA-CREF / 5280 Magazi)     19
58 Alex Robles (Trek-VW)                                          19
59 Daniel Ramsey (Seasilver)                                      18
60 Mark Poznial (GearRacing.com)                                  18
61 Jeremy Sartain (Bianchi/Grand Performance)                     17
62 Jamiel Danesh (McGuire Pro Cycling)                            16
63 Jason Waddell (Sharper Image - Mathis Brothers)                16
64 Eduardo Vicencio (Aidas/Zeta Gas)                              16
65 Burno Nella (Nella Madison)                                    16
66 Kirk Albers (Jelly Belly/Carlsbad Clothing)                    15
67 Sebastian Alexandre (Colavita Pro Cycling)                     15
68 Juan Curuchet (National Team Argentina)                        13
69 Max Clauson (GS Ciao)                                          13
70 Ryan Blickem (Aidas/Zeta Gas)                                  13
71 Chuck Coyle (Vitamin Cottage)                                  12
72 John Durango (JC Investors)                                    12
73 Thomas Hallock (Northwest Cycling Club)                        12
74 Roman Kilun (McGuire Pro Cycling)                              11
75 David Guttenplan (Locos/Georgia Cycle Sport)                   11
76 Gavin Chilcott (Dewar's Racing Team)                           10
77 Ron Scherer (Northwest Cycling Club)                           10
78 Michael Busa (Long John Silvers)                               10
79 Sam Horn (Intermountain)                                       10
80 John Semmelhack (ABD Cycling Team)                              9
81 Michael Ebert (ABD Cycling Team)                                9
82 Jon Tarkington (Vitamin Cottage)                                9
83 Leonardo Martinez (Cyclists Warehouse)                          9
84 Rudy Robaina (Cycle Science)                                    8
85 Jay Ku                                                          8
86 Bryce Mead (Bianchi/Grand Performance)                          8
87 Andrew Manart (Tiaa Cref)                                       7
88 Bart Heirewegh (Deschacht-Merckx)                               7
89 John Puffer (ABD Cycling Team)                                  7
90 Dean Laberge (G.S. LOMBARDI SPORTS)                             7
91 Andrew Touchstone (G.S. Lombardi Sports)                        7
92 Brandon Gavic (Team Salsa Cycles)                               7
93 Reid Mumford (XXX Racing/AthletiCo)                             7
94 Daniel Larson (Cycle Science)                                   6
95 Christian McCarthy (Vitamin Cottage)                            5
96 Zach Fiocca (Higher Gear)                                       5
97 Gustavo Carillo (Aerospace Engineering)                         5
98 Jeff Courter (GS Ciao)                                          5
99 Scott Walters (Long John Silvers)                               4
100 Buck Miller (Jetful Coffee cycling team)                       4
101 Paul Ellis (Jelly Belly)                                       4
102 Andy Clark (Rio Grande Cycling)                                4
103 Clayton Barrows (RMCEF (Rocky Mtn. Cycling Ed. Foundation))    4
104 Ryan Gamma                                                     3
105 Karl Bordine (Team Monex)                                      2
106 Jim Baldesare (ABD Cycling Team)                               2
107 Tristan Schouten (UW Health)                                   2
108 Peter Knudsen (Team Seasilver)                                 2
109 Robert Quinn (XXX Racing/Athletico)                            2
110 Stefano Barberi (JC Investors)                                 2
111 Chad Gibson (Outdoorlights.com)                                1
112 Brant Hendler (West Michigan Coast Riders)                     1
113 Kyle Gritters (Team Monex)                                     1
114 Caine Opgrand (Parish Foundation cycling club)                 1
115 Troy Critchlow                                                 1