Valley of the Sun stage race - NE
Arizona, USA, February 13-15, 2004
Stage 1 - February 13: Trek Time trial, 15 miles
O'Neill and Holden start fast
Men's winner Nathan O'Neill
Photo ©: Jon Devich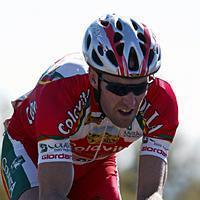 The three-day Valley of the Sun Stage Race kicked off the US domestic season today in Phoenix, Arizona, giving riders a chance to test their legs for the first time this year. The race, set in the desert south of Phoenix, began with a 15 mile prologue along the flat to slightly rolling Sun Valley Parkway. With temperatures in the 60s, and slight crosswinds along the course, the conditions were perfect for racing.
In the men's race it was five-time Australian time trial champion, Nathan O'Neill (Colavita Bolla) who took the win by 22 seconds from Mariano Friedick (Jelly Belly), proving that he has fully recovered from his epic crash in last year's Tour de Toona where he broke his neck. This is O'Neill's second time trial win this year, the first being his victory at the Australian National Championships in Ballarat last month where he surprised even himself. He told Cyclingnews in January, "It has been a difficult process, basically having to learn how to walk again, rebuilding my strength. Just to be able to race again is fantastic."
Nathan has been selected on the Australian Olympic shadow squad and hopes to represent Australia this year in Athens in his second Olympic Games.
Taking third place in the time trial behind O'Neill and Friedick was Joey D'Antoni from Cycles de Oro/Giant.
Mari Holden
Photo ©: Jon Devich

In the Women's event, the big upset was that defending champion, Genevieve Jeanson, decided not to start today due to a sore throat. After winning all three stages in this race last year, her team had to rethink their strategy today with their plan of working for Jeanson not eventuating.
It was former world time trial champion Mari Holden from T-Mobile who won today's event in a time of 27'15", taking the yellow jersey going into tomorrow's road race. Cyclingnews caught up with Holden prior to the event who said she was in Phoenix ready to have fun. Having come straight from training on the track, Holden was ready for the time trial today. "I'm going to use this race to get ready for the World Cup qualifier on the track in Florida," she said.
Placing second and third respectively today were Katrina Grove (Rona) and Lynn Gaggioli (T-Mobile), with another former world champion, Jeanie Longo (Team Vital), who finished sixth in the 2003 World Championship time trial, taking ninth place.
Tomorrow's road race is a 16 mile loop in the desert near Casa Grande, south of Phoenix. The course is rolling to flat with a moderate climb to the Finish line. The men will start at 11am and complete five and a half laps for a total of 89 miles, whilst the women will begin at 11:20am and complete three and a half laps for a total of 59 miles.
Photography
Images by Jon Devich/www.epicimages.us
Results
Men Pro/1
 
1 Nathan O'Neill (Colavita Olive Oil)                      24.05.06
2 Mariano Friedick (Jelly Belly - Dramark)                  0.22.12
3 Joey D'Antoni (Cycles de Oro-Giant)                       0.24.46
4 Gordon McCauley (Team Monex)                              0.27.34
5 Ryan Blickem                                              0.35.07
6 Tim Carolan (Landis/TREK/VW)                              0.49.83
7 Timmy Duggan (TIAA-CREF / 5280 Magazine)                  0.56.81
8 Andrew Miller (Landis/TREK/VW)                            0.58.50
9 Austin King                                               0.58.56
10 Jacob Rubelt (Landis/TREK/VW)                            1.00.78
11 Sandy Perrins (Healthy Choice Cycling Team)              1.07.26
12 Kevin Nicol (AMERICAN CYCLING ASSOCIATION)               1.09.50
13 Geoffrey Rapoport (LaGrange Velo)                        1.11.58
14 Aaron Olson (Colavita Olive Oil)                         1.12.74
15 Brian Sheedy (ABG/Taylor Bikes)                          1.17.70
16 Jacob Erker (Team Seasilver)                             1.23.41
17 David Gustafson (Viejas)                                 1.32.58
18 Gardie Jackson (GlobalPhone Sales/Healthy Ch)            1.36.17
19 Rich Harper (Cane Creek)                                 1.36.91
20 Mark McCormack (Colavita Olive Oil)                      1.37.20
21 Chad Hartley (Jittery joe's)                             1.41.11
22 William Frischkorn (Colavita Olive Oil)                  1.41.68
23 Daniel Rooke (AzPhalt Cycling)                           1.41.76
24 Hugh Moran (Atlas Cycling)                               1.42.13
25 John Murphy (A.G. Edwards/Nalley Lexus)                  1.46.51
26 Daniel Doornbos (NMBRA/Chick's HD)                       1.50.09
27 Gustavo Artacho (Colavita Olive Oil)                     1.51.06
28 Chris Gruber                                             1.51.51
29 Jaime Gandara (NMBRA)                                    1.54.05
30 Brian Lemke (Landis/TREK/VW)                             1.55.69
31 Keith Miller (Team D.A.R.E)                              1.56.61
32 Neil Shirley (Team Seasilver)                            2.03.02
33 Lou Schimmel (Northeastern Hardware)                     2.06.97
34 Ben Duke                                                 2.08.08
35 Mike Dietrich (fiordifrutta cycling team)                2.10.89
36 Rob Alvarez (Velo Club La Grange)                        2.12.10
37 Craig Turner (Team Redlands)                             2.13.94
38 Todd Herriott (Colavita Olive Oil)                       2.14.92
39 Josh Horowitz (Velo Club LaGrange)                       2.16.95
40 Adam Bergman (Jelly Belly/Aramark cycling)               2.18.08
41 Eric Brownell (Honeywell)                                2.18.62
42 Bryce Mead (Bianchi/Grand Performance)                   2.19.23
43 Derek Wilkerson                                          2.19.66
44 Tyson Apostol (ABC - Cycling Center)                     2.21.37
45 William Steinbrecher (Jelly Belly)                       2.22.97
46 Thad Dulin (Colavita Olive Oil)                          2.24.55
47 Michael Jones (Health Net Pro Cycling Team)              2.27.10
48 Andy Wilson (Viejas)                                     2.27.49
49 Bryan Smith (ABC-Cycling Center)                         2.27.70
50 Scott Price (Landis/TREK/VW)                             2.28.41
51 Tyler Wren (Colavita Olive Oil)                          2.31.98
52 Ryan Trebon (Kona/Clarks/LesGets)                        2.37.06
53 Ivan Dominguez (Colavita Olive Oil)                      2.37.38
54 Nathan Mitchell (TIAA-CREF / 5280 Magazine)              2.37.45
55 Billy Masterson (Excel Sports)                           2.39.51
56 Sebastian Alexandre (Colavita Olive Oil)                 2.41.14
57 Hatcher Rosebrock (Cycles De Oro)                        2.41.33
58 John Osguthorpe (Healthy Choice)                         2.41.56
59 Scott Zwizanski (Ofoto Cycling Team)                     2.44.30
60 Scott Walters (Long John Silver's/Grove Den)             2.47.23
61 Rob Kamppila (Monex Pro Cycling Team)                    2.51.80
62 Patick Carro (Team Monex)                                2.51.96
63 Zac Coolman (Aida's Bail Bonds)                          2.52.00
64 Marc Yap (GlobalPhoneSales - Healthy C)                  2.52.20
65 Chris Daggs (Viejas)                                     2.58.91
66 Eduardo Vicencio (Aida's Bail Bonds Cycling Te)          3.00.41
67 Joel Kath (Dangerboy Racing)                             3.00.58
68 Roberto Gaggioli (Team Monex)                            3.02.22
69 Enrique Ospina (Team Monex)                              3.05.95
70 Ian Macgregor (TIAA-CREF / 5280 Magazine)                3.07.43
71 Eddy Hilger (Greenville Spinners)                        3.09.72
72 Bart Fieldeus (Team Monex)                               3.12.21
73 Victor Ayala (Velo Club La Grange)                       3.14.24
74 James Seaman                                             3.14.67
75 John (Jack) Seehafer (Pro Peleton Velo)                  3.19.38
76 Matt Bromen (Velo Club LaGrange)                         3.20.03
77 Nathan Rogut                                             3.20.29
78 Zach Reed (Long John Silver's/Grove Den)                 3.22.59
79 Martin Adamczyk (Long John Silver's/Grove Den)           3.27.32
80 Hugh Maceachran (Velo Project LLC)                       3.28.14
81 Joshua Gewirtz (necsa uMPC FUJI)                         3.29.66
82 Cameron Hoffman (Ogden One)                              3.38.58
83 Aron Huerta (Mercy Cycling Team)                         3.44.60
84 Cody Powell (nerac.com)                                  3.47.36
85 Scott Keller (speed bikes)                               3.48.15
86 Trevor Irons (ABC-Aitos)                                 3.52.15
87 Erik Tomlinson (Long John Silver's/Grove Den)            3.55.48
88 Justin Peschka (Landis/TREK/VW)                          4.01.78
89 Joshua Carter (Long John Silver's/Grove Den)             4.03.28
90 Juan Haedo (Colavita Olive Oil)                          4.06.19
91 Brian Wire                                               4.13.67
92 Justin Hale (ABC-Cycling Center)                         4.25.74
93 Jon Tarkington (Vitamin Cottage / NOW Foods)             4.43.09
94 Eric Keim (ABC cyclingcenter)                            4.46.25
95 Greg Wolf (Team Monex)                                   4.49.25
96 Daniel Schmatz (Team Health Net presented by)            5.01.72
97 Erik Van Den Akker (Unattached)                          5.06.74
98 Dejan Smaic (AST Cycling Team)                           5.13.86
99 Craig Wohlschlaeger (st. louis cyclones)                 5.51.81
100 Andy Crater (Team Monex)                                8.23.19
101 Greg Bourque (Team Seasilver)                          31.54.18
 
Women P12
 
1 Mari Holden (T-Mobile)                                   27.15.17
2 Katrina Grove (Rona)                                      0.13.37
3 Lynn Gaggioli (T-Mobile)                                  0.15.79
4 Susan Palmer-Komar (Genesis Scuba/FFCC)                   0.26.01
5 Rook Campbell                                             0.30.79
6 Susan Cooper (Bicycle John's Serious Cycli)               0.36.72
7 Grace Fleury (Genesis Scuba/FFCC)                         0.41.76
8 Julia Whiteside (Paramount Racing)                        0.44.76
9 Jeannie Longo (Team Vital Plus)                           0.45.86
10 Heather Woodhouse (Kenda Tire)                           0.48.34
11 Carla Hukee (Team Kenda Tire)                            1.02.28
12 Kori Seehafer (Genesis Scuba/FFCC)                       1.05.96
13 Heather Albert (Team Basis)                              1.06.33
14 Kathryn Curi (Rona)                                      1.11.92
15 Catherine Powers (Minute Maid/Dasani/La Grange)          1.13.58
16 Deneen Brown (Landis/TREK/VW)                            1.15.67
17 Kim Anderson (T-Mobile)                                  1.20.89
18 Andrea Hannos (Rona)                                     1.26.24
19 Laura Downey (Minute Maid/Dasani La Grange)              1.37.40
20 Candice Blickem (Genesis Scuba/FFCC)                     1.43.90
21 Betsy Bloom-Galenti (Minute Maid/Dasani/La Grange)       1.46.27
22 Anna Milkowski (Rona)                                    1.51.93
23 Kelli Emmett (Hillenbrand/Specialized)                   1.53.22
24 Laura Van Gilder (Genesis Scuba/FFCC)                    1.53.70
25 Kerry Soraci (Mesa Cycles Racing)                        1.54.79
26 Magen Long (OBRU/The Bicycle Store)                      1.55.31
27 Sandra Kolb (Bicycle John's Serious Cycli)               2.11.72
28 Nicole Freedman (Team Basis)                             2.12.37
29 Carolyn Donnelly (Landis/TREK/VW)                        2.18.30
30 Maggie Luciano-Williams (Landis/TREK/VW)                 2.23.03
31 Rebecca Broeder (Wells Fargo/ Ragatz)                    2.29.37
32 Barbara Sollars (Team One Racing)                        2.33.85
33 Maggie Shirley (Genesis Scuba/FFCC)                      2.39.35
34 Juliane Mortello (Landis/TREK/VW)                        2.41.24
35 Melissa Sanborn (wells fargo/bicycle world us)           2.47.76
36 Crystal Yap (9th & 9th - SLC)                            2.52.46
37 Nicole Brandt (Minute Maid/Dasani La Grange)             3.01.02
38 Lauren Gaffney (Team Basis)                              3.04.26
39 Iona Wynter (Genesis Scuba/FFCC)                         3.13.86
40 Dorothy Wong (Bicycle John's Serious Cycli)              3.18.26
41 Lara Kroepsch (T-Mobile)                                 3.24.05
42 Laura Schmidt (Terry Precision)                          3.25.37
43 Jessica Hulser (Team Basis)                              3.25.76
44 Laura Erker (Red 5)                                      3.27.72
45 Megan Melamed (La Forza)                                 3.30.34
46 Mary Schuette (AST)                                      3.42.39
47 Cindy McFarland (Desert Foxes)                           3.53.96
48 Sonia Lopez (Telcel-SpeedBikes)                          3.57.82
49 Leah Tingley (US Armed Forces)                           4.06.87
50 Emilie Roy (Rona)                                        4.15.53
51 Kirsten Kotval (9TH&9TH)                                 4.17.68
52 Melissa Thompson (Vitamin Cottage)                       4.20.99
53 Monique Karlen (Team Kenda Tire)                         4.23.67
54 Nicole Habay (Speed Bikes)                               4.27.58
55 Shannon Koch (Team LaS'port)                             4.31.70
56 Desira Utzig (Minute Maid/Dasani La Grange)              4.53.62
57 Debbie Dust (Team Kenda Tire)                            4.59.87
58 Shayla Waite (Bicycle John's Serious Cycli)              5.45.47
59 Megan Elliot                                             6.59.44
 
Men 12-14
 
1 Ryan Zupko (Domenic's Cycling)                            8.43.27
2 Alex Garcia (Major Motion)                                0.03.44
3 Iggy Silva (Eddie B)                                      1.26.50
4 Zak Willes (strada racing)                                2.12.94
5 Cody Maier (Ritchey Nova)                                 2.42.76
6 Matthew Clyde (MSDC Juniors/Logan Race Club)              3.00.10
7 Zach Briefer (Saguaro Velo)                               3.00.73
 
Men 15-16
 
1 Chris Barton                                             27.28.36
2 Emil Marinov (Vitamin Cottage)                            1.08.20
3 Nick Keller (domenics/strada)                             1.19.57
4 Spencer Spagnola (EXCEL Sports)                           1.41.07
5 Jacob Morris (Amgen Cycling Club)                         2.12.41
6 Chance Noble (Amgen Cycling)                              2.26.32
7 Miguel Chavez (Canel's Turbo (Mexico))                    2.28.76
8 Nick Deflorian (Landis/TREK/VW)                           2.40.80
9 Ian Delaney (Red Rock Racers)                             2.44.84
10 Bryce Lawson (Eagle Valley Racing and Deve)              2.59.97
11 Juan Carlos Suarez (Southwest Speed Cycling)             3.49.42
12 Matt Briefer (Landis/TREK/VW)                            3.53.26
13 Justin Williams (Major Motion)                           3.57.37
14 Brian Keith (Landis/TREK/VW)                             4.06.75
15 Marcus Pehler (Strada Racing Team)                       4.39.51
16 Brandon Keene (Amgen Cycling Club)                       5.23.74
17 Chris Peterson (Gurus)                                   6.44.56
18 Andrew Davies (Logan Race Team)                          6.52.99
19 Taylor Lombardi (Landis/TREK/VW)                         7.10.91
20 Nico Cianfroncca (Major Motion)                          8.10.64
 
Men 17-18
 
1 Kyle Hughes (Canyon Velo)                                27.01.18
2 Christopher Trembly (Major Motion)                        0.06.30
3 Clint Rogers (G.S. Lombardi)                              0.08.38
4 Michael Sheppard (Major Motion)                           0.46.24
5 Daniel Holloway (Lombardi / The Center)                   0.47.67
6 Caleb Fairly (Ochsner)                                    0.59.53
7 Charles Kimball (KHS Junior Development Team)             1.08.81
8 Gustavo Reynoso (Crazy Cat Cyclery)                       1.16.65
9 Andres Leal (Aida's Bail Bounds)                          1.41.74
10 Alex Boyd (Major Motion)                                 1.47.06
11 Mitchell Peterson (Devo)                                 1.48.72
12 Jim Conant (Domenics/Strada)                             1.53.92
13 Jonathan Baskin (Amgen)                                  1.57.48
14 Greg Christan (team pro cylery)                          2.07.44
15 Wesley Seely (paramount racing)                          2.08.91
16 Sean Mazich (Landis/TREK/VW)                             2.35.38
17 Eric Losak (Canyon Velo)                                 2.36.36
18 Jared Downing (Major Motion)                             2.39.39
19 Craig Stockavas (KHSnm.com JCT)                          4.05.84
20 David Clyde (MDSC Juniors/Logan Race Club)               4.11.95
21 Fierro-Zaragoza,Juan-Pablo (Aida's Bail Bonds)           4.14.89
22 Matt Mosby (LGBRC)                                       6.12.54
23 Miles Wickersham (DomenicsCycling/Giant/Strada)          6.21.03
24 Tyson Lind (MSDC Juniors/Logan Race Club)               10.08.81
 
Women 15-16
 
1 Maricruz Chavez (Southwest Speed Cycling)                11.30.93
 
Women 12-14
 
1 Jessica Maier (Ritchey Nova)                             11.43.45
2 Kelsie Hightower (Landis/TREK/VW)                         1.44.32
 
Women 17-18
 
1 Rebekah Muster (Ritchey/Nova)                            36.16.03
 
Men 2
 
1 Curtis Gunn (Veloworx)                                   24.53.33
2 Peter Andersen (Viejas)                                   0.19.54
3 Nicholas Trusty (Viejas)                                  0.34.28
4 Ted King (Louis Garneau)                                  0.35.34
5 Zachary Grabowski (TIAA-CREF / 5280 Magazine)             0.51.69
6 Lance Doherty (Organic Athlete - Ritchey)                 0.51.75
7 John Benson (Flag Velo)                                   0.57.56
8 Perry Paolini (Amgen)                                     1.00.45
9 John Reed (Team Lucky Lounge)                             1.02.37
10 Kale Keltz (Watermark Cycling)                           1.03.87
11 Wayne Puckett (Team Spine)                               1.07.47
12 Jeff Hoppert (Eclipse)                                   1.21.11
13 Michael Schilling (Vitamin Cottage Cycling Team)         1.23.01
14 Erik Burgan (DARE)                                       1.23.48
15 Peter Schuster                                           1.24.43
16 Chuck Hill (Amgen)                                       1.27.41
17 Grayson Pointer (Schwab Cycles/Torelli)                  1.28.95
18 Ronald Jensen (Aidas Bail Bonds Cycling Tea)             1.30.76
19 Mark Newton (LaGrange)                                   1.32.69
20 Andy Brown (Viejas)                                      1.32.84
21 Chris Zukowski (Redlands)                                1.38.42
22 Brent Cannon (newmoon media)                             1.41.32
23 Richard Craig (team pro cyclery)                         1.45.09
24 Troy Love (cz racing)                                    1.47.36
25 Derrick Brown (Flag Velo)                                1.49.40
26 Charles Jenkins (Viejas)                                 1.50.23
27 Pete Riley (Viejas)                                      1.50.37
28 Brent Garrigus (Atlas Cycling)                           1.51.84
29 Corky Kurtz (Team RPM)                                   1.52.99
30 Ari De Wilde (Benidorm/Createx)                          1.53.11
31 Paul Ward (Atlantic Velo)                                1.57.94
32 David Youngblood (Flag Velo)                             1.58.36
33 Jody Harris (Ogden One)                                  2.00.69
34 Michael Garrett (LaGrange)                               2.03.52
35 Craig Lewis (TIAA-CREF / 5280 Magazine)                  2.03.91
36 Justin Lucke (Ritchey/OrganicAthlete)                    2.08.09
37 Kevin Kirkwood (ATLAS CYCLING)                           2.10.00
38 Stuart Press (Velo Club LaGrange)                        2.13.76
39 Kevin Schlueter (Minute-Maid/Dasani/La Grange)           2.14.31
40 Chad Beyer (Domenics Cycling)                            2.16.18
41 Edward Monnier (Team Veloworx Racing)                    2.16.22
42 Jesse Gordon (Porcupine/contender bikes)                 2.16.28
43 Scott Kasin (Team Lucky Lounge)                          2.20.33
44 Hayes McNeil (cz racing)                                 2.21.44
45 Eric Stephen (Honeywell Cycling)                         2.22.62
46 Jonathan Parrish (Landis/TREK/VW)                        2.23.74
47 Kyle Colavito (Eclipse)                                  2.25.77
48 Michael Stroud (dare)                                    2.30.07
49 Alex Rock (Porcupine/Contender)                          2.31.72
50 Bryan McMahon (LaGrange)                                 2.32.47
51 Todd Tanner (Guthries Race Club)                         2.33.68
52 Micheal Sherman (Century 21/Sports Base Onlin)           2.37.73
53 Zan Treasure (autoliv)                                   2.39.00
54 Gary Porter                                              2.39.09
55 Chris Rowley (Ogden One)                                 2.40.58
56 Kenton Watts (Team Revolution Racing)                    2.41.83
57 Eugene Dougherty (New Mexico Velo Sport)                 2.43.27
58 Mike Hoffman (Team Organic Athlete)                      2.45.07
59 Jason Karew (Eclipse Racing)                             2.45.34
60 Greg Hritzo (Landis/TREK/VW)                             2.50.27
61 Link King (Watermark Cycling)                            2.50.47
62 Darian Founds (NMBRA)                                    2.50.74
63 Marco Vasquez (Team Kaos)                                2.50.95
64 Jeremiah Wiscovitch (Velo Worx)                          2.51.90
65 Robbie King (Louis Garneau)                              2.52.35
66 Sam Silver (Louis Garneau Racing)                        2.54.14
67 Marc Walter (Lincoln Bicylce Co.- High Ge)               2.54.15
68 Dennnis Porter (Ogden One Cycling Club)                  2.55.87
69 Todd Elenz (Unattached)                                  2.58.33
70 Scott Wingo (Ranchos)                                    2.59.10
71 Matthew Holecko (ASC/Arizona State Cycling)              2.59.35
72 Chris Poole (Bicycle Ranch)                              3.00.20
73 David Reid (Landis/TREK/VW)                              3.03.84
74 John Salskov (cz racing)                                 3.03.87
75 Evan Hepner (Canyon Bicycles)                            3.04.60
76 Tom Coupe (necsa/ UPMC Fuji)                             3.12.63
77 John Hackman (velo club LaGrange)                        3.23.07
78 Lew Perna (Schwab/Torelli Velo Project,)                 3.24.86
79 Jay Ku (TIAA-CREF / 5280 Magazine)                       3.25.82
80 Jesse Kuettel (cz racing)                                3.28.51
81 Dana Wastjer (Watermark Cycling, Atlas C)                3.32.55
82 Johnny 'Googa' Rondash (VELOWORX RACING 'TRUE TEAMS')    3.35.97
83 Eric Flynn (Contender Bicycles/Porcupine)                3.36.75
84 Barry Gardner (Century 21/Sports Base Onlin)             3.40.11
85 Hoyt Halvorson (Krystal/NCCC)                            3.40.41
86 Jacob Hunter (Team Revolution Racing)                    3.42.06
87 Kevin Radzinski (Century 21/Sports Base Onlin)           3.49.49
88 David Nelson (Landis/TREK/VW)                            3.50.74
89 Jeff Ure (ogden one)                                     3.51.57
90 Tim Elebaut                                              3.52.33
91 Drew George (Ogden One)                                  3.56.28
92 Sammy Dean (SDBC)                                        3.59.58
93 John Hanson (Essex County Velo)                          4.00.94
94 Mark Gustafson (So Cal Cycling)                          4.02.53
95 Stephen Shepherd (Flag Velo)                             4.04.68
96 Ben Huff (Vitamin Cottage)                               4.06.59
97 Brad Reed (Watermark Cycling)                            4.07.35
98 Grant Dunstan (Flag Velo)                                4.08.81
99 John Nowak (Team Revolution Racing)                      4.17.11
100 Tobias Panek (San Diego Bicycle Club)                   4.19.02
101 Michael Fors (RMS Cycling)                              4.21.04
102 Kelly Rayn (Century 21/Sports Base Onlin)               4.23.05
103 Dan Distefano (Eclipse Racing)                          4.57.97
104 Vincent Davis                                           5.42.06
105 Jay Woller (Watermark Cycling/Atlas Mini)               5.54.10
106 Wm Kirk Robinson (Landis/TREK/VW)                       6.11.04
107 Dj Fernandes (cz racing)                                7.33.45
 
Men 3
 
1 Christian Reidys                                         25.46.68
2 Scott Hubbard (KHSnm.com)                                 0.04.78
3 Dan Vinson (SC Velo)                                      0.22.57
4 Stephen Ferretti (SC Velo)                                0.35.28
5 Craig Webb (SC Velo)                                      0.46.86
6 Paul Hewes (Southern California Velo)                     1.12.77
7 Robert Dolman (Procon cycling)                            1.16.18
8 Peter Edge (Team Champion/Tom's Pro Bike)                 1.24.68
9 Eric Cruz (Landis/TREK/VW)                                1.30.99
10 Eric Liprandi (Team Rio Grande)                          1.34.86
11 Phillip Austin (ProCon)                                  1.37.80
12 Nathan Lowrie (Atlas Mining)                             1.39.76
13 Chuck Royalty (Honeywell)                                1.40.92
14 Brian Janezic (Team Revolution Racing)                   1.41.35
15 Benjamin Collins (Amgen)                                 1.42.87
16 Axel Scholz (Ranchos Cycling Club)                       1.46.74
17 Craig Debellefeuille (Ranchos)                           1.47.50
18 Cliff Redig (Team Rhino)                                 1.55.78
19 Alex Pendleton (vegas velo racing team)                  2.00.41
20 David Keire (Velo Club LaGrange)                         2.04.82
21 Norman Bryner (logan race club)                          2.07.75
22 Lewis Freed (construction zone)                          2.08.48
23 Jim Silverman (FlagVelo)                                 2.11.42
24 Roger Learned                                            2.11.58
25 Craig Long (Procon Cycling)                              2.12.80
26 Derek Strong (Haul-N-Ass Racing Team)                    2.14.58
27 Matt Whiteside (Paramount Racing)                        2.14.66
28 Kris Pagano (cz racing)                                  2.20.73
29 Christopher Rutz (Bicycle Ranch)                         2.31.10
30 Martin Roesch (Arnie's Doors Cycling Team)               2.31.76
31 Chris Latham (Red Rock Racing)                           2.32.35
32 David Howell (PHIL'S BBQ)                                2.32.75
33 Emory Ball (Spin Cycle - Fat Sound Guita)                2.35.02
34 Wes James (cz racing)                                    2.36.30
35 Daniel Barnes (Procon cycling)                           2.36.33
36 Chris Osburn (KHSnm.COM)                                 2.36.88
37 Todd Boussom (San Diego Cyclo-Vets)                      2.39.32
38 Sergio Iniguez (vegas velo)                              2.39.41
39 Ryan Amirault (RMCEF)                                    2.40.31
40 Ryan Gibson (Team Pro Cyclery)                           2.40.87
41 Jeb Stewart (Atlantic Shores Velo, E-Ca)                 2.42.45
42 Ken Jones (cz racing)                                    2.44.28
43 Shawn Mullen (Long John Silver Cycling Tea)              2.44.84
44 Doug Manno (Haul'n Ass Race Team)                        2.45.03
45 Chris Wilson (TRI STATE VELO ESPOIR TEAM)                2.45.85
46 Ernesto Ramirez (Landis/TREK/VW)                         2.48.03
47 Joe Armstrong (Flag Velo)                                2.51.92
48 Brian Murphy (sc velo)                                   2.52.10
49 Jean-Jacques Cabou (cz racing)                           2.55.89
50 Brad Bochart (Big Orange Racing)                         2.56.14
51 Anthony Leckie (SC Velo)                                 3.01.66
52 Gary Metcalf (Team Dairy Queen)                          3.04.09
53 Andy Morris (Flag Velo)                                  3.05.75
54 Chris Sproul (amgen cycling)                             3.11.37
55 Joseph Shy (Procon Cycling)                              3.12.09
56 Greg Kilroy (cz racing)                                  3.15.23
57 Brock Boring (cz racing)                                 3.16.27
58 John Peterson (AirZonie Racing)                          3.18.39
59 Ryan Pretner (Team Pro Cyclery)                          3.18.57
60 Brian Usher (Racers of the Adirondack Reg)               3.23.56
61 David Jackson (Phil's BBQ/Velo La Jolla)                 3.31.04
62 Stuart Allman (Ranchos)                                  3.31.06
63 Bobby Saraf (SC VELO)                                    3.32.84
64 Nelson Jared (Flag Velo)                                 3.33.33
65 Joshua Underwood (Vegas Velo Racing Team)                3.38.68
66 James Rellas (Phil's BBQ/Velo La Jolla)                  3.39.11
67 Peter Plaisance (Island Boy Racing)                      3.45.22
68 Josue Estrada (Phils BBQ / velo la jolla)                3.50.80
69 Ewam De Freitas (Haul 'N Ass Race Team)                  3.54.42
70 Todd Zuercher (soma cycling)                             3.57.36
71 Phil Martin (cz racing)                                  3.58.25
72 Mani Motamed (sc velo)                                   3.59.36
73 Darrel Divine (Arnies Door Racing Team)                  4.05.15
74 Charlie Beadles (Flagvelo)                               4.08.46
75 Brian Bender (SOMA Racing Team)                          4.20.79
76 Andrew Peterson (logan race club)                        4.28.28
77 Chris Clarke (Amgen Cycling)                             4.33.33
78 Mario Garcia (Phil's BBQ)                                4.34.49
79 Chris Coolman (Unattached)                               4.36.77
80 Benjamin Flores (Phils BBQ/Velo La Jolla)                4.40.34
81 Joe Moch                                                 4.47.52
82 Sean Burke (Ranchos)                                     4.58.27
83 Matthew Edwards (HaulnAss Race Team)                     4.58.37
84 Mark Agcaoili (SOMA Cycling Team)                        5.01.02
85 Richard Geraghty (jellybelly)                            5.09.65
86 Morgan Wion                                              5.13.27
87 John Avila (Citrus Valley Velo/HealthNet)                5.47.04
88 Merrick Cohn (Amgen)                                     5.51.08
89 Scott Preston (Fazoli's)                                 6.16.58
90 Bill Egan (Landis/TREK/VW)                               6.21.96
91 Bryan Antol (Red Rock Racers/Renaisance C)               6.36.02
 
Men 4
 
1 Matt Howard (Arizona State Cycling)                      27.25.14
2 Stevie Cullinan (Strada Racing Club)                      0.06.10
3 Gavin Macgregor (honeywell)                               0.18.04
4 Joel Schweiger (Ucr/ Anthony's cyclery)                   0.19.12
5 Preston Moon (Honeywell Cycling)                          0.25.67
6 James Sharpe (TREK Racing Team)                           0.31.66
7 Tony Edeson (SC Velo)                                     0.33.92
8 Max Perez (UCR/Anthony's Cyclery)                         0.34.56
9 Mike Pierce (Honeywell Cycling)                           0.34.81
10 Kamden Reedy (Arizona State cycling)                     0.44.23
11 Kevin Riseborough (Honeywell Cycling)                    0.48.89
12 Robert Gaeta (San Diego Cyclo-Vets)                      1.02.01
13 Eric Meyer                                               1.03.32
14 Davin Anderson (CU Triathlon Team)                       1.05.04
15 Ruben Vigil (Laurel Street Racing)                       1.09.63
16 Steven Gillespie (San Diego Cyclo-Vets)                  1.15.88
17 Mark Todd (Ogden One Cycling Club)                       1.16.32
18 Ross Gagnon (Velo Allegro)                               1.18.84
19 Matthew Jones (Team Rhino)                               1.21.19
20 Mark Dick (Focus Fitness)                                1.28.12
21 Christopher Carlson                                      1.29.95
22 Tim Porthouse (Honeywell Cycling)                        1.32.01
23 John Walker (anthony's cyclery)                          1.35.73
24 Charlie Humphrey (CYCLOVETS)                             1.36.68
25 Chad Black (NMBRA/Lobo Cycling)                          1.37.92
26 Matthew Harwood (Honeywell Cycling)                      1.42.85
27 Perry Woods (Ogden One)                                  1.44.81
28 Hamid Namazie (SC Velo)                                  1.46.58
29 Joshua Kerr (SC Velo/Incycle)                            1.47.00
30 Shane Macdougall (Ranchos CC)                            1.47.69
31 Jeff Katz (Landis/TREK/VW)                               1.51.25
32 Ron Ciano (Team Revolution Racing)                       1.54.52
33 Jeff Parker (Team Rhino)                                 1.55.02
34 Frank Lujan (Aidas Bail Bonds)                           1.56.44
35 John Eisinger                                            1.58.84
36 Andrew Klose                                             1.59.57
37 Josh Christensen (Procon Cycling)                        2.01.25
38 Sergio Hernandez (SC Velo)                               2.01.46
39 Gerard Prosnier (ProCon Cycling)                         2.02.67
40 Steve Landry (San Diego Cyclo Vets)                      2.04.14
41 Ken Bolanger (Trek Travel)                               2.04.42
42 Mike Houtz (Team Carina)                                 2.10.01
43 Tim Taylor (o.r.r.a.)                                    2.11.22
44 James Manos (SCSC/Outspokin')                            2.20.26
45 Robert Ferretti (SC Velo)                                2.24.39
46 Javier Saucedo (Aida's Bail Bonds)                       2.25.01
47 Simon Alexander (Haul-N-Ass)                             2.34.55
48 L. Jon Porman (Honeywell Racing)                         2.37.07
49 Greg Russell (Velo Allegro)                              2.38.06
50 Mike Dale (Honeywell Cycling)                            2.40.14
51 Brian Woltman (Louisville Cyclery)                       2.40.45
52 Brian Cornelius (U of A Cycling)                         2.43.25
53 Steve Dunn (Colorado Velo/ Denver Spoke)                 2.58.00
54 Angus Murdoch (San Diego Cyclo-Vets)                     2.58.05
55 Kurt Peterson (New Moon Cycling)                         2.58.81
56 Alex Fairly                                              3.01.80
57 James Metcalf (Landis/TREK/VW)                           3.02.11
58 David Gonzales (Velo Allegro)                            3.02.32
59 Joseph Clark (Healthy Choice / Guru's)                   3.04.31
60 Dan Plummer (Rancho's Cycling Club)                      3.05.86
61 Curt Dosier (Team Monex/Laguna Cyclery)                  3.09.73
62 Stephen Pudlock (Ogden One Cycling Club)                 3.10.86
63 Christian Rossetti                                       3.14.18
64 Richard Ortega (Aidas Bail Bonds)                        3.24.46
65 Elliot Dickerson                                         3.26.25
66 Donald Guess (Honeywell Cycling)                         3.30.67
67 Jeff O'Connell (ANTHONY'S CYCLERY)                       3.31.02
68 John Turnen (Bicycle Ranch)                              3.33.32
69 Kent Schmidtke (pinnacle peak cyclery)                   3.33.39
70 Sujeet Karna (Procon/Bicycle Showcase)                   3.45.72
71 Craig Belville (HaulnAss Race Team)                      3.48.56
72 Andrew Maxwell (GS Boulder Cycling)                      3.51.33
73 Adam Weber (Landis/TREK/VW)                              3.52.52
74 Jason Lindgren (Mitchem/PPC)                             3.55.10
75 Christopher Chorice                                      3.57.88
76 Ian Dewar (Trek Travel)                                  3.59.78
77 Andy Jensen (Cal Poly Pomona Cycling)                    4.06.14
78 Jon Harrison (Team Ranchos)                              4.17.48
79 Joshua McCourt (Atlantic Velo)                           4.21.51
80 Pete Lawrence                                            4.40.02
81 Matthew Hammar (Team Redlands)                           4.44.97
82 Jon Wendell (Bicycle Ranch)                              5.25.17
83 Randolph Ortega (Aida's Bail Bonds Cycling Te)           6.10.42
84 Steve Conlin (Ogden One)                                 6.14.92
85 Gary Sorensen (Pro-Con Cycling)                          6.48.55
86 Mark Thome (Team Pro Cyclery)                            6.58.90
87 Jose Silva (SC Velo)                                     8.03.34
88 Brice Young (University of Colorado, Tr)                 9.11.03
89 Anthony Geller (NMBRA/NMVS)                              9.40.42
 
Men 5
 
1 Dan O'Sullivan (McGuire Cycling)                         28.29.91
2 Lon Breitenbach                                           0.48.35
3 Ben Truitt (SEAR Cycling)                                 1.15.95
4 Bryan Fox (Landis/TREK/VW)                                1.41.60
5 Erik Swanson                                              1.50.48
6 Chris Fusselman (Team One)                                2.03.12
7 Brock Benson (bicycle ranch)                              2.10.40
8 Gary Poles (S D Cyclo-vets)                               2.20.80
9 Jamie Longe                                               2.44.78
10 David Jones (Honeywell)                                  2.54.35
11 Ronald Kast (Honeywell Cycling)                          3.00.03
12 Rob McHardy                                              3.11.69
13 Erik Gauharou (PINNACLE PEAK CYCLERY)                    3.17.64
14 Kirk Damron (Procon)                                     3.18.16
15 David Huddleston (Landis/TREK/VW)                        3.20.89
16 Brian Smith (Strada Racing Club)                         3.32.58
17 Pete Auer (Honeywell Cycling)                            3.32.73
18 John Menard (ASC/Arizona State Cycling)                  3.35.59
19 Michael Green (Landis/TREK/VW)                           3.36.22
20 Mark Gordon (Team 1)                                     3.41.25
21 Jackson Lowery (Team Revolution Racing)                  3.43.01
22 Brad Farnworth (Strada Racing Team)                      3.43.04
23 Chad Dragos                                              3.46.27
24 Joseph Wilson (Landis/TREK/VW)                           3.53.18
25 Brad Tucker (SEAR/CONT'L HOMES-CAMPUS CYC)               3.53.32
26 Mike Paulin                                              4.01.96
27 Brandon Grimm (Landis/TREK/VW)                           4.11.23
28 Tim Woodward (unattached)                                4.15.21
29 Patrick Lee                                              4.20.21
30 Scott Bainbridge                                         4.24.57
31 Brian Prince                                             4.27.18
32 Conrad Colman                                            4.28.37
33 Carl Gose (University of Wyoming)                        4.30.69
34 Brian Wenham (Landis/TREK/VW)                            4.35.99
35 Jeffrey Teater                                           4.38.46
36 Bradley Toth (Arizona State Cycling)                     4.40.05
37 Jeff Kluck (Landis/TREK/VW)                              4.40.97
38 Joe Thomsen (Landis/TREK/VW)                             4.42.06
39 Michael Capasso (Landis/TREK/VW)                         4.50.10
40 Mark Bradley (Strada Racing Club)                        4.50.67
41 Bret Whitaker                                            4.54.57
42 David Bogan                                              5.06.66
43 Mike Skokic                                              5.15.31
44 Shawn Bandel (Soma)                                      5.18.11
45 Robert Ridenour                                          5.19.88
46 Randy Crowley (BICYCLE RANCH)                            5.30.98
47 Frank Van Alstine (Landis/TREK/VW)                       5.36.19
48 Gregg Hollingsworth (Landis/TREK/VW)                     5.37.43
49 Steven Ruskaup                                           5.55.77
50 Leo Treto                                                6.25.26
51 Michael Gaylor                                           6.39.53
52 Joe Struttmann (Honeywell Cycling)                       7.21.62
53 David Carlson                                            7.25.21
54 Alma Lewis (Vegas Velo Race Team)                        7.30.93
55 Scott Alfred (Landis/TREK/VW)                            7.46.21
 
Men 35
 
1 Jerry Jayne (Amgen)                                      25.33.84
2 Scott Biaggi (GS Tucson Racing)                           0.30.58
3 Bob McCall (Labor Power)                                  0.47.39
4 Roger Worthington (Labor Power)                           1.00.38
5 Mark Scheafer (Century 21/Sports Base Onlin)              1.01.29
6 Louie Amelburu (Labor Power/ Paul Tracy)                  1.09.70
7 Raymond Dunn (GS Tucson Racing)                           1.31.87
8 Marty Ryerson (Team RPM)                                  1.37.25
9 Glen Hinshaw (USPS Masters)                               1.48.27
10 Tomo Hamasaki (Simple Green)                             1.57.63
11 Rick Cimaglia (Grand Canyon Racing Team)                 2.00.52
12 Michael Anderson (Vegas Velo Race Team)                  2.05.42
13 Marek Shon (Century 21/Sports Base Onlin)                2.09.50
14 Kevin Kruger (Taylormade/24hrfitness)                    2.15.09
15 Kenneth Halal (Team RPM)                                 2.15.17
16 Bob Pongratz (Team One Racing)                           2.15.76
17 John Dehnert (Team Revolution Racing)                    2.15.97
18 Keith Johnson (Atlantic Velo)                            2.18.46
19 Andrew Holdsworth (Thirsty Bear Racing)                  2.21.23
20 Richard Moore (Team Revolution Racing)                   2.32.30
21 Daniel Leberger (HDCC Bike Shop)                         2.36.07
22 Joe Davis (Helen's/RPM)                                  2.46.68
23 Anthony Gebbia (Vegas Velo Racing Team)                  2.47.55
24 John Wulsin (Watermark/Atlas Cycling)                    2.57.24
25 Dean Ditto (Team One)                                    3.05.11
26 Michael Williams (Ranchos Racing)                        3.13.00
27 Michael Hillenbrand (AZphalt Cycling)                    3.25.09
28 Christopher Stout (Valdoro Mountain Lodge Cycli)         3.25.67
29 Don Williams (Colorado Velo/Denver Spoke)                3.25.70
30 Tony Gonzales (Labor Power)                              3.33.77
31 Mark Henry (Bike shop)                                   3.51.87
32 Brett Gruendler (Bicycle ranch)                          4.08.06
33 David Whitney (Somerset Wheelmen)                        4.16.54
34 Kevin Cox (Amgen/Abici)                                  4.16.87
35 Stephen Clyde (Logan Race Club)                          4.19.37
36 James Ferguson                                           4.33.20
37 Craig Hamilton (Colavita-Bolla Racing)                   4.59.06
38 Chris Hansel (vegas velo racing team, in)                4.59.98
39 James Robbins (Vegas Velo Racing Team)                   5.05.28
40 Lance Coburn (Carina Homes)                              5.08.74
41 Richard Cimadoro (Amgen/Abici)                           5.09.78
42 Joel Davis (vegas velo racing team)                      5.34.13
43 Terry McGinnis (Canyon Bicycles)                         5.37.61
44 Brad Lundahl (Colorado Velo/Denver Spoke)                5.40.40
45 Clark Carlile (Autoliv)                                  5.47.98
46 Mike Weiss (Camarillo Ravens)                            6.08.15
47 Jeffrey Skates (South East Area Riders-Conti)            6.41.48
48 Ted Saville (Camarillo Ravens)                           6.46.51
49 Dan Aldred                                               8.06.17
50 Anthony Luna (team carina)                              21.59.07
 
Men 45+
 
1 Tony Pratt (PAA/Merrill Lynch)                           26.48.14
2 Tom Bain (Richardson Bike Mart/Matrix)                    0.07.88
3 Butch Stinton (Acme Racing)                               0.14.38
4 Don Williams (Landis/TREK/VW)                             0.30.52
5 Bill Heob (Landis/TREK/VW)                                0.30.99
6 Eddie Morris (Abici/Amgen Cycling Team)                   0.38.90
7 Rick Allen (Team RPM)                                     1.02.07
8 Tom Reilly (PAA/ Merrill Lynch)                           1.02.13
9 Eugene Poyorena (ACME RACING)                             1.04.50
10 Phillip Sladek (Solar Eclipse)                           1.06.92
11 Dale Luedtke (ACME Racing)                               1.08.43
12 Paul Cooke (Landis/TREK/VW)                              1.11.30
13 Dirk Cowley (Century 21/Sports Base Onlin)               1.13.87
14 Don Armstrong (Century 21/Sports Base Onlin)             1.30.20
15 Joe Cunningham (Team RPM)                                1.34.64
16 William Ralph (AMGEN Race Team)                          1.41.23
17 Steve Moore (Team Mack Racing Assoc. LTD)                1.43.96
18 Jim Yorgason (Century 21/Sports Base Onlin)              1.48.96
19 Fred Hoblit (Acme Racing)                                1.56.61
20 Chuck Higgins (Team One Racing)                          1.59.45
21 Neal Stoughton (Cycles Veloce / Edge)                    1.59.67
22 Robert Pearce (Team Pro Cyclery)                         2.02.19
23 Edward Eades (Team Revolution Racing)                    2.11.07
24 Eric Nelson (Team RPM)                                   2.12.71
25 Reed Moore Reed Moore (Excel Sports)                     2.13.61
26 Duane Mulvaney (Landis/TREK/VW)                          2.21.03
27 David Arnold (Acme Racing)                               2.21.95
28 Jim Clune (ProCon)                                       2.31.31
29 Carl Recine (Acme Racing Team)                           2.31.32
30 Kenneth Doss (Atlas Cycling/Watermark Cycl)              2.40.80
31 David Anderson (Team RPM)                                2.48.49
32 Stanley Andrie (Team One Racing)                         2.50.50
33 Pete Dern (Acme Racing)                                  2.52.82
34 Jack Sorahan (Team RPM)                                  3.12.21
35 Don Russell (Five Valley Velo)                           3.16.53
36 Tony Johnson (canyon velo/khs)                           3.16.99
37 Steven Fahrner (Team One Racing)                         3.17.88
38 Jim Decker                                               3.20.26
39 Jeff Taylor (Team RPM)                                   3.21.45
40 Kurt Luedtke (Team Presteza)                             3.41.84
41 Theodore O'Miela (Pasadena Athletic Assoc. - M)          3.52.28
42 Mike Vanlandingham (AMGEN)                               3.52.32
43 Jim Pongratz (Team One Racing)                           4.01.55
44 Mike Parrish (Landis/TREK/VW)                            4.13.55
45 Paul Forsythe (Vergegear.com Midwest)                    4.22.04
46 Curtis Brown (Team One Racing)                           4.22.40
47 Jan Campbell (Mt Velo)                                   4.31.17
48 John Holmstul (Bicycle Ranch)                            4.32.59
49 Donald La Marca (Honeywell Cycling)                      4.34.45
50 Mike Jennings (island boy racing)                        4.47.62
51 Rick Varela (Aida's Bail Bonds)                          4.58.92
52 Steven Levine (kissena cycling club)                     5.43.28
53 Bill Peterson (Gurus)                                    6.08.53
54 Jon Hightower (Landis/TREK/VW)                           6.09.10
55 Dan Armijo (Olev Rapido/NM Sports & Well)                6.17.76
56 Jose Leal (Aida's Bail Bounds)                           8.20.82
 
Men 55+
 
1 Ken Louder (Century 21/Sports Base Onlin)                27.47.44
2 Steve Walters                                             0.07.01
3 Ed Webb (Team RPM)                                        0.37.50
4 David Spangler (Cyclo-Vets)                               1.07.73
5 Frank Pabian (Ochsner)                                    1.15.87
6 Gary Westerfield (Simply Fit)                             1.37.12
7 David Bernhardt (Amgen)                                   2.17.14
8 F S Griego                                                2.52.32
9 David Jordan (NEBC/Bicycle Loft)                          3.02.21
10 Peter Hein (Medona)                                      3.21.28
11 Gerry Burney (North Coast Express)                       3.25.29
12 Ted Frohling (Landis/TREK/VW)                            3.41.88
13 John Williams (San Clemente Velo)                        3.43.01
14 Gary Zentmyer (PAA)                                      3.51.98
15 Stephen Bennett (South East Area Riders)                 3.53.30
16 Dominick Forte (PAA/Merril Lynch)                        3.53.34
17 Carl Reed (Monsoon Racing)                               5.10.21
18 Michael Wampler (Aspen Velo)                             5.10.63
19 John McKee (ParamountRacing.org)                         5.13.99
20 Patrick Ventura (Procon Cycling)                         5.51.00
 
Women 35+
 
1 Paula Higgins (Landis/TREK/VW)                           31.43.22
2 Kim Stinton (Acme Racing)                                 0.40.33
3 Barbara Tyner (Zia Velo Racing Team)                      1.01.13
4 Deb Wilson                                                2.17.97
5 Dena Decker (Acme Racing)                                 3.21.97
6 Julianna Kimball (Landis/TREK/VW)                         6.17.32
7 Zoe Cohen (Desert Foxes)                                  8.38.22
8 Leslie Ritter (Desert Foxes)                              8.51.90
 
Women 3
 
1 Catherine Dickson (bicycle ranch)                        28.14.14
2 Lana Atchley (Hi-Tech)                                    0.34.63
3 Corinn Clark-Danielli (Bicycle John's Serious Cycli)      0.48.43
4 Rebecca Stengel (Mountain Velo)                           1.46.80
5 Tamara Gonzalez (Hi-TechBikes.com)                        1.49.19
6 Deanna Huff (La Forza)                                    2.06.43
7 Merrill Sapp                                              2.13.87
8 Daniela Camarena (Southwest Speed Cycling)                2.17.63
9 Beth Fisk (Visenka)                                       2.38.95
10 Nichole Wangsgard (ACME)                                 2.44.80
11 Alicia Voss (BWCT)                                       2.53.52
12 Margaret Douglass (Wasatch Women's Cycling Club)         3.11.98
13 Erin Huck                                                3.40.78
14 Kimberly Anne Garvie (University of Wyoming)             5.57.87
15 Nancy Ellis (Desert Foxes Women's Cycling)               7.43.29
 
Women 4
 
1 Cathy Egleston                                           31.26.84
2 Lea Adams (Amgen Cycling)                                 0.30.09
3 Alexandra Forest (University of Colorado at Bo)           0.34.70
4 Christine Jeffrey (Landis/TREK/VW)                        1.40.87
5 Dymond Ashley (Carina Homes Cycling Team/Ve)              1.42.27
6 Kristen McHardy                                           2.01.79
7 Kristi Johnson                                            2.08.45
8 Kat Patterson (Carina Homes)                              2.26.05
9 Susan Einberger (Boulder Women's Cycling Team)            2.42.01
10 Jessica Martin (Desert Foxes)                            2.46.74
11 Holly Lopez (Team Revolution Racing)                     2.49.80
12 Emily Lane (Desert Foxes)                                2.58.74
13 Leeaat Mednick (Desert Foxes)                            2.59.72
14 Keely Brooks (Carina Homes)                              3.00.29
15 Corinna Pietruszynski (Desert Foxes)                     3.15.28
16 Rachel Gioannini (Desert Foxes)                          3.21.37
17 Trina Jacobson (ProCon Cycling)                          3.37.35
18 Jenifer Waldo (Labor Power)                              3.43.94
19 Jill Taylor (Vegas Velo Racing Team)                     4.18.28
20 Jona Bollinger                                           4.28.61
21 Anne Johnson (Desert Foxes)                              4.29.50
22 Sarah Hersh (SEAR)                                       4.32.58
23 Bolanos-Hernandez,Lizettte (Quadcycles)                  4.48.01
24 Melanie Rineer (Desert Foxes)                            5.00.19
25 Jessica McKenna                                          5.37.17
26 Toni Zukowski (Redlands)                                 6.05.06
27 Alicia Anzini                                            6.56.41
28 Cheryl Lacotta (Desert Foxes)                            8.02.33